'Don't give up, don't ever give up' has been stimulus for this veteran and her service dog
When you watch them working together seamlessly you have no idea what their journey has been like. It's been a tough road accented with bumps, pot holes, and plenty of distractions.
But Betty Lehman, of University Place, Washington, a Tacoma suburb, and Kimber, a 2-year-old German Shepherd, epitomize the urging of famed basketball coach Jim Valvano at the 1993 Espy Awards, "Don't give up! Don't ever give up!"
Lehman and Kimber's story is about an owner-dog team that has overcome doubt, failure, and frustration and bounced back with plenty of help from her friends to maximize the value of service-dog teamwork physically and psychologically.
An Army veteran, Lehman was deployed to Iraq three times between 2004 and 2009 and to Afghanistan in 2011. She permanently retired in 2014 with a traumatic brain injury and post-traumatic stress disorder after original diagnoses in 2011.
Several acquaintances and professionals recommended she consider a service dog but Lehman was opposed to the idea.
In my mind having a service dog would mean I was injured or too ill to take care of myself without help,she explained.
And even if I opted to go that route, I would have to get on a list with some organization with an average wait time of two years.
But time has a tendency to change attitude and outlook. After seeing so many soldiers with service dogs and receiving encouragement from a couple of longtime friends, Lehman began thinking maybe it wasn't such a bad idea, after all.
"I spoke to Janice Buckley about a program she wanted to launch to provide emergency assistance, moral support, and innovative therapeutic healing services for wounded warriors and their families," she said. "All I needed to do was get a puppy and go from there, so I jumped at the chance. This made so much more sense than going through some program."
The program, Heartbeat for Warriors, is a non-profit that offers services to all branches of the military in Washington state by providing emergency assistance, moral support, and innovative therapeutic healing services.
It was Buckley who helped Lehman find a German Shepherd breeder (Von Waldberg German Shepherds) in February 2014. And it was Buckley who connected Lehman with Jan Hemme, a trainer who emphasized that it was important for her to let the dog pick her, not her select the dog.
At four months of age Kimber chose Lehman and even that pairing was packed with angst, for the new owner, not the perky puppy.
"I hate female dogs, but Kimber chose me," she admitted. "When I was driving to pick her up I said to God, 'Lord, if you want this to work you need to make it work out.'"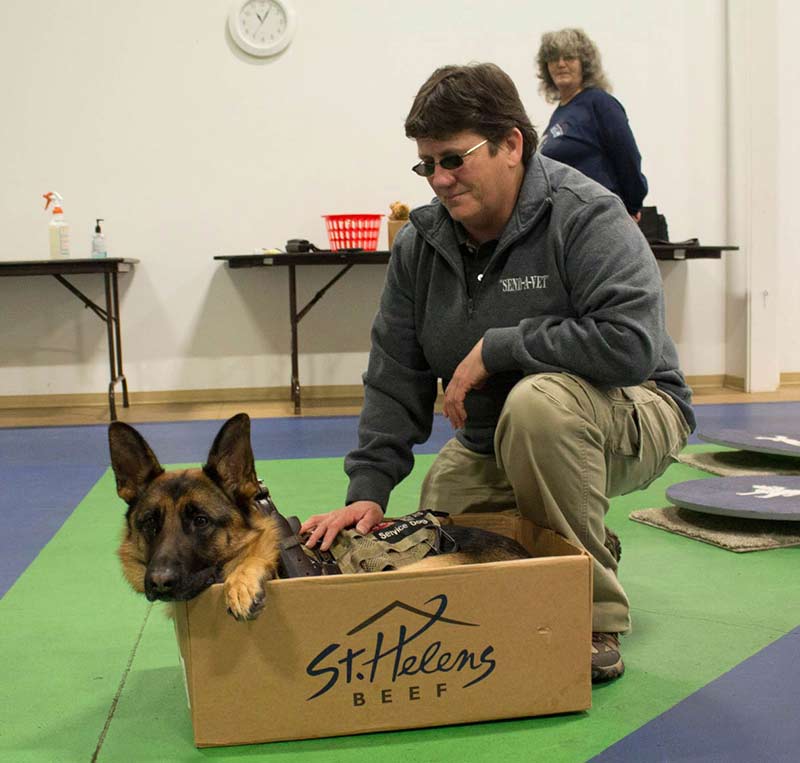 Service dog Kimber rests in a box designed to accustom her to tight spots, like beneath a table in a restaurant where her owner Betty Lehman, right, might be dining.
Lehman's resolve was tested one week later in Tacoma when she, Kimber, and a friend were standing on the sidewalk outside of her friend's home. The friend's sister-in-law let two large dogs out of the house and they ran directly toward the trio.
"My friend stopped one of them and I grabbed the other. As for Kimber, she took cover under my car but one of the dogs bit her paw, leaving a puncture wound.
"I was heartbroken and even cried a bit."
A second attack ensued a few weeks later.
"We started training with Jan shortly thereafter, and we discussed the two attacks and how they affected Kimber. That's when I discovered I could have an aggression issue at the end of the leash."
The two continued with basic puppy obedience training, then gradually segueing to service tasks Kimber would be performing for Lehman.
"Each week was another task, with Jan sending me video and instructions to work on until the following week when we met face-to-face."
But once Hemme began bringing her German Shepherd, Shayna, to class to interact with Kimber, the latter launched into a combative mode. Kimber's push-button aggressiveness also surfaced at Lehman's home where a friend's Golden Retriever was on the receiving end or Kimber's ire.
About a year later, Hemme told Lehman the continued aggressiveness would keep Kimber from becoming a service dog. At that point, Lehman twice found new homes for Kimber but both proved short-lived and the dog was returned to her.
For Kimber it appeared to be three strikes and you're out.
First strike, she is a female but Lehman accepted that. Second strike, she was rehomed and returned. Third strike, she was rehomed again, and returned again.
Kimber was living the edge and becoming a dog that wouldn't take no for an answer.
As a last resort, Buckley and Hemme took Lehman and Kimber to Paws-Abilities Total Dog Center, a local dog training facility, last February to work with Dana Babb, a longtime, highly respected trainer who has worked with veterans and service dogs for years.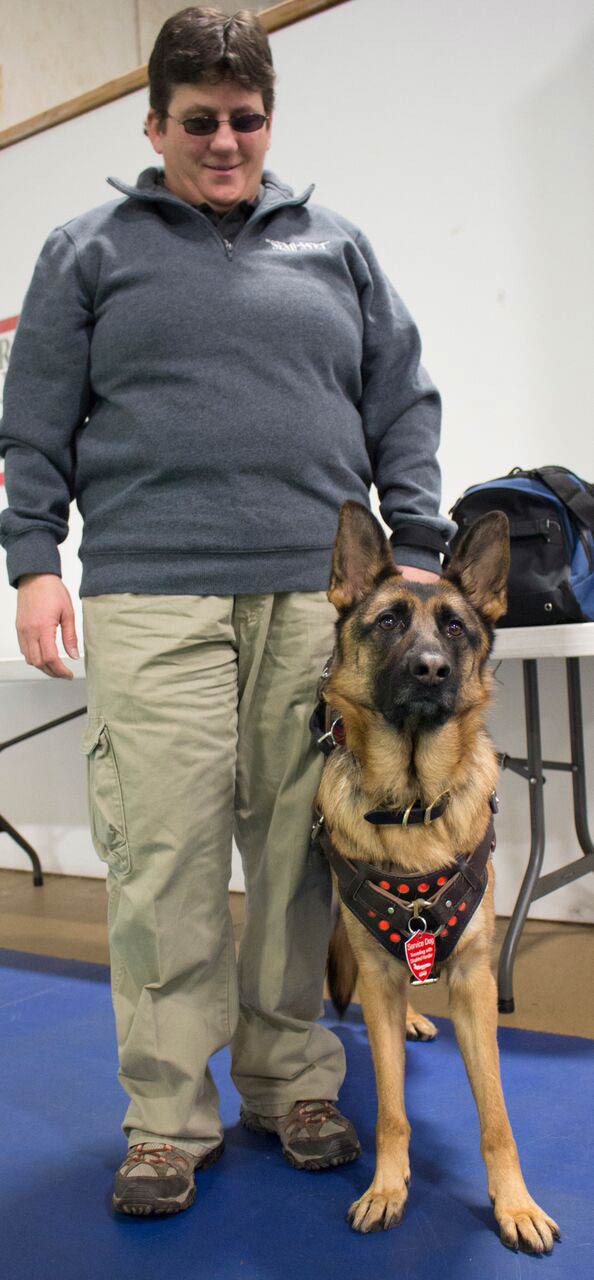 Kimber and Lehman prepare themselves for the next exercise at Paws-Abilities, where they have been training since February.
"Aggression issues are not uncommon in young dogs paired with veterans with PTSD who feel a need to 'protect' their handlers from an approaching stranger," Babb said. "Many veterans have only experienced military-type training for dogs while they were in service – in many cases those dogs are the only 'trained' dogs they have encountered. When their dogs act aggressively they feel as though the dog is 'watching their six' [protecting their back] and can actually encourage this behavior."
Upon beginning training at Paws-Abilities, Kimber's leash acumen was excellent and she was well underway to mastering other skills Lehman required for mobility assistance.
"She could retrieve items, but was inconsistent," Babb recalled. "What I noticed more than anything was the lack of connection between Betty and Kimber. The dog was more of a piece of equipment rather than a friend. Consequently, our initial work was one-on-one, chiefly just talking about what Betty needed and wanted from Kimber. In most cases, that boiled down to trust."
At the outset Babb, Lehman, and Kimber worked alone because the owner's distrust of new situations was overwhelming and trickled right down the leash.
"We sat in a corner with Betty's back to a wall, focusing on down and stay commands," Babb explained. "Kimber's chief aggression issue dealt with cats, hence we worked with stuffed and mechanical cats to teach the dog to avoid them." Using the cat as a model, they next started working on aggression in general.
As Betty and Kimber's relationship began to solidify it was time to put it to a test with wobbly boards and perching on challenging pieces of equipment.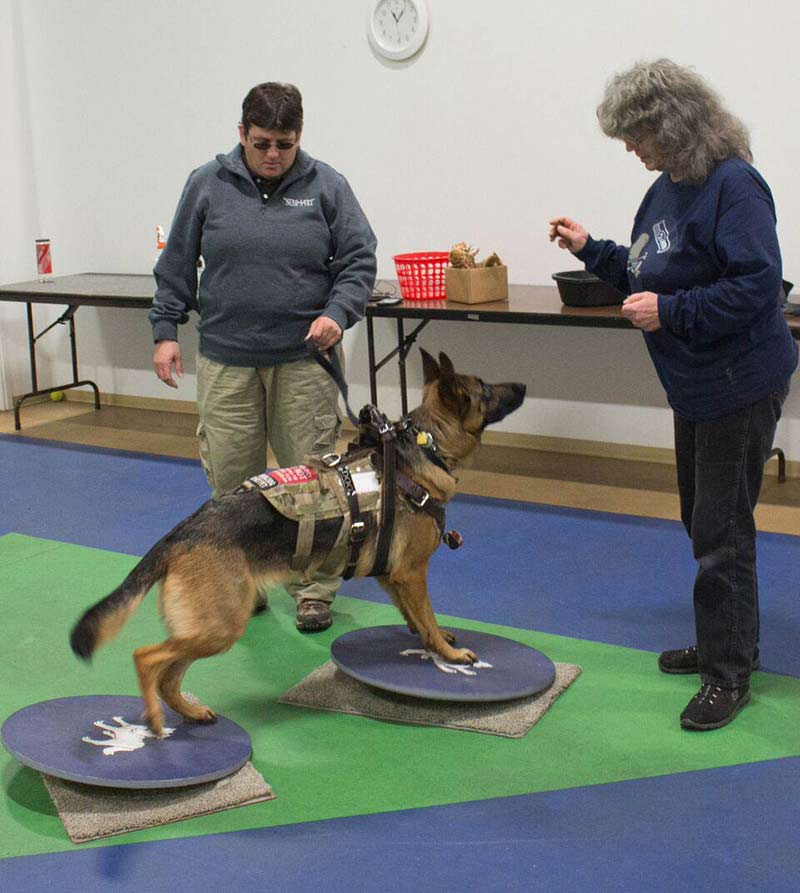 Trainer Dana Babb, right, keeps a close eye on Kimber who is positioned on a waffle board designed to improve balance and confidence in public. Lehman, left, keeps a close eye on the instruction.
"Betty began smiling, laughing and praising Kimber and both began having fun," Babb added.
With the improving trust and bond, it was time to teach Kimber to pick up items Lehman purposely dropped, a staple of service-dog work.
As Lehman's confidence began to soar, Babb started integrating the owner and dog with others at the large facility.
Lehman and Kimber have moved on to rally and Canine Good Citizen exercises in hopes of earning that title this month.
Kimber still has issues with dogs that approach too close, but too close is now a foot away instead of 30 feet, which it was months ago.
Babb said that watching the grit, determination, and progress this pair exhibited drives at the heart and soul of what dog training is all about.
"Betty is looking toward her future instead of her past and talks of training dogs for other veterans. I hope to help her make that dream come true."
"in>