Oakwood Dog Park Opens in Raleigh
Raleigh, North Carolina, celebrated the opening of its second "off-leash" dog park on Saturday, June 10. Raleigh is the home of The American Kennel Club's Operations Center.
The new Oakwood Dog Park is adjacent to Historic Oakwood near downtown Raleigh.
Festivities included a "leash cutting" ceremony to officially open the park and a "Release the Hounds" event to educate the public on local dog resources. The AKC donated door prizes to the event and also staffed a booth.
At the opening ceremonies, Jan Kirschbaum, Chair of the Parks, Recreation, and Greenway Advisory Board, noted that it had taken six years to bring about the reality of the new park. In his remarks at the dedication, Raleigh Mayor Charles Meeker acknowledged that dog parks are not only places for dogs to socialize but serve as places for their owners to do the same.
The Oakwood Dog Park features two shady acres. There is a large area set aside for bigger, more active breeds. A separate "Small Dog Park" is for smaller dogs, as well as those who are elderly.
The AKC encourages communities to establish dog parks to give dogs a safe place to exercise and socialize. They are also great places for people with common interests to meet and share information. Dogs and their owners also help to deter crime by their very presence in public parks.

The Oakwood Dog Park "leash cutting" ceremony

Dogs patiently wait for the opening of their park

The Oakwood Dog Park features two shady acres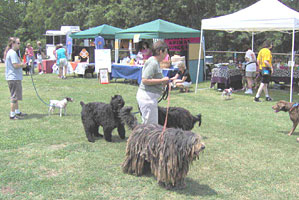 Visitors to the "Release the Hounds" event
(Photos courtesy of Peter Rees)