Handler Wins Race Against Time But Many Challenges Await In 2016
By: Ranny Green | Feb. 3, 2016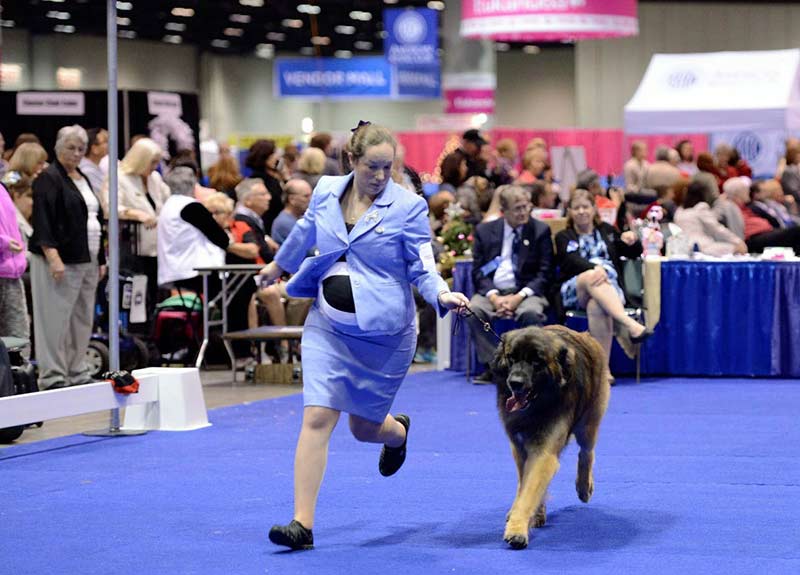 Tiffanie Coe began showing Leonbergers in 2008 but nothing quite prepared her for what she experienced surrounding the AKC/Eukanuba National Championship in Orlando, Florida, in December and for the hurdles she will continue to face in 2016.
Coe, of Black Diamond, Washington, was nine months pregnant at Eukanuba time and baby Mara Rose was projected for a Christmas Day delivery, and here was mom making one of the longest cross-country flights possible. Mara Rose, 6 pounds 7.9 ounces, was born Dec. 17 in Auburn, Washington, two days after Coe returned from Florida.
Now the new mom and dad, Robert Wilson, are adjusting to not only the tough realism and litany of changes at home but even more on the road as they quickly move forward to campaigning affable, young Leo Roar, a 2-year-old, 109-pound Leonberger in two Pacific Northwest cluster shows this month and the Westminster Kennel Club Dog Show in New York City Feb. 15-16.
"Our world has been turned upside down and sideways. With Mara's birth and little time to adjust now that the 2016 campaign is already under way."
"Our world has been turned upside down and sideways," says Coe, with Mara's birth and little time to adjust now that the 2016 campaign is already under way. We have never shown at Westminster but it has been on my bucket list of places to go."
Rest assured, Coe and Wilson have had plenty of help the past month and will continue to going forward. Leo's Wisconsin breeder, Luanne Moede, and her handler, Hannah Janke, had a huge presence at Eukanuba and will be alongside at Westminster. Their Westminster support team will also include Wilson's parents, who also live in the Midwest. Coe is also entered in two major Pacific Northwest clusters this month at Puyallup, Washington, and Portland, Oregon.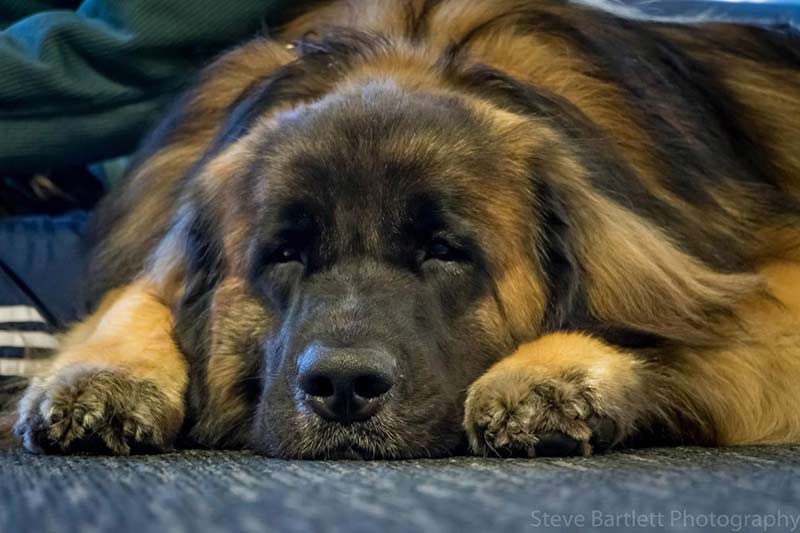 "Going forward will be a learning experience," acknowledges Coe. "We will be taking Mara to every show. Leo just adores her and checks out her every peep in the stroller." At this point, Mara accompanies Coe to every weekly breed ring and obedience training session as well.
But looking back several months has been a challenging and emotional bumpy ride packed with plenty of psychological gymnastics for Coe.
"When I first found out I was expecting and the due date was Dec. 25, my first thought was, 'How am I going to run the rings at Eukanuba?' Some people may have just decided to take the rest of the year off or not show as much. I went the other way."
She showed as much as possible to maintain her stamina and focus on ring training Leo Roar.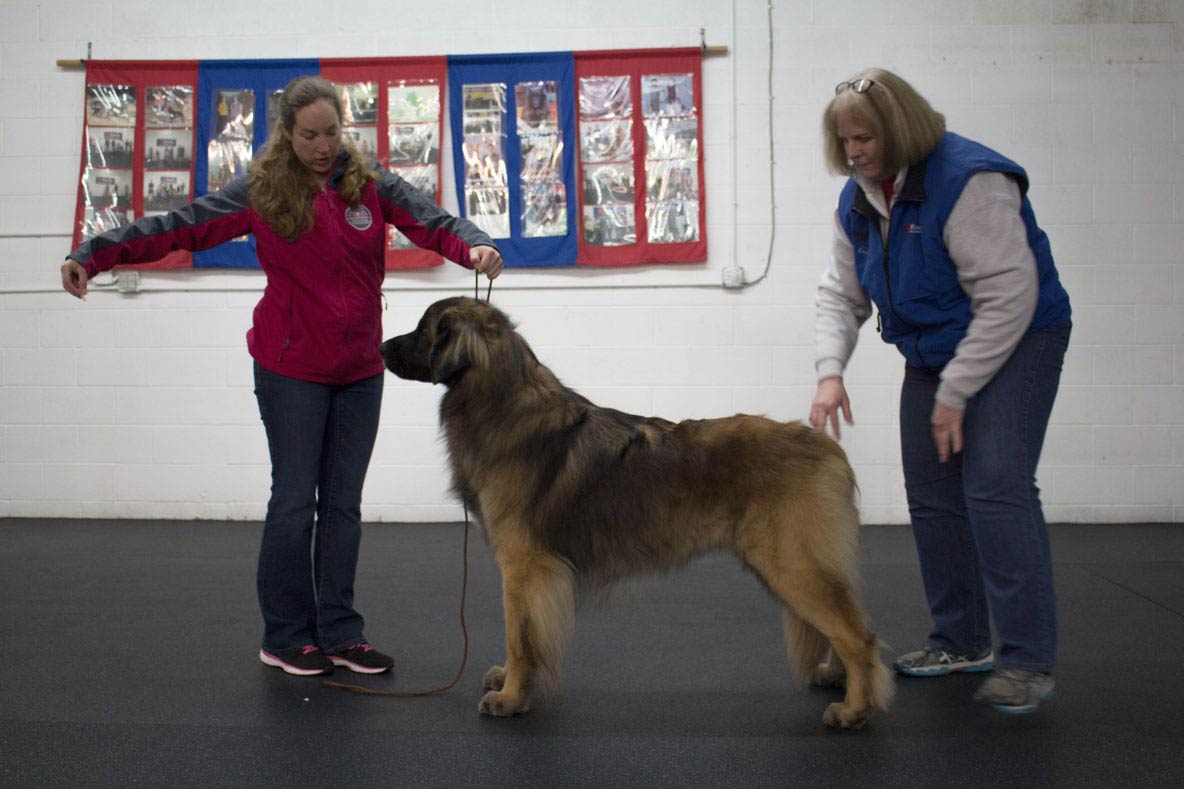 "What I mean by ring training is that I knew that I would be growing in size, making everything about showing more difficult. I continued to push myself and push Leo to be more polished. I decided that if I finished as the No. 1 owner-handled Leonberger and we finished in the Top 5 for breed we would make the risky trip."
Coe admits that her doctor was not on board, yet she knew no was not in Coe's vocabulary.
Coe approached the trip with the mindset of just get herself and Leo Roar there and her West Coast support team and multiple professional handlers that she knew would assist if needed.
"If something happened and I went into labor, I, at least knew that my dog would still be in the ring," she laughs. Leo Roar is co-owned with Moede, so she could handle him in the owner-handler finals if needed.
Coe concedes she was so focused on Leo Roar and accomplishing her 2015 goals that she was not stressed by the pregnancy. All the tests, doctor check-ups and ultrasounds showed a healthy, active, growing baby.
By Friday of Eukanuba week she could barely walk and when owner-handler finals were called she was in tears.
"We had come all this way ... no matter what, we were going into that ring."
"I looked at Leo Roar," she recalls, "and decided we had come all this way, worked so hard to finish No. 1 that no matter what, we were going into that ring." Leo Roar showed his heart out and followed Coe's cues to perfection.
Ahead still loomed the Working Dog show, where Leo Roar earned best of breed, which meant two more group rings (owner-handler and working dog). After speaking with the AKC representative, a tired Coe was allowed to use Moede and Janke as runners in the two rings, although Coe was given permission to stack Leo Roar and ensure he was set correctly during the judges' examinations.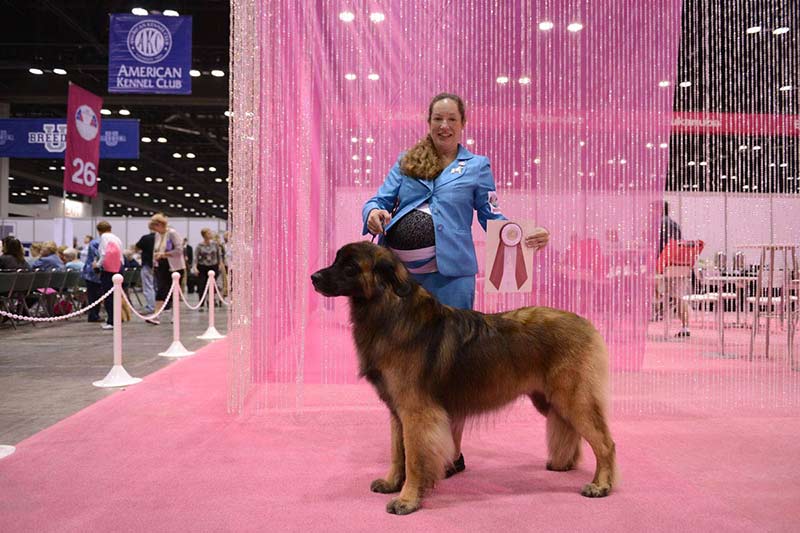 Coe adds, "At no time while I was at Eukanuba did I ever feel my health or the health of the baby was at risk. For the weekend, Leo Roar won three of five best of breeds, five of five owner-handler best of breeds, and best of opposite sex in the Eukanuba Leonberger breed ring.
When asked at some point if she restricted activities in Orlando, Coe replies, "I joked with Rob that we saved a lot of money since I was not able to shop the vendors due to swollen ankles and foot pain. Plus, we didn't do any sightseeing or additional walking."
After a week in Orlando, Team Coe returned to Seattle Dec. 16 due to a multiple-hour flight delay. Following a doctor's appointment that afternoon, she checked into the hospital hours later and a smooth delivery was performed a day later.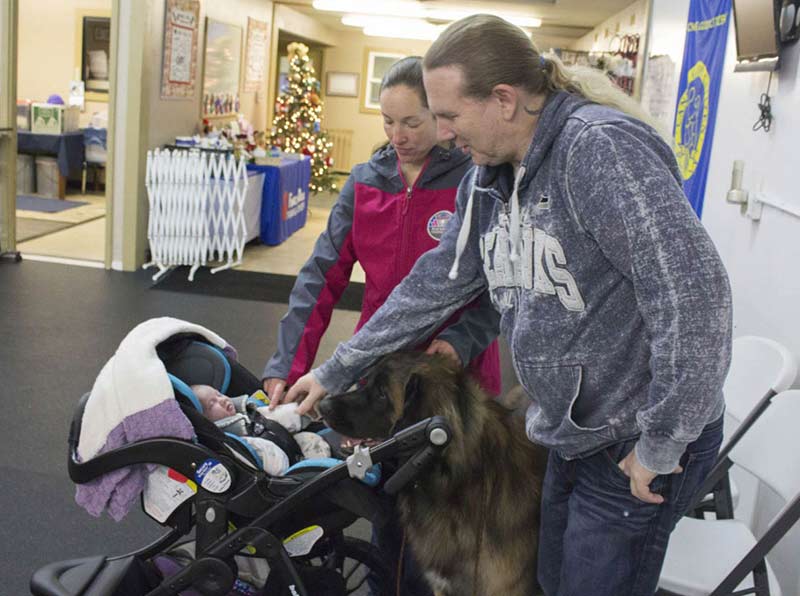 Juggling work (she is back on the job Jan. 28 as a manufacturing engineer for the General Electric Healthcare Division), a busy show schedule, transportation challenges, and less sleep, the independent handler is realistic that she will need help.
"I am going to have to rely on my dog-show family," she emphasizes. "Whether it is watching Mara while I'm running the ring or holding Leo while I load the car. I'll need to work on the logistics of loading and unloading, including setting up at the shows. Leo Roar needs down time at shows. The only way he will relax if he is crated. This means hauling in a 48-inch crate with a dog bed, cooling mat, water bucket, etc., into the show arena."
While he attended multiple shows last year, Wilson, a marketing manager specializing in graphic design, will take a more active role on the dog-show front this year, particularly at Pacific Northwest events.
"Leo Roar and I have come a long way," Coe adds, "but we still have many things to polish up. I would like to put more responsibility on him as far as giving him more lead and allowing him to set himself up. He is about 75 percent in this area, and we as a team need to be in the 90s. It will take a lot of concentration and steady handling on my part. I need to make certain I gait him at a consistent speed, perform the same footwork each time and hold the leash steady – all cues that Leo Roar will need to set himself up."
But equally challenging in 2016 will be adapting to totally new family dynamics while still maintaining lofty ambitions for Leo Roar in the show ring. You get the feeling that this colorfully fluid story has a lot longer to run and a lot more challenging distance to cover.