Tales from the Trenches: Turning the Tide in Southern California
Guest columnist Connie Koehler, Legislative Liaison for the Soft Coated Wheaten Club of America and Legislative Coordinator for the California Federation of Dog Clubs, writes about how dog fanciers successfully opposed a local mandatory spay/neuter proposal.
Led by members of the California Federation of Dog Clubs (CFODC), a dedicated group of Whittier, CA, dog fanciers took on City Hall and proved that it can be done. As a result of their efforts, the Whittier City Council soundly rejected the mandatory spay/neuter (MSN) provisions of Los Angeles County's Title 10 animal-control ordinance with its initial, unanimous vote of 5-0 on August 11, 2015, affirmed by a second, final vote on September 8, 2015.
Whittier adopted the balance of Title 10 to comply with the county's animal control regulations and services, with the notable exceptions of MSN; the alteration and licensing of cats; and changes to the county's dog licensing fee structure that are unique to the city.
The dog fancier team laid before the city council a wide range of public policy and canine health issues which render MSN a failed animal control solution, as demonstrated during the past 15 years in other locales across the state and the USA. Over a period of three months, the team:
Conducted comprehensive research and analysis on MSN and its effects on dogs, their owners, and the public, tailored to L. A. County at large and Whittier in particular
Distributed a wide range of authoritative documentation to city officials based on their findings
Met with city council members and other city management on a continuing basis
Published a well-timed editorial in local newspapers that was later posted in PublicCEO, an influential online journal whose audience includes California local government executives and senior managers
Testified in strength at the council meeting on August 11, at which the decisive vote was cast
The city's elected and appointed leadership told several team members subsequently that it was their compelling presentation of fact-based, public policy data and the findings of a growing body of veterinary research that carried the day to defeat MSN. For their part, city council members acted thoughtfully and evidenced their mastery of the issues at the August 11th council meeting during testimony by L. A. County staffers and public comment, prior to their vote.
Whittier is one of 48 incorporated cities within Los Angeles County that contracts with the county's Department of Animal Care and Control (DACC) for services which include the support of five county shelters. Of those 48 cities, only 13 have enacted MSN regulations as part of their own municipal animal control ordinances.
Whittier's 2005 contract with DACC—which was approved one year before countywide MSN requirements took effect in 2006—came up for renewal earlier this spring. The move to adopt L. A. County Title 10 in its entirety was first presented to the city council in February; a first reading was heard in March and a second reading was scheduled for late April. The council tabled the second reading due to other, more pressing business on its calendar and delayed it by over two months, opening a window of opportunity for the local dog fanciers.
The Whittier victory turned the tide for the southern California canine community in the immediate wake of Long Beach's passage of an MSN ordinance on March 17, 2015. Despite the concerted efforts of a Long Beach-based team which pioneered the approach used successfully up the freeway in Whittier, the earlier adoption of MSN ordinances across the SoCal region appeared to make Long Beach the latest in an unstoppable tsunami of anti-dog laws, among others, L. A. City in 2000, with a more stringent revision in 2008; Ventura County, December 2012; and Pasadena, October 2014; as well as the addition of MSN provisions in L. A. County's own Title 10, which passed in 2006.
Nonetheless, the momentum from the Whittier win immediately paved the way to the defeat of an MSN ordinance that was pending before the Bakersfield City Council on August 24. CFODC learned about the item just days prior to its appearance on the council's agenda. Using the public education approach from Whittier with the addition of data specific to Kern County and Bakersfield, CFODC members attended the city council meeting, testified during public comment, and succeeded in preventing the MSN action from proceeding to a vote.
CFODC also assisted the Channel City Kennel Club and local fanciers in Carpinteria in Santa Barbara County. The AKC Government Relations team found out about this proposal after it had been approved 5-0 on first reading and moved immediately to contact local fanciers, judges and the experienced team at CFODC. These groups mobilized immediately, and following their presentation to the city council, the issue was tabled. Council members are planning to convene a task force to study animal control issues in the city.
The fight to take back the Golden State for dogs and their responsible owners continues.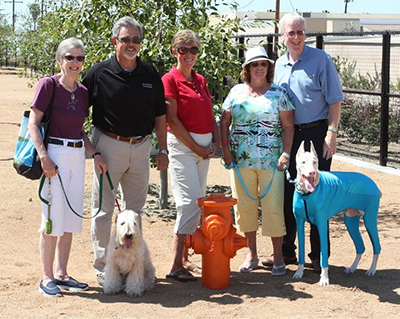 City of Whittier Dog Park dedication. L to R: Connie Koehler, Mayor Fernando Dutra, Councilmember Cathy Warner, Sarah Pingol, Mayor Pro Tem Joe Vinatieri. Photo courtesy City of Whittier, CA.