2017 Legislative Year in Review
2017 was another busy, but successful year for AKC Government Relations (AKC GR), and the many state federations, legislative liaisons, and advocates around the country dedicated to protecting the rights of responsible owners and breeders.
The AKC GR team tracked approximately 2,000 legislative proposals at the state, federal and local level in 2017. The department also monitored hundreds of regulatory issues at the federal and state levels. The continued high volume of legislative and regulatory proposals addressing animal issues demonstrates that animals – and especially dogs—are an increasingly important part of American lives and culture.
Federal Review
AKC GR tracked approximately 46 federal measures in 2017 on topics ranging from forfeiture, to safe havens for victims of domestic violence and their pets, to service dogs and military working dogs. House and Senate Resolutions celebrating National Purebred Dog Day were highlighted in a celebration in May at the U.S. Capitol.
AKC GR is also working with members of Congress to secure more information about the cause and possible solutions for the shortage of domestically-bred explosives detection and other working dogs for national security purposes. Language in HR 2810, the FY 2018 National Defense Authorization Act (now PL 115-91) requires greater transparency and reporting on procurement, training, and other factors that may contribute to the imbalance of imported over domestically-bred dogs used by the US military, Homeland Security/TSA, and other federal agencies for explosives detection and security. HR 4577 establishes a working group to develop a domestic canine breeding network to produce high quality explosives detection canines. In October, Sheila Goffe testified before a joint congressional subcommittee on the importance of making domestically-bred dogs more readily available to serve as explosives detection and working dogs. Be sure to check out her recent article on this issue and check out this month's federal updates to read more about this and all issues we continue to follow in Washington.
In the fall, USDA/APHIS requested public comment on the current federal licensing program for pet breeders, with specific questions related to improving the program to benefit dogs, responsible sellers, and consumers. AKC urged concerned constituents to comment. Read AKC's comments in our Legislative Action Center.
State and Local Year in Review
AKC and state federations saw a broad variety of issues addressed this year on the state and local levels, as indicated on the included charts. As in previous years, the majority of bills (1,900 of 2,000) tracked by AKC GR are state bills. Canine legislation often covers multiple specific issues related to dogs or dog ownership. This is illustrated in the state chart, where "other" appears to be the issue most commonly tracked by AKC GR. This means that a significant number of bills do not fit cleanly into a single traditional category and demonstrates the ongoing and active interest that policymakers have in animal issues.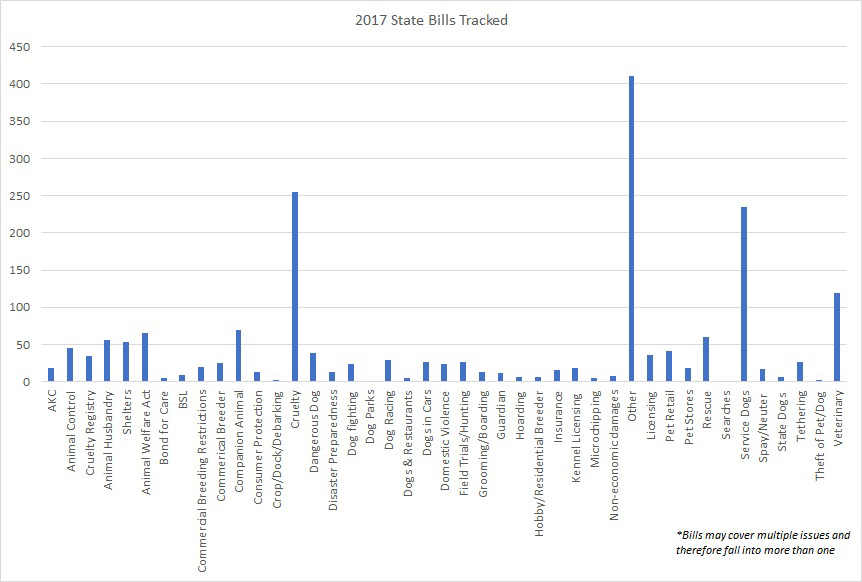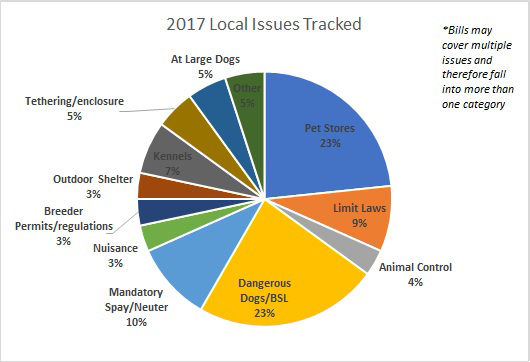 Other key issues we saw in 2017 include:
Cruelty – 255 bills this year on the state and local level addressed the issue of cruelty, either through increased penalties, new/expanded definitions, or similar topics. This was the most common issue AKC GR addressed on the state level. It continues to be an issue of significant concern to legislators, and an opportunity for responsible owners and breeders to reach out to their lawmakers and let them know you and your club can provide expertise on these issues to develop fair, balanced, and reasonable solutions. It also shows that whether it be at shows, in your kennel, or just walking your dog, lawmakers are concerned that animals are being treated properly. It benefits you to invest in the time and effort to demonstrate the level of care you give your animals.

Dangerous Dogs/Breed-Specific Legislation - The issue of dangerous dogs continues to be a major concern, as lawmakers worry about public safety. This is especially evident on the local level, where the number of proposals on this issue doubled from 2016. On a positive note, in May, Delaware became the 19th state to prohibit local governments from enacting laws based solely on a dog's breed (Breed-Specific Legislation). AKC also supported bills introduced in New York and Massachusetts that would prevent insurance companies from discriminating against policy holders based on the breed of dog they choose to own.

As this remains a prominent concern, it is an opportunity for local clubs to reach out to lawmakers and local animal control with AKC's public education and government relations materials that provide positive solutions. AKC GR can work with your club to provide educational materials, talking points and model laws if needed to help lawmakers develop reasonable solutions that protect their community's safety and the rights of responsible dog owners.

Shelters/Rescue Regulations– For the second year in a row, there have been a significant number of bills seeking to provide regulations for shelters. This is an important step as legislators are realizing that it is important to ensure that dogs in shelters are held to the same standards of care as dogs in private kennels. It is also worth noting that some states have started considering requirements on rescues, which is important to follow if your club is involved in rescue work. AKC GR can help you determine if this applies in your state.

Dogs in Cars – AKC GR tracked more than 25 bills on this issue in 2017. This includes a bill in Nevada where a dog could never be left unattended in the car with the engine running, regardless of whether proper measures had been taken to ensure the dog's comfort and safety. AKC GR communicated concerns and suggested changes to the legislature, and it was amended to allow for dogs to be left humanely in vehicles, so long as their health and safety were not at risk. The issue of dogs being left in vehicles is becoming a prominent concern, and exhibitors and handlers should use caution at dog shows to ensure if dogs are left in the vehicles, it is evident that those dogs are not in any danger.

Grooming – A new issue of growing interest in several states is the licensing and regulation of grooming facilities. AKC believes the issue of health and safety is central to the proper care of a pet, and has released a new policy position statement on this issue.

Pet Retail – The issue of how pets are sourced by pet stores continues to be a hot topic for state and local policymakers. Many pet retailer bills allow retail pet shops to sell only those pets they source from shelters or rescue distributors. This is of great concern to AKC because it limits the opportunities for a prospective puppy buyer to purchase a quality purebred pet from a licensed, regulated source, and leaves them with little choice other than to purchase an animal from random and unknown origins, little or no health testing, and not covered by consumer protection laws.

AKC continues to work with other concerned parties on this issue in a number of states, and also to instead support legislation, such as House Bill 3212 in Massachusetts, that would create consumer protections for those who purchase dogs from pet stores and prohibit the local bans on sourcing.

Field Trials – Hunting and field trial issues continue to be of interest to state legislators. The majority of the bills and regulations AKC GR addressed dealt with the use of public lands and how much of it can be used for dog training. Some of the bills are positive, such as not declaring a dog at large when hunting/training/in a field trial in an area designated for that purpose. Negative ones that would limit field trials have been defeated. AKC GR continues to work with sportsmen groups and AKC performance clubs to ensure the rights of sportsmen and hunters are protected.

Tethering – Issues relating to tethering continue to grow in prominence at both the state and local level. Some of these proposals were very reasonable (such as not tethering outside all day without access to food, water, shade). Others could have a harmful impact on use of service dogs, training, grooming or field trials. A bill currently moving through the Michigan legislature (HB 4332) fixes a measure passed in 2015 that does not allow any tethering to a stationary object unless the tether is three times the length of the dog. HB 4332 clarifies the tethering issue to exclude grooming, training, transportation, or hunting when "a shorter tether is necessary for the safety and well-being of the dog and others."

Disaster Preparedness – The number of bills regarding the care of animals before and during a natural disaster doubled in 2017, and we expect this to grow exponentially again in 2018, considering the significant number of natural disasters that impacted the United States this year. Many of these bills include a component requiring an emergency plan for kennels.

Canine Good Citizen Program – In November, Illinois became the 44th state to pass a resolution recognizing the value of the CGC program and promoting responsible dog ownership in local communities. The states remaining are Oregon, Nevada, Arizona, Montana, Iowa, and Missouri. For more information on these resolutions and the CGC program, visit www.akc.org/cgc.
Looking Ahead
2018 is an election year, which means most state legislatures will be looking to adjourn early in order to focus on campaigns. It will be imperative for clubs to ensure you have a Legislative Liaison and are in contact with your state federation, where relevant, to make sure you are getting the latest information, as bills are likely to move quickly. You can also keep track through the Taking Command newsletter and check for updates on our Legislative Action Center at www.akcgr.org.
One of the most important things your club can do to protect your rights in 2018 is to ensure that you have a Legislative Liaison (LL) to the AKC's GR department, and that the department has the LL's updated contact information.
AKC GR thanks all who worked so tirelessly in 2017 on behalf of dogs, and looks forward to continuing to partner with you to continue to protect our dogs and our sport.