The dog days of summer aren't here yet, but they will be before you know it. With warmer weather and longer days, it's time to get out with your pup and have some fun. There are so many activities the two of you can do together: for example, go to the beach, go camping, hiking, or swimming.
And don't forget about the good ol' fashioned road trip. It's always fun to travel somewhere new . . . and what is a vacation if you don't bring your dog?! But before you guys hit the road together, there are some things you'll want to consider.
You'll want to make sure you have enough food and water for the trip, that you stop frequently for exercise and bathroom breaks, and that your dog is comfortable riding in the car.
Then, of course, there is also the issue of where your dog will be sitting. Many dogs love to lounge on the backseat, curl up in your lap, or sit with their heads sticking out of the window. While you obviously want to make your dog's car experience fun and happy, you should consider whether these options are the safest for you and your pup. What happens to your dog if you get into an accident?
We're not trying to scare anyone here, but this is definitely something to consider. After all, what's the first thing you do when you get in the car? Buckle your seat belt. Doesn't it make sense to take the same precautions for our canine companions?
And that's where Sleepypod products come in. No matter how you choose to keep your dog safe in the car, either with a carrier or a harness, Sleepypod has a product that will work for you.
They have three different types of carriers and two different types of harnesses.
The Sleepypod carriers (Sleepypod Mobile Pet Bed, Sleepypod Air, and Sleepypod Atom) have all the capabilities of a regular carrier, with the added ability to function as a car seat. Similarly, the safety harnesses (Clickit Utility, Clickit Sport and Clickit Terrain) keep your dog secure and buckled-up in the car, but also can be used as regular harnesses in the park or on a walk. These products are great for just a short trip to the store or a summer road trip with the family. Your dog will be comfortable, happy, and most important, extremely safe .
Every Sleepypod product meets the highest standards for safety and has been put through the company's own advanced crash tests. Sleepypod's newest crash test pet, "DUKE 2.0" allows engineers to measure the impact of a collision and, therefore, design pet safety restraints that reduce injuries.
But don't just take our word for it; hear from Irish Terrier owner, Valerie.
Valerie, her husband, and her dog, Dexter, were riding on a narrow road when a vehicle on the other side of the road crossed the median into their lane. Valerie's husband swerved to avoid the car, but found himself navigating off-road through ravines and trees. The car was damaged from wheel well to wheel well. Dexter, however, was safe and sound (as were Valerie and her husband). The 33-pound pup was wearing a Clickit Utility safety harness.
"No one was hurt, thank you," Valerie told Sleepypod.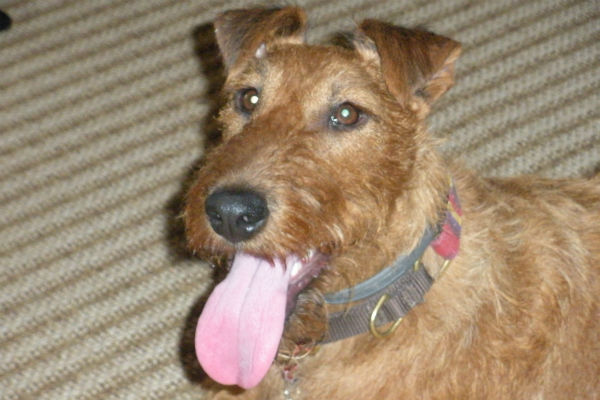 Dexter, the Irish Terrier whose life was saved thanks to Sleepypod's Clickit Utility Safety Harness
So when you hit the road with your dog this summer, remember to make sure everyone in the car is safe. Buckle up your dog, along with yourself, before you get going. In the event the unthinkable happens, your dog will be protected, just like Dexter was.
Learn more about Sleepypod's lifesaving products here.
And for more tips on traveling with your dog, check out our article here.
Sponsored by Sleepypod.
Tips for Responsible Dog Owners
This e-book is a great resource for anyone who's considering dog ownership or already owns a dog. Download for tips on how to be the best dog owner you can be.