Invite the Booth to Your Event
Criteria for AKC Booth Scheduling
The following is the criteria for the AKC booth to be scheduled at a specific location:
Number of spectators or size of the general public gate.
Number of entries, 2000 plus.
Type of AKC events or educational opportunity.
Geographical location across the nation.
Special events and demonstrations the clubs are hosting.
Organized school tours.
Legislators or government officials present.
The objective of the AKC booth is to educate the public, distribute education material, and promote purebred dog activities at all levels. The larger the audience, the better opportunity to accomplish this mission.
For more information, please call 919-816-3723 or email bho@akc.org.

Dennis Sprung, Ronnie Irvin, Ann Brue (AKC Agility Competitor) and John Lyons pose in the AKC Crufts Booth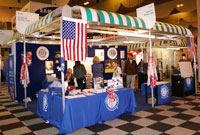 The AKC Crufts Booth.

Club Education Department staff: Barbara Ohmann and Pat Lejman.

Ron Menaker, AKC Board Chairman does a presentation to local media at the AKC Booth.

The Booth has many configurations and allows great flexibility for appearances.