March 2014
BSL Popularity on Decline Nationwide
Dog owners in South Dakota are celebrating enactment of Senate Bill 75, which prohibits local governments from enacting, maintaining, or enforcing regulations on certain dog breeds.  The bill was signed into law by Governor Daugaard on March 14, making South Dakota the 17th state to prohibit or restrict breed-specific laws.

Additionally, Utah House Bill 97 has been passed by that state's legislature and is on its way to Governor Herbert for his signature.  If enacted, Utah will become the 18th state to adopt statewide breed-neutral dog policies.

Read more. ►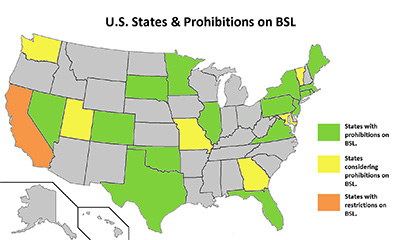 Information current as of March 25, 2014.
New in the GR Toolbox: New AKC Position Statements
AKC GR is pleased to announce new and revised AKC Canine Legislation Position Statements regarding working, assistance, and service dogs.

AKC's prior position statement, "The Use of Dog for Assistance and Service", has been retitled to reference working dogs and expanded to express AKC support for the right of disabled individuals to keep appropriately trained service or assistance dogs to perform essential functions without regard to the breed or phenotype of the dog.

Read more. ►
Legislative Information and Updates
More than a thousand dog-related laws are introduced each year at the federal, state, and local levels—measures that may have significant impact on dog owners.  Click on the links below to view highlights of issues being tracked by AKC Government Relations.

Federal — issues that may affect all dog owners in the US
State — issues specific to your state 
Local — issues at the city and county levels

Please contact us at (919) 816-3720 or doglaw@akc.org for more information or to let us know what's happening in your local community.

Two Ways to Protect your Rights

What's New from GR
AKC Government Relations is pleased to report that 17 states have now enacted laws that prohibit or restrict breed-specific legislation (BSL). An 18th state, Utah, has passed a measure that is currently awaiting the governor's signature. Six additional states are considering similar measures, and several local communities have recently rejected or tabled BSL proposals. However, BSL continues to be introduced at the city and county level in many regions and is the most frequent type of local legislation tracked by AKC GR. More information on AKC's ongoing efforts to oppose BSL appears in this month's Taking Command.

One of the most disturbing aspects of breed specific laws is the damaging effect they may have on working, service or assistance dogs. In response, to these concerns, the AKC has updated its canine legislation policy position to express support for the right of disabled individuals to keep appropriately trained service or assistance dogs to perform essential functions without regard to the dog's breed or phenotype.

The AKC is also aware of a disturbing trend among certain dog owners who misrepresent their dogs as service animals for the purpose of obtaining privileges otherwise reserved for working or service animals and their human counterparts. This unfortunate situation has been observed in stores, restaurants, hotels and other venues that do not admit pets. It has also occurred on airlines, where misrepresentation of a dog as a service animal in order to avoid shipping it as cargo may reduce space available to those who truly need it.

Read more. ►