AKC Multi-club Education Match Welcomes NJ Newcomers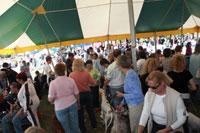 In late September the American Kennel Club® held a day-long AKC Multi-club Education Match on the grounds of the Hunterdon Developmental Center (HDC) in Clinton, N.J. The HDC is a residential facility for disabled adults. The match was designed for newcomers to the sport of purebred dogs and those who wanted to practice dog handling skills without actually competing for Championship points.
In the morning, dog owners learned how to groom, train and show their dogs with the help of AKC staff and local area AKC club members. In the afternoon they enjoyed the Match. More than 200 dogs were entered in Conformation and 135 for Companion Events. In addition, nearly 40 AKC Canine Good Citizen tests were administered. Best Puppy in Match went to an Irish Water Spaniel handled by a first-time competitor and Best Adult in Match went to an Afghan Hound.
The event was open to the public and offered a friendly forum in which to learn about the sport of purebred dogs as well as an opportunity for Hunterdon residents to partake in an event that will have therapeutic benefits for both man and animal. Hunterdon residents have benefited from ongoing interaction with dogs since 1994 via a number of other AKC events held on the grounds as well as from therapy dogs who make regular visits and the employees who bring their dogs to work every day. Several dozen of the HDC residents contributed to the event by kicking off the festivities by singing the national anthem, accompanying dogs, volunteering in the ring for an "Honor Parade" and serving as trophy presenters.
Click here for a guide to working with clubs in your region to host an AKC Multi-club Education Match.