Public Education Spotlight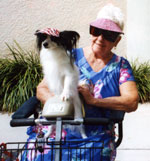 Arlene Czech, AKC delegate for the Papillon Club of America Inc., has been visiting nursing homes, assisted living homes and adult groups in the Naples, Florida, area for years and. And last month, at the invitation of a local Salvation Army director, Czech made her first dog presentation for children.
Accompanied by six Papillons and their handlers, Czech entertained and educated two dozen kids who had enrolled in the Salvation Army's Day Care Summer Camp.
"All the dogs are my Papillons, most of which are conformation champions, have Obedience CDs, Rally RNs and AKC Canine Good Citizen certificates," Czech said. "Some are retired and have been placed with local people who love to come to our 'shows' with their dogs. The piano lady is 84-years-old and has our 11-year-old Valentino, who loves to ride/drive her scooter!"
The group of 6- to 12-year-old boys and girls watched intently and clapped as Czech and her well-trained Papillons put on their fast-paced 30-minute show. Big top music sounded from the piano as purebreds dressed in circus costumes jumped through hoops and ran through tunnels. Next cowboy music set the mood for Valentino to play cowboy by riding across the floor on a rocking horse on wheels.
After the show, Czech talked to the children about how to properly greet a dog and answered kids' questions.
When a couple of kids mentioned that they had dogs and wanted them to do the same tricks the Papillons performed, Czech told them about obedience classes offered by local dog clubs.
"The children aren't allowed to touch the dogs until they're through with their performance," Czech added. "But afterward they learn how to approach a dog and get to practice with the Papillons. They can pet the dogs, once we, the owners, say it's OK."
Czech left the Salvation Army a copy of the "AKC Safety around Dogs: Your Safety Begins with You" DVD and activity sheets as well as copies of the AKC Purebred Dogs Coloring book.
Staff at the Salvation Army showed the DVD to the children a few days after Czech's visit and asked her to return to make a presentation to another group of children there.
"I was impressed with the behavior of the children around the dogs. They were perfect ladies and gentlemen. All I had to do was tell them what I expected of them and what they could expect the dogs to do," said Czech, a former teacher. "We plan to return."