March / April 2006
Canine Ambassadors Turn Passion for Purebred Dogs into Vocation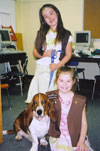 Educational studies show the significance of giving children learning opportunities early on.

Canine Ambassadors, who visit nursing homes, libraries, other venues, but primarily schools, provide kids with exciting opportunities to learn about purebred dogs, the American Kennel Club, fun things they can do with their dogs, how to be safe around dogs and how to best love and care for dogs. Often Ambassadors bring their AKC-registered or ILP dog to the presentation. Each Ambassador receives mailings from the Public Education department with topic suggestions and activity sheet copymasters. Read the full article.

Want to be a Canine Ambassador, But Not Sure How to Start?

Just follow these steps, and if you need additional assistance or have any questions, please e-mail AKC Public Education at publiced@akc.org or call (919) 816-3712.
Talk to your club officers and fellow club members. There is power – and fun – in numbers, and remember, there's no limit to the number of Canine Ambassadors a club may appoint.
Submit a completed sign-up form to AKC Public Education.
Read a description of the Canine Ambassador program and FAQs.
Find out how to access and order materials, such as lesson plans, brochures, education kits including DVDs, coloring pages and much more!
Let us know how and what you're doing! Please call or e-mail us photos and descriptions of Canine Ambassador activities you'd like to share with AKC Public Education and your fellow Canine Ambassadors across the country. Also, keep in mind the AKC Community Achievement Awards. We encourage you to recognize your own or others' outstanding work.

Community Achievement Award Winner:
Antelope Valley Kennel Club
Since its establishment in 1955, the Antelope Valley Kennel Club of Lancaster, California, has served and supported its community through dog show events, clinics, seminars, matches and donations.

Prompted by the devastating fires in California in 2003 and 2004, the Antelope Valley Kennel Club decided to donate canine oxygen masks to all the fire stations in the Antelope Valley area. The breathing apparatuses are used for dogs working in emergency areas and also for pets injured in accidents and fires. The masks were delivered to 27 firehouses in July 2005 and were enthusiastically received by the firefighters. Read the full article.


AKC Visits Georgia School
Students at Sunset Elementary School in Moultrie, Ga., celebrated Where The Red Fern Grows Week with a unique experience. The book by Wilson Rawls revolves around two Coonhounds, "Little Ann" and "Old Dan" in the Ozarks and their owner, a boy named Billy Coleman.

AKC Coonhounds Executive Field Rep Jimmy Phillips visited the school and spoke about showing and hunting with Coonhounds…and he brought a surprise guest – a Redbone Coonhound named "Dixie." Read the full article.
Published for club public education coordinators and others devoted to teaching responsible dog ownership.
Thank you to all of you who responded to our survey.

We appreciate your feedback – and the wonderful work you do! Many of you told us you'd like to know more about the Canine Ambassador Program, so we devote much of this issue to telling you about this worthwhile and fun way to promote public education. While teaching responsible dog ownership and spreading the word about AKC and the great things for owners to do with their dogs, clubs can use the Canine Ambassador program as a way to strengthen camaraderie and teamwork among members – not to mention bring lots of smiles and other important messages to your neighbors.

We also hope you'll enjoy reading about the Antelope Valley Kennel Club, the latest AKC Community Achievement Award honoree. Please consider nominating your club, yourself or another deserving AKC-affiliated club or federation for this honor.

All the best,

Larry Sorenson, director
(919) 816-3722
Theresa Shea, editor
(919) 816-3710
Joanne Beacon, administrator
(919) 816-3712
publiced@akc.org
AKC Customer Relations
(919) 233-9767
orderdesk@akc.org