AKC Honors Three Fanciers With AKC Community Achievement Awards
The American Kennel Club announced in June Holly Stump of Ipswitch, Mass., Edward Peterson, of Middlesex, Vt., and Donna and Bill Welty of Vienna, N.J., as the most recent AKC Community Achievement Awards honorees.
The AKC Community Achievement Awards support and recognize outstanding public education and legislation efforts of AKC-affiliated clubs, AKC-recognized federations and their members. The AKC selects award recipients who promote purebred dogs and responsible dog ownership within their communities or who have successfully introduced, monitored and responded to legislative issues affecting dog ownership.
Nominations for the AKC Community Achievement Awards are accepted year-round. Up to three honorees are named each quarter. They receive a certificate of appreciation and a $1,000 check payable to the club or federation's public education and canine legislation efforts. To nominate a club, please visit the Community Achievement Award section of our website.
Holly Stump

Stump was recognized for her efforts to educate legislators about the dangers of breed-specific legislation. Massachusetts Federation of Dog Clubs and Responsible Dog Owners, a group in which she serves as board member, nominated Stump.
Stump travels her home state on the federation's behalf, attending town committee meetings and working with legislators to combat breed-specific legislation wherever it is introduced. She also makes therapy visits to an area nursing home with her American Staffordshire Terrier, Lula.
"The dog fanciers of Massachusetts are fortunate to have such a vigilant lobbyist advocating for their rights," said Noreen Baxter, AKC VP of Communications. "Holly and her American Staffordshire Terrier have helped to dispel myths about bully breeds and build trust between dog owners and their communities. We are pleased to present Holly with the AKC Community Achievement Award and thank her for all of her efforts."
Donna and Bill Welty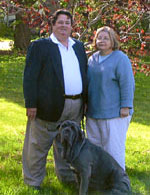 The Weltys are founding members of the United States Neapolitan Mastiff and the Garden State Neapolitan Mastiff Clubs, members of the New Jersey Federation of Dog Clubs, past presidents and vice presidents of the Schooley's Mountain Kennel Club and members of the New Brunswick Kennel Club.
In addition the couple has promoted public education by staffing information booths, creating flyers and newsletters, and writing articles. Donna Welty, a school teacher for 33 years, created and taught a popular seventh-grade course on the dog's role in history and conducted an after-school dog-care program.
"The Weltys are devoted to the education of the fancy as well as the general public," said Noreen Baxter, AKC's VP of Communications. "They have been highly influential in the sport of purebred dogs and their successes are shared by all members of the fancy. The American Kennel Club salutes the Weltys on all their accomplishments."
Edward Peterson

Peterson was named a recipient of the AKC® Community Achievement Award for his dedication to preserving the rights of responsible dog owners. Peterson serves as spokesperson for the Vermont Federation of Dog Clubs.
"With Ed's leadership, we prevented two poor bills from becoming law," wrote George Sexton of the Woodstock Dog Club, who nominated Peterson for the award.
"Ed's devotion to defending the rights of responsible dog owners is commendable," said Noreen Baxter, AKC's VP of Communications. "He has successfully represented his fellow dog fanciers and worked with lawmakers to prevent the passage of harmful legislation. The American Kennel Club congratulates Ed on a job well done."