AKCommunicates! May 2013
In this issue:
News from AKC President, Dennis Sprung
Club PR Tips & Tools
AKC Programs & Exhibitor News
Social Media Corner
AKC Syndicate
AKC's Pick of the Litter Podcast
Quick Tip
Breed of the Month
Kudos To...
Website Spotlight
Social Media Spotlight
News from AKC President, Dennis Sprung
We're looking for a few good dogs! The AKC Humane Fund Awards for Canine Excellence (ACE) have returned in 2013 to celebrate the life-changing and important ways that dogs impact our lives.

If you know a dog that has performed some exemplary act, whether large or seemingly small, that has...

Read more here.
Club PR Tips & Tools
PR Terms Glossary

Following are some terms frequently used in the PR industry, which may be helpful as you plan activities to publicize club events.
Angle:
Also known as slant, peg or hook. It relates to the point of view from which a release or news story is written, to interest a particular audience.

Read more here.
AKC Programs & Exhibitor News
AKC COMPANION ANIMAL RECOVERY AWARDS OVER $400,000 IN GRANTS TO K-9 SEARCH AND RESCUE TEAMS NATIONWIDE
More Than 140 Grants in 45 States to Support Volunteer Teams
The AKC Companion Animal Recovery (AKC CAR) Canine Support and Relief Fund recently awarded $413,000...
Read more here.
Social Media Corner
Help us grow the AKC's Social Media presence by participating in our new photo contest on Facebook and spreading the word.

Beginning Wednesday, May 29th, you can submit photos of your dog to the Doggie Diva Photo Contest on the AKC Facebook page. There will be a new category every other week: Active Dog, Glamorous, Best Friend and Bad to the Bone. Daily and category winners will be selected based on fan votes, and then the four category finalists will compete for Best in Show!

Start collecting your photos now and stay tuned! We'd also appreciate you sharing the contest details with your friends and family. Join our online community of pet enthusiasts and 'LIKE' the American Kennel Club Facebook page, follow us on Twitter, and visit AKC Dog Lovers for more fun dog tips, pics, contests and more!
AKC Syndicate
The AKC Syndicate provides free editorial content about all things dog for editors everywhere. If you serve as your club's newsletter editor or webmaster, the Syndicate may be a useful resource for you.

You can access it online here. The username is akcnews and the password is editor. Here are this month's additions to the Syndicate:
AKC's Pick of the Litter Podcast with Lisa Peterson
AKC's Pick of the Litter podcast — where we bring you canine culture, dog people, and news you can use. In this edition of Pick of the Litter, E.B. White's opinionated dogs, the German Wirehaired Pointer and a new mother shows off her puppies.

Listen to the podcast.

We hope you enjoy this podcast. Since we all love to talk about our dogs endlessly, we'd like invite you to tell us about your dogs, their funny antics or how they express unconditional love. Send me an email at asklisa@akc.org with your personal "Best in Show" moments and we'll share your stories on future programs.
Quick Tip:
Crates 101: AKC Offers Tips On Choosing The Right Crate For Your Dog
A crate can be a very effective way to train your dog and safely transport him. It is essential that your dog feels comfortable and secure in it. To help owners find the perfect crate for their dog, the American Kennel Club (AKC®) offers the following tips:
| | |
| --- | --- |
| • Choose the material: | Dog crates usually come in three different materials: plastic, wire or soft materials. |
| | - Plastic crates are den-like and enclosed, which may make your dog feel safer. They are also easier to clean. |
Read more here.
Breed of the Month
AKC MEET THE BREEDS®: Newfoundland
A large dog and a true workhorse, the Newfoundland is a master at long-distance swimming and has true lifesaving instincts in the water. He is large and strong, possessing a heavy coat to protect him from icy waters. Equally at home in the water and on land, today's Newfoundland competes in conformation, obedience, agility, tracking...
Read more here.
Kudos To...
Kudos to the following clubs for promoting AKC events, activities and opportunities across the country. Recognizing and utilizing your members' particular expertise and capabilities to put your own "spin" on AKC's message points helps them go even further.

Kudos to...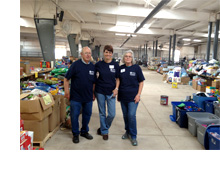 The Canadian Valley Kennel Club, Town and Country Kennel Club, Sooner State Kennel Club, West Central Oklahoma Kennel Club, Mid-Del-Tinker Kennel Club, Oklahoma City Kennel Club, Lawton Dog Fanciers Association and many Oklahoma area fanciers for offering assistance to pet owners in Moore, Oklahoma after the recent devastating tornadoes. Club members in the affected areas pitched in by donating money, delivering supplies like bowls, crates, leashes and other necessities, and volunteering at various pet sheltering sites. They were also instrumental in helping AKC and AKC CAR determine what was needed where after the storm. Great job!


The Ridgewood Responsible Pet Ownership Committee, which includes members from the New Jersey Federation of Dog Clubs and Ramapo Kennel Club, for their recent efforts promoting responsible dog ownership, AKC Companion Animal Recovery and the importance of microchipping. They pitched an article about a local microchip clinic where they would be providing free microchips, implantation and AKC CAR registration for the first 75 dogs in attendance that later appeared in The Suburban News. Another piece appeared in The Ridgewood News about the group's donation of AKC CAR microchip scanners to the local police and health departments in Ridgewood. Spokesperson Jeffrey Ball was also able to share information about how microchips greatly increase the chances an owner will be reunited with his or her pet if it is lost or stolen.

Offering free microchips and/or scanners to groups in your community is a great way to promote your club — it helps you be seen as a resource for all things dog. If you're interested in learning more about donating microchips or scanners, visit www.akccar.org. We can also help you spread the word of your donation to local media — just contact us at communications@akc.org.

Has your club gone above and beyond in the community? Let us know at communications@akc.org and you could receive a Kudos!
Website Spotlight
Tonawanda Valley Kennel Club
President Kathryn Seweryniak submitted the new website of Tonawanda Valley Kennel Club for Website Spotlight.

There is a lot of great information available on the homepage, including a meeting calendar and schedule, upcoming match and show details, and member brags.

Other important information is broken out in several sections like the Legislative Corner, which keeps members updated on legislative actions locally and nationally that may affect them as dog owners and/or breeders, as well as a Canine Good Citizen section, which provides news and updates on the CGC program. This section, as well as the Obedience/AKC Rally®/Tracking page is especially important for drawing general public who may be looking for training assistance and may not necessarily be interested in competing in dog shows.

Other great features include a Member Spotlight and an AKC Humane Fund section that tells dog owners how they can get involved in supporting pet owners during times of disaster through the Sandy Fund.

Thanks for your submission, Kathryn!

Do you think your club's website could serve as an example for other clubs? If you think it deserves recognition, let us know and we could spotlight it here. Send us your website address at communications@akc.org.
Social Media Spotlight
German Shepherd Dog Club of America Facebook Page
We love the German Shepherd Dog Club of America's Facebook page, which is always full of new and interesting information, like human-interest news stories involving the breed, dog food recalls, and more. They've gotten many shares, likes and comments by sharing posts about how GSDs are used as Military Working Dogs. Does your breed have a unique purpose that the public should know more about?

We also thank the club for supporting AKC Facebook initiatives like The Slobbering Sixteen (GSDs won!). Clubs are always welcome to use material we post on the AKC page on their pages as well. And if you have something that has worked especially well on your Facebook page, we'd love to see it! Just e-mail socialmedia@akc.org.

We're featuring clubs that have outstanding social media pages. Does your club have a fabulous Facebook page? Do you tweet regularly? Can prospective club members check out your YouTube page? Send us a link at communications@akc.org and you could see your social media page here.
Thanks to all of the clubs that routinely generate positive media coverage. If your club has an idea or success story to share, please send it to: Stephanie Smith, Club Communications Manager, American Kennel Club, 4th Floor, 260 Madison Avenue, New York, NY 10016 or send us your brag in an e-mail to communications@akc.org. We look forward to hearing from you.

Sincerely,

The AKC Communications Team
© 2013 American Kennel Club