AKCommunicates! June 2013
In this issue:
News from AKC President, Dennis Sprung
AKC Chairman's Report
Club PR Tips & Tools
AKC Programs & Exhibitor News
Host an AKC Responsible Dog Ownership Days Event!
AKC Honors Canine Heroes With New Wilderness Search And Rescue Title
Social Media Corner
AKC Syndicate
Quick Tip
Breed of the Month
Kudos To...
Social Media Spotlight
News from AKC President, Dennis Sprung
Eunice Gerloff, President of the Lone Star Flock Tending Club, contacted us recently to tell us about a demonstration she did recently in her town.

The Plano Landmark Association set aside 4.5 acres in downtown Plano, Texas to give local residents a farm experience during American Scout Day...

Read more here.
AKC Chairman's Report
New York, NY — Given that I spent nearly 45 years in the advertising agency business, it shouldn't come as a surprise that one of my favorite TV programs is "Mad Men" — the quintessential show about the advertising business in the 1960s, a time I remember well. One episode involves the proposed demolition of Penn Station and the construction of Madison Square Garden, which at the time was a hotly contested action.

Read more here.
Club PR Tips & Tools
Advertising vs. Public Relations: What is best for your club?
What is Public Relations?
"Public relations helps an organization and its publics adapt mutually to each other."
— Public Relations Society of America
Because public relations (PR) encompasses many different tasks, its definition can vary widely depending on whom you ask. The field can involve everything from lobbying efforts and coalition building to charity campaigns and marketing research, but most often it's associated with "media relations" or "publicity."
Read more here.
AKC Programs & Exhibitor News
Host an AKC Responsible Dog Ownership Days Event!
UPDATE: A third of our free giveaway kits are already gone, so make sure to register your event soon.
AKC Responsible Dog Ownership Days shine a spotlight on the commitment it takes to have a canine companion.

AKC clubs, Canine Good Citizen evaluators and dog lovers...
Read more here.
AKC Honors Canine Heroes With New Wilderness Search And Rescue Title
Wilderness Search and Rescue dogs, who use their air scenting or tracking abilities to locate missing persons, typically in a non-urban setting, will now be recognized by the American Kennel Club® (AKC®) with the new SAR-W title. The AKC already acknowledges dogs that are FEMA or State Urban Search and Rescue (SUSAR) certified as Urban Search and Rescue Dogs.

Within the field of Wilderness Search and Rescue there are dogs that specialize in tracking, trailing, air scent, water and avalanche search and rescue.

The handlers of Wilderness Search and Rescue dogs that have been deployed on at least five SAR missions and that have been certified by an AKC recognized SAR certification organization may request a title by downloading and completing this form. The dog must be AKC registered or enrolled in the AKC Canine Partners program. The handler is required to submit the dog's SAR certification document and documentation verifying the dog's deployments. For more information please contact Lisa Carroll at 919-816-3900 or performanceevents@akc.org.
Social Media Corner
Club Spotlight and Doggie Diva
•
We're celebrating the interesting and exciting things our clubs do in support of AKC and dogs everywhere by posting Club Spotlights on the AKC Dog Lovers blog. Knowing about your club's efforts helps make them part of our new conversation with the public and our legislators. Please send any of your club's good works to Stephanie Smith at sxs2@akc.org and we'll let you know when they'll appear on the blog.
•
Keep visiting the AKC Facebook page to continue voting in the Doggie Diva Photo Contest. Learn what new category will be unlocked every other week and vote for your favorite dog photos all the way to Best in Show!
•
Make sure you're a part of our online community of pet enthusiasts and 'LIKE' the American Kennel Club Facebook page, follow us on Twitter, and visit AKC Dog Lovers for more fun dog tips, pics, contests and more!
AKC Syndicate
The AKC Syndicate provides free editorial content about all things dog for editors everywhere. If you serve as your club's newsletter editor or webmaster, the Syndicate may be a useful resource for you.

You can access it online here. The username is akcnews and the password is editor. Here are this month's additions to the Syndicate:
Quick Tip:
Tasty Treats: American Kennel Club Offers Treat Recipes for Your Dog
Dogs, just like humans, can get bored eating the same thing over and over. If your dog seems tired of frozen peas and peanut butter in his hard, rubber, hollow interactive toy, the American Kennel Club (AKC®) offers the following mixtures for you to try.

Mix the ingredients in a bowl and fill up the hollow toy. Results may vary based on the amount of each ingredient that you use. Also, some dogs are lactose intolerant, so be sure to consult your veterinarian before feeding your dog dairy.
Read more here.
Breed of the Month
AKC MEET THE BREEDS®: Rat Terrier
The Rat Terrier is a multipurpose companion dog that is capable of hunting rodents and vermin above and below ground as well as coursing small game. He is a sturdy, compact, small-to-medium sized parti-colored dog giving the appearance of elegance and athleticism. His short, smooth coat may come in any variation of pied patterning. Pied is described as comparatively large patches of one or more colors in combination with white. Acceptable colors, with or without "tan points", include the predominate black, or chocolate, red, apricot, blue, fawn, tan, or lemon.
Read more here.
Kudos To...
Kudos to the following clubs for promoting AKC events, activities and opportunities across the country. Recognizing and utilizing your members' particular expertise and capabilities to put your own "spin" on AKC's message points helps them go even further.

Kudos to...


The Pug Dog Club of Greater New York for hosting a fun, public event for Pug owners that got showcased by local media.

PDCGNY held its annual Alice Austen Pug Fun-Fundraiser Day on Sunday, June 9 at the Alice Austen House Museum on Staten Island, New York. The Day, celebrating all things Pug, has been held for over 30 years and commemorates Alice Austen and her pug, Punch.

Pugs and their adoring owners took part in activities like an AKC Canine Good Citizen test (open to all Toy breeds), hands-on obedience demos, a Pug fun match, a costume contest with ribbons and prizes, a raffle and the club's famous BBQ lunch.

What a great, family-friendly way to celebrate a wonderful breed! Read more about the Day in the Staten Island Advance.

Has your club gone above and beyond in the community? Let us know at communications@akc.org and you could receive a Kudos!
Social Media Spotlight
Mid-Florida Golden Retriever Club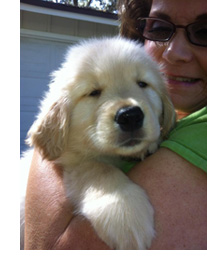 The Mid-Florida Golden Retriever Club Facebook page clearly celebrates a love of "all things Golden."

The friendly and welcoming page posts not just fancy-related content, but also Golden items that would be of interest to the general public, including fun images for recent holidays like Father's Day and Flag Day and Golden shots with funny sayings.

Member accomplishments are also spotlighted. The page administrator shares photos of members and their dogs after competitions like obedience, rally, agility and more. There are extensive photo collections from their Match Show, Agility and Fied Fun Day and other events.

Check out their page for more ideas!

We're featuring clubs that have outstanding social media pages. Does your club have a fabulous Facebook page? Do you tweet regularly? Can prospective club members check out your YouTube page? Send us a link at communications@akc.org and you could see your social media page here.
Thanks to all of the clubs that routinely generate positive media coverage. If your club has an idea or success story to share, please send it to: Stephanie Smith, Club Communications Manager, American Kennel Club, 4th Floor, 260 Madison Avenue, New York, NY 10016 or send us your brag in an e-mail to communications@akc.org. We look forward to hearing from you.

Sincerely,

The AKC Communications Team