Winter 2006

On the Shoulders of Masters
By Karen Staudt-Cartabona


Courtesy Karen Staudt-Cartabona

You have just watched the AKC/Eukanuba National Championship show and thrilled to see top awards go to the handler of a proud, beautifully groomed double of the dog contentedly dozing at your feet.

Perhaps you have already entered the show ring with this dog, so dear to your heart, and she has completed the points necessary to become an official AKC champion. Your decision made, you begin to search for a suitable mate, and you are eager to join the ranks of dog breeders. Read more.

---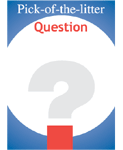 Pick-of-the-Litter Question
What features do you look for in the ideal whelping box? Send us your answer!

Last issue's question: What changes, if any, do you make to your bitch's diet prior to breeding or whelping? See your answers here!


---
Little Breeds, Special Needs
By Linda George

Courtesy Linda George

I began showing Chihuahuas 37 years ago, the summer before I started college. Between the time constraints of studying and a lack of money due to part-time employment, I didn't breed for five years.

Needless to say, that first litter was one of the most exciting and highly anticipated events of my life. Since I had read every book available at my local library on the subject of having puppies, I felt that I was well prepared. Unfortunately, none of the books were geared toward toy dogs, and I didn't have a nearby mentor to call on for help and advice. (How lucky today's new breeders are to have the Internet and the wealth of knowledge and people they can access there!) Read more.

---
Chet Jezierski/©AKC

4 Keys to Good Litter Hygiene
By Loretta Marchese

Keeping a litter of puppies clean and healthy may seem like a simple task to novice breeders, but experience may prove them wrong. Puppies, especially of coated breeds, can develop health issues if their breeder fails to follow basic hygiene practices:
Keep It Short
Know When to Step In
Monitor Problem Spots
Introduce Grooming Gently
Read more.
---
At Your Service
Last year AKC handled 600,000 calls and 90,000 e-mails, many from breeders like you.

When the AKC Customer Service department relocated to Durham, North Carolina, from New York City in October 1988, there were 12 customer service representatives with 12 incoming lines and limited information resources.

That year, the AKC Call Center handled over 300,000 calls. Most were from breeders checking the status of their paperwork, customers unsure of registration procedures, and potential owners looking to purchase a puppy. Literature was mailed in an envelope addressed by the rep who took the call. Read more.



The American Kennel Club has long realized that breeders who dedicate themselves to the betterment of their chosen breed are the lifeblood of the world of purebred dogs. One of the ways that AKC acknowledges great breeders is through its Breeder of the Year Awards. Each year we recognize those breeders who fulfill AKC's ideal of preserving and improving the form, function, health, and distinctive type and character of purebred dogs, through enduring dedication to a specific breed.

AKC's 2006 Breeder of the Year group recipients are: Sporting Group, Judy Colan—Colsidex Weimaraners; Hound Group, Susan Lacroix Hamil—Quiet Creek Bloodhounds; Working Group, Sandra D'Andrea—Nanuke Alaskan Malamutes; Terrier Group, Beverly Verna—Regency Miniature Schnauzers; Toy Group, Jose Cabrera and Fabian Arienti—Starfire Pomeranians; Non-Sporting Group, Kathy and George Beliew—Imagine Chow Chows; and the Herding Group, Douglas and Michaelanne Johnson—Bugaboo Old English Sheepdogs.

In this issue we have articles by recipients of previous years. We have an informative piece on selecting a mentor by Karen Staudt-Cartabona, our 2005 Hound Group winner, and another on whelping small breeds by Linda George, the 2002 Toy Group winner. I hope that you will enjoy these wonderful articles as well the others selected for this issue.

As always, I welcome your comments and suggestions.

Ronald N. Rella

Director, Breeder Services

AKCbreeder@akc.org

(212) 696-8303




The American Kennel Club is dedicated to upholding the integrity of its Registry, promoting the sport of purebred dogs and breeding for type and function. Founded in 1884, the AKC and its affiliated organizations advocate for the purebred dog as a family companion, advance canine health and well-being, work to protect the rights of all dog owners and promote responsible dog ownership.