September 2006

Not Too Hot, Not Too Cold:
Keeping the Temperature Just Right in the Whelping Room
By Darlene Arden

Australian Shepherd; CC Photography

Monitoring the temperature of the dam and whelping box, avoiding unnecessary changes in temperature and watching for signals from the pups and bitch can help ensure you keep your new litter and their mother's whelping area a safe and comfortable temperature.

"The heat in and around the puppies must be carefully monitored," said breeder and Oxford, Mass., veterinarian Betty Trainor, whose clientele consists primarily of purebred dog breeders. Read more.

---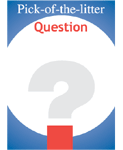 Pick-of-the-Litter Question
What, if any, changes do you make to your bitch's diet prior to breeding or whelping? Send us your answer!

Last issue's question: Which, if any, pregnancy tests do you perform or have performed on a bred bitch? When and why? See your answers here!


---
AKC Veterinary Network Certificate Program Helps Start Puppies on Lifelong Healthcare Plan
By Penny Leigh

Beagle; ©AKC

The secret to a long life is a great start.

For puppies, that means proper nutrition, training, grooming and healthcare.

The American Kennel Club understands puppy buyers have many decisions to make and has launched a program to help new owners give their dogs the best beginning.

Newly registered puppies now receive a certificate redeemable for a first office visit to a veterinary practice in the AKC Veterinary Network. More than 2,000 veterinarians around the country take part in the network; their contact information appears on the AKC web site. Read more.

---
New Full Litter Registration Form Allows You to Register a Litter and Individually Register Each Pup at Same Time
By Penny Leigh

Ibizan Hound; Mary Bloom

Elaine Lessig is committed to breeding the best Cavalier King Charles Spaniels for both show and companionship.

Lessig scrupulously screens her dogs for health problems and selects only structurally and mentally sound dogs for her breeding program. Before her puppies leave, Lessig carefully matches them to the right owner. She recently added something she considers another vital step of the breeding process.

Lessig registers every puppy with the American Kennel Club before they go to their new homes. Read more.

---
What Does Your AKC Registration Fee Support?
Plenty! The AKC has allocated millions of dollars to fund:
Kennel Inspections
Kennel inspections ensure the integrity of the AKC registry and monitor care and conditions at kennels across the country. The AKC is the only purebred dog registry in the United States that maintains a systematic and sustained investigation and inspection effort. The AKC conducts about 5,000 inspections each year to ensure compliance with standards that support the health, safety and welfare of dogs and the environments in which they live.
Read more.
---
Voluntary Caesarean Section
By Rebecca Poole

Bill and Becky Poole

Being breeders for almost 30 years has enabled us to understand and accept the idea of the voluntary Caesarean section. At first thought, one may think it is unnecessary to have this procedure. However, after the heartbreak of losing just one puppy, a C-section to remove the final whelp that cannot be delivered by the mother makes it a very desirable and acceptable choice, even a humane one.

Having a litter should be an enjoyable experience, and knowing that you are prepared and willing to have a voluntary C-section can ease the stress for you, the mother and the puppies. The relief of returning home with a healthy litter is worth taking the time to consider this option. Read more.


In this issue of AKC Breeder we look beyond the breeding and delve into topics involving pregnancy and more. Our previous Pick-of-the-Litter question: Which, if any, pregnancy tests do you perform or have performed on a bred bitch? When and why? received an impressive number of informative answers. Your response rate has been great! If you have a question you'd like to see in an upcoming issue, please e-mail it to us for possible use in an upcoming issue.

At some point, almost every active breeder faces the decision of whether or not a Caesarean section is appropriate. Becky Poole and her husband Bill received the AKC 2005 Breeder of the Year award for the Terrier Group. Becky writes on making a conscious decision to schedule a voluntary C-section.

You'll want to take advantage of the AKC's new and convenient way to register a litter and all of the puppies in that litter individually with just one application. Read our article on Full Litter Registration and see why many breeders are choosing this new registration elective. While on the subject of registration, we offer information on the many essential programs that your registration dollars helps support. Continuing with the registration theme, we introduce The American Kennel Club's new Veterinary Network Certification Program that helps start off each of your puppies on a lifelong healthcare plan.

Enjoy this resource-filled issue, and be sure to respond to our new Pick-of-the-Litter question, we're interested in hearing what you have to say.

Ronald N. Rella

Director, Breeder Services

AKCbreeder@akc.org

(212) 696-8303

The American Kennel Club is dedicated to upholding the integrity of its Registry, promoting the sport of purebred dogs and breeding for type and function. Founded in 1884, the AKC and its affiliated organizations advocate for the purebred dog as a family companion, advance canine health and well-being, work to protect the rights of all dog owners and promote responsible dog ownership.