April 2006

Kennel Blindness: A Closer Look
By Claudia Waller Orlandi, Ph.D.


A dog breeder's knowledgeable use of genetic principles is of paramount importance to the success of a breeding program. But an all-too-common phenomenon known as kennel blindness can stop some breeding programs dead in their tracks. Most works on dog breeding devote relatively little space to the concept of kennel blindness, although the seriousness of this "breeder defect" and the lasting harm it can have on breeding success merit a closer look. Read the full article.

---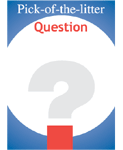 Pick-of-the-Litter Question

What would you recommend as your most valuable book on dog breeding? Why? Send us your answer!

Last issue's question: When faced with a large litter, how do you determine when supplemental feeding is needed? See your answers here!


---
Ensuring a Good Start:
Newborn Pups Sometimes Need Nutritional Boost
By Arliss Paddock, former managing editor of the AKC Gazette and an English Cocker Spaniel breeder and exhibitor


Conscientious breeders agree: Every pup they bring into this world deserves a good beginning. Most of the time, Mother Nature takes care of the recipe: The canine dam provides the warmth, attentive nurturing and diet that are nutritionally perfect for her growing offspring -- plentiful mother's milk.

But sometimes situations occur where newborn pups might benefit from or require supplemental feeding. In the case of an extremely large litter, for example, providing some of the pups with a quality milk substitute in addition to letting them nurse can help ensure that all receive optimum nutrition in those first weeks -- and it can aid the dam in keeping up with the litter's demands. Read the full article.

---
New DNA Requirement for Imported Dogs
Intended for Breeding

Any imported dog or bitch registered with the AKC on or after March 1, 2006, will be required to have an AKC DNA profile prior to registering their first litter whelped in the United States.

The policy will require any imported dogs or bitches that sire or produce an AKC-registered or FSS-enrolled litter to have an AKC DNA profile on file before their litter applications will be accepted into the AKC registry. However, there is a limited phase-in period, which began March 1 and will run until June 1, 2006. During this phase-in period AKC will register affected litters without delay and notify owners of the new requirement. Read the full article.

---
Does the Pedigree Make a Difference?
By Melissa D. Newman, longtime breeder of English Setters under the Setter Ridge banner and the 2002 Breeder of the Year Award Sporting Group recipient

Pedigree does make a difference, but deciding whom to breed your bitch to can be a complex matter. Genotype (genetic constitution), phenotype (observable characteristics), ancestors and health clearances all play a factor.

Consider how you use pedigrees to help you decide to breed to a specific dog. In a pedigree, I look at each dog to evaluate the good attributes as well as the bad. Read the full article.

---
Protect Yourself Against Unfair Legislation
By Stephanie Lane, former AKC Canine Legislation Director

Breeders who often have their hands full with a new set of pups or a pregnant bitch may feel they are simply too busy to get involved in canine legislation issues. However, as many veteran breeders will attest, being involved in the political arena is a critical component of any responsible breeding program. That's because each year, numerous laws are passed that seek to regulate -- or even eliminate -- your right to breed. Without involvement from the breeding community, elected officials only hear one side of the issue. That can mean trouble for even the most conscientious breeder. Read the full article.


We were thrilled to have received so many responses to our new question column "Pick of the Litter." We have included a sampling of the great tips you have shared with us. Don't forget to look for this issue's new question. And, again, we encourage you to send us your responses for publication.

Not only do we encourage exchanges between readers but also between breeders, especially in the mentoring role of experienced breeder to novice breeder. In this spirit, we are happy to include an article about kennel blindness by Dr. Claudia Orlandi, Ph.D., a wonderful teacher and knowledgeable breeder. In her seminar, the "ABC's of Breeding," which Claudia has presented at AKC/CHF Breeder Symposia, she highlights the basics of breeding in such a manner that both the novice and experienced breeder can benefit and learn something new.

Other important aspects breeders should be aware of are the local, state and federal laws regarding dogs. Please read the article about the issues facing breeders today and how to get started and stay involved in the legislative process.

Finally, we offer some fascinating information about old-fashioned studying of pedigrees, interpreting breed standards and using AKC progeny reports.

We hope you enjoy this issue. Keep those e-mails coming!

Ronald N. Rella

Director, Breeder Services

AKCbreeder@akc.org

(212) 696-8303

The American Kennel Club is dedicated to upholding the integrity of its Registry, promoting the sport of purebred dogs and breeding for type and function. Founded in 1884, the AKC and its affiliated organizations advocate for the purebred dog as a family companion, advance canine health and well-being, work to protect the rights of all dog owners and promote responsible dog ownership.