June 2006

Testing Helps Breeders Achieve
By Theresa Shea, editor

Choosing which sires and dams will produce your next generation of show dogs, field trialers and devoted family companions is an arduous, educational and potentially very rewarding process.

Now more than ever before, breeders are able to take advantage of an increasing variety of pre-breeding tests that can tell them essential characteristics about their dogs. After carefully selecting your best bitch or stud dog based on phenotype (those dogs which best conform the AKC breed standard, which specifies the ideal specimen of a particular breed of dog), it's time to take advantage of a wide variety of pre-breeding tests that can help ensure the success of your breeding program. Read more.

---
Cameras Bring Breeders Peace of Mind

Some breeders have found peace of mind and that they can save work and, most importantly, save puppies by installing security cameras in their kennels.

When a dam's due date approaches, the cameras allow breeders to keep a close eye on the bitch, watching her on televisions or monitors in the comfort of their homes. The monitors save going back and forth to check on the dogs and allow breeders to get a more accurate idea of how close the dam may be to whelping. Read more.

---
Looking for a Book on Breeding?
The AKC Library can help you find it.
By Theresa Shea, editor

Whether you're a novice or expert, if you're looking for a book to help you become a better breeder, the AKC Library can help you find it.

The AKC Library serves as a library of record for all matters relating to purebred dogs. It maintains educational resources about the development of purebred dogs, the sport and enjoyment of dogs and many other topics. Staff provides research assistance, guidance and direction to those interested in the welfare and advancement of purebred dogs. Read more.

---
Get Free E-certificates when you Register with AKC

Provide a valid e-mail address when you register a litter or dog with the American Kennel Club, and you will receive free e-certificates redeemable when you buy toys, treats, grooming supplies, crates or any merchandise from dog.com.

Spread the word to your puppy buyers, who are also eligible to take advantage of this offer when they register their new dog with the AKC. Depending on your registration package selection, you could get back $15, $30, $35 or $40 worth of coupons.
Basic Registration receives $15 worth of free e-certificates.
Silver Registration receives $30 worth of free e-certificates.
Gold Registration receives $40 worth of free e-certificates.
Litter Registration receives $35 worth of free e-certificates.
The offer applies to both online registration as well as printed registration. This is a limited-time offer.
---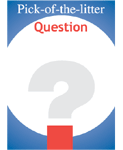 Pick-of-the-Litter Question
Which, if any, pregnancy test do you perform or have performed on a bred bitch? When and why? Send us your answer!

Last issue's question: What would you recommend as your most valuable book on dog breeding? Why? See your answers here!


---
The AKC Pet Healthcare Plan:
An Invaluable Resource For Breeders To Recommend To Puppy Buyers
By Theresa Shea, editor
Longtime Dalmatian breeder Meg Hennessey learned firsthand the value of being enrolled in the AKC Pet Healthcare Plan.

"I had a puppy that I had not yet registered and enrolled in the healthcare plan. She broke her leg while playing with my other dogs in the backyard," said Hennessey, who serves as treasurer of the Dalmatian Club of America. "I'd had her just three weeks." Read more.

---
The Sixth Sense
By Gayle Bontecue, longtime breeder of Gayleward Scottish Deerhounds and 2004 AKC Breeder of the Year Hound Group recipient

Two dogs + two months = breeder.

It might seem as if that's all it takes, but there's much more to doing it right, producing puppies that will shine -- whether they are destined for the show ring or a pet home.

Breeding is a combination of so many separate aspects. It';s similar to building a house from the foundation to the roof. Breeding is an art form, an engineering project--labor and time intensive and an emotional and financial commitment. It is not something to enter into lightly or without adequate preparation. Read more.


---
Attend a Breeders' Symposium Near You!
Whether you're a veteran dog breeder or novice, if you're interested in dog breeding, you'll want to attend an upcoming AKC and AKC Canine Health Foundation (AKC/CHF) breeders' symposium. With the help of veterinary colleges and dog clubs across the country, the AKC and AKC/CHF sponsor the symposia, which feature presentations by leading veterinarians, researchers and breeders. Dog breeders meet to learn and share ideas, concerns and expertise.

The next symposium takes place at the University of Florida in Gainesville on July 29, followed by another in Branson, Mo., Aug.19-20. Look for news on the AKC website and the AKC/CHF website about other symposia in the works for Ohio State University, Denver, Colorado; Racine, Wis. Or contact Ron Rella at AKC, (212) 696-8303, or Erika Werne at AKC CHF, (919) 816-4014.


Sir Francis Bacon, English author and philosopher, first coined the phrase, "Knowledge is Power." And when it comes to breeding purebred dogs, having the right knowledge will give you power to make the right choices when it comes to breeding practices, selecting mates or determining which genetic health tests are right for your breed. One of the best ways to gain that invaluable knowledge, besides first-hand experience and being mentored, is by way of reading books.

Of course, one of the best places to find books is at a library! The AKC Library, one of the largest canine research and reference collections in the world, houses our reader's top picks along with 18,000 other volumes. Read how you can access all the AKC Library has to offer by using its online catalog.

And even if you are still in the learning stages about breeding, reading what expert vets have to say about genetic testing by breed in Editor Theresa Shea's insightful article can add to that knowledge base. Also, find out how you can sign-up for one of the AKC/AKC CHF Breeders' Symposia.

By attending a symposium and building your summer reading list based on top picks from fellow breeders, you will be well on your way to expanding your knowledge. To quote Sir Francis again, "a wise man will make more opportunities than he finds." We hope you will experience all that purebred dog breeding has to offer.

Ronald N. Rella

Director, Breeder Services

AKCbreeder@akc.org

(212) 696-8303

The American Kennel Club is dedicated to upholding the integrity of its Registry, promoting the sport of purebred dogs and breeding for type and function. Founded in 1884, the AKC and its affiliated organizations advocate for the purebred dog as a family companion, advance canine health and well-being, work to protect the rights of all dog owners and promote responsible dog ownership.