Training Tip: Setting your Dog Up for Success as a Therapy Dog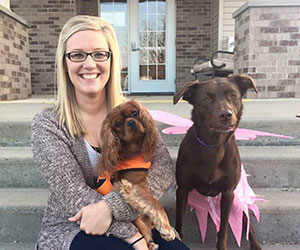 This issue's training tip is contributed by Brittany Allen of Decorah, Iowa, who has had much success with her All-American Dog, Ba Sammy Jo, including earning the Utility Dog title in AKC Obedience and the Rally Advanced Excellent title in AKC Rally, plus placing in the top 10 in his class at the AKC National Rally Championships. Brittany became involved in training at a young age through 4H. She attended college to become a veterinary assistant and certified groomer. She trains her four dogs in a variety of sports including barn hunt, scent work, dock diving, lure coursing, tracking and tricks. Brittany serves as secretary for her training club and enjoys planning and chairing events. In addition, she has long volunteered with her dogs in therapy work and provides some tips for getting involved in this rewarding activity.
By Brittany Allen of Decorah, Iowa
Dog therapy visits are growing in popularity across the country due to recent studies showing many health benefits for people. Therapy dogs have been shown to decrease feelings of isolation, anxiety, and boredom, while increasing socialization, lifting spirits, and lessening depression. In library reading programs, children have shown improved literacy skills, focus, and self-confidence after spending time reading to a therapy dog

My first experience with the impact that therapy dogs can have was at the age of 10 years old. My 4H dog project group participated in a training demonstration at a nursing facility. At such a young age, I was an inexperienced trainer and handler who had just gotten my first dog, Allie Cocoa, a buff Cocker Spaniel. Our 4H group hauled in equipment and took turns demonstrating obedience, agility and tricks. At the end of the demonstration, we brought our dogs around to visit with the residents.

To this day, I have a vivid memory of the joy it brought to the residents. Now 15-plus years later, I have three certified therapy dogs who visit nursing homes, hospice, and libraries on a regular basis. I am often asked what is involved in training a dog for therapy dog certification so here are some quick tips to set your dog up for success.
Pet Therapy Organizations: Become familiar with rules, regulations, and testing requirements of the organization in which you chose to certify. Ask questions, and know exactly what is expected of you and your dog. Double check insurance coverage to make sure you and your dog will be fully covered. AKC has a list of accepted therapy dog organizations on its website: http://www.akc.org/events/title-recognition-program/therapy/organizations/
Grooming: Therapy dogs must be well groomed and clean for therapy visits. Getting your dog used to nail trims, brushing, and bathing in the beginning will set your team up for less hassle in the long run. A dog that is well behaved and accepting of grooming will take much less time than a dog who is not tolerant.
Obedience is an important step to making sure your dog is ready for a therapy setting. Take classes from an experienced trainer, attend seminars or workshops, practice at home, train in different locations. AKC Canine Good Citizen, basic obedience, and advanced obedience classes make a solid foundation for therapy dog training. Important exercises include: heeling on a loose leash, walking through a crowd, stand/sit for exam, and leave it.
Equipment: Dogs will encounter a variety of equipment in a therapy setting. Introduce your dog to walkers, wheelchairs, crutches, canes, oxygen tanks, etc. It is importance your dog feels comfortable around equipment.
Location training: I cannot stress enough the importance of location training. Parking lots, parks, pet friendly stores, and farmers' markets are all great locations to train. Work on heeling with distractions, walking on a loose leash, and walking through a large crowd, and invite others to approach your dog to give a treat or pet. Training in different locations is also a great opportunity to educate the public on training and therapy dogs.
Mix it up: Trick training is excellent mental stimulation for your dog; residents also get a kick out of tricks. Start simple with shake, high five, and roll over. Then move to more difficult tricks. You can also throw in a find me, find it, or make up your own game to get your dog thinking and engaged.
Proofing: Setting up therapy situations is a great way to set your dog up for success. Ask a friend to sit in a wheelchair and have someone push the chair. Ask them to walk by the dog while using crutches. Or have them toss a treat on the floor so you can practice the "leave it" command.
Preperation: When taking your dog out into the public to train, make sure you are prepared. Don't forget any training equipment, treats, poop bags, etc. Nothing is worse than getting to a new location and being unprepared. Preparation is key to setting your dog up for success!
Exercise: Is your dog getting enough exercise? Physical and mental exercise is key. Remember a tired dog is a good dog!
Consistency: Like training for any dog sport, be consistent and fair in what you are asking of your dog. Train often and for short periods of time.
Signs of Stress: It is important to know and understand signs of stress. Stress panting, shying away, yawning, pacing, and freezing up are all signs of stress. Know your dog's stressors and take your dog out of situations that may escalate.
Remember that not all dogs have the disposition to be successful therapy dogs. Be sure to consult a professional trainer and enroll in classes to set your dog up for success.