Tips for Successfully Training a Fearful Dog
This month's training article is brought to us by Samantha Scicchigno who serves on the Board of Directors for the Staten Island (NY) Companion Dog Training Club and is a volunteer instructor of dog training classes. Samantha is the proud owner of rescue mixed-breed "Marge," who has earned the AKC Master Agility Championship and AKC Rally Advanced Excellent title after overcoming many fear issues.
Aside from the prospect of a well-behaved and obedient canine citizen, many dog owners get their start in dog training classes to build their dog's confidence. The structured socialization, fun and games, and manners lessons are especially beneficial for dogs of unknown backgrounds. Once the wonders of training class are evident to both dog and handler, many dog owners "catch the bug," continue training in dog sports, and even think about competition.
This is exactly how I got started with Marge. The titles and ribbons we have been lucky enough to earn together tell of our success, but do not reveal the road we traveled to get there. Marge, as a rescue dog, was not properly socialized and therefore had a lot of fear of a lot of things.
Training a "scaredy dog" is a little different than training an exuberant, outgoing, and confident dog. Fear of people, sounds, and new environments are an added consideration for dogs who worry. However, careful introduction of dog sports may do wonders to help a shy or unconfident dog blossom. Here are some tips that I've used with my own formerly shy girl that led to a happy dog sports career.
Train your dog below "threshold." Every dog has a threshold – a point at which they will begin to strongly react to an object with barking, fleeing, or excitement. Threshold may be the distance a dog is from an object, the length of time exposed to an object, or both. For example, a dog may begin fleeing from a stranger only when that person gets within 10 feet of them; attempting to train the dog once that line has been crossed becomes temporarily impossible. Learn to use your training space to your advantage. Find an area where your dog is most engaged with you and least worried about other things going on. You will find that the threshold will shrink with time and careful exposure.
Learn to read your dog's body language. Subtle changes in a dog's appearance help us recognize when a dog is beginning to get overwhelmed – in other words, approaching the threshold. Wide pupils, rapid panting, yawning, scratching and sniffing are some ways that a dog may signal that he is feeling stressed about the environment around him. When this occurs, it may be a good time to take a short break in the training session or move the dog away from whatever is bothering him. On the flip side, a dog with a soft facial expression, pricked ears, and a loose body with a wagging tail is a dog that is ready to continue training.
Use treats and toys to turn scary things positive. Many dog owners are hesitant to train a shy dog using treats, praise, or toys out of concern that it will make the dog more afraid. This assumes that the dog would choose to be afraid in order to receive a reward. Actually, the reverse is true! By pairing something scary with something that the dog likes, the dog's feelings of fear may begin to change. Having a stranger toss treats to a dog afraid of people may be a low-stress form of introduction. Games with toys, such as playing tug, may help a dog who is having trouble coping with a new, noisy training environment. This is a theory of training called classical conditioning.
Once you start to experience some success in your sport training endeavors, it is natural to want more. Don't forget to put your dogs' comfort level first. A dog who is uncomfortable about the environment he is in will not perform as well as a dog who is happy and relaxed, so introduce new challenges appropriately. As you move from foundation training to getting ready to compete, remember the following:
It's OK to break things down. Some dogs have no problem slamming the agility teeter totter or calmly staying put during an obedience stand for exam exercise. For a shy or unconfident dog, some exercises may take longer to train, and haphazard introduction may cause the dog to avoid them altogether. Don't pressure your dog into anything they aren't ready to do. Go as slowly as your dog needs to be comfortable. A positive trainer can help you with this.
Train in multiple environments to prepare for shows. Attending classes at a dog training club is a great way to start preparing for agility, rally, or obedience trials. Students are sometimes surprised to find that their dog, who is a rock star in class, shuts down or gets distracted in other settings. Many shows are held at fairgrounds, horse arenas, or sports complexes; think about how your training environment may differ from these venues. Attending practice meets, entering local match shows, or even training on your own in a setting such as a park are helpful to bridge the gap between training and trials.
Don't compare yourself to others. It can be frustrating while training a shy or unconfident dog to watch other dog and handler teams tackle new training challenges more quickly than you do. Compare your team only to your own success, not others --- think about how you and your dog have grown and changed over the weeks and months and measure progress that way.
Lastly… always remember where you started and why you do it! When your dog can trust you to make smart and fun decisions about his training experience, the sky is truly the limit. Nothing is sweeter than the success of stepping in to the ring and succeeding with a once-fearful dog who is now happy to put her faith in you and show the world what she's got.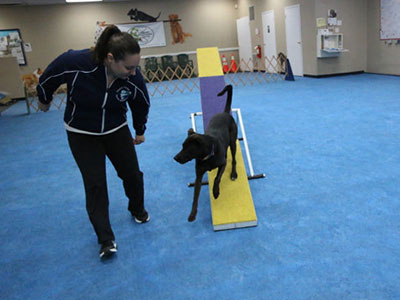 Samantha Scicchigno is a physical therapist working and living in Staten Island, NY. She presently serves on the board of directors for the Staten Island Companion Dog Training Club and has been a volunteer instructor of dog training classes for more than half a decade. She is active in dog sports, particularly agility and rally obedience, and takes a particular interest in helping students with fearful or unconfident dogs realize their potential. Her dog, MACH Northbound Fly By Night RAE MXS MJS NF CGCA, better known as Marge, is a 9-year old mixed-breed rescue dog originally from Georgia who found her forever home in NYC. Marge enjoys competing in AKC dog sports, walking in the woods, and snoozing on the couch. Future goals for Marge include earning her AKC Companion Dog title, competing at the Westminster Masters' Agility Championship for the third year in a row, and traveling to the upcoming 2017 Rally National Championship in Perry, GA.