AKC Title Recognition Program – Therapy Dog, Search & Rescue, Flyball, Barn Hunt, Dock Diving
The AKC now works with a number of non-AKC service and sports organizations to recognize the titles that AKC-registered dogs earn in their programs. This includes the AKC Therapy Dog titling program and the AKC Search & Rescue title program. AKC also recognizes titles of the Barn Hunt Association (BHA); North American Diving Dogs (NADD); and the North American Flyball Association (NAFA). See more information on how to apply for AKC recognition of these titles. Read on to meet some of the All-American Dogs who are recent achievers in these sports.
AKC Therapy Dog Title
The AKC Therapy Dog Title program offers titles based on the amount of service that a therapy team has volunteered, giving more dogs the opportunity to earn the honor. Dogs also must be certified by an AKC-recognized therapy dog organization. The titles are:
AKC Therapy Dog Novice (THDN). Must have completed 10 visits.
AKC Therapy Dog (THD). Must have completed 50 visits.
AKC Therapy Dog Advanced (THDA). Must have completed 100 visits.
AKC Therapy Dog Excellent (THDX). Must have completed 200 visits.
AKC Therapy Dog Distinguished (THDD). Must have completed 400 visits.
We salute these All-Americans who are recent recipients of the THDD title for 400 or more visits!
QT Kisses THDD CGC – Pat Storlie – San Antonio, TX
QT Kisses is a 9 year old Toy Poodle who has been a therapy dog for nearly six years with Therapy Animals of San Antonio. She visits three facilities every week. She visits a school where students read to her because she is a StoryTails Dog. In 2015 she and Pat were selected to be the Campus Partner of the Year for the Northside Alternative Middle School. QT goes to a nursing home weekly and puts on parades for Valentine, St. Patrick's, Easter, Fourth of July, Halloween, and Christmas along with her therapy dog friends. The residents and staff look forward to these events and even invite their families to come. QT also visits the Bexar County Family Justice Center and brings cheer to people going through difficult times because they are in an abusive relationship.
QT has many awards from the AKC. She has a Therapy Dog Certificate, a pin because she passed the Canine Good Citizen test. She also has a medal, patch, and certificate for being an Excellent Therapy Dog. Recently she was awarded a medal, patch, and a certificate for having over 400 visits and received the title Distinguished Therapy Dog.
"I am so grateful to have such a wonderful dog who spreads smiles and happiness wherever she goes. I taught elementary school for 43 years and wanted to find a way to give back to the community after retiring. Having a Therapy Dog like QT has made that possible."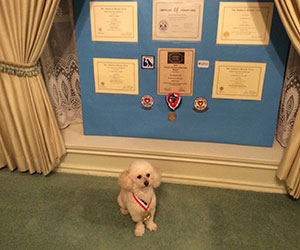 QT Kisses
Morris' Sam THDD – Suzanne Morris – Little Rock, AR
Sam's path to his career as a therapy dog began when he was rescued by CARE (Central Arkansas Rescue Effort) and entered the Arkansas Paws in Prison program. "After reading his story and a personal introduction, it seemed that not only would Sam be a welcome addition to the family, but that he also would be a great therapy dog." Sam came home after his graduation and, with some additional training, was certified by Therapy Dogs International (TDI). "Sam loves being a therapy dog, and is always ready to go as soon as he sees his leash and scarf come out. He adores children and, in addition to visits to hospitals and churches, happily participates in TDI's reading program, Tail Wagging Tutors, at local schools and libraries."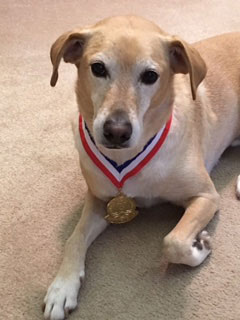 Sam
Griff THDD CGC – Karen Scott – Versailles, KY
Originally, Griff's future was set to compete in agility. However, early in his puppyhood, Griff showed symptoms of shoulder trouble in his right leg. After learning that agility was out of question for Griff, a new job was needed for his future.
"Work as a therapy dog seemed like the natural choice for Griff. He is gentle, quiet, and accepting of everyone. The bonus was his desire to be loved and petted by anyone who would talk to him."
From the beginning, Griff visited nursing homes, libraries and the hospital. However, the Veterans Affair (VA) was his niche in therapy work. For four years, Griff has visited the VA Post Traumatic Stress Disorder unit weekly to help our veterans. This has earned him his advance therapy title from Love On A Leash.
Griff works weekly with our veterans, helping them to interact in a social setting and talk openly about their experiences. Each week veterans know that Griff will be visiting on Thursday evenings, and they are always waiting for him (occasionally with special treats).
Griff also volunteers for the Red Cross (Bluegrass Area SAF Specialist) at the VA. In 2016, Griff earned the Red Cross Exceptional Volunteer Award. The VA Hospice unit also uses Griff for a very sensitive visit assignment. We are available for the "No Veteran Dies Alone" program. This team of volunteers will stay with any veteran in his or her eleventh hour of life, if they do not have friends or family who can be with them. We are honored to be able to participate during this time of need.
After 3 ½ years of specialists, surgeries, and physical therapy, Griff's doctors decided that his leg needed to be amputated for his comfort. Griff is now an amputee, which has opened his therapy world even wider. He has the ability of relating with many of our veterans who have lost limbs and mobility at war.
Cardinal Hill Rehabilitation Hospital heard about Griff and asked us to volunteer in the physical therapy unit. Griff has the chance to visit with many amputee patients each month. He was also invited to visit during the Amputees of Kentucky monthly meetings, and the quarterly Walking School for amputees held at Cardinal Hill.
Griff also enjoys volunteering at libraries where children read to him and at Baptist Health Hospital in Lexington, KY.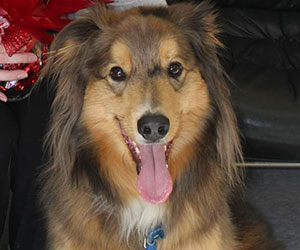 Griff
Barn Hunt Association
The BHA enables all dogs to participate in the sport of hunting for vermin. Dogs track rats safely enclosed in sturdy tubes that are hidden among hay bales. The titles range from Novice level to Champion to Champion Excellent. Go to www.barnhunt.com for more information.
Congratulations to All-American Dogs who recently received recognition of their BHA titles:
RATCH Boo Boo Jackson RA OAP OJP – Lisa Steller – Advance,NC
We got started in Barn Hunt due to a tragic accident. I lost my best friend and the dog that got me started in dog sports on April 5, 2015. I just could not go to agility or any of the other activities we had been doing, but Jackson is a bright, energetic little dog that needs something to do. One of my dog club friends had opened a new training facility in King, NC, so we went to check it out.
We guessed our way thru Instinct but Jackson seemed to enjoy himself so we started training there. I have hay available at home so setting up practice tunnels was not a problem. We soon started competing and Jackson just gets better and better.It is nice to find something he loves and that makes me love it too.
He is an almost 7 year old mixed breed adopted from Davie County Humane Society almost 6 years ago. We practice barn hunt when it is bad outside and we cannot hike, or do agility, or something like that.
Jackson earned his RATCH in December 2016.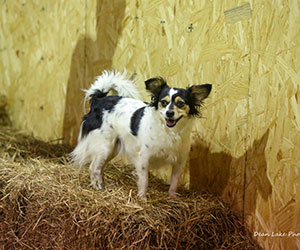 Jackson
MACH BRADLEY'S BRANDY RN MXG MJS MXP2 MXPB MJP2 OF XFP T2B2 RATM CGCA – Kevin & Alison Bradley – Fayetteville, AR
Kevin and Alison adopted Brandy from Fayetteville Animal Services on Nov. 22, 2008. Brandy has participated in agility trials for several years and plans to retire from competing at the end of this year. Alison was encouraged by a friend to get Brandy involved in Barn Hunt trials as a means of staying active after retiring from agility.
In January of 2016 Brandy was introduced to rats at a clinic in Oklahoma presented by Brandi Coyner of "The Barn Hunting Labrador." Alison entered Brandy in her first Barn Hunt trial later that month where she earned her RATI (Instinct) and RATN (Novice) titles. Brandy went on to earn her RATO (Open) and RATS (Senior) in the summer of 2016.
On Sept. 25, 2016, Brandy earned her RATM (Master) title and is the first "All-American Dog" in Arkansas to attain that title.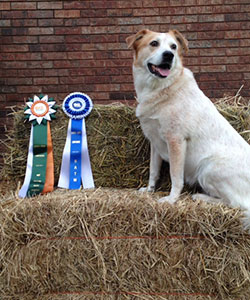 Brandy
Congratulations also to these All-Americans for AKC recognition of their recent BHA titles:
Cricket VII CAA RATN CGC – Nancy Given – Trumansburg, NY
Ajax Rocky Mountain High RN AX AXJ RATN CGC – Stephanie Dubick – Bothell, WA
Ziva D. Of Wissota CDX PCDX BN GN RAE4 THDN FDCH RATN CGC – Rexann Lemke – Chippewa Falls, WI
Kuniko's Watch Your Six RATN – Lori Durfor – Marysville, CA
Simba S. OAJ NF RATO CGC – Melanie Schmitt & Matthew King – New Orleans, LA
My Serendipitous Surprise RN THDA RATO CGC – Lynn Taylor – Rootstown, OH
Smiths Easy Peasy Japanesey BN RE OA AXJ NF CAA RATO DJ CGC – Stacia Smith – Tamaqua, PA
Bodie From The Lakes BN RE NA NAJ MXP6 MXPS MJP3 MJPB PAX XFP THDX RATS CGCA CGCU – Monika & Beat Schmid – West Richland, WA
North America Diving Dogs
NADD offers titles in both distance dock jumping and air retrieve for all dogs. Dogs receive titles based on how far they jump and only compete in the same division with dogs that jump similar distances. For more information go to www.northamericadivingdogs.com
Congratulations to these All-America Dogs on AKC recognition for their new NADD titles:
The Joke's On You MX MXJ OF DS AMA – Joan Kossaras – Phoenix, AZ
Jaxie Waxie Waxerton DJ CGC – Laura Mathis – Scottsdale, AZ
Vogue Rudy's Bon Ami DM – Mary Lou Montgomery – St. Charles, MO
Split Acres Radiant Charlotte DN – Kim Wager – Weedport, NY
D3 White Wonder DS – Johnny & Veronica Medlin – Kingwood, TX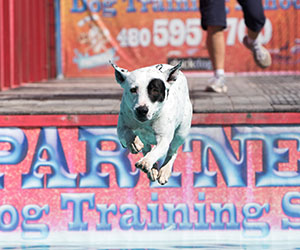 The Joke's On You
North American Flyball Association
AKC recognizes three titles of NAFA competitors – the Flyball Dog Champion (FDCh) for 500 points; Flyball Master (FM) for 5,000 points; and the Onyx award for 20,000 points. For more information on NAFA and how to get involved go to www.flyball.org. Congratulations to this All-American Dog on receiving AKC recognition for the Flyball Dog Champion (FDCH) honor:
Ziva D. Of Wissota CDX PCDX BN GN RAE4 THDN FDCH RATN CGC – Rexann Lemke – Chippewa Falls, WI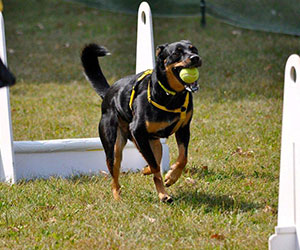 Ziva