AKC Title Recognition Program – Therapy Dog, Search & Rescue, Flyball, Barn Hunt, Dock Diving
The AKC now works with a number of non-AKC service and sports organizations to recognize the titles that AKC-registered dogs earn in their programs. This includes the AKC Therapy Dog titling program and the AKC Search & Rescue title program. AKC also recognizes titles of the Barn Hunt Association (BHA); North American Diving Dogs (NADD); and the North American Flyball Association (NAFA). For more information on how to apply for AKC recognition of these titles, go to: http://www.akc.org/dog_shows_trials/titles/. Read on to meet some of the All-American Dogs who are recent achievers in these sports.
AKC Therapy Dog Title
The AKC Therapy Dog Title program offers titles based on the amount of service that a therapy team has volunteered, giving more dogs the opportunity to earn the honor. Dogs also must be certified by an AKC-recognized therapy dog organization. The titles are:
AKC Therapy Dog Novice (THDN). Must have completed 10 visits.
AKC Therapy Dog (THD). Must have completed 50 visits.
AKC Therapy Dog Advanced (THDA). Must have completed 100 visits.
AKC Therapy Dog Excellent (THDX). Must have completed 200 visits.
AKC Therapy Dog Distinguished (THDD). Must have completed 400 visits.
We salute those All-Americans who are recent recipients of the THDD title for 400 or more visits!
Gizmo the Wonderdoglet THDD CGCA CGCU owned by Jenifer Adams of Vernon, CT
Adorable Gizmo's motto is "Cuz we're frens!" and that is precisely why he does what he does – make friends around the country through his work as a therapy dog.

Gizmo is a therapy dog with Paws For Friendship (PFF) Inc., and shares his love at Eastern CT Health Network Hospitals, Manchester High School, Spectrum Care facilities, Manchester Dialysis Center, The Village at Buckland Court assisted living, Vernon Manor, Special Olympics Unified Sports, Camp Rotary and many other places.

He is also a member of PFF's Paws to Read program and visits Hartford Public Library twice a month. He has traveled throughout Connecticut and beyond in his work. His travels have taken him to Wisconsin, where he helped deliver holiday treats to the elderly with the Horizons4Girls mentoring program, and to Texas, where a man's dying wish was to meet Gizmo. Most recently he visited the US Congress where he helped advocate about the benefits of therapy dogs.

Gizmo and Jenifer's good work and volunteerism have earned Gizmo much public attention.

Gizmo is the guest on Pet Radio Show's regular segment "The Gizmo Report." Hooplaha featured him in their video "Dog Teaches Kids to Read Better than Ever."

He is featured on the Pet Network's Talent Hounds in the episode "Therapy Dogs Rock." He has been a guest on WDRC's "Talk of Connecticut," as well as other radio shows, and he is American Dog Magazine's 2014 cover dog as the "Little Dog with a Big Heart." You can keep up with Gizmo via www.facebook.com/GizmosFrens.
Barney THDD CGC owned by Leah Kochi of Orange, CA
Leah adopted Barney from a shelter in 2008 when he was about 1 year old. Barney completed basic and advanced obedience training in 2009 to earn his AKC Canine Good Citizen title.

After becoming a registered pet therapy team in 2009, they started visiting assisted living homes where they spend time with residents in the Alzheimer's units; a public library where children can read to the dogs; and a homeless intervention shelter where Barney likes to play with the children and make them laugh by running up and down their toy slide.

In 2011 they joined the volunteer program at a hospital where Barney provides comfort and companionship to patients, their families and the staff.

"Besides spending time with old friends and making new friends on our pet therapy visits, Barney enjoys going on long hikes, practicing scent tracking and agility just for fun, and meeting his fellow pet therapy dog friends for lunch," Leah said.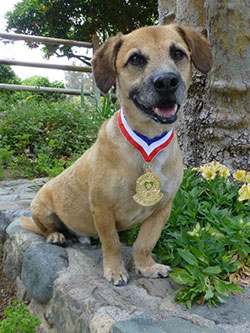 Congratulations to these other new AKC Distinguished Therapy Dogs:
Dory Doodle Bug THDD owned by Martina St. Leger of Syracuse, NY
Mazie Grace THDD CGC owned by Beverly Hammett of Starkville, MS
Martin Adydan THDD CGC owned by Jeannine Adydan of Rochester, NY
Gizmo Cormack THDD CGC owned by Heather Cormack of Ocean City, MD
Tripper Amy THDD owned by Deanna & Laurence Wade of Bradley, ME
North America Diving Dogs
NADD offers titles in both distance dock jumping and air retrieve for all dogs. Dogs receive titles based on how far they jump and only compete in the same division with dogs that jump similar distances. For more information go to www.northamericadivingdogs.com
Congratulations to the first All-American Dog to earn the Air Retrieve Excellent title:
Rayne, a Belgian Malinois-Labrador mix, is the first dog in the country to earn the Air Retrieve Senior Excellent title from the North America Diving Dogs association (NADD).

She achieved this "first" on April 15, 2016, in Perry, GA, at a NADD competition held as part of the Peach Blossom Dog Show circuit.

Air retrieve requires dogs to jump out over the pool to grab a bumper extended over the water. Rayne's personal best air retrieve is 17 feet. Rayne is owned and trained by Steve Mize of Jefferson, GA.

In order to earn a NADD title, a dog must have five qualifying jumps in each division. To earn higher titles, they must continue to get qualifying jumps in that division. Rayne earned her Air Retrieve Senior Advanced when she hit 10 legs and then her Excellent on her 15th "grab."

The feat also earned an invite to the NADD/ AKC Eukanuba National Championship in December 2016 in Orlando, FL.

Rayne also was the first ever AKC Canine Partners National NADD Champion in 2014.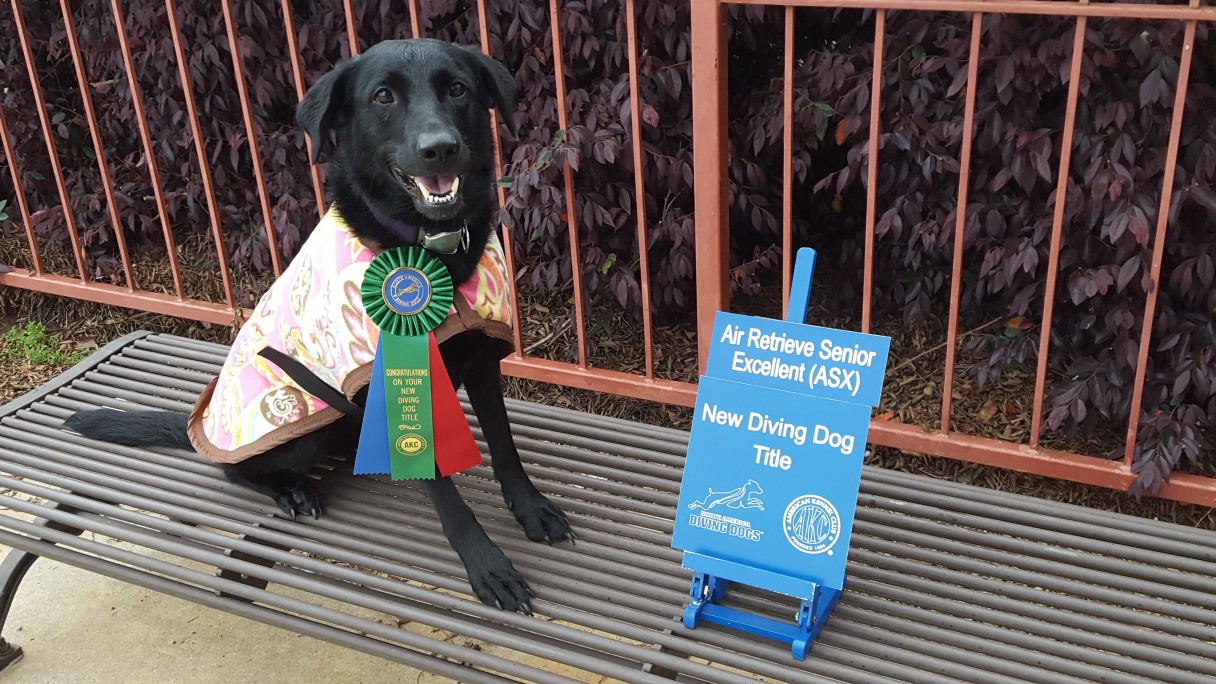 Barn Hunt Association
The BHA enables all dogs to participate in the sport of hunting for vermin. Dogs track rats safely enclosed in sturdy tubes that are hidden among hay bales. The titles range from Novice level to Champion to Champion Excellent. Go to www.barnhunt.com for more information.

Congratulations to All-American Dogs who recently received recognition of their BHA titles:
Rat Senior (RATS)
Blackgem's Princess Little Missy RATS - Sherry L. Augustine of Masillon, OH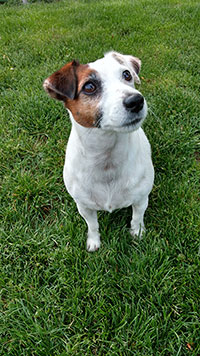 Rat Open (RATO)
Spring Loaded Coop De'Ville CD RE THDN RATO CGC – Kimberly Romain of Northport, AL
Tenbus-Cobb's American Idol RATO – Tami & Darrell Cobb of Oxnard, CA
Houdini's Hanky Panky RN OA OAJ NJP OF CAX THD RATO CGC – Pam Brownlee of Kingsport, TN
Rat Novice (RATN)
MACH Bradley's Brandy RN MXG MJS OF T2B2 RATN CGC – Alison Bradley of Fayetteville, AR
Sketch Of Hacienda De La Hound BN RATN CGCA – Grace Granatelli of Scottsdale, AZ
My Serendipitous Surprise RN THD RATN CGC – Lynn Taylor of Rootstown, OH
North American Flyball Association
AKC recognizes three titles of NAFA competitors – the Flyball Dog Champion (FDCh) for 500 points; Flyball Master (FM) for 5,000 points; and the Onyx award for 20,000 points. For more information on NAFA and how to get involved go to www.flyball.org.

Congratulations to this All-American Dog on receiving AKC recognition for the Flyball Master honor:
Resq's Dopamine Rush RN MX MXJ XF T2B FM CGC -- Rosemary Strasser & Miguel Ordorica of Omaha, NE