AKC Title Recognition Program – Therapy Dog, Search & Rescue, Flyball, Barn Hunt, Dock Diving
The AKC now works with a number of non-AKC service and sports organizations to recognize the titles that AKC-registered dogs earn in their programs. This includes the AKC Therapy Dog titling program and the AKC Search & Rescue title program. AKC also recognizes titles of the Barn Hunt Association (BHA); North American Diving Dogs (NADD); and the North American Flyball Association (NAFA). For more information on how to apply for AKC recognition of these titles, go to: http://www.akc.org/dog_shows_trials/titles/ Read on to meet some of the All-American Dogs who are recent achievers in these sports.
AKC Therapy Dog Title
The AKC Therapy Dog Title program offers titles based on the amount of service that a therapy team has volunteered, giving more dogs the opportunity to earn the honor. Dogs also must be certified by an AKC-recognized therapy dog organization. The titles are:
AKC Therapy Dog Novice (THDN). Must have completed 10 visits.
AKC Therapy Dog (THD). Must have completed 50 visits.
AKC Therapy Dog Advanced (THDA). Must have completed 100 visits.
AKC Therapy Dog Excellent (THDX). Must have completed 200 visits.
AKC Therapy Dog Distinguished (THDD). Must have completed 400 visits.
We salute these All-Americans who are recent recipients of the THDD title for 400 or more visits!

Mayah RE THDD owned by Barbara Blankenship of Henderson, NV
Mayah began work as a therapy dog seven and a half years ago. Her visits have taken her to hospitals, assisted living facilities, and cancer centers, as well as the library and children's blind center for reading programs. She has made more than 600 visits, finishing her AKC Therapy Dog Distinguished requirement (400 visits) in January 2017.

"There are no words for the joy that Mayah brings to everyone she meets. Her nickname is Sunshine, which fits her personality perfectly," Barbara said. "She is a breath of fresh air to all those in need of comfort and the smiles she receives from everyone she meets are beyond words."

Mayah also participates in a variety of sports, including dock diving, flyball, and disc. She competes in AKC Rally, having earned her Rally Excellent title in 2016. She competes in Barn Hunt competitions at the Senior level and Nose Work trials, recently earning her NW2.

"I have always been told that dogs have a job to do. Mayah's job – love and be loved – is natural for her. No matter what she does, her level of commitment is always 110%. She is my forever sunshine and truly my BFF."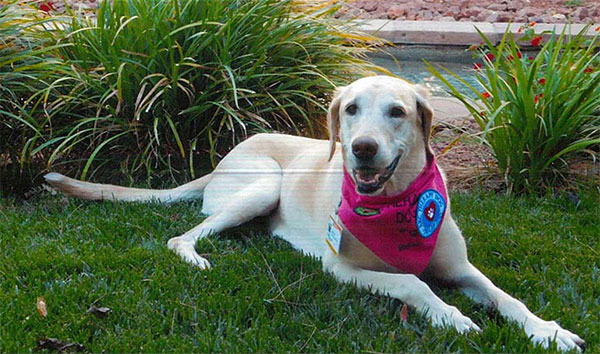 Mayah
Happiness Is a Warm Blanket THDD CGCA owned by Tricia and Scott Hogan of Edwardsville, IL
"My dog's full name is 'Happiness is a Warm Blanket' and he sure lives up to it!" says Tricia Hogan. "I am not sure there are enough words to express how much love and happiness he brings to my life as well as the many people he visits as a therapy dog."

In October 2015, Blanket was abandoned at animal control when his owner went to jail. He was a 3-year-old mixed breed and has some features of a pit bull, so his future was looking dim at that point. Fortunately, he was discovered by a rescue that saw his potential and was placed into the Puppies for Parole Program to work on obedience. Blanket did so well at "school" that they recommended the rescue consider continuing his training as a therapy dog. This is when Tricia got a life changing phone call. She is a foster volunteer for Helping Strays and is executive director of a therapy dog organization, so she was asked to foster Blanket in the hopes of matching him with one of her volunteers. "As soon as I saw Blanket, I knew he was special. What a big smile he had and those ears… In less than 24 hours I knew the perfect place for him was going to be by my side."

In 2013, Tricia had started a therapy dog organization called Furry Friends Recovery, which specializes in helping people who have experienced emotional trauma. Blanket finished his certification with Furry Friends Recovery by January 2016 and has been helping people ever since.

Tricia's favorite story happened not long after getting Blanket certified. She received an emergency request from a hospital for a therapy dog. A 15-year-old girl with a traumatic brain injury and the mental capacity of a 4-year-old had been admitted to the behavioral health unit and she had been rocking, pacing and screaming for hours. The girl's mother had suggested a dog, since she responds to the therapy dogs at her school. When she arrived at the hospital with Blanket, she could hear the girl screaming as they got off the elevator.

"The minute I walked in the door with Blanket," said Tricia, "she stopped screaming and just stared at him. I walked over to her and sat down on the floor a few feet away. Blanket lowered his head and slowly approached the girl. She didn't touch him at first, but her pacing and rocking slowed and after a few minutes she also sat on the floor. Blanket lay down in front of her. We sat that way for about 20 minutes, then the nurses asked me if I could get her to follow Blanket down the hall to her room, so I asked her if she would show Blanket her room. A few minutes later she held his leash and led him to her room!"

"This was the start of a special friendship. I took Blanket to visit all five nights that she was in the hospital. With Blanket's help, she began to eat and take her medication and her breathing treatments without a struggle. On the last night at the hospital, she fell asleep with her arms around Blanket, and it took me until midnight to lure him away slowly so as not to wake her. Blanket continued to work with her during occupational therapy appointments once a week for about a month. The last thing I knew was that she was getting a service dog of her own."

In December 2016, Blanket was diagnosed with stage 5b canine lymphoma. He began chemotherapy immediately and within a month had gone into remission. He finished his chemo in May 2017. Tricia says that "even during chemo, he looked forward to his therapy visits and I believe his desire to help others is one of the things that has helped him beat cancer. His story seems to give others facing serious illness or crisis a boost of encouragement to keep fighting."

Blanket visits everywhere from hospitals to schools to therapists' offices to street corners during homeless outreach. He always knows when to be extra gentle or when someone needs kisses or even when to give someone space. If someone sits on the floor with him, it does not take him long to sit in their lap. "As you can probably tell, I love this dog more than I could have ever imagined. He seems to have an endless supply of happiness and never hesitates to share it with others. All of this from a dog that was given up and abandoned at a shelter."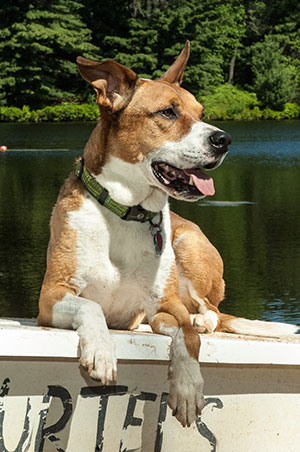 Blanket
Baxter Gunnar Spradlin THDD CGCA owned by Karen S. Spradlin of Cincinnati, OH
Karen discovered Baxter in 2012 as a frightened, unwanted, 10-month-old tied outside to a stake. The owner said that the reason was because "his legs got too tall" and she wanted to get rid of him.

Karen offered her $50 and rescued Baxter who had no training and was out of control. Since then, Baxter and Karen have become a bonded pair. With lots of training and much patience, Baxter earned his AKC Canine Good Citizen and Canine Good Citizen Community titles and is registered with Pet Partners® as a therapy dog.

He earned the THDD when he walked through the doors of the VA Medical Center to visit with veterans on Sept. 26, 2016, marking his 400th therapy visit. In addition, he recently became a Therapy Funeral Comfort dog.

"I am very proud of this amazing dog that brings smiles, love, and devotion to patients, residents, children, the grieving - all who need him."

Baxter
Milli Houpt THDD CGC owned by Chaz Houpt of Idaho Falls, ID
In early March of 2006, the Houpts got Milli, along with her two 6-week-old brothers, from friends who raised pure-bred Pembroke Welsh Corgis. The puppies' mother had escaped and bred with a dog that was obviously not a Corgi, and the owners wanted the Houpts to find homes for them. They found homes for the brothers, but Milli won their hearts.

"When asked Milli's breed, we just say she's AKC - A Kinda Corgi!" says Chaz.

Over the past five years, Milli has mainly visited Eastern Idaho Regional Medical Center and the Behavioral Health Center as well as a couple of senior homes as an Intermountain Therapy Animal therapy dog. Milli has focused on PT & ST in EIRMC's Acute Therapy Unit, producing positive Assisted Level Interventions with many 'non-responsive' patients.

She visits the pediatrics unit regularly, has worked in the ICU and Pediatrics ICU, and has done some OT with the pediatric outpatient program. She participated in a Therapy Animal Intervention Pilot Research Study with the final published paper being filed in the HABRI Research Library. At the Behavioral Health Center, Milli is free-leash and participates in three weekly planned group sessions (5-8 patients each) where she does one-on-ones with adolescents and adults.

"Over these past years, she's visited thousands of patients with more than 800 recorded hours (5600 dog hours!) and has enjoyed every second of it. Next to protecting us from squirrels, animal therapy seems to be Milli's true purpose in life!" says Chaz.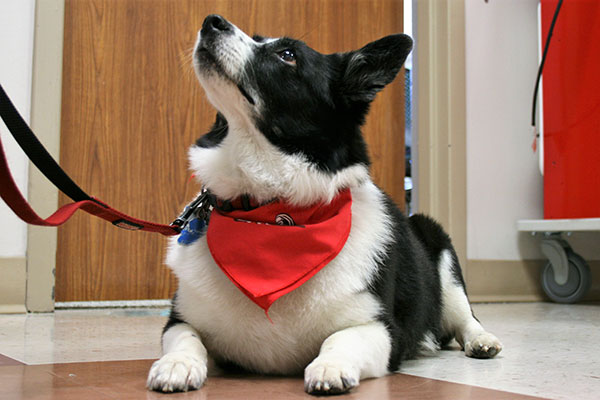 Milli
Beau Geste Christmas Eve Sandie THDD owned by Ann Batchelder of Wellesley, MA
Sandie, a 6 ½ year old Golden Retriever, made her 400th visit to the Newton and Wellesley Center for Alzheimer care to qualify for her THDD on May 4, 2012, and was granted it on May 31, 2017 when Ann filled out the application form.

Under the auspices of the Pets and People Foundation, a non-profit Therapy Pet organization in eastern Massachusetts, Sandie has, to date, made more than 2,850 visits o the Alzheimer Center, as well as to two assisted living facilities and to colleges, schools and libraries. She is Ann's third dog to work with the Pets and People Foundation since 1991. Altogether the three dogs and Ann have made more than 11,000 visits. "Sandie is the most mellow by far, giving and receiving love in equal measure while brightening the day for countless residents," Ann said.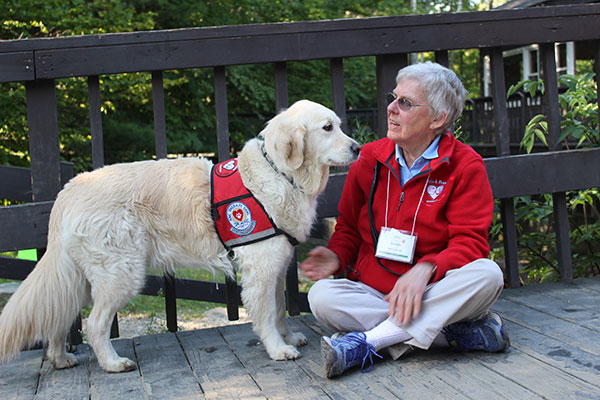 Sandie
Rebel XX THDD CGCA CGCU owned by Jeanne Marie Hooke of LaPorte, TX
Rebel has been very active since becoming a Caring Critter in October 2011 when he was 6 months old, making twice-monthly visits to the Brookdale-Pearland facility (nursing home), T.H. Rogers (special needs school), Bayshore Hospital (psych floor), Ben Taub Hospital (intensive care), The Center (mentally challenged young adults) and numerous special events involving the SPCA Critter Camp and South Texas College of Law Brain Breaks. Rebel started wearing hats when he was 2 months old and always wears one on his visits. He has an extensive wardrobe of costumes/bandanas/glasses and brings lots of smiles to all he meets. "He is our Long Tall Texan and made his 400th visit at Bayshore Hospital on Oct. 17, 2016," said Jeanne.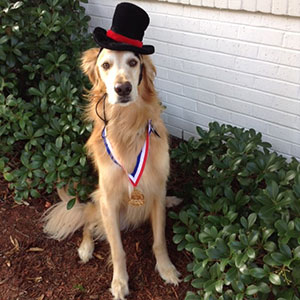 Rebel

Congratulations to All-American Dogs who recently received recognition of their THDD titles:
Michonne Sova THDD CGC owned by Rosalind P. Sova of Newfoundland, NJ
Bailey Wolfersberger THDD owned by Bonnie Wolfersberger of Point Pleasant Beach, NJ
Boots XIV THDD owned by Donna Lechner of Milwaukee, WI
North America Diving Dogs
NADD offers titles in both distance dock jumping and air retrieve for all dogs. Dogs receive titles based on how far they jump and only compete in the same division with dogs that jump similar distances. For more information go to www.northamericadivingdogs.com

Congratulations to this All-American Dog for receiving AKC recognition of the top-level Dock Elite (DE) title for making five jumps over 23 feet:

Rothschild's Murphy DE DM owned by Paula Rothschild of Roswell, GA
Murphy was awarded the title of Dock Elite (DE) on June 10, 2017, at The Brightside in Dacula, GA. He completed his fifth qualifying jump at a competition there with a jump of 24'11". He is a lovable 5-year-old Lab mix rescue, in his third year as a dock diving super star. He has successfully competed in Big Air, Air Retrieve, Vertical, and Speed Retrieve, and he loves them all. "Murphy loves to give kisses and he greets everyone as if he is their best friend," said Paula.

"Murphy has a number of fans. He is a sweet and extremely smart dog. He loves the water and prefers his Frisbee to treats. When forced to be indoors, he watches TV and barks at any animals that happen to come on. He keeps his 14-year-old Golden Retriever 'brother,' Cash, young and active. They swim together whenever possible."

Murphy has been invited to compete in the NADD Nationals in December in Orlando in two disciplines: Distance Jumping in the Elite Division, and Air Retrieve in the Senior Division.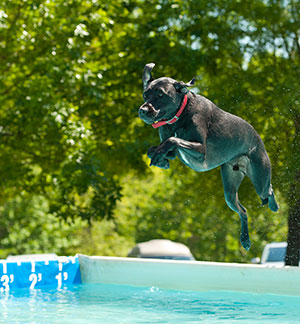 Murphy
North American Flyball Association
AKC recognizes three titles of NAFA competitors – the Flyball Dog Champion (FDCh) for 500 points; Flyball Master (FM) for 5,000 points; and the Onyx award for 20,000 points. For more information on NAFA and how to get involved go to www.flyball.org

Congratulations to this All-American Dog for earning the FDCh:

Nseine Dead Man's Curve OA NAJ NF FDCH owned by Penny Leigh & Dale McElrath of Graham, NC
Three-year-old Curve stands about 13-inches-tall and is a height dog for her North Carolina-based flyball team, Fur Fun. She is quite a little athlete, also excelling in agility and coursing. Her future goals are to earn her ONYX in flyball and her MACH in agility. Curve also loves snuggling, eating and exploring kitchen counters when no one is watching!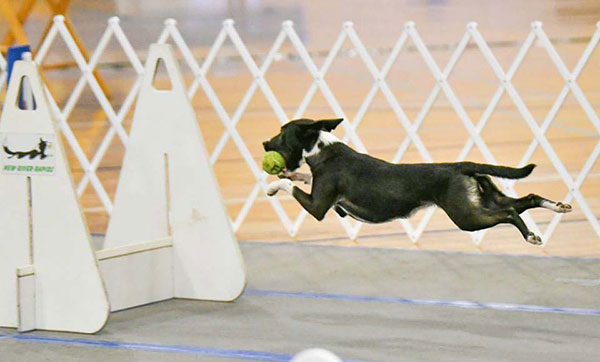 Curve
Barn Hunt Association
The BHA enables all dogs to participate in the sport of hunting for vermin. Dogs track rats safely enclosed in sturdy tubes that are hidden among hay bales. The titles range from Novice level to Champion to Champion Excellent. Go to www.barnhunt.com for more information.

Congratulations to this All-American Dog who recently received recognition of her BHA Championship title:
Just Josie BN RE ACT1 THDN RATCH CGCA owned by Samantha Perkins of Saint Paul, MN