AKC Title Recognition Program – Therapy Dog, Search & Rescue, Flyball, Barn Hunt, Dock Diving
The AKC now works with a number of non-AKC service and sports organizations to recognize the titles that AKC-registered dogs earn in their programs. This includes the AKC Therapy Dog titling program and the AKC Search & Rescue title program. AKC also recognizes titles of the Barn Hunt Association (BHA); North American Diving Dogs (NADD); and the North American Flyball Association (NAFA). See more information on how to apply for AKC recognition of these titles. Read on to meet some of the All-American Dogs who are recent achievers in these sports.
AKC Therapy Dog Title
The AKC Therapy Dog Title program offers titles based on the amount of service that a therapy team has volunteered, giving more dogs the opportunity to earn the honor. Dogs also must be certified by an AKC-recognized therapy dog organization. The titles are:
AKC Therapy Dog Novice (THDN). Must have completed 10 visits.
AKC Therapy Dog (THD). Must have completed 50 visits.
AKC Therapy Dog Advanced (THDA). Must have completed 100 visits.
AKC Therapy Dog Excellent (THDX). Must have completed 200 visits.
AKC Therapy Dog Distinguished (THDD). Must have completed 400 visits.
We salute those All-Americans who are recent recipients of the THDD title for 400 or more visits!
NHS Copper Halo at Dawn THDD CGCA owned by Mako Jacobs of Omaha, NE
Halo is an Australian Shepherd/Collie mix who was adopted at 6 months by Mako from the Nebraska Humane Society. Halo visits retirement homes, assisted living facilities, and memory loss units. Halo also likes visiting the library where kids read books to him to increase their fluency and confidence.
"However, his favorite visit is to my special education classroom. In my classroom, students' speech becomes louder and clearer when giving Halo commands," Jacobs said. "He's learned some sign language for my students that are nonverbal. They are also responsible for his care. They like giving him water, taking him out to recess with them, and reading books to him.

"Students from other classrooms earn 'Halo time' when they meet an academic or behavioral goal. Basically, everyone benefits from Halo's presence. Halo has evolved into a wonderful therapy dog that touches the lives of many."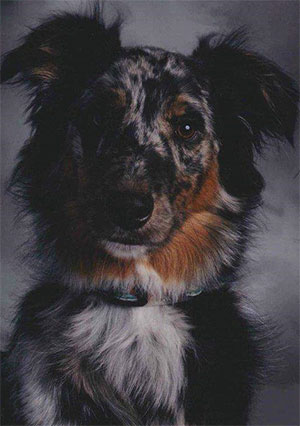 Halo

Bailey Doodle AXP AJP THDD CGC owned by Donna Schweitzer of Adkins, TX
Four-year-old Bailey is a sweet, empathetic dog who began her Pet Partners therapy dog career at age 16 months with Therapy Animals of San Antonio, TX.
She has worked in nursing homes, the Wounded Warrior Family Support Center, and the San Antonio Military Medical Center (SAMMC) at Fort Sam Houston. There she worked with severe Post-Traumatic Stress Disorder (PTSD) wounded warriors.

"Bailey would listen to their whispered secrets with a paw on their leg or arm. Walking down the hall she would be drawn
to the soldier needing help the most," Donna said.

To further serve the military, Bailey is a Red Cross Volunteer Dog. She has welcomed homeless veterans to events that provide food, coats and services. She attends Soldiers Angels Food Pantry and greets veterans and their families. Bailey regularly visits two of the San Antonio Ronald McDonald Charity Houses. "Although a large dog, Bailey is extra careful with the children and soon they are laughing, hugging and responding to her generous 'high 5's.'"
Bailey's love of kids extends to her Storytails job at Lavernia Primary School, where she assists in their reading program. "She can barely wait to get out of the car, greet the staff, and go to her classroom. On the way, she is greeted with excited shouts of 'Bailey's here,' and 'Hi, Bailey.'"
"The therapy dog journey continues to be a privilege and honor as Bailey uses her gifts to serve, educate and heal," Donna said. When Bailey is not working as a therapy dog, she enjoys competing in AKC Agility trials and relaxing with Donna and her doggy "siblings" at home.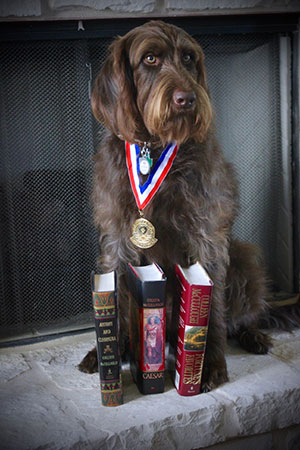 Bailey
Gabe RN THDD CGC owned by Joyce Kilgard of Coal Valley, IL
Eleven-year-old Gabe is a very special dog who has been a therapy dog most of his life, starting at the age of 1 year. "He was instantly a natural, and it was clear he was born to do this," Joyce said.

Gabe became a part of Joyce's family at age 4 months after she got him from a friend. He quickly earned the AKC Canine Good Citizen award at 6 months old from Quad City Dog Obedience Club. "The following November was when we began his journey as a therapy dog through Therapy Dogs Incorporated (now known as Alliance of Therapy Dogs). We started out just going to hospitals, and later began going to nursing homes and day care facilities as well. Gabe has a special knack with people of all ages so he gets along great with everyone we visit. He likes to entertain the people he visits by dressing up in various outfit, such as a reindeer at Christmas, a leprechaun at St. Patrick's Day, and the Easter bunny in the spring. The kids especially enjoy seeing these costumes; they absolutely adore him, just as he does them."

Gabe specializes in visiting the oncology department. "He really looks deeply into people's eyes and seems to feel what they're feeling. He reads their facial expressions and behaves accordingly. One story that stands out is when we were on the oncology floor, and Gabe heard a patient crying. We weren't allowed to go in the room for medical reasons, but Gabe insisted on sitting outside that room for nearly a half hour. I had to reassure him that the patient would be okay before he was willing to move on."

In June, Gabe earned the title of "Pet of the Year" through a local magazine, and his photo graced the cover of the issue. "Gabe has really earned that title through all his accomplishments and special abilities. He can really turn a non-dog lover into a dog lover and knows how to make people feel good."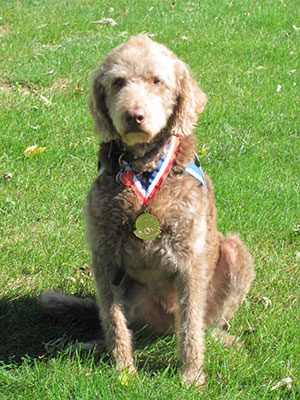 Gabe
Lexie Bell THDD CGCU owned by Ed Bell of Orange, CA
Eight-year-old Lexie is a Maltese mix whom Ed describes as"gentle, sweet and very friendly." Lexie is a certified therapy dog with Pet Partners Inc. and holds the AKC Canine Good Citizen Urban title. Lexie is a regular visitor to St. Joseph Hospital, Children's Hospital of Orange County), Evergreen Hospice, and several senior citizen facilities. When she's not spreading cheer through therapy work, Lexie likes to romp in the yard with her Maltese adopted sisters, go on walks, and nap in the sun.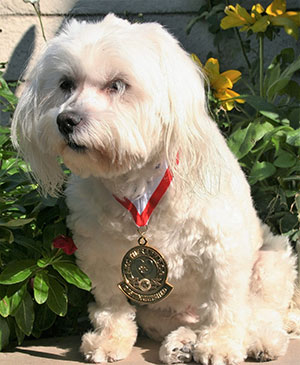 Lexie
Congratulations also to these new THDD title recipients:
MACH Hamilton's Boo MXS MJS XF THDD – Bruce Hamilton of Holladay, UT
Nino Brittingham THDD CGC – Laura & Jim Brittingham of Beaver Creek, OH
Ariel THDD CGC – Carol Hoffman of Milford, NJ
Barn Hunt Association
The BHA enables all dogs to participate in the sport of hunting for vermin. Dogs track rats safely enclosed in sturdy tubes that are hidden among hay bales. The titles range from Novice level to Champion to Champion Excellent. Go to www.barnhunt.com for more information.

Congratulations to this All-American Dog who recently received recognition of one of the top BHA honors – the Barn Hunt Championship Excellent (RATCHX) title:
RATCHX Rex Von McKinney Rausch BCAT CGC owned by Jeanette Rausch of Mount Juliet, TN
Eight-year-old Rex was a breeding male at a puppy mill that was shut down by the authorities. "I stumbled across his photo online and fell in love with him so I reached out to the organization to arrange meeting him but there was a delay as he was held up in court litigation," Jeanette said. "After several weeks of waiting, I was finally able to bring him home."
Rex was in very poor condition and emaciated. "The rescue group explained that after de-worming him, he just ended up bones. I had only had him a short while when I noticed his back left joint appeared much larger than the right so off to the vet we went. X-rays showed he had a fracture in that joint that never got medical attention and healed incorrectly."
Though not able to participate in many performance sports due to this injury, Jeanette discovered Rex enjoyed and was able to be successful at Barn Hunt. Rex earned the RATCHX in November 2015 and is currently just a couple of qualifying runs from earning the RATCHX2.
Rex also enjoys AKC Fast CATs. "Though unable to make the turns in Coursing Ability Tests, he is able to run the straight line of Fast CATs and is quickly approaching his DCAT title. He is not super fast but loves participating with the rest of his house mates," Jeanette said.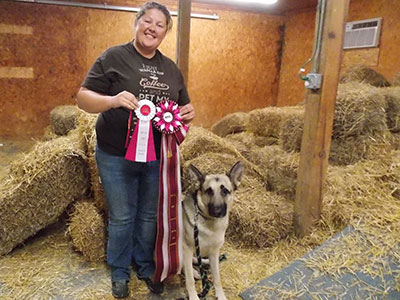 Rex
North America Diving Dogs
NADD offers titles in both distance dock jumping and air retrieve for all dogs. Dogs receive titles based on how far they jump and only compete in the same division with dogs that jump similar distances. For more information go to www.northamericadivingdogs.com.

Congratulations to these dogs who recently earned AKC recognition of their NADD titles:
Dock Master (DM)
Emberly CA RATS DM owned by Kathryn Smiley of Kingsport, TN
Emberly and Kathryn met at Young Williams Animal Shelter in Knoxville, TN, when Emberly was about 6 months old and Kathryn said "our futures changed forever. With her heart, stamina, and a boundless amount of energy, she has become my first Canine Sporting Dog."

Emberly had an initial terror of the water so it is hard to believe dock diving is now one of her favorite activities.

"After Emberly managed to overcome her fear of water, her love for an adrenaline rush rocketed her 23 feet, thus achieving a Dock Master title with NADD. She also earned an invite to NADD Nationals this year."

At just 2 years old, Emberly also has titles in AKC Coursing Ability and Barn Hunt. She also is competing in AKC Agility and the AKC Fast CAT.

"We can't wait for next year; let's have some more fun with our doggie friends," Kathryn said.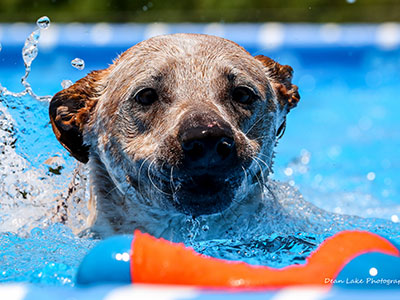 Emberly
Congratulations also to this new Dock Master title holder:
Winsor's Peanut of Meadowbrook DM owned by Katina Winsor of Flanders, NY
North American Flyball Association
AKC recognizes three titles of NAFA competitors – the Flyball Dog Champion (FDCh) for 500 points; Flyball Master (FM) for 5,000 points; and the Onyx award for 20,000 points. For more information on NAFA and how to get involved go to www.flyball.org.

Congratulations to this All-American Dog on receiving AKC recognition for the Onyx honor:
RATCH On Target's Rock the Casbah ONYX OA NAJ DM CGC owned by Dale McElrath & Penny Leigh of Graham, NC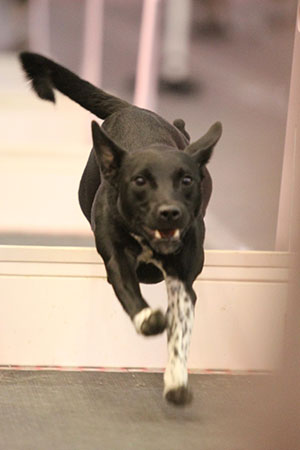 Clash