Meet Gizmo the Wonderdoglet - Therapy Dog Extraordinaire
Gizmo the Wonderdoglet THDD CGCA CGCU owned by Jenifer Adams of Vernon, CT
Adorable Gizmo's motto is "Cuz we're frens!" and that is precisely what he does – make friends around the country through his work as a therapy dog.
Gizmo is a therapy dog with Paws For Friendship (PFF) Inc., and Jenifer says they "are grateful to share his love" at Eastern CT Health Network Hospitals, Manchester High School, Spectrum Care facilities, Manchester Dialysis Center, the Village at Buckland Court assisted living, Vernon Manor, Special Olympics Unified Sports, Camp Rotary, and many other places.
Gizmo is a member of PFF's Paws to Read program and visits Hartford Public Library twice a month. He has traveled throughout Connecticut and beyond in his work. His travels have taken him to Wisconsin, where he helped deliver holiday treats to the elderly with the Horizons4Girls mentoring program, and to Texas, where a man's dying wish was to meet Gizmo. Most recently he visited the US Congress where he helped advocate about the benefits of therapy dogs.
Gizmo is an AKC Therapy Dog – Distinguished, the American Kennel Club's highest level of therapy dog distinction. He also holds titles including AKC Canine Good Citizen (CGC), CGC-Advanced (Community Canine), and CGC-Urban. Gizmo is a member of the AKC Canine Partners program for all dogs, including mixed-breeds and rescues.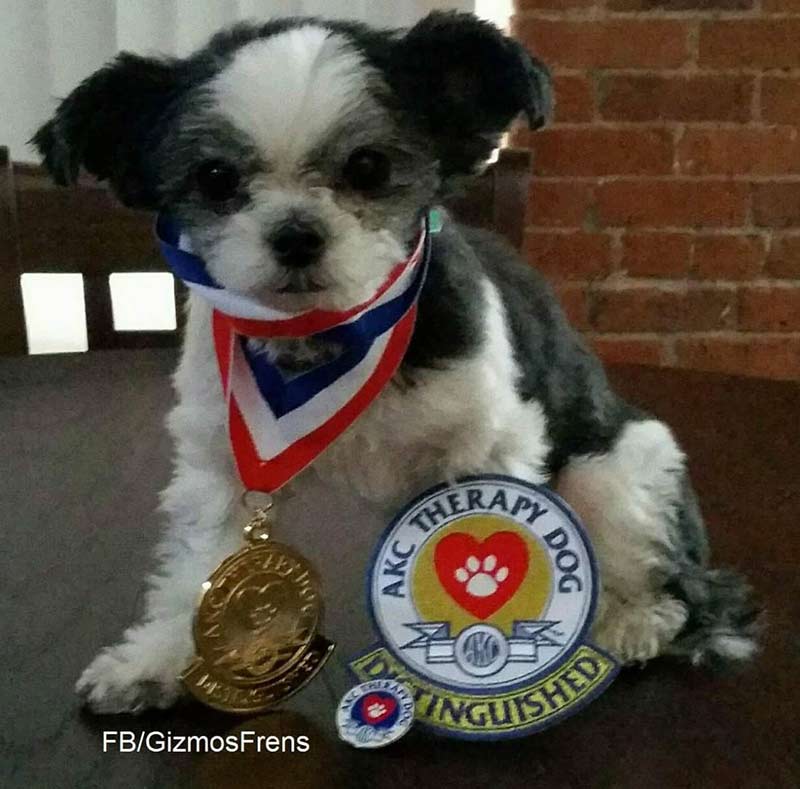 Gizmo and Jenifer's good work and volunteerism have earned Gizmo much public attention.
Gizmo is the guest on Pet Radio Show's regular segment "The Gizmo Report." Hooplaha featured him in their video "Dog Teaches Kids to Read Better than Ever."
He is featured on the Pet Network's Talent Hounds in the episode "Therapy Dogs Rock." He has been a guest on WDRC's "Talk of Connecticut," as well as other radio shows, and he is American Dog Magazine's 2014 cover dog as the "Little Dog with a Big Heart."
You can keep up with Gizmo via www.facebook.com/GizmosFrens