Shelter Pup & Veteran Save Each Other – and Now They Help Others
In 2003, Chris Kreiger served as a combat medic on the front lines of the Iraq War. The soldier put his own life in jeopardy every day to care for his wounded comrades.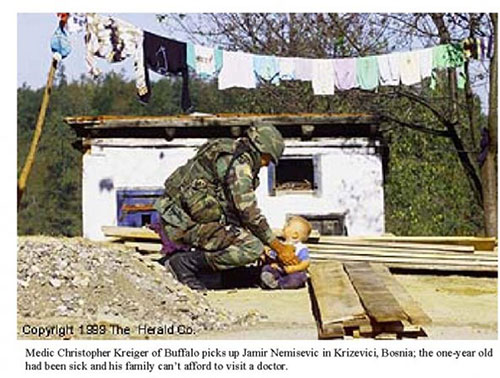 That was until the moment that Kreiger became a patient. His unit was escorting fuel tankers through a village when three tank rounds struck Kreiger's vehicle.
"That is basically all I remember 'til I was pulled out of the Humvee and into the road," he said.
He suffered injuries to his back and leg and a Traumatic Brain Injury (TBI).
When he returned to the United States, a new fight began for him. He suffered from seizures related to the TBI and spent time undergoing treatment at a polytrauma brain center in Virginia.
He was ecstatic to reunite with his wife and children in upstate New York, but set-backs continued. The injury left him with a loss of hearing, and his experiences caused symptoms of Post-Traumatic Stress Disorder. His life revolved around hospital stays.
It took two years to receive 100 percent disability pay, resulting in his family losing their home as a result of financial difficulties. A few years later, his marriage crumbled, and Kreiger was left with his two children.
Then his sons started asking him for the last thing he thought they needed: a dog.
"They would say 'Dad, you need a dog,' not 'Dad, you need a woman,'" Kreiger said with a laugh. "So after listening to this for a while, I took them to the local shelter. We spent days looking at different dogs and just could not find the right fit.
"Then one visit, there was this little brown head that popped up with his tongue out, screaming 'pet me.' My boys fell in love with him. We asked if we could take him out for a walk and well, the rest is history. Bubba would not leave our sides, intertwining between our legs. I knew that this was it. He picked us; we didn't pick him."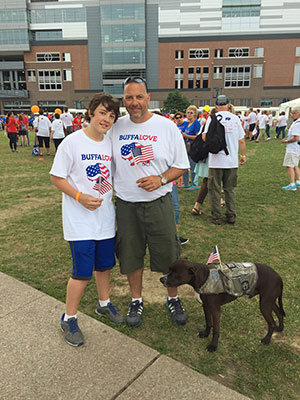 Bubba settled into life with the Kreigers and had an immediate impact. Chris, who avoided public places, got out of the house more to walk him and enjoyed showing the pup off to his buddies.
"Shortly thereafter, a friend who is with the police department said 'Chris, let us come look at Bubba and see if we can help make him a service dog for you.' At first, I was put off and thought 'No way, are you crazy?' I was not sure what they meant until I thought about it more. My kids had said they noticed a change in me since having Bubba. I decided to call them back and said 'Let's do this. This could change my life.' And boy, did it ever."
Soon Bubba and Chris were on their way to obedience classes for basic training. Bubba passed the AKC Canine Good Citizen test easily and then prepped for therapy dog work before passing the certified therapy dog test. He is a registered therapy dog with Bright and Beautiful Therapy Dogs.
"As we continued to move forward in his training, it gave me a bigger purpose. It created a bond/trust between the two of us that also brought a huge sense of security at the same time."
As Chris' service dog, Bubba travels with his owner everywhere.
"Since training him for service dog work, I get out more. Large crowds don't make me as nervous. We go to football games, hockey games, the county fair and more."
As a result of his own medical, financial and emotional struggles as a veteran, Krieger vowed to help other soldiers have a smoother transition returning home. He founded Western New York Heroes Inc. (WNYHeroes) and works full time to provide support for military veterans in his area.

The organization raises money to help veterans pay their bills until they get on their feet and provides a number of programs to assist the children of veterans, especially those whose parents did not come home.
And Krieger wanted other veterans to experience the security and confidence that Bubba has given him. This led to a new program called Pawsitive for Heroes, which places service dogs with veterans at no charge. "Our program slogan is 'We have your back' because Bubba, I know, always has my back."
Bubba has become a local celebrity in the Buffalo, NY, community. "He is very popular with all the police departments, especially the State Police, and with the area sports teams - Buffalo Sabres, Buffalo Bills, Buffalo Bandits. And the media has done stories on Bubba to boot."
Kreiger and Bubba did their part recently to change a law so veterans with service dogs could not be evicted from their homes.
"Bubba has also been a huge inspiration to change parts of the Human Rights Act and Equal Housing Opportunities. NY State Senator Tim Kennedy has revised a law to encompass veterans with service dogs and stop them from being evicted or discriminated against. Bubba and I were asked to speak to the entire delegation as well on this issue." (See http://www.wkbw.com/news/fighting-service-therapy-animal-discrimination)
Bubba's most important role, though, is enabling Krieger to live independently and confidently. The dog alerts Krieger, who wears hearing aids, to noises and gives him a feeling of security when walking in crowds – something Krieger avoided for many years after returning home from war.
And likewise, Krieger gave Bubba a second chance at life.
"When I asked the shelter director why Bubba was surrendered, she wasn't sure why, but knew that he had been surrendered twice. Whoever surrendered him, I wish they could see him now and realize what a great dog they gave up."