Junior & Her Pitbull Mix Place in National AKC Juniors Event
Hannah Thomas and her former shelter dog, Lily, have placed two years in a row at the national AKC Junior Agility Competition. Hannah only took Lily to class to learn some manners when she was a puppy and happened to see an agility practice while leaving obedience class. Now the two are on their way to their Master Agility Championship!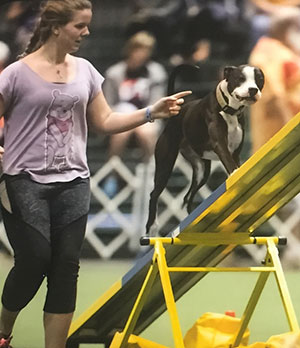 Name: Hannah Thomas
Grade: 9th
Hometown: Bellefonte, PA
Family: Parents, Blaine & Amy Thomas; older brothers, Caleb & Isaac
How did Lily come into your family's life? How old is Lily and do you know what breed/mix she is?
My family adopted Lily from the local shelter PAWS when she was 6 weeks old. Lily is 5 years old and is a pitbull-Boxer mix.
What got you started in training Lily?
Lily didn't listen very well as a puppy so we enrolled her in obedience classes at the Rottyden Learning Center, owned and operated by Elaine Swancer. At the last class, I watched Elaine set up an agility course. I decided to try it with Lily. We both loved it!
What do you like best about working with Lily?
I enjoy doing everything in agility with Lily. She loves to run and jump, and I enjoy watching her go through the course. I also think it is funny how she sticks her tongue out when she weaves.
What titles/honors have you earned with Lily?
Lily has her AKC Master Standard Agility title and her Master Jumpers with Weaves Agility title.
How did you decide to enter the national AKC Juniors Agility Competition? Was this your first year at the competition? You did so well at the competition - what contributed to your success at the event and also which awards did you win at the event?
Elaine encouraged me to convince my parents to take us to Florida. This was the second time we went to Junior Nationals and both years Lily placed 3rd in the 24" Masters Division. My faith and the support of both my family and the members of the Rotty Den are the contributing factors to my success.
Do you own any other dogs or pets?
In addition to Lily, we have another pitbull-Boxer mix named Flash and a bunny named Daisy.
What are your future goals in the sport of dogs?
My future goals for Lily include going back to AKC Junior Nationals and a MACH title.
Do you plan do to something animal-related as a career?
I'm interested in K-9 police training.