Teen & Her Team of Dogs Excel at K-9 "X-Sports" – Disc, Dock Diving & Flyball!
Fifteen-year-old Jaiden Sharp and her athletic dogs comprise a multi-talented team that has excelled in Flyball, Dock Diving, Disc Dog and Agility. Jaiden is a member of the Dogs of Anarchy flyball club and the Canine Stars performance team that tours the country. She got started at age 8 by competing with a friend's dog until she got her own dog, staffie-mix Jinx. Jaiden and her mother, Kelly, train and compete together with their 10 dogs that include two Border Collies and several mixed-breeds.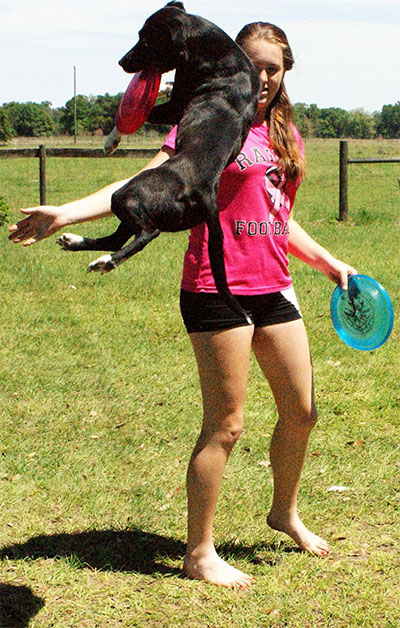 Name: Jaiden Sharp
Age: 15
Hometown: Webster, FL
Grade: High School Sophomore
Parents: Dan & Kelly Sharp
How did you get started in training and competing with dogs?
We started playing agility when I was 8 years old. Our friend got us interested in it, and I started running one of her dogs.
When I got older, we started playing flyball and dabbling in disc and dock diving. When I was 10, I got my first sports dog, a Border Collie-staffie mix named Jinx. My mom and I go to the competitions together and train together, and my dad builds all of the equipment along with his full-time job as a nurse. Both my father and mother are nurses.
Tell us about your dogs – names, ages and in what sports they compete.
In our household, we have a total of 10 dogs. Five of them are mine, and the other five are my mom's.
In addition to Jinx, we have my first dog, who is a Border Collie named Wrangler. We got him at a horse show before we started competing in dog sports. He's 10 now and is pretty much just a pet, but he still enjoys flyball.
Jinx, the staffie mix, runs flyball , agility, plays Frisbee and dock dives. But she also has a great off switch in the house and sleeps in the bed. She jumps about 20 feet in dock diving, runs about a 3.9 second heat in flyball, and has competed in a couple of agility trials. She also traveled with me on the Canine Stars Summer Tour. She performed in the shows and had a great time.
We also have a Border Collie female, Nova who is 5 years old and competes in agility and flyball. She is very fast and consistently runs 3.8 seconds in flyball.
We also have three border collie-whippet mixes: Isis, Vibe and Gypsy. I use Isis for Frisbee because she is wicked fast and good at tracking a disc. Vibe and Gypsy are 5 months old and in training.
I also have a Jack Russell mix named Skid who is working in flyball and agility.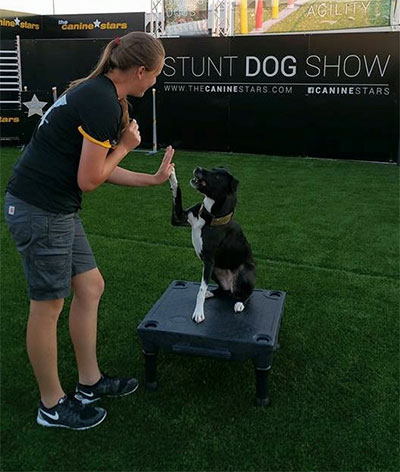 What is your favorite sport or activity with your dogs?
I enjoy agility the most because it challenges me, and it's fun to learn all the handling moves
As far as "titles," we don't really count. We just notice how well are dogs are doing speed wise and accuracy wise. We just make sure our dogs are reaching their full potential and try to make ourselves better handlers.
Do you own any other "non-dog" pets?
Along with the dogs, we have two horses and some barn cats.
What non-dog activities are you involved in?
I take all honors and AP classes while also participating in soccer and track at school.
What are your future goals in the sport of dogs?
My goal is definitely to be competitive and win! I would enjoy doing international trials and maybe even the world team. I would like to travel around with my dogs and compete with different people. In the near future, the junior world team seems interesting.
Do you plan do to something animal-related as a career?
I'm not really sure about what I want I do career wise. I'm looking into sports medicine for people but maybe I could do a dog version of that, maybe as a sports veterinarian.