Competition/Titles Update
Get all the news about the recent top title earners in Agility, Coursing, Obedience, Rally and Tracking. We have some big news to report about All-Americans succeeding at earning the top titles in all these sports!
Multiple MACHS
Congratulations to these dogs who have added more Master Agility Championships to their name:
MACH2 Phurba Tashi RAE MXS MJS CA RATCHX CGC owned by Esther Angela Carlson of Columbia City, OR
MACH2 Turbo MXG MJB2 owned by Rita Drewry of Lebanon, OH
MACH2 Ole Hickory MXS MJG XF T2B owned by Dee Ann Peine of Indianapolis, IN
MACH2 Ghillie Altrive MXG MJC OF owned by Louise Gilchrist of Harrisonburg, VA
MACH2 Hannah's  Molly MXB MJS owned by Hannah Courtney Naiburg of Milford, CT
MACH2 Mardens Prize Fighter MXS MJG OF T2B CA CGC owned by Denise Marden of Manalapan, NJ
MACH2 Peter Pan Skippy Doo MXS MJG owned by Karen Jean Anderson and Mark Stephen Anderson of Zimmerman, MN
MACH3 Olszewski's Buffy MXB2 MJB2 NAP NJP NF NFP owned by Sandra Olszewski of Freeland, MD
MACH4 Little Miss Ginger Snap MXS2 MJG2 MXP MJP OF T2B owned by Lisa D. Brooks of Houston, TX
MACH4 Carazo's She's A Keeper MXC MJS2 owned by Nicolette Carazo of Riverside, CA
MACH4 Jinx Falkenburg McLean MXG MJC T2B owned by Adrienne McLean of Richardson, TX
MACH6 Cabonina La Saltadora MXG2 MJG2 owned by Jason D. Meier and Melissa I.B. Meier of Germantown, WI
MACH5 Carrington MXS2 MJG2 MFB TQX T2B5 owned by Grace F. Swearingen of Colonial Heights, VA
MACH6 Arff Tallulah MXG2 MJC2 MFS TQX T2B2 owned by Betsy Totten and James Totten of Oak Hills, CA
MACH6 Cabonina La Saltadora MXG2 MJG2owned by Jason D. Meier and Melissa I.B. Meier of Germantown, WI
MACH6 Donaldson's Daisy MXG2 MJB3 OF owned by Laura J. Donaldson of Elk Grove Village, IL
MACH7 Moses Raphael York UD BN GN GO RAE4 MXG2 MJB3 MFB TQX T2B7 CGCA owned by Jordan Patrick York of Evansville, IN
MACH8 Lanakila Doin It By Example MXC2 PAD MJB3 MFS TQX T2B8 owned by Caroline A. King of Sanger, TX
MACH9 Feel The Need MXB3 MJG3 MFG TQX T2B8 CGC owned by Janet K. Boggs of Crawfordsville, IN
New MACHS
Congratulations to these first-time MACH recipients:
MACH Alexander's Pick of The Litter MXB MJB owned by Anne Bennett Alexander of Dallas, TX 
Anne Bennett Alexander first met this talented dog during a tour of Operation Kindness animal shelter in Carrollton, TX. He looked so much like her first agility dog that she knew he was needed in her family. He had been rescued from a junkyard at 2 months old and spent the next two months in the shelter recovering from a variety of illnesses.
At the time, Anne was three months pregnant, and "most folks would probably not think a puppy was what I needed." However, when she asked her husband if she could have him he answered "if I can name him."
"Booger is quite shy and has some anxieties but all that is forgotten when he enters the agility ring. He truly loves the sport. His bouncy stride and big smile make that clear to everyone who watches," Anne said. "We are very proud of Booger. He worked very hard for this achievement."
In addition to earning his MACH at the Dentex Agility Club trial in December, 2016, Booger competed in the 2017 AKC National Agility Championship in Perry, GA, and finished in the top 25% of his class.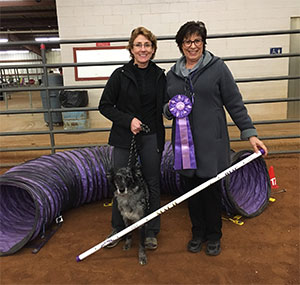 Booger
MACH Evis QT Querida owned by Evelyne Fox of Albuquerque, NM
Evelyne Fox found Evis in the street dodging cars. She stopped and spent 30 minutes trying to catch her. Evis finally ran and stayed underneath Evelyne's car because she was so scared.
After a month of advertising and trying to find her original home, Evelyne began to worry that somebody would claim her. But that was not the case. Evelyne became attached to her; this lucky dog had found her forever home.
Smart as the little dog was, Evelyne decided to train Evis and give her a job. Soon the two were participating in agility and obedience.
Evis earned her MACH on Dec. 2, 2016, at the Sangre de Cristo trial in Albuquerque. She also is going into the Obedience ring in pursuit of her Companion Dog (CD) title and so far, has received a first and second place for her first two legs.
"QT is adorable and I am real proud of my little mixed breed. I so glad that I can now show her in AKC trials along with all my other purebreds."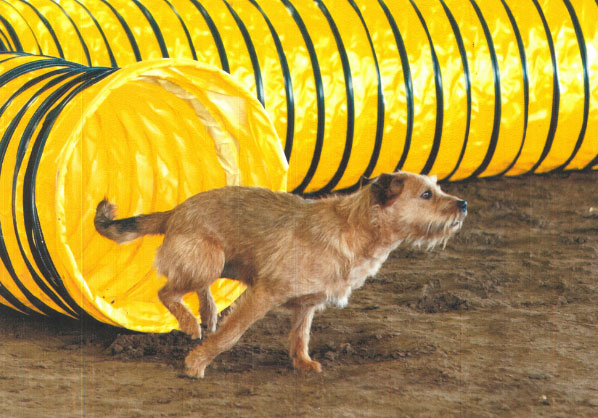 Evis
MACH Kramer The Golden Boy MXB MJB MXF CGCA owned by Lori Napoli of Mechanicsburg, PA
When Lori brought Kramer home, she wasn't even aware of agility so they didn't start classes until Kramer was 18 months old.
"Kramer was a perfect first agility dog as he let me make (many) mistakes and never quit on me!" says Lori.

The pair began competing in AKC Agility in January 2015. Kramer earned his MACH on March 31 at the York County Dog Training Club trial in Lewisberry, PA. Lori said she is often stopped at trials by people she does not know who tell her how much they enjoy watching them run.

"He is a special boy and I couldn't be more proud to have my 'little red-headed young man' as my partner!"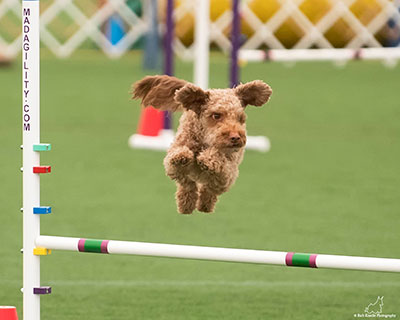 Kramer
MACH Little Miss Odie MXB MJB NF T2B owned by Lorraine Donner of Spring Valley, CA
Lorraine Donner found Odie running down a road in 2006. She had no tags or microchip.

"The day I brought her home was a day that changed my life forever. Odie is my heart dog and my best friend," says Lorraine.
She found out about agility in 2009 and, since Odie had plenty of energy and loved learning, decided to try it. "She is my first agility dog, so we both had lots to learn, and we continue to learn every day. I never imagined when we started classes that agility would wind up being the most fun thing I would ever do with my dog. What started off as a little hobby quickly became a passion!"
Their first AKC agility trial was in April 2011, and Odie "made it clear that she loved to run agility. She always excitedly barks before every run, bounces as she runs the course, and is smiling in all photos of her running agility." As they moved up in levels, the more difficult courses presented challenges, the biggest being Odie's terrier-typical independence. At one point, Lorraine wondered if they would ever earn a MACH.
Double Q's were difficult to earn. The pair earned their first one on Jan. 19, 2014. "I was so excited I started crying and screaming so loud that people thought that we had earned our MACH! Each Double Q we earned from there never got any less exciting. I never took a Double Q for granted because I knew how hard we worked to get each and every one. It took total focus from both of us on the field to have the perfect connection needed to have a smooth, clean run. Each time we did, it was the most amazing rush of joy and pride!"
Lorraine and Odie persisted through challenges and their hard work paid off.  Little Miss Odie earned her MACH on March 26 at the San Diego Rhodesian Ridgeback Club's trial. "There are no words to describe how proud I was of us. Just thinking about that day brings tears to my eyes. She is the best agility teammate I could have ever asked for. She runs the team, and I'm just lucky she lets me be a part of it. Odie is now 12 years old and people always assume she's much younger when they see the energy she has and the way she runs out on course. I fully believe being an active agility dog helps keep her young at heart!"

Odie
MACH Olive Hawkins MXB MJS OF T2B2 CGC owned by Stefanie and Craig Hawkins of Florence, KY
Stefanie and Craig Hawkins adopted Olive from a shelter in Bozeman, MT, in 2010. Because Craig is in the Army, they move around the country often. Olive had a lot of energy, so they took basic training classes and got into agility. Stefanie and Olive trained in Miami, FL, for two years before their first agility trial in 2014. In the summer of 2015, the family moved to Northern Kentucky. They now compete in Kentucky, Ohio and Indiana. Olive earned her MACH on Sunday, January 22, 2017 at the Greater Cincinnati Golden Retriever Club. 
Olive loves agility and Stefanie practices with her when they can at home in the yard, but they don't take formal agility classes. "It has been fun for us to do agility in lots of different states," says Stefanie, "and this year we took our first trip to the AKC National Agility Championship." 

Stefanie and Craig are not sure of Olive's heritage, but they have guesses of part cattle dog, part border collie, and some other things too. But one thing is sure, Stefanie said, "Olive has what it takes to be a true All American Dog."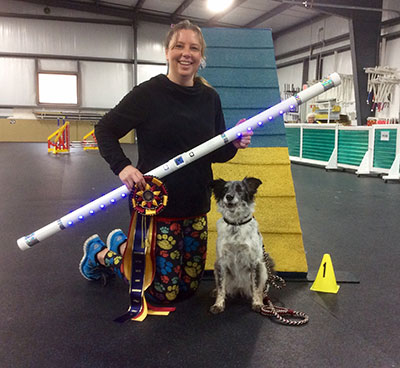 Olive

MACH Pepper Price MXB MJS MXF T2B CA owned by Sharon and Mike Price of Mount Vernon, WA
Pepper, from an accidental litter of English Springer Spaniel and Boxer parentage, was saved from a trip to the pound by Sharon and Mike. But the true story, says Sharon, is about "Who saved who."

To "get the wild out," Sharon considered dog parks, hikes, and over-all good exercise for Pepper, who was a quick learner. By the time she was 2 months old, she could do all the standard dog tricks. One day in 2010, the pair was at a park practicing tricks that included a tunnel and a tire jump. Someone watching asked if they did agility. Sharon did not know what agility was and looked it up on the AKC website. Soon after that, they saw a demonstration at a local event and signed up for classes.

In February, at the Chuckanut Dog Training Association trial, Pepper earned her MACH. Also in February, Pepper, now 7 years old, earned her MXF title and became a certified therapy dog through Project Caine.

"Pepper is that dog who always has her tail wagging. I am so proud of this amazing love dog!"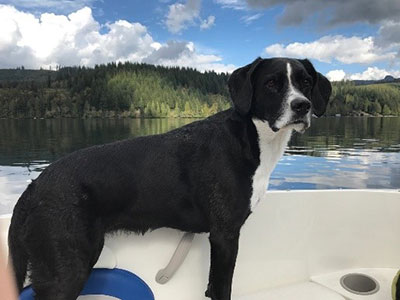 Pepper
Congratulations also to these first-time MACHs:
MACH Will MXC MJS XF owned by Rick Martin and Chris Valencia of Albuquerque, NM
MACH Betty Sue Stien MXS MJB2 XF T2B owned by H. F. Rick Stienecker of Cypress, TX
MACH Third Time's A Gamble MXS MJS owned by Susan L. Schmidt of Columbus, OH
MACH Lucky J MXS MJB owned by Karen Dalzell and Matt Dalzell of Midland, MI
MACH Peterson's Rosie Pickle MXS MJS T2B owned by Kathryn Tucker of Fairbanks, AK
Multiple PACHS
Congratulations to these dogs who have added more Preferred Agility Championships to their names:
PACH2 FORGOTTEN FRIENDS MAGGIE MAE MX MXB MXJ MXP11 MXPC MJP12 MJPB2 PAX4 OF owned by Susan Demar of Austin, TX
PACH2 Tanner MXP11 MXPC MJP12 MJPC PAX3 owned by Sherry Comegys and Gary Comegys of Decatur, TX
MACH5 PACH2 James Albert McLean MXC MJB2 MXP5 MXPS MJP6 MJPS PAX2 MFB TQX T2B owned by Adrienne McLean of Richardson, TX
MACH PACH2 SOLLARS' DREAMBOAT ANNIE MXB MJB MXP5 MXPS MJP5 MJPS PAX2 XF MFP TQXP T2BP2 owned by Karen A. Sollars and Lloyd E. Sollars of Lafayette, IN
PNAC MACH9 PACH2 Logan Lake Hope MXC2 MJG3 MXPB MJP5 MJPS PAX2 XF T2B CGC owned by Kimberly Barton of Johnstown, OH
MACH4 PACH2 Greer's Ellie MXB2 MJS2 MXP5 MXPS PADP MJPB PJDP PAX2 MFB TQX MFPB TQXP T2B4 T2BP owned by Carol Greer of Mineral Bluff, GA
PACH6 Savannah Altrive AX OAJ MXP16 MXPS2 MJP19 MJPG2 PAX7 NF XFP T2BP owned by Louise Gilchrist of Harrisonburg, VA
PACH6 Harvey's Casper AX AXJ MXP22 MXPB3 MJP24 MJPB3 PAX8 CGCA owned by Ronda Lauren Harvey of Calabasas, CA
New PACHS
Congratulations to these first-time PACH recipients:
MACH2 PACH Stumler's Harley MXS MJS MXPB PAX XF owned by Erin Stumler of Floyds Knobs, IN
Harley is an 8-year-old Boxer/Australian Cattle Dog mix (or a "platypup" as Erin and her fiancé like to call her) adopted from a rescue group as a young puppy. She was the "compromise puppy" between the Boxer that Erin's fiancé wanted and the herding breed she wanted.

Erin was already taking agility classes with her Australian Shepherd, but they didn't adopt Harley with agility in mind. However, when Erin would come home from the Aussie's agility classes, she played around with Harley on the same lessons. After a few months, Harley was proving to be quite a natural so Erin enrolled her in classes. It didn't take long for her to become the agility star of the family.

After much success at 24 inches, Erin moved her to Preferred last spring, where she continues to thrive jumping 20 inches.

"I wish I could take more credit for our success, but she's picked up training with little effort, covers my mistakes, and just goes out there and gets it done! I could not ask for a better partner to play this game with, and she's taken us places I never imagined, including two placements in the finals at the AKC National Agility Championship. She's that once in a lifetime dog and definitely the best compromise I've ever made."

Harley earned her PACH at the Agility Canines of Southern Indiana trial on April 8, 2017.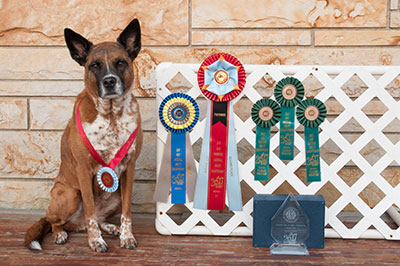 Harley
PACH Lindy the Long-Legged Labradoodle MXP4 MXPB MJP5 MJPS PAX NFP T2BP owned by Natasha Wright of Edmond, OK
Lindy is Natasha's first dog. Lindy brought her home in July 2008 "hoping that getting a dog would encourage a healthier lifestyle, and boy, did it work!" says Natasha.

The pair started agility classes in April 2009 and were hooked on the sport right away. Natasha's instructor encouraged her to lose weight so she could keep up with Lindy while competing in agility. It took about 18 months, but Lindy was her inspiration to lose 90 pounds.

Once Natasha was running faster, their agility career took off. They worked on the PACH for two years. The final Double Q was earned on Dec. 11, 2016, in Wichita Falls, TX.

Their instructor asked for a championship as her 2016 Christmas present from Lindy and Natasha, and they were determined to deliver. They qualified for the 2017 AKC National Agility Championship and were able to attend.

"Lindy has been a life-changing decision, and I am thankful for her every day!"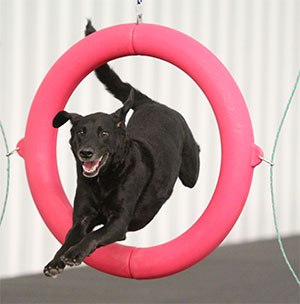 Lindy
PACH Mojo! MX MXJ MJB MXP5 MXPS MJP5 MJPS PAX OF owned by Nancye Scalamandre and Jack Bandel of Roswell, GA
Mojo has not had an easy life. When he was 18 months old, Nancye and Jack decided to foster him as he was heartworm positive, and the shelter had him scheduled to be euthanized the next morning.

Nancye soon became a "foster failure" as this terrier mix became completely devoted to her, and she couldn't part with him. She decided to train him for agility, and he became her second shelter terrier mix to compete in the sport.
At 4 ½ years old, Mojo was diagnosed with Inflammatory Bowel Disease followed by GI Lymphoma. He has been in remission for 18 months. Nancye and Jack were told by the oncologist to continue the same routine, especially keeping him well exercised. It was during his remission that he was moved to the Preferred division and they achieved enough points and Double Q's to earn his PACH. They also attended their first AKC National Agility Championship in March.
"This little dog achieved more than I could ever imagine in such a short period. But more importantly, he is a fighter and survivor whose life has been spared on more than one occasion. I will continue to give everything possible to this little All American as he has given me everything possible," said Nancye.
Mojo, 6, earned the PACH on Jan. 8, 2017, at the Oak Ridge Kennel Club trial in Harriman, TN.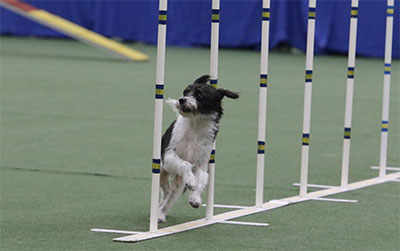 Mojo
Congratulations also to these first-time PACHs:
MACH7 PACH Parris April Williams MXS2 MJG2 MJPB PAX MXF TQX T2B owned by Kim C. Williams of Lawrenceville, GA
MACH2 PACH Pepsi RAE MXS MJS MXPB MJP3 MJPB PAX MXF TQX T2B4 owned by Mette Bryans of Eureka, CA
PACH Mj NA OAJ MXP3 MXPB MJP3 MJPB PAX owned by Sarah Straub of Monroe, MI
MACH PACH Skootin For A Second Chance MXB MJS MXP3 MXPB MJP4 MJPB PAX owned by Darlene Rauk of Milwaukee, WI
COURSING ABILITY TESTS
New Coursing Ability Excellent (CAX) Titles
Congratulations to these dogs for earning the CAX titles for passing the CAT test at least 25 times:

Logan Roadhouse OAP OJP NFP CAX owned by Deanna Adams of Apple Valley, CA
Logan was adopted from the Valley Oaks SPCA in Visalia, CA, on Aug. 30, 2013, when he was about 4 months old.

Deanna says the pup came into her life during a difficult time and because of his love for games and sports they found a lot to keep themselves busy.

The now 4 year old Logan, is, by Deanna's best guess, a mix of Belgian Malinois and Whippet. He is named after her favorite X-men character, Logan (aka Wolverine), and his middle name came because many of her friends, upon meeting Logan, commented, "I thought he'd be bigger." So his middle name is courtesy of the Patrick Swayze movie, Road House. 

Logan and Deanna compete in several other sports including Agility, Nose Work, Dock Diving, and Barn Hunt.

On Jan. 21, Logan earned his CAX title at the Southern California Ibizan Hound Club's CAT test in Chino, CA.

Deanna said she wishes every dog could experience the joy of doing something they love, whether for titles or just for fun!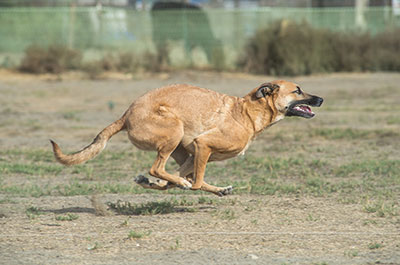 Logan
Congratulations also to new CAX titleholder:
Mauter's Cinnamon CAX owned by Di Mauter of Apple Valley, CA
Congratulations to these dogs who have added more CAX titles to their names:
Iyong Tapat Kaibigan CAX7 BCAT owned by Stephanie Joan Markgraf of Locust Grove, VA
Creek Ridge Found In A Pickle CD BN RE CAX3 BCAT ACT1 CGCA owned by Terry Lane of Peachtree City, GA
Ingomar Di Mancini Torsione Pane RN CAX7 BCAT CGC owned by Katharine Renner of Sewickley, PA
OBEDIENCE
Utility Dog
Ba Sammy Jo UD PCDX BN GN RAE owned by Brittany J. Allen of Decorah, IA
Sammy Jo is a four-year-old All American adopted from the Humane Society of Northeast Iowa in the summer of 2013. Sammy trains in multiple k9 sports and recently finished her RAE and Utility Dog titles. Her next obedience goal is to earn a UDX.
Outside of obedience, Sammy trains in agility, nosework, barn hunt, lure coursing, tracking, and advanced tricks. She is also a certified Therapy Dog and visits the local nursing home, hospice, and library on a regular basis. Sammy is very close to finishing her THDX title of 200 therapy visits.
Sammy also enjoys hiking, camping, kayaking, and swimming with her three fur-siblings. Her upbeat personality makes her a joy to be around and train.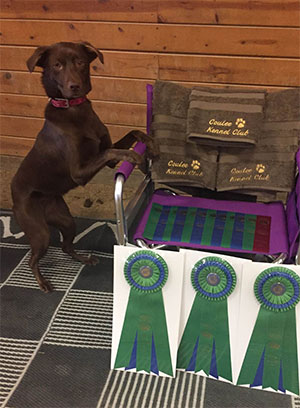 Sammy Jo
Congratulations also to this dog for earning the Utility Dog title:
Lola Sugar and Spice UD PCDX BN GN GO RE CAA CGC owned by Kathryn Harvey of Apple Valley, MN
Multiple UDXs
Congratulations to this dog for adding more Utility Dog Excellent titles to his name:
OTCH Reckless Abandon Vd Rod UDX5 OM7 CGC owned by Andrea B. Highland of Keymar, MD
RALLY
Multiple RAEs
Congratulations to these dogs who have added more Rally Advanced Excellent titles to their names:
STELLA CD RAE10 AXP AJP NFP RATN owned by Karen Powell and Richard Powell of Frankfort, KY
Bossman Sweetater Freighter RAE16 owned by James M Roberts and Barbara A. Roberts of Lakeland, FL
Mattie Ross CD BN RAE3 AX OAJ OF CA CGC owned by Arwen Price of Versailles, KY
Medendorps Hoodoo By Barribeau CD RAE3 NA OAJ NF CAX owned by Billie Mendendorp of Decatur, AL
Our Sweet Waally Waally Wabbitt CD PCD BN RAE9 owned by James M Roberts and Barbara A. Roberts of Lakeland, FL
New RAEs
Congratulations to these first-time RAE recipients:
Brock Lydie UD GO VER RAE owned by Janet Lydie of Fountain Inn, SC
Brock was a stray at the Spartanburg Humane Society who chose Janet's husband in June 2008. It was love at first sight for both. Just for fun, Janet began obedience lessons. She and Brock progressed to competitive classes with no plans for showing.

That changed in April 2010 when mixed breeds became eligible to compete in AKC events through the Canine Partners program. Janet and Brock entered their first trials in July 2010, and Brock earned her Novice title in one weekend. They were hooked, and in July 2013 Brock became the 10th All American to win a Utility title.

After not showing for a while, Janet entered Brock in Rally trials so she wouldn't have to leave her home while showing her second dog.

"Brock was great at Rally and I was terrible but she carried us both and received her RAE on Feb. 4, 2017, at the Charlotte Dog Training Club trial," said Janet. "At nearly 10 years old she is probably retired for real this time but she has taken me on a journey I had never even dreamed of: the little dog who chose my husband went from just Brock to Brock Lydie UD GO VER RAE."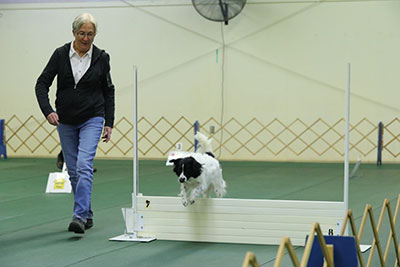 Brock
Cuddles CD BN RAE AJP CGC owned by Leora M Berry of Kingston, TN
Eight years ago, Leora Berry adopted a 14-week-old Jack Russell Terrier mix from a Preble County, Ohio Humane Society facility.
Cuddles was 4 years old before Leora took her to beginner obedience and agility classes, and there has been no stopping her since. Cuddles earned her CD last year and competes in AKC Agility.
At the same time, they have been enrolled in rally classes at Oak Ridge Kennel Club and competing at shows close to home. Leora and Cuddles qualified to compete at the AKC Rally National Championship.
"Happily, though, our efforts to attain an RAE title came to fruition on March 18, 2017, at the Chattanooga Obedience trials in Litchfield, GA. Cuddles and I earned our 10th Double Q with passing scores in the Excellent and Advanced courses. I am very proud of her accomplishments!"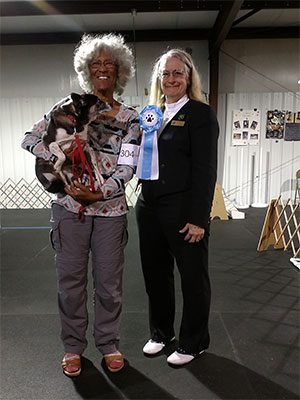 Cuddles
Congratulations also to these RAE title earners:
Nicolas Degeneste CD BN RAE owned by Marie and Henry Degeneste of Herndon, VA
Allagante Princess of Monaco CD BN RAE AX OAJ owned by Kathy Moore of Norco, CA
Jimenez's Chloe BN RAE NJP owned by Ana Jimenez of El Paso, TX
Leapin Lady Lacey BN RAE OAP OJP owned by Theresa Ann Hylton of Lebanon, PA
Ba Sammy Jo UD PCDX BN GN RAE owned by Brittany J. Allen of Decorah, IA
Tulip the Bug RAE CA BCAT owned by Kathy Prince of Toney, AL
Croft's Lil' Tankard of Power CD BN RAE OA OAJ owned by Lisa Croft of Collierville, TN
TRACKING
Congratulations to this dog for earning the Tracking Dog Excellent (TDX) title:
Dos Rios Millie TDX owned by Michele Mauldin of Alamogordo, NM
Michele Mauldin spied Millie at a shelter in early 2016 and immediately noticed she had that "something special, that undeniable spark in her eye, and quite the personality."

After arranging her adoption, she learned Millie was heartworm positive. "Regardless, for better or worse, she had a new forever home," Michele said. "After her successful heartworm treatment and four long months of crate rest Millie was spayed. When she was recuperated, she was raring to go!"
Since tracking is one of Michele's great loves, she and Millie began training with the goal of entering their club's upcoming tracking tests only months away. Millie nailed her tracking certification on Oct. 29, then easily passed her Tracking Dog (TD) on Jan. 29, 2017. Three weeks later they were at the start flag for their TDX test. Millie ran a beautiful track and earned that title on Feb. 19. The pair is continuing to Variable Surface Tracking (VST) and hopefully agility and obedience titles in the future.

"Millie is a very special dog that has brought joy to our family, both human and canine."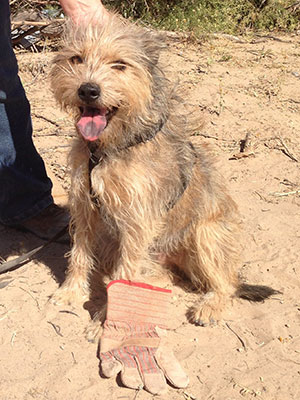 Millie
Congratulations to these New Tracking Dog Title Holders:
Abby Salois TD owned by Yuko Salois of La Mesa, CA
Abby almost didn't get the chance to have this wonderful story. She and her mother, brothers and sisters were barely existing beneath an abandoned home when Labrador Rescuers pulled the family from its apparent destiny.

Named "Susie" by her new guardians, Abby's mother was showing the visual effects of long-term starvation. Through medical treatment and caring attention, however, Susie and her litter completely recovered. She and all her offspring found new homes through adoption. Abby landed with the Salois family in La Mesa, CA.

Abby has been quite busy, keeping up with canine house mates T-Max and Ko, a Boston Terrier and Maltese. She also has passed several training courses, including obedience clicker training (beginner and intermediate) and agility coursework.

She earned her TD (Tracking Dog) on Feb. 8, 2017, at the Agility Club of San Diego test.

Although it once appeared Abby would have no future, the one she is pursuing is likely to be filled with more challenges and accomplishments, Yuko said.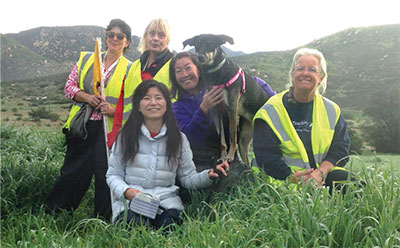 Abby
Lassie Spirit of The Canyon TD owned by Lynn Wilson of San Diego, CA
When 12-pound Lassie was rescued, she didn't know how to walk on a leash. In fact, when the collar and leash were first put on her, she froze and wouldn't even take a step. By letting her take the lead with treats as encouragement, she quickly learned that the leash meant going on walks. Soon she had an over-the-top enthusiasm for the leash (like jumping straight up about a foot in the air). This seemed like a good indication that she might like tracking, Lynn said.
When Lynn and Lassie had their first tracking lesson, the coach commented "I think she will be good at this." By the fourth or fifth lesson, she told Lynn that Lassie's work ethic is amazing and that she had dogs that had been doing tracking for two years that weren't doing what Lassie was doing. "She often blows right by the treats that might be on the course because she is so motivated to find the glove at the end," Lynn said.  "Lassie doesn't seem to tire and when the lesson is over it's never because she's losing interest. Nothing warms my heart more than my sweet little All-American being out there on the tracking course holding her own with the German Shepherds and other large breeds."

Lassie is estimated to be about 5 years old and lives with another rescue Chihuahua and an AKC purebred working Doberman. She earned her TD at the German Shepherd Dog Club of San Diego TD/TDX test on Jan. 18, 2017.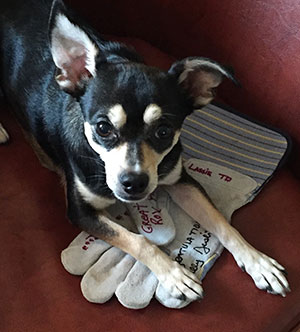 Lassie
Congratulations also to these TD title earners:
Great Gracie BN RE TD NA NAJ CGC owned by Cyndi England of San Diego, CA
Ruby's Cain TD owned by Robert D. Ruby of Sylmar, CA
Firecracker CD BN RE TD owned by Kristi Carpenter of Houston, TX
Peej Pirl TD owned by Terese Pirl of Denton, NE