Competition/Titles Update
Get all the news about the recent top title earners in Agility, Coursing, Obedience, Rally, Tracking and Versatile Companion Program. This includes news of the first All-American Dog to earn the new AKC Fast CAT award in Coursing Ability and news of a perfect score in the Obedience ring!
AGILITY
Congratulations to these dogs who have added more MACHs to their names:
MACH2 Popo Yun-Mallan MXG MJC CGC – Janet Yun – Houston, TX
MACH2 Hunter Dobyns RE MXC MJG OF T2B2 CGC – Kathryn Dobyns – Staunton, VA
MACH3 Mel's Amazing Mooch MXG MJG MXF T2B3 – Melanie Thomas – Findlay, OH
MACH4 Greer's Ellie MXB2 MJS2 MXP MJP MXF MFB TQX T2B4 – Carol Greer – Mineral Bluff, GA
MACH4 Carrington MXB2 MJB2 MXF MFB TQX T2B4 – Grace Swearingen – Colonial Heights, VA
MACH5 Moses Raphael York UD BN GN GO RAE4 MXB2 MJG2 MXF MFB TQX T2B5 CGCA – Jordan York – Evansville, IN
MACH5 Arff Tallulah MXB2 MJS2 MXF MFB TQX T2B2 – Betsy Totten – Oak Hills, CA
MACH6 Sally Of Ingleside MXS2 MJS2 XF T2B2 – Valerie Dietz - O Fallon, IL
MACH6 Feel The Need MXG2 MJB3 MXF MFS TQX T2B7 CGC – Janet Boggs – Crawfordsville, IN
New MACHS
Congratulations to these first time MACH recipients:
MACH Team Doggie's Lil' Dappy Packin' Big Swag MXB MJB owned by Tacarra Andrade of Novi, MI
Dapper Doggie, a 4 year old Teddy Roosevelt Terrier, earned the MACH on Jan. 31, 2016, at the Southern Michigan Weimaraner Club trial in Dexter, MI. This was a special accomplishment for Dapper Doggie (affectionately referred to as Dappy) as he had to overcome many obstacles to achieve this.

When Dappy first started competing in agility, he suffered from debilitating fear/ring stress and for many runs he was too scared to even take the first jump often ending the run before it even started.

"So for him to finish his MACH with placements in both runs really demonstrates the great progress we have made together as a team!All that Dappy and I have been able to accomplish comes strictly from perseverance, trust and love…to me, success in this sport is all about the relationship," Tacarra said.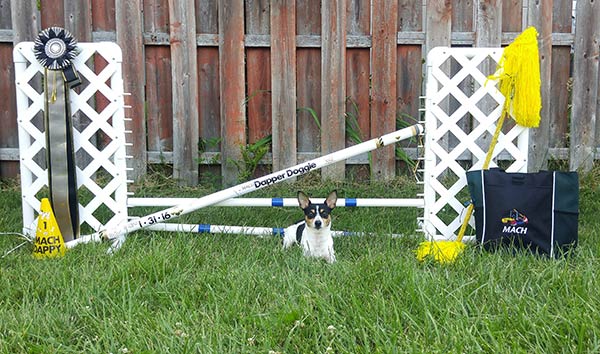 Dappy
Multiple Master Agility Championships (MACHS)
MACH Northbound Fly By Night RE MXB MJS CGCA owned by Samantha Scicchigno of Staten Island, NY
Nine year old Marge is a rescue dog from rural Georgia who Samantha acquired at a year old, when she was 17 and working at an animal shelter. Marge was initially afraid of people, sounds, and new environments.

"When she started agility, her confidence grew in leaps and bounds. She began her AKC career the first weekend that mixed breeds were allowed in competition in April of 2010," Samantha said. "Since that time, she has gone to the Westminster Kennel Club agility championship twice, performed demonstrations at fund-raisers and county fairs, and even made a visit to a senior day care center this year to show off her agility skills."

When not doing agility, Marge accompanies Samantha everywhere - her favorite things to do are to go walking in the woods or on the beach.

"She has a little farm dog in her, too, and comes along from time to time while I am at the barn horseback riding! To say she is a once in a lifetime dog is an understatement. Knowing the humble beginnings we came from has made our victories so much sweeter. "

Marge finished her MACH on May 1, 2016, at the Kruisin' Kanines Agility trial in Pitman, NJ.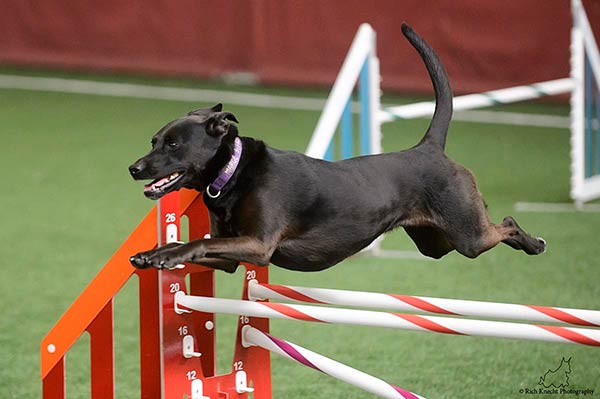 Marge
MACH Jillie of Gorman Avenue owned by Lisa Putnam of St. Paul, MN
Jillie had humble beginnings. A good Samaritan rescued her and her three littermates as young puppies from a person who was giving them away from a trunk of a car.

He brought them to an animal humane society.

"I met Jillie on the day of her spay. She left her littermates to come to the gate to lick my finger and rolled over to show me her scar. I had to take her home," Lisa said.

In addition to agility, 8-year-old Jillie also was a TDI therapy dog. Her favorite jobs are chasing squirrels and catching Frisbees. She also likes hanging out with her older brother, a 10-year-old Golden Retriever and a younger sister, Tally, another All-American.

Jillie earned her MACH on April 16, 2016, at a trial in St. Paul, MN.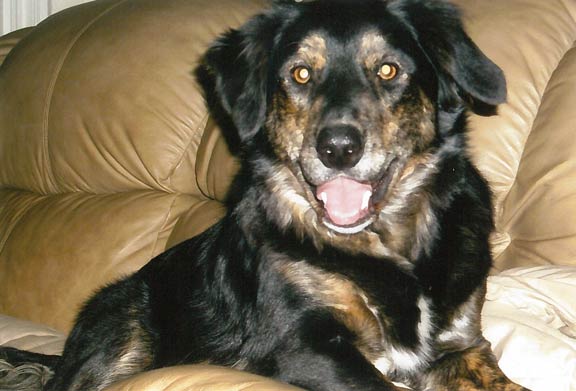 Jillie
MACH Willow MXB MJS owned by Haley Bouchard of South Burlington, VT
Haley Bouchard was just 13 when she and her dog Willow entered the AKC Agility ring in 2011.

"Their first few years in competition were tough. There are lots of 15 second videos of Willow running out of the ring," said Haley's mother Diane.

With lots of perseverance and help from Haley's trainer, Lori Bielawa, Willow and Haley started to work as team and overcome the stress of competing.

They achieved their MACH two months after Haley turned 18 years old on Feb. 20, 2016, at the Eastern English Springer Spaniel Club trial in Amherst, NH.

Haley is heading to college this fall at Northeastern University in Boston, MA and will no longer be actively competing. "The initial agility failures in the ring and hard work needed to overcome them are life lessons that Haley will bring with her to next stage in life," Diane said. "She hopes to be back in the agility ring one day."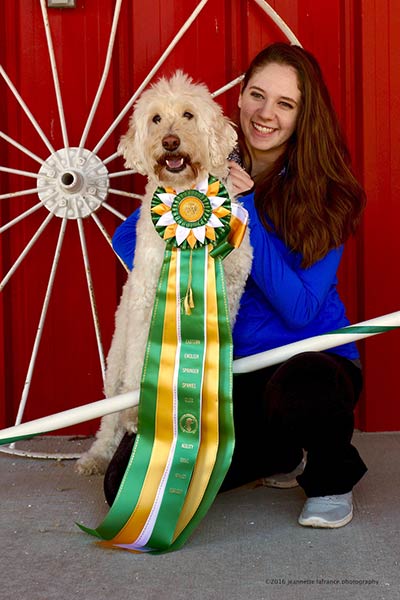 Willow & Haley
MACH Jennifer's Princess Bella MXS MJS OF owned by Jennifer Masterson of Zanesville, OH
Jennifer stopped at the dog shelter one day on a whim. As she was talking with a staff member about what types of dogs they had, Bella came from the back of her kennel and peeked her head out at her. "I immediately knew that she would be a wonderful addition to my family. Bella even won my husband over quickly, which is a feat within itself," Jennifer said.
A staff member from the shelter said Bella was approximately 3 years old and was brought to the shelter when her owner wasn't able to keep her any longer. She is now around 9 years old.

"Bella and I started taking agility classes for something to do together. It wasn't until a couple of years later that I had the courage to enter our first trial. I was so nervous but Bella wasn't phased by the new environment and did a great job."

While Bella is "steady eddy" on the agility course, her favorite part of trialing is the social aspect. She loves to visit people and charm a treat from everyone. She thrives in social settings, which is why she also was an excellent therapy dog.

"It's unbelievable to me that such an amazing and talented dog was at the shelter for two weeks. My husband and I feel blessed to have her in our family."

Bella received her MACH in April 2016 at the Parkersburg Obedience Training Club trial in Zanesville, OH.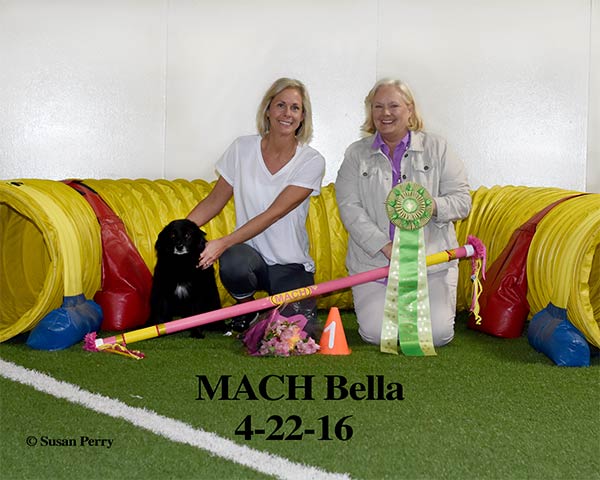 Bella
Congratulations also to these first time MACHs:
MACH Siren MXB MJB XF T2B – Kelly McFaul-Solem of Duluth, MN
MACH T-Bow MXB MJB OF T2B2 – Betty Steele of Warrenton, VA
MACH Ever MXB MJS OF T2B – Kyle Miles of Tell City, IN
MACH Hannah's Molly MXB MJB – Hannah Naiburg of Milford,
Multiple Preferred Agility Champions (PACH)
Congratulations to this dog for adding more PACHs to his name:
PACH4 Harvey's Casper AX AXJ MXP15 MXPS2 MJP17 MJPS2 PAX5 CGC owned by Ronda Harvey of Calabasas, CA
New PACHS
Congratulations to these first-time PACH recipients:
MACH PACH Sollars' Dreamboat Annie MXB MJB MXP3 MXPB MJP3 MJPB PAX XF MFP T2BP owned by Karen Sollars of Lafayette, IN
Annie was adopted from a local shelter in the summer of 2007, estimated to be about 6 months old. She was a sick puppy with kennel cough and a nasty case of whip worms. "However, once we got her health back on track, she began to amaze us with her ability to quickly and effectively solve problems and accomplish everything we challenged her to do," Karen said. "She earned her first championship title in September 2009 and never looked back."

As Annie approached 9 years old, Karen decided to move her to the Preferred program so that she could jump a lower height, hoping that it would be easier on her body and extend her ability to continue to enjoy agility longer.

"While I had not planned to attend the AKC National Agility Championship in Tulsa this spring, when I found that Annie was qualified, I decided to go. What an experience! She made it to the finals, barking all the way! Our next AKC trial was April 23, and she earned her 20th QQ for PACH.

"What a journey it has been to share a life with this special girl. I look forward to many more times of experiencing the joy it is to compete with Annie!"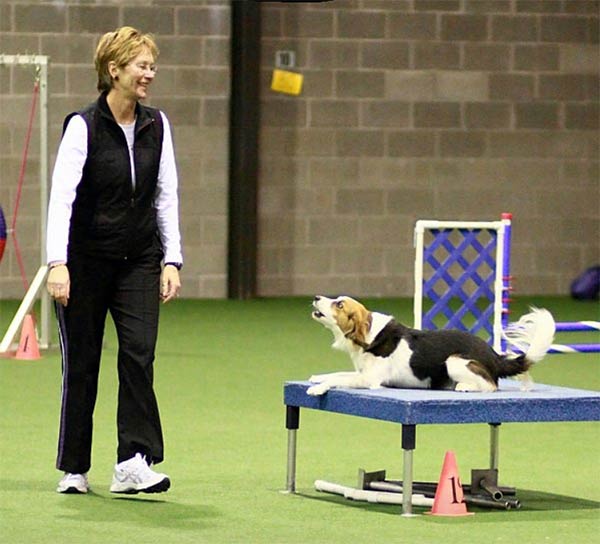 Annie
PACH Corky RE MXP4 MXP3 MJP3 MJPB PAX owned by Carol Clay of Rio Rancho, NM
Corky is Carol's first agility dog and first agility champion. She adopted Corky from a rescue group in 2008 and began the agility journey in 2010. They had just started to compete when AKC began the AKC Canine Partners program.
"AKC became my favorite agility venue," Carol said. " Corky is always ready to learn a new trick and is patient when I train a new handling move. Corky is my loving and affectionate buddy. He is and will always be my shadow and holds a special place in my heart."

They finished the PACH on April 8, 2016, at the Valencia Valley Kennel Club of New Mexico trial.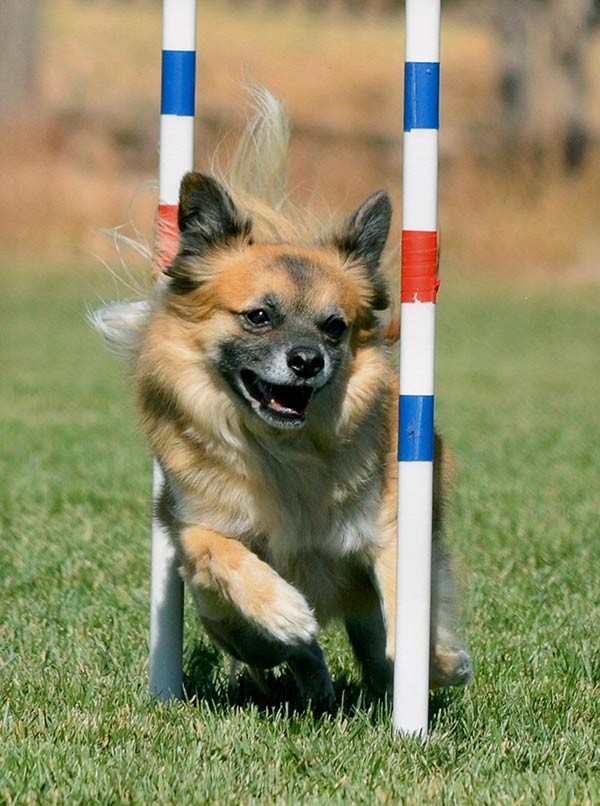 Corky
PACH Cross Fire Copper Cricket AX AXJ MXP4 MXP3 MJP5 MJPS PAX OF owned by Lydia Sharp of Gilbert, AZ
Cricket is a little desert dog with a big heart and even bigger personality, Lydia says. In late 2007, her husband spotted the little red and white dog near their welding business. She looked like she recently had given birth and he started leaving food out for her. She would run by, grab a mouthful and then take off. Near the holidays, they worried what would happen to her as they were closing for four days. Cricket got just close enough that day for her husband to grab her. They brought her home and started a journey with a dog with many fears and few social skills.

"Slowly her larger than life personality started to blossom. She is very vocal and has numerous sounds in her vocabulary. She runs to greet you at the door, yipping and yi-yi-ing, and winding around your legs as if she has not seen you in years. It's an awesome way to be greeted every day. She plays her version of hide and seek with every dog she meets. She hides, waits for them to see her, then chases them around the yard in a tag like game. Cricket made good progress assimilating to the family but she was still extremely fearful of just about everything. Normal noises and motions would send her racing out of the room. If you threw a toy, she would run the opposite way. People were always the scariest thing and she would try to hide or make herself as small as possible whenever someone new was around. It was a very sad way to live."

Since Carol competed in agility with her Labrador Retrievers, she decided to try teaching Cricket the teeter obstacle to build confidence. The little dog did so well that Lydia started teaching Cricket all the obstacles.

"It was never my intention to compete with Cricket but each day she became more confident and really seemed to love agility. In 2010, I finally decided to enter her in an agility trial and, to my amazement, she started qualifying."

On April 9, 2016, at the Valle del Sol Golden Retriever Club trial, she became PACH Cross Fire Copper Cricket AX AXJ MXP4 MXPB MJP5 MJPS PAX OF. "Each one of those letters represents a journey of incredible accomplishment for this little desert dog," Lydia said.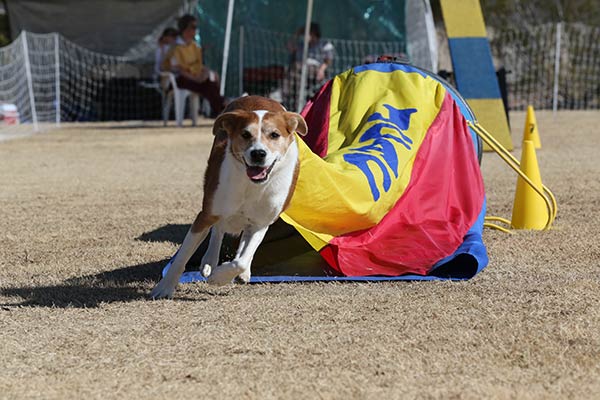 Cricket
Photo by Kathleen Schaffer/Pup Art
Congratulations also to these new PACHs:
PACH Pearly Gates AX MXJ MXPB MJP3 MJPB PAX CGC – Frederick & Mercy Colberg of Arnold, MO
PACH Where There's A Will There's a Way MXP3 MXPB MJP4 MJPB PAX XFP T2BP – Sally & David Rojek of Middle Grove, NY
MACH PACH Hyper Leila CD BN RA MXS MJS PAX T2B3 CGCA – Julianna Munden of Pasco, WA
COURSING ABILITY TESTS
First All-American Dog to Earn Fast CAT Title
Koda Dane Lincoln Mo Rausch CA BCAT RATM CGC owned by Jeanette Rausch of Mount Juliet, TN
Koda is the first All-American Dog to earn the new AKC Fast CAT title in the sport of Coursing Ability, on May 14, 2016, at the Blue Grass Coursing Club test in Radcliff, KY.

Koda is also tied for second place in the fastest All-American Dogs in the new event!

Fast CAT is a timed 100-yard dash for dogs. Dogs run singularly and in a straight line, chasing the lure, usually a white trash bag attached to a pulley system. The dog's time to complete the 100 yard dash is converted into MPHs, and the dogs earn points towards titles, based on their time.

Koda is a 3-year-old Labrador Retriever mix.

"He was a parvo puppy handed over to my veterinarian clinic to be euthanized. Instead, they treated him, housed him in the kennel, and used him as a blood donor," Jeanette said. "When I visited the clinic in January 2014, the clinic asked if I would consider adopting him. He was 13 months old when I brought him home to join our family that included me and four other dogs. He has accomplished a lot more since then, besides saving the lives of other dogs."

For more information on Fast CAT, go to: http://www.akc.org/events/fast-cat/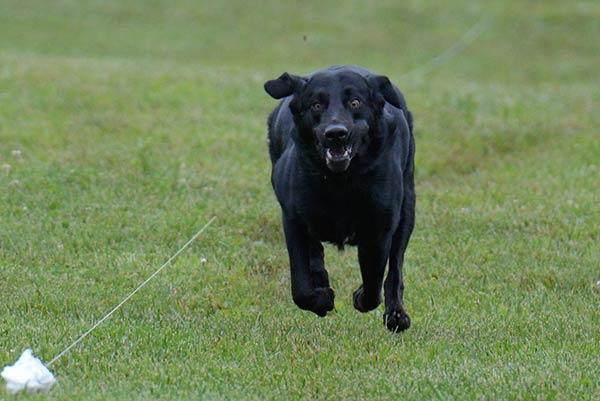 Koda
Photo by Smooth Shots by Bill
Multiple Coursing Ability Excellent (CAX) Titles
Congratulations to these dogs for adding more CAX titles to their names:
Ingomar Di Mancini Torsione Pane RN CAX4 CGC – Kate Renner – Washington, DC
Emmy Lue RA MXP6 MXPS MJPB PAX XFP T2BP CAX2 RATCH CGCA – Jennifer Baiocco – Orlando, FL
Ranch Dog CAX2 – Susan Lewis – Wildomar, CA
New Coursing Ability Excellent (CAX) Titles
Congratulations to these dogs for earning the CAX title for passing the CAT test at least 25 times:
Kumala CAX owned by Michelle Jung of Daly City, CA
Michelle adopted Kuma from the San Francisco SPCA in 2014 when he was around a year and a half.

He was a stray dog from a neighboring county before being picked up and turned into a shelter. "I've had him for about two years now, and he's a complete joy and a pain in my butt (from time to time)," Michelle said. "He's super smart and loves to learn new tricks and bother his Chihuahua/Jack Russell mix brother."

Kuma loves running on the beach and hiking the area trails with Michelle. He excels at putting his running skills to the test at AKC Coursing Ability Tests and earned the CAX title in January.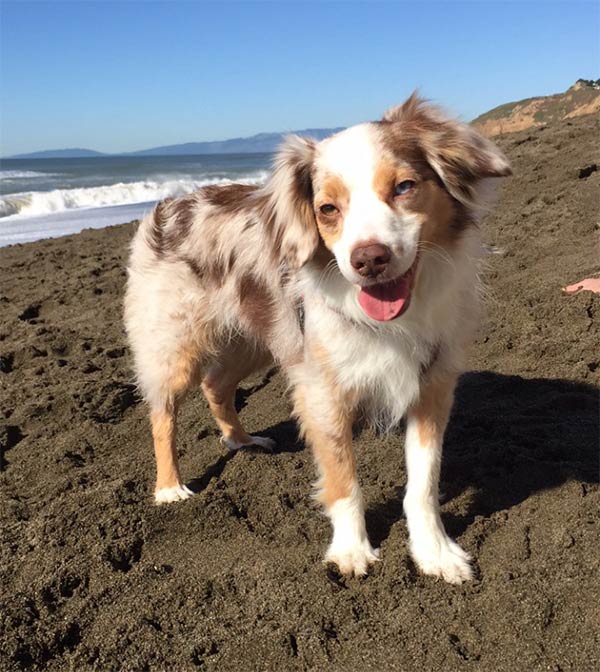 Kumala
Dottie of W Spalding CAX owned by Brenda Williams of Atlanta, GA
Dottie, a Dalmatian mix, was about to be returned to a humane society after being in two homes in four weeks when Brenda's son met her and brought her home. Already having three dogs and not wanting a fourth, Brenda agreed to foster her.

"Long story short, I fell in love with her very quickly and despite the challenges she presented, I am so glad she came into my life," she said. 'A friend referred me to two trainers who not only continue to give us guidance through workshops and classes, but who also introduced us to the world of dog sports."

Dottie and Brenda have tried agility and tracking and learned tricks in the circus dog classes. They currently compete in barn hunt and nosework/scentwork, but Dottie's favorite activity is AKC Coursing Ability. "She absolutely goes crazy hearing the machine and watching other dogs chase those 'white bunnies' (white plastic trash bags). I think I work harder than she does making her wait her turn."

Dottie earned the CAX on May 8, 2016, at the Greyhound Association of North Georgia test in Watkinsville, GA. "I am so thankful that AKC has programs for rescue and mixed breed dogs. Our lives have been enriched in ways I could never have imagined."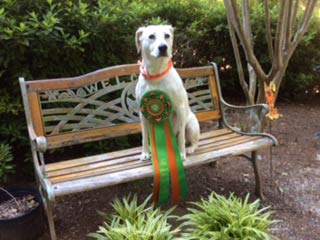 Dottie
Congratulations to these other new recipients of the CAX title:
Lucy's Got Some 'Splannin' To Do CD RE CAX RATO CGC – Nancy Lewin of Glendale, WI
Rose of County Line RN CAX – Barbara Wilson of Mequon, WI
Whats That Gizmo CAX – Cindy Blish of Greenwich, CT
OBEDIENCE
Congratulations to the 3rd All-American UDX!
Jasmine of Lindenbrook UDX and Nan Daley of Woodside, CA, have become just the third All-American Dog team to achieve the AKC Obedience title of Utility Dog Excellent (UDX). This challenging goal requires dogs to qualify in both Open B and Utility B classes on the same day 10 times. Jasmine achieved this in just 12 trials!

"I was honestly expecting it to take four times as long," Nan said.
They received their 10th "leg" on May 14, 2016, at the Santa Clara Dog Training Club trial in San Jose, CA.
Nan never intended to even have Jasmine as a pet. Her daughter's friend asked if he could leave Jasmine with them one day while work was being done on his apartment. He never returned to get her. Nan started taking the pitbull to class just to give her some training so she would be more adoptable – and discovered a very smart dog and great companion.
"I am so very lucky to be blessed by a wonderful 'unwanted' dog," she said.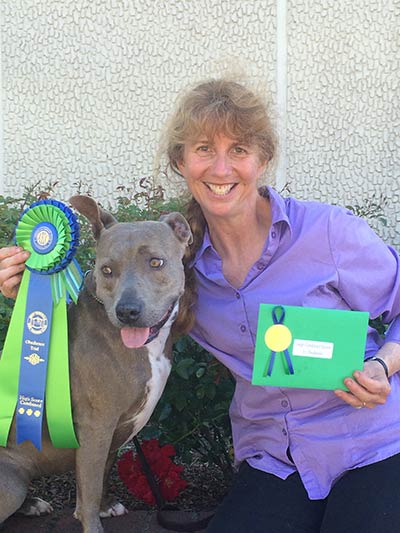 Jasmine
Novice A Dog Earns Rare Perfect Score in Obedience Competition
Photos courtesy of Houston PetTalk Magazine/Rebecca Burwell
It is rare for even the most experienced competition obedience dog to earn a perfect score of 200.

But recently, an All-American Dog achieved a flawless performance in his first time in the Novice class.

Super Cooper Trooper CD BN RN and his owner Josh Wiggins of Spring, TX, not only received the perfect score, they also won High in Trial as the top performing dog at the Brazos Valley Kennel Club trial on April 2.

Cooper and Josh were competing in the Novice A class – for dogs and handlers who have never earned any previous obedience titles. Cooper earned near perfect scores of 199 and 198 in other obedience trials that weekend, competing their AKC Companion Dog (CD) obedience title.

The kennel club was so impressed that they asked Josh to do a demonstration for the audience before the conformation dog show group judging.

But Cooper was not always an obedience superstar.

Josh adopted Cooper from some friends "who thought it would be a good idea to give him as an engagement/wedding gift. I got him from them at about 4 months of age once they decided the Dachshund they already had was enough and that they didn't need a second dog," he said.

At about age 2 years, Cooper was an "out of control mess" so Josh enrolled him in manners classes. Before long, Josh and Cooper had a better relationship; Cooper had manners; and their instructor suggested the two try competitions. They are now preparing for the next level of AKC Obedience – the Companion Dog Excellent (CDX) title.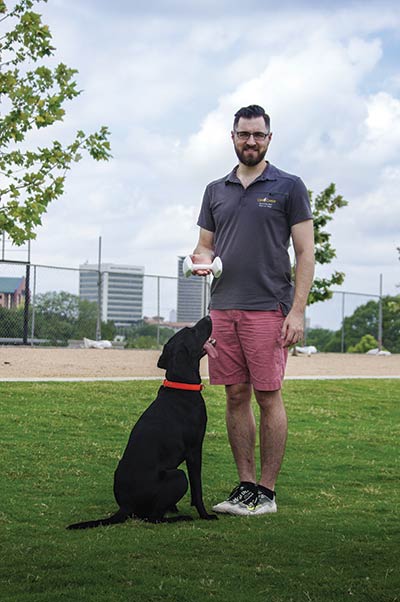 Cooper & Josh
Utility Dogs
Congratulations to Henry Head Over Heels UD PCDX BN GN RE THDA CGC and Kathyrn Harvey of Apple Valley, MN, on earning the Utility Dog (UD) title!
RALLY
Multiple Rally Advanced Excellent (RAE) Titles
Congratulations to these dogs who recently added more RAEs to their names:
Bossman Sweetater Freighter RAE14 – Jim & Barbara Thomas of Lakeland, FL
Our Sweet Waally Waally Wabbitt CD PCD BN RAE6 – Jim & Barbara Thomas of Lakeland, FL
New RAEs
Congratulations to these first-time recipients of the RAE title:
Gra'Nola Doodle CDX RAE OA OAJ AXP NF OFP THDX owned by Ingrid Schillebeeckx-Rice of Barnegat, NJ
Nola's career started as an animal assisted therapy dog in the ​Little Egg Harbor School District. Nola worked with both the general and special education population, serving as a catalyst for therapists, teachers and counselors to accomplish specific goals. She received an honorable mention honor for her work in the AKC Awards for Canine Excellence.
​
Nola's eagerness to work and desire to please led Ingrid to explore dog sports with her. Nola holds titles in Agility, Obedience, Rally, Barn Hunt, Nose Work and Freestyle.

​Since retiring in December from her school "job," Nola now visits assisted living communities, entertaining adults with her tricks, and continues with competitive sports. On April 29, 2016, Nola earned her RAE title at the Lower Camden County Dog Training Club trial.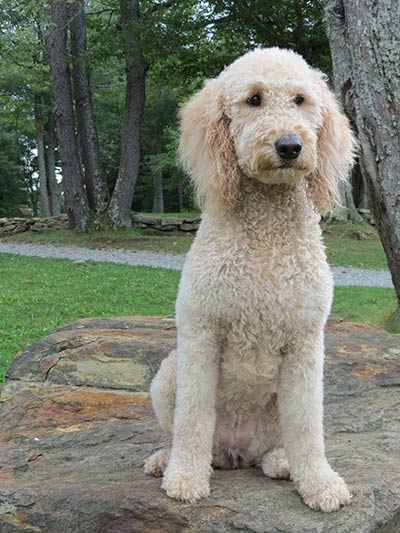 Nola
Penny For Your Thoughts RAE MX MXJ MJB XF T2B CAA CGC owned by Mandy Parkins of Westerville, OH
Mandy adopted Penny from a rural county shelter in southern Indiana in 2009 when the dog was just 8 weeks old.

"She has always been very active and smart so I knew I wanted to show her. Having never shown dogs before, Rally seemed like a good place to start," Mandy said. "We were completely self-taught."

Penny earned her first AKC title, Rally Novice, in 2011. After that, they went on to dabble in Agility and "we were hooked. Rally may have taken the back seat but we never completely quit and never will. Rally will always be special as it is where we stepped into a show ring together for the first time."

Penny proudly competed at the 2015 AKC Rally National Championship in the Advanced division and completed her RAE title at the Columbus All Breed Training Club on April 30, 2016. They are currently working on the requirements to double-qualify for both the 2017 AKC Rally National Championship and the AKC National Agility Championship in Perry, GA next year.

"She is an amazing dog, and I couldn't imagine life without her."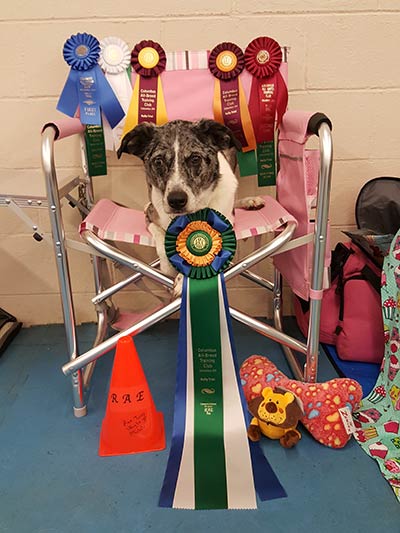 Penny
Moroughan's Roxy CDX BN RAE CGC owned by Vicki Moroughan of Hurlock, MD
Vicki and her husband adopted Roxy from an animal rescue in August 2012, about five months after they brought her north from a high kill shelter. "We had dropped off some dog supplies at the animal rescue.While leaving the facility, we walked through the kennel area," Vicki said. "As we approached Roxy's kennel, she displayed her exuberant personality. She was standing on her hind legs with her back up against the front corner with what appeared to be a smile on her face, a move that made it hard for us to forget." The next day, Vicki turned in her application to adopt Roxy and soon started obedience manners classes. They did so well that the instructor encouraged them to register with AKC and take the CGC test. They passed and then moved on to rally, which they both loved. Roxy earned the RAE on May 27, 2016, at the Oriole Dog Training Club trial. She earned seven High Combined honors out of the nine trials that offered the award on her way to RAE. "I feel I still have a lot to learn, but I realize the relationship built with Roxy is very special."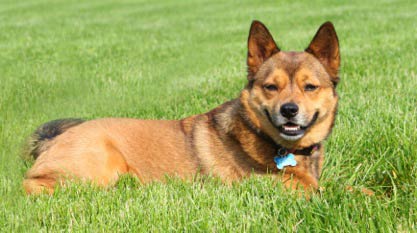 Roxy
Robin Goodfellow RAE THDA CGC owned by Robert & Aimy Pumphrey of Aurora, CO
Puck showed up at the Pumphreys' house in 2010 as an unnamed 9 week old puppy that his daughter had acquired. "Being a mischievous young sprite, Puck (aka Robin Goodfellow) was the only name that fit," Robert said. Less than a year later, Puck had grown to 29 inches at the shoulders and 70-plus pounds and showed no signs of stopping. His daughter decided her father was better able to handle the big dog, and Robert took over Puck's care and training.

Puck loved people so Robert decided to pursue therapy dog work with him. "During spring and summer of 2011, we worked to bring his leash skills up to standards," he said. "In October 2011, Puck passed the AKC Canine Good Citizen test with flying colors, and, the next day we tested with Pet Partners (Delta Society) and passed." Puck still really enjoyed the one-on-one obedience training so they entered the world of rally. In April 2012, they entered their first trial and won first place with a score of 98. "We were hooked. Puck now has room full of ribbons and trophies. We have competed twice in AKC Rally Nationals, doing very nicely against fellow top teams. For a dog that just showed up on my doorstep, earning our RAE has been a major milestone." Puck achieved the RAE on May 14, 2016, at the Rio Grande Kennel Club trial in Albuquerque, NM.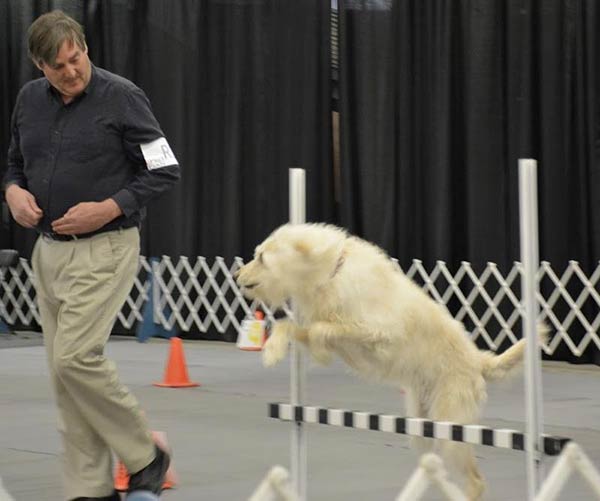 Puck
Congratulations also to these new RAEs:
McCall Show Me Kodiak BN RAE AX AXJ CGC - Deborah Mitchell of Bellevue, NE
Cappy Guardian of the Peacocks CD BN RAE – Denise Gray of Tracy, CA
Evans' Kate My English Shepherd BN RAE CGCA – James Evans of Carthage, MS