Competition Update
Get all the news about the recent top title earners in Agility, Coursing, Obedience, Rally, Tracking and Versatile Companion Program. We have some big news to report about All-Americans succeeding at AKC National events, as well as some new top title record-holders!
AGILITY
All-Americans at National Events
AKC Agility Invitational –
Congratulations to
MACH8 Feel The Need MXC2 MJS3 MFG TQX T2B8 CGC & owner Janet Boggs for making the finals of the 20-inch class at the AI held in December in Orlando, FL
Westminster Kennel Club Master Agility Championship – Congratulations to Crush and Aryn Hervel of California on winning the High Scoring All-American Dog! Crush also placed 4th in the 16-inch division. Congrats also to Molly & Hannah Naiburg of Connecticut for taking 4th place in the 8-inch division.
AKC National Agility Championship – Congratulations to Sundae & Angie Benacquisto of Ortonville, MI, for winning the 12-inch Championship and to Logan & Kim Barton of Johnstown, OH, for winningthe 4-inch Preferred Championship at this event held March 25-26 in Perry, GA.
Multiple MACHs
Congratulations to these dogs who have added more MACHs to their names:
MACH10 SAMANTHA MXS3 MJC3 FTC1 MFC TQX T2B6
MACH2 Mia Lobato MXG MJG OF T2B
MACH2 Peller MXS MJG MFB TQX T2B3
MACH2 Theodore Teddy Hill MXS MJS OF
MACH2 Madeline Of Pine Banks MXG MJG OF T2B3
MACH2 Sassy V RAE MXS MJS MFB TQX T2B4
MACH3 Folly Farnsworth MXC MJC XF T2B
MACH4 Zinfandel Hackman MXC MJB2 XF T2B5
MACH4 Clyde MXC MJB2
MACH7 Sally Of Ingleside MXS2 MJG2 XF T2B2
MACH7 Trinity's Carbon Copy TD MXC2 MJG2 MFB TQX T2B2
MACH8 Feel The Need MXC2 MJS3 MFG TQX T2B8 CGC
MACHs
Congratulations to these first-time Master Agility Champion recipients:

MACH Dixie Belle Black MXB MJS- Jennifer Sumpter – Algonquin, IL
Shortly after losing her beloved dog of 14 years, Jennifer decided to adopt a dog from a local rescue. During a meet and greet arranged by the rescue, Jennifer was unsure of her decision to adopt due to the feeling of not bonding with any of the dogs. Then she met Dixie by accident. Dixie was a 10 week old puppy that came along for the ride because she was in foster care with one of the prospective dogs Jennifer was meeting. It was love at first sight, and Jennifer couldn't wait to bring Dixie home.

It had been 14 years since Jennifer had trained a puppy and Dixie tested her patience as puppies do. Together they trained as a team in basic obedience classes; however, due to her high energy, Jennifer decided to try a beginner agility class with Dixie to try and wear her out. After about 6 months, they were both having so much fun that they took the training to the next level by joining a dog training club. In October 2014, just shy of her second birthday, Dixie competed in her first agility trial and, almost two years to the date, on Oct. 16, 2016, Dixie earned her MACH at the Muscatine Agility Club of Iowa trial.

"She's been a joy to train and even more fun to watch. She's been known to perch on the A-Frame with her tail wagging and flirt with the judge. In our spare time we work together as a therapy dog team and continue to train in obedience. Dixie also enjoys a leisurely ride on my jet ski and playing with her doggy friends."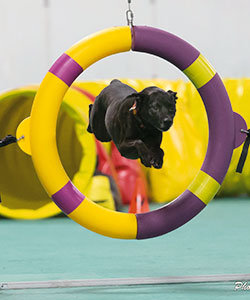 Dixie

MACH Cobber CGC MJS MXB XF – Kirsten Swenson, Columbus, OH
When Kirsten's sister, a veterinarian in Tucson, AZ, asked what she wanted for her birthday, Kirsten told her she was looking for a cattle dog or some other herding breed. " I was looking for an agility prospect, a dog that would be good with horses, and an exercise partner. Three weeks later I was awoken at 3 am to a picture text of an 8 month old cattle dog mix with parvo that was going to be euthanized if the hospital couldn't find someone to adopt him. It was love at first sight, and after my sister helped him fight through parvo and a bout of kennel cough during his recovery, he boarded a flight across the US to Ohio and Cobber was here to stay".

Cobber was Kirsten's first agility dog, and they learned the ropes together. "Once I was able to break the habit of this friendly pup visiting everyone in the ring, we were finally on our way! The road to Cobber's MACH was not without a few bumps as he was diagnosed with Inter-vertebral Disc Disease and had to be sidelined a few times to allow his neck and back time to recover (usually from rough-housing with canine friends at the barn). A few times I wasn't sure if we'd ever be able to achieve the ultimate goal, but his enthusiasm and love for the game of agility kept me from retiring him."

On Nov. 26, 2016, Cobber finished his MACH at the Central Ohio Shetland Sheepdog Association's trial. "At 9 years old, people still ask if he's a puppy because of his youthful antics and comical personality. He's the perfect all-around package and I couldn't have asked for a better birthday gift if I'd tried."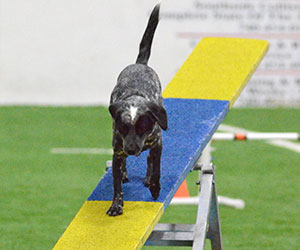 Cobber
MACH Jeter Morris – Kaela Morris – Thousand Oaks, CA
Jeter is an incredible 3 year old Golden Retriever/ Maltese mix who is named after the great shortstop from the New York Yankees, Derek Jeter.

"Jeter and I found out about agility when he was 7 months old. After our first class we caught the "agility bug"! I definitely was surprised by how much Jeter loved the sport, and how well he was doing in the first few months. At first I thought we would only do agility for fun and not compete. Growing up I wasn't very athletic or coordinated. Once I saw his speed and drive in practice, I knew I had to try and enter a competition."

Jeter sailed through Novice, Open and, Excellent and made it into the Masters level in a few short months. At 2 years old on Oct. 7, 2016 Jeter achieved MACH in Camarillo, CA! "We both eat, sleep, and breathe agility! I love being able to do what we love with my best friend/teammate!"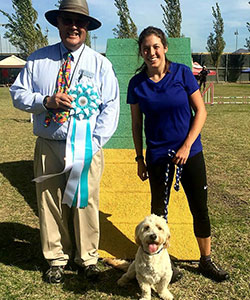 Jeter

MACH Gilly of Redwood MXB MJB OF – Marcy Jacobs – Godfrey, IL
Gilly, a six year old Beagle mix, was rescued by Hope Rescues in Godfrey, IL. "She was full of energy, but knew very little in the way of house manners. So we practiced rally exercises at home and enrolled in agility classes to do something with that energy. Gilly has never met a stranger. She loves everyone. We have learned so much together." Gilly finished her MACH at her hometown club's trial–Greater St. Louis Agility Club – on Oct. 1, 2016.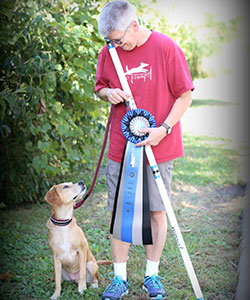 Gilly

MACH Lady Stixalot of Lafayette CDX BN RE MXB MJS – Heidi Nelson – Huntley, IL
Bailey was added to her family to be a companion dog. However she quickly realized that Bailey was a high energy dog who had a tendency to get into trouble.

"We enrolled in obedience classes with our local dog club. My evenings after class were much more peaceful with her energy drained. We continued with classes. One of the members approached me about enrolling in agility classes. We began with no intention of actually showing and then we were fully bitten by the agility bug."

They started showing in 2012 and Bailey earned her MACH at their home club, Car-Dun-Al Obedience Dog Training Club, on Oct. 22, 2016 In addition to agility, Bailey has titles in obedience and rally. She is also a registered therapy dog.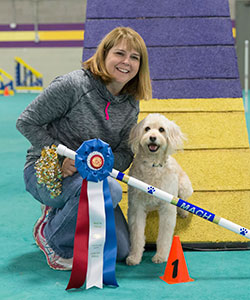 Bailey
MACH Camp David's on the Verge of Greatness MXB MJS MXF – Rachel Billick – Tarentum, PA
Virgil came into her life in 2014 as the last of his litter mates to be adopted from a small shelter in Indiana. "I just knew this little fella was meant for me; my husband and I drove 16 hours trying to stay ahead of a snow storm to pick him up. We called him Virgil which means to flourish. He's lived up to his name. Despite his early days being plagued by pneumonia and GI issues, he grew into a 75 pound, long legged, athletic, beautiful dog."

Virgil was also challenged with anxiety concerns. "Agility became a way to help grow the bond between us providing a way to interact and drain his intense energy. Virgil loves the game as much as I do. He enthusiastically barks the whole way through the obstacles!"

He reached the title of MACH on Oct 8, 2016, at the Youngstown All Breed Training Club trial.

"Virgil is perfectly imperfect and has taught me much about acceptance. I am smitten completely with this wonderful dog."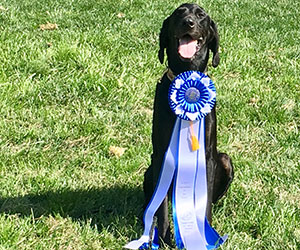 Virgil
MACH Shani of Ingleside CDX BN MXB MJS XF T2B – Valerie Dietz – O Fallon, IL
Valerie says 4-year-old Shani is a delight, always so full of life, joy, and energy. "She makes me smile everyday with her antics and happy playful personality. I call her my wild child. She loves agility and her drive to move forward as fast as possible often results in off courses, so QQs are not our strong point. We went into the weekend she earned her MACH with her needing 2 QQs. She was also scheduled for knee surgery three day later so it was our last agility weekend for at least several months. And I really didn't know if she'd be able to do agility again. She earned her MACH on Sunday, the last possible opportunity before her surgery. She has recovered and rehabbed beautifully and will be returning to the ring in February." Shani earned her MACH on October 23, 2016 at a trial hosted by the Parkersburg Obedience Training Club in Zanesville, OH.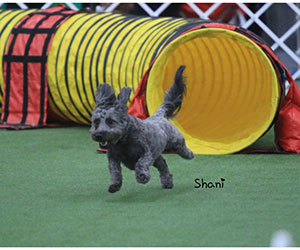 Shani

MACH Jaxs MXB MJS MXF – Elaine Rinicker – Lutz, FL
Jaxs was twice given up to rescue before 5 months of age. They adopted him at 6 months of age from Rocket Angels Italian Greyhound Rescue, where they thought he was an IG/Basenji mix. "He was very shy and anxious about everything so we enrolled him in agility foundation to help with his confidence building at 11 months of age. It took him a couple of years to get completely confident about agility and now he has both a MACH (AKC championship) and a C-ATCH (CPE championship)>" Jaxs earned his MACH on Nov. 13, 2016, at the Dog Training Club of Tampa. "Jaxs is a super consistent dog never knocking the bars and rarely missing a contact and he loves distance work recently earning his TQX title."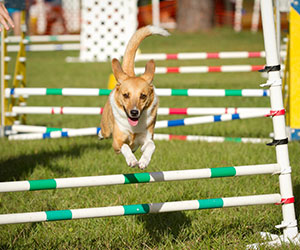 Jaxs

Congratulations to these other new MACH recipients:
• MACH Mysterious Mocha – Scott Thom – Clarence, NY
• MACH Nezumi – Mickella Rosiles – Austin, TX
• MACH Nissa Von Wolf – Isabella Wolf – Erie, PA
• MACH Audie – Nicole & Stephen Bozich – Southern Pines, NC
• MACH Kensington Grace – Grace Swearingen – Colonial Heights, VA
• MACH OT Miss Dememeanor – Gosia Skowron – Salt Lake City, UT
• MACH Anderson's Lottie – Amy Anderson – Bellingham, WA

PACHS
Congratulations to these first-time Preferred Agility Champions:

MACH9 PACH Logan Lake Hope – Kim Barton – Johnstown, OH
Logan recently made the transition to Preferred after an amazing career that included nine MACHS and placements in several national events.

"Logan is a new dog since dropping her to Preferred. The decision was a hard one to make but has proven to be the right one. Logan was giving me her all even through back spasms and that wasn't fair to her. I didn't think dropping her to 4" was going to make much of a difference. Boy was I wrong. Her back has been great and she is the old Logan again at home and on course. She is spunky again and acts like a puppy at home."

Recently Kim's granddaughter, Karis has been running her and earned one of the QQs toward Logan's first PACH. Logan's PACH was earned at the Parkersburg Obedience Training Club's trial in Zanesville,OH, on Oct. 22, 2016. Pictured is Karis, Kim and the judges that weekend.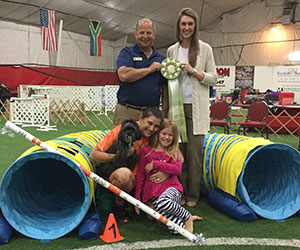 Logan

MACH2 PACH Boots – Bari Boersma – Winchester, CA
Eight -year- old Boots is mix of a Pembroke Welsh Corgi and a Border Collie. "Boots is my first agility dog and when we achieved our first MACH in 2013, all our hard work came together. Competing between horse shows and work as a veterinarian, I was thrilled that we earned our second MACH in July 2015. Boots was still running at full speed and game as ever but I decided that moving to Preferred was best for him." Boots achieved our new goal of PACH on Nov. 13, 2016, at the Gateway Cities English Spaniel Association Trial in San Diego, CA. "Boots has also discovered a love for Barn Hunt and has quickly risen to the Master level. He is my dog of a lifetime!"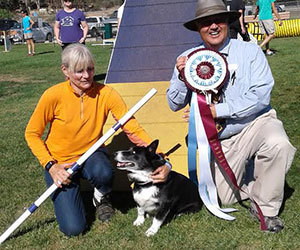 Boots

Congratulations to these other first-time PACH recipients:
• MACH PACH Karen's Jack – Karen Bick, Blue Grass, IA
• PACH Donna's Jake – Donna Kushyk – Auburn, NY

COURSING ABILITY TESTS & FAST CAT

Kai Hits CAX7
Iyong Tapat Kaibigan CAX7 - Stephanie Markgraf - Locust Grove, VA
After having TPLO knee surgery in December of 2015 and rehabbing for the next fours months, Kai, a 6 year-old Catahoula Leopard dog mix, returned to competition in April and chased the "bunnies" until the end of the season in December.

Scoring a 2016 hat trick, he earned his CAX5 in April in West Point, VA; CAX6 in October in Palmyra, PA; and CAX7 in December in Hanover, PA. Kai continues his reign as the top mixed-breed dog in Coursing Ability Tests with 175 clean runs.

"The doctors report Kai's knees are stronger than ever. I am so pleased he can continue chasing the bunnies, setting records, and representing mixed breed dogs in the AKC Canine Partner Program," Stephanie said. "It's off-season now but Kai is training for the 2017 season. He is weight pulling, swimming, and walking on a treadmill in preparation to hit the bunny trail!"

Baker in 2nd Place as Top Coursing All-American
Ingomar Di Mancini Torsione Pane CAX6 RN CGC – Kate Renner – Pittsburgh, PA
Baker, a German Shepherd/Collie mix, earned his CAX5 on Oct. 1, 2016, at the Bayshore Companion Dog Club CAT in Freehold NJ. He quickly followed up with his CAX6 at the Langley Kennel CAT in West Point VA on Oct. 30, 2016.

Congratulations to these All-Americans for earning their first Coursing Ability Excellent titles for 25 passes:

Wendy's Ice Princess CAX RN – Wendy Brusso – Marion, NY
Photo by Mark L. Baer
Ice came into Wendy's life six months after she lost a beloved dog. "I stopped at a local shelter and found a 7 month old quiet and scared pup. Now, 6 years later, Ice is confident and out going. Ice took to luring like a natural, getting faster with age." Along with luring, Ice enjoys Rally and hanging out with her 2 "fur siblings." Ice is a Dalmatian/Pit mix. She received her CAX title on Oct 30, 2016 at the Taconic Hills Kennel Club trial in Middletown, NY.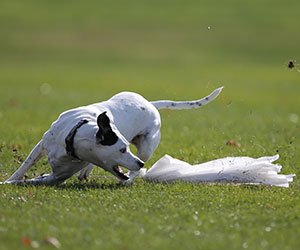 Ice

Kendall's Myles to Home CAX – Ronda Kendall – Jefferson, IA
Myles came to Ronda as a foster, and they became foster failures! "He was a very shy and scared young dog when he first came to us. He stole our hearts in that first year, watching him change. I was unsure if he would do lure coursing, but after his first test, he was hooked and so was I. I love watching him enjoy this sport and it has made him a more confident dog."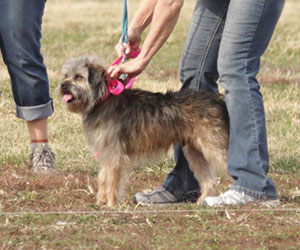 Myles

Congratulations also to this recent CAX recipient:
• Siendo's Daniel Boone CAX ACT1 – Mari Coderre – Freehold, NJ

Fast CAT
Top Titled Dogs – Congrats to Samantha Rose Rausch RN CAX FCAT RATS CGC and Koda Dane Lincoln Mo Rausch CAX FCAT RATM CGC, both owned by JEANETTE SHOWALTER RAUSCH of Tennessee, for earning the FCAT title for 1,000 points!

Fastest Times - Click here to see the current rankings of the Fastest All-American Dogs in the sport for 2017.

OBEDIENCE
All-Americans at National Events

AKC Obedience Classic – Congratulations to OTCH Henry Head Over Heels & Kathryn Harvey of Apple Valley, MN, on winning the Utility class at this event held in December in Orlando, FL. Second place in the Open class went to Kathryn's other dog, Lola.

Third & Fourth OTCHs
• OTCH Henry Head Over Heels UDX PCDX OM2 BN GN RE THDA CGCA CGCU – Kathyrn Harvey – Apple Valley, MN
• OTCH Reckless Abandon Vd Rod UDX4 OM6 CGC – Andrea Highland – Keymar, MD
Fifth Utility Dog Excellent All-American

Chloe Wild Child UDX OM1 BN RA THD CGC – Nancy Nelson – Manorville, NY
Chloe became just the fifth All-American Dog to earn the UDX on Oct. 1, 2016, at Suffolk Obedience Training Club. Nancy tells us about their journey to this top obedience title: "The road on this part of our obedience journey had some bumps, detours, and unscheduled delays but Chloe and I persevered and my little "wild child" has achieved this wonderful honor. Who would have thought that this throw-away dog, who had been rescued as a puppy from a high-kill shelter, would accomplish so much? Thank you again to all who saw Chloe's ability and encouraged us both during this incredible ride from Novice A dog to Utility Dog Excellent and Obedience Master 1 titles. Chloe, you are my treasure!"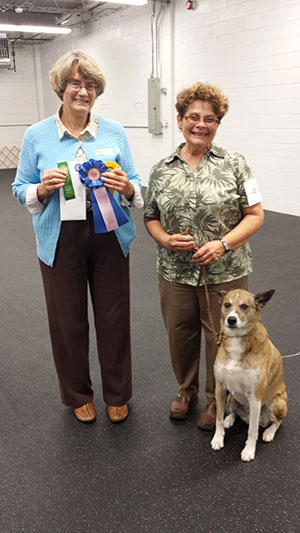 Chloe

New Utility Dogs

Odysseus UD BN GN RA – Regan Radtke – Champaign, IL
Regan adopted Odysseus or "Odie" for short, from the Humane Society Naples in Naples, FL, in 2009, when he was 8 months old. He soon traveled to Illinois with her while she attended law school. "Not one to be left out, Odysseus furthered his education at the Dog Training Club of Champaign-Urbana, and we began competing in Obedience and Rally. He loves training and competing, but his other favorite hobbies include swimming, hiking, snuggling, and eating (anything). He is my first dog and he has been a joy to train and share my life with!" Odysseus earned his Utility Dog title at the Dog Training Club of Champaign-Urbana, in Urbana, IL, on Nov. 20, 2016, at age 7. "We celebrated with ice cream and steak."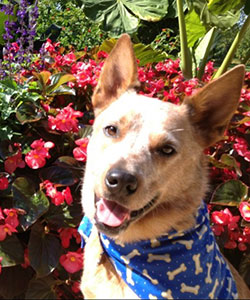 Odysseus

Congratulations also to this new UD recipient:
• Debra's Tripperjanz Adventure UD BN GN VER RAE – Debra Moyer-Petrusjanz – Drums, PA
Multiple UDXs
• Sassy Sissy UDX2 OM3 CGC
• OTCH Reckless Abandon Vd Rod UDX4 OM6 CGC
RALLY
AKC National Rally Championship – Congratulations to Mavis Gunnels-McCord CD BN RN NA OAJ NF CGC & Susan Gunnels of Little Rock, AR, for placing 8th in the Novice class at this event held March 24 in Perry, GA.
Multiple RAEs
Congratulations to these dogs for adding more Rally Advanced Excellent titles to their names:
• Bossman Sweetater Freighter RAE15
• Jada Mayhem CD PCD BN RAE2
• Ziva D. Of Wissota CDX PCDX BN GN RAE4 THDN FDCH RATN CGC
• Our Sweet Waally Waally Wabbitt CD PCD BN RAE8
New RAEs
Congratulations to these first-time RAE recipients:

Good Shepherd's Anticipation RAE CD PCDX BN – Alice Applin – Racine, WI
"Hank earned many perfect scores on this title journey, and we also had some less than perfect performances but every trial was fun for us. I have been training dogs for more than 25 years and I am so pleased to have Hank as my friend and training partner.. Hank is actually a 4 year old English Shepherd, which is a breed not recognized by the AKC, so we used the Canine Partner program to allow us to earn titles. Hank and I are proud to be competing in AKC Rally, Obedience and Agility to represent the All American Dogs!" Hank earned his RAE on Oct. 2, 2016, at Oshkosh Kennel Club trial.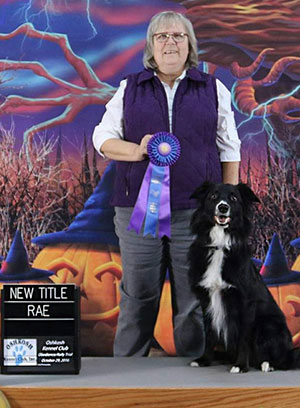 Hank

Archie Degeneste CDX BN RAE - Marie & Henry Degeneste - Herndon, VA
Archie and Marie love to train and show together. Marie said she believes that training is all about finding ways to communicate across the species lines. "Archie makes it easy because he loves to please. He prances with confidence in the ring and shows his enthusiasm with non-stop tail wagging. When not training, he is happiest with a belly rub or play time with his adopted canine brother Nico." Archie earned his RAE on Oct. 28, 2016, at the Mount Vernon Dog Training Club trial. He also won first and second place; earning the Highest Combined Score in Trial award. Later that same weekend he earned his CDX title with a first place and a Highest Scoring All American Dog award.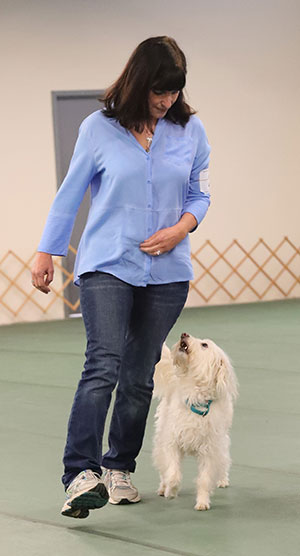 Archie

Miss Coco Rochelle CDX PCDX BN GN RAE THDN CGC -- Jean Schaardt – Manahawkin, NJ
Coco had a hard road in life, but is proof you can teach an old dog new tricks. She spent the first 7+ years of her life as breeding stock in a Tennessee kennel. When no longer useful for breeding, she was taken to a shelter, where she was quarantined for three months.

Through a NJ rescue group, Jean adopted her, and so Coco was transported up to her in 2013. "When Coco arrived she was completely un-socialized and terrified of people. But inside she was a loving dog that only wanted a chance. So at age 7 years, her life really began anew. And within 3 ½ years, she not only has her RAE, but also her obedience Companion Dog Excellent (CDX) title."

Coco is also a titled Therapy Dog (THDN). "Once terrified of people, she now prances into an elementary school for her weekly Read to the Dog program and sits surrounded by the children."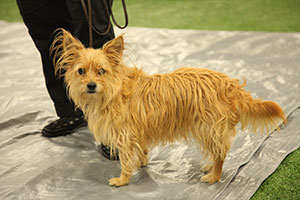 Coco

Ally RAE CGC – Vicki Smartt – Knoxville, TN
Ally is a Russell Terrier-Beagle mix who was rescued at age 5 weeks in 2010 by a dog park friend at from a drug addict selling her for drug money. "He only got $4 for her as that was all our friend had in his wallet at the time. Our friend already had three dogs and knew he couldn't keep her so he brought her to the dog park to find her a forever home. I believe it was fate that my husband and I just happened to be at the dog park that day. We had been talking about getting a second dog to keep our 1 year old shelter dog, Izzy, company. Izzy and Ally played well together and instantly bonded. Ally had found her forever home." They enrolled her in puppy class and discovered she is very smart. Over the next few months and years, they continued on to the next levels of obedience, and their trainer convinced Vicki to try Rally. They entered their first trial in October 2014. Ally earned her Rally Novice title that weekend with a 2nd place and a score of 99 and two 1st places with scores of 100 and 99 and qualified for the 2015 Rally National Championship where she placed 34th out of 73 entrants. "This was only her fourth competition." Ally has also trained in Agility and has a large repertoire of tricks including saying her prayers and whispering on command.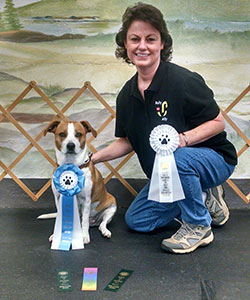 Ally

Sweet Pea Charley Roo CD BN RAE OA AJX NF CGC – Carisa Adams – Willoughby, OH
Carisa says that 6 year old Charley is the "friendliest, most loving, and smartest dog I have ever known. He loves to play and train with his tennis ball, go hiking and camping, and eat pizza crust. Charley is my first dog who I've trained and competed with in AKC events, and I'm so impressed with his excitement and passion." They began training for AKC STAR Puppy, moved through CGC and started competing in obedience. "In these basic levels, I discovered that Charley just loves to learn. Since out-of-sight-mommy is not Charley's style, we took a break from obedience and I tried him at agility and rally." In 2016, they focused on Charley's RAE, during the course of which he won two high combined in trials! Charley completed the RAE at Cleveland All-Breed Training Club's Fall Classic on Nov. 5, 2016. "We hope the year brings much success as we continue our quest for a MACH and competing at the Rally National Championship, while all the while, having fun and enjoying our precious time together."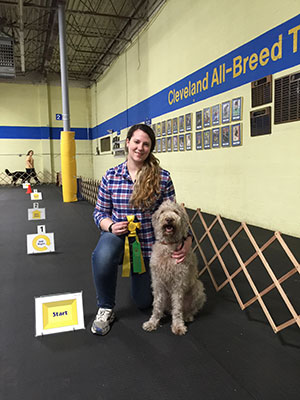 Charley

Branford CDX PCDX RAE BN GN – Linda & John Luce – Lakeland, TN
Five years ago, a canine casanova jumped a fence and had his way with a lovely Australian Shepherd owned by Linda's veterinarian. Nine weeks later, the Aussie delivered a litter of six puppies. "The following month we were grieved to have the same veterinarian euthanize our Aussie of 13 years who was in his final decline due to cancer. A few weeks later our vet told us that there was a pup in the litter they wanted to keep but we could have him if we would like. It was love at first sight for us. Branford is the sweetest, calmest, most lovely dog we've ever had." Branford recently earned his CDX and is on the road to Utility. In addition he does Nose Work and is a therapy dog with Mid SouthTherapy Dogs in Memphis, TN. His RAE was earned in Brandon, MS, on Nov 6.

Branford

Moses' Lily RAE CAA CGC -- Becky Moses - Ocala, FL
Lily is a 5 year old All American dog who loves to play ball and chase squirrels. She earned her RAE on Nov. 16, 2016, at the Lake Eustis Kennel Club trial in Eustis, FL. "Her first AKC Rally trial was in January 2014 and we have continued with rally because of the fun atmosphere, along with the communication and praise that she receives throughout the course." Lily has been invited to participate in the AKC Rally National Championship for the past three years. Lily also has earned her CGCA and CGC Urban Dog titles. In addition to rally, Lily enjoys obedience, coursing ability, flyball, tricks and agility. She especially likes to use her nose in sports such as tracking, nose work and barn hunt. She is the 2015 Barn Hunt Association Hurdles Champion and has earned her RATCHX7 title in Barn Hunt.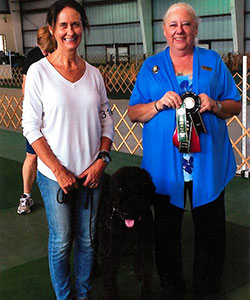 Lily

MACH Northbound Fly By Night RAE MXS MJS NF CGCA – Samantha Scicchigno – Staten Island, NY
Marge finished her RAE on Nov. 12, 2016 at the Bayshore Companion Dog Club Trial under Judge Linda Ferrullo. It was also the last leg needed to qualify her for AKC Rally Nationals, which we plan on attending. Marge is a once-shy rescue dog from rural Georgia who has made her home for the past 9 years in Staten Island, NY. She competes in agility, rally, and obedience, and shares her home with a new little brother named Red, another mixed breed rescue from the southern states.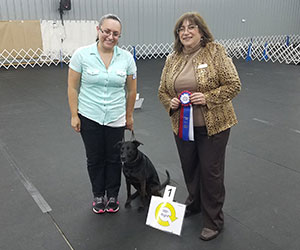 Marge

Waltzing Matilda RAE CGCA CGCU -- Jill Lindsay of Bismarck, ND
Tillie is a Border Collie mix who was found in a cardboard box along a North Dakota highway in 2009 and was rescued with the other members of her litter. After finishing an obedience class at a pet supply store with her other rescue dog, Nana, Jill saw the puppies and decided one should be a part of their lives. Nana was the one that picked out Tillie. When Tillie kept disappearing behind one of the foster caregivers, Nana seeked her out. They got along great until Nana's passing in 2012. Tillie is Jill's first puppy to train and first dog to compete in events, such as Rally, and earned her RN in 2013. Tillie completed her RAE at the Fargo Moorhead Kennel Club trial on Nov. 16, 2016. "We are excited and honored in achieving this title and will be training in other performance events as well as continuing with Rally. With Tillie's eagerness to learn, and enthusiasm, she's capable of learning so much."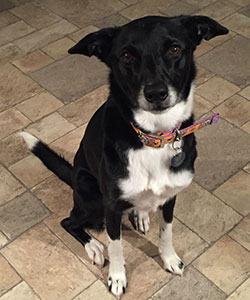 Tillie
Lucky Cricket RAE CD OA OAJ – Beth Jansen – Albuquerque, NM
Cricket joined Beth's family in 2013 after she was found living in a trailer park with another dog, surviving on trash. Some good samaritans noticed the dogs and contacted a rescue group, who placed the dogs in foster care. When Cricket arrived in her foster home, her foster mom reported that Cricket's teeth were covered in "trash slime," and she was so bloated from eating garbage that they initially thought she was pregnant. "Cricket wasn't well-socialized with people; she was fearful of new situations and very unreliable off leash for the first year she was part of our family. To improve her off-leash behavior, I enrolled in Obedience and Rally classes, which were also great opportunities for Cricket and me to bond. Gradually, Cricket began to get comfortable with Rally and Obedience, and she became more confident in unfamiliar situations and more reliable off-leash, so we began training for Agility. Cricket began to enjoy training, and she and I started to come together as a team." In 2016 she earned her RAE, her Open Standard and Jumpers Agility titles, and her Companion Dog title in obedience. "Cricket has taught me so much about the value of positive reinforcement and patience, but she's also helped me realize just how much Rally, Obedience, and Agility align to help a dog reach their full potential as a companion dog or a performance."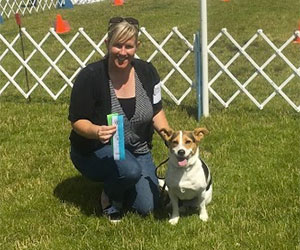 Cricket

Congratulations also to these other new RAE recipients:
• MACH PACH Joe Cain RAE – Justin & Heather Sims – New Athens, IL
• Crystal Blue Persuasion CD BN RAE – Alice & Larry Sills – Cincinnati, OH
• Bits CD BN RAE – Jan & Max Hunt – Woodinville, WA
• Maximus Aurelius Minicucci PCD RAE – Jon Zylstra – Palmer, AK
• Roubaix CD BN RAE – Leanne Miller-Millington – Las Vegas, NV