Competition/Titles Update
Get all the news about the recent top title earners in Agility, Coursing, Obedience, Rally, Tracking and Versatile Companion Program. We have some big news to report about All-Americans succeeding at AKC National events, as well as some new top title record-holders!
AGILITY
AKC National Agility Championship
NAC MACH2 Roo! & Stacey Campbell of California again won the 24-inch division at the AKC National Agility Championship (NAC) held in late March in Tulsa, OK. Roo!, who was once a homeless dog on the streets of San Francisco also won the NAC in 2013. Big Congrats to Roo! & Stacey and these other All-Americans who made the finals: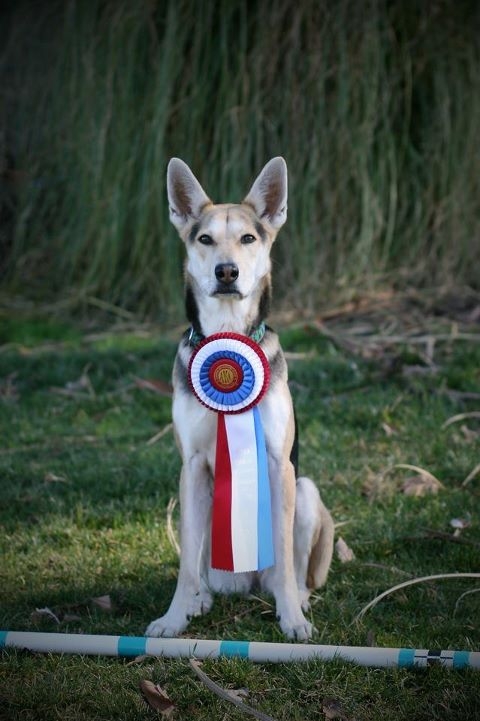 12-Inch Regular Class:
Roo owned by Rosemary Strasser of Nebraska
4-Inch Preferred Class:
Prince Doggie owned by Tacarra Andrade of Michigan
12-Inch Preferred Class:
Annie owned by Karen Sollars of Indiana
Cameo owned by Penny Leigh of North Carolina
Top MACH Record Holders

Two All-American Dogs are currently tied for the top record holders for number of Master Agility Championships (MACHs) earned with nine of the top AKC titles!
They are:
MACH9 Logan Lake Hope - owned by Kimberly Barton of Johnstown, OH
MACH9 Samantha – owned by Don & Leah Eicher of Laurel, DE
Multiple MACHs
Congratulations to these other All-Americans who added more MACHS to their names:
MACH2 Zinfandel Hackman MXS MJG XF T2B3 – Betsy & Gene Hackman – Santa Fe, NM
MACH2 Tui's Buddy MXS MJS MXF MFB TQX T2B3 – Alan Wilkinson – McKinleyville, CA
MACH2 Dewey MXS MJG OF T2B2 – Elise Strauss – Anchorage, AK
MACH2 Layla Wild Tail MXS MJG – Kenneth Kistler – Vandalia, OH
MACH3 Little Miss Ginger Snap MXC MJS2 OF T2B – Lisa Brooks – Houston, TX
MACH3 Jinx Falkenburg McLean MXG MJG T2B – Adrienne Mclean – Richardson, TX
MACH3 Carazo's She's A Keeper MXG MJC – Nicolette Carazo – Riverside, CA
MACH3 Hailey MXG MJG MXF T2B THDD CGCA – Karen Profenna – New City, NY
MACH3 Sweet Skylar MXS MJG – Lynn Van Vleet – Rockford, IL
MACH5 Milo Doggie MXC MJS2 T2B – Tacarra Andrade – Novi, MI
MACH6 Lanakila Doin It By Example MXS2 MJG2 MXF MFS TQX T2B7 – Caroline King – Sanger, TX
MACH6 Trinity's Carbon Copy MXG2 MJS2 MXF MFB TQX T2B – Beth Elliott – Elgin, IL
New MACHS
Congratulations to these first-time MACH recipients:
MACH Trots for Treats MXB MJB XF T2B owned by Kristin Dujardin of Fishkill, NY
Kristin adopted Patches, a Shetland Sheepdog mix, in August 2009.

"He was 5 months old and quickly settled into our home, showing us just how much drive and energy a herding dog can have," she said.

"Agility quickly became his favorite activity and has helped Patches to grow from shy and fearful into a much more confident dog who will do anything for treats - hence his registered name: Trots for Treats!"

Patches earned the MACH on Feb. 13, 2016 at the Westminster Kennel Club's Master Agility Championship in New York City.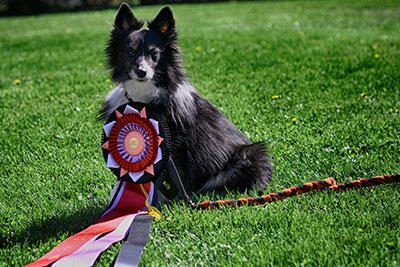 MACH Bailey Gaines MXB MJS – Christine Gaines of Granite City, IL
Bailey is a very talkative husky mix and was adopted from Partners for Pets in September 2007 when she was 5 months old. "Once she completed her obedience training in 2008, we began agility training simply as a way to bond," Christine said. "Initially we had no plans to compete, but after training for two years and the AKC creating the Canine Partners program we decided we should enter a trial for the fun of it.Bailey absolutely loves to play agility. Her eyes light up and she gets an extra bounce in her step when it is time to play. Although it took us a while, the journey to MACH has been awesome and I could not have had a better partner than Bailey."

They accomplished MACH on Nov. 13, 2015, at the Tri-County Agility Club trial in Lake St. Louis, MO.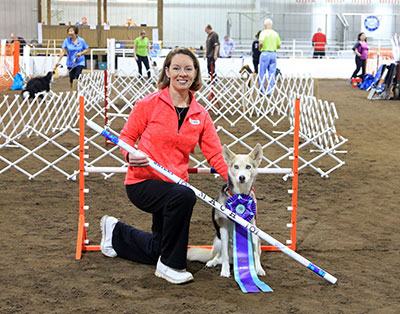 MACH Amber Keens MXB MJB MXF T2B CAA RN – Linda & Bill Keens of Falls Church, VA
English Setter wanna-be Amber Keens earned her MACH at the English Setter Association of America's trial on March 27, 2016, in Winchester, VA. Amber is actually a pointer mix adopted by Linda while she was searching for an English Setter.

Puppy Amber was dumped at a shelter in the south with no papers. She was not faring well there, so shelter staff reached out to Above &Beyond English Setter Rescue and told them they had a young setter in need of help. When the rescue group driver arrived and asked for "the setter," he was given Amber who was clearly not a setter. But the driver was true to his mission and took her any way.

After a few months of fostering, Amber got posted to the A&B web site where Linda found her. After adopting her in 2011, Linda and Bill enrolled Amber in basic training classes and later, in an effort to find something more fun for their shy girl, agility classes. Agility helped increase Amber's confidence and bond with her owners, and she and Linda have been playing it together ever since. She also competes in AKC Coursing Ability Tests and AKC Rally.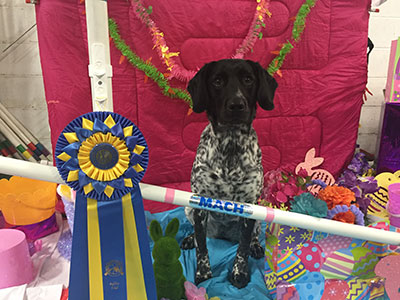 MACH Goodtime Charlie Griffith MX MXJ MXB MJB XF – Deborah Griffith of Newland, NC
Seven years after beginning the agility journey, Charlie and Deborah put together that last "double Q" needed for MACH on Feb. 12, 2016, at the Atlanta Golden Retriever Club trial in Pendleton, S.C. Being Deborah's first agility dog, Charlie patiently waited while his owner learned handling skills at classes at A Good Dog's Life in Asheville, N.C., where they continue to train. Charlie also holds titles in Barn Hunt and loves playing Frisbee and hiking and playing with his best friend Gracie, an Aussie.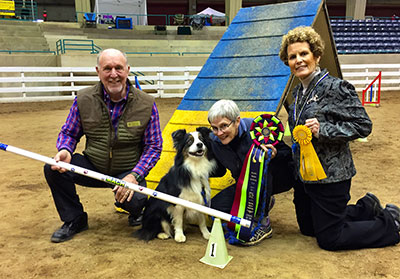 Congratulations also to these dogs who recently earned MACH:
MACH Donna's Andy MXB MJB XF – Donna Kushyk – Auburn, NY
MACH Sadie Mae of Mine MXB MJS OF CA – Lisa Tibbals – New Haven, CT
MACH Team Doggie's Lil' Dappy Packin' Big Swag MXB MJB – Tacarra Andrade – Novi, MI
MACH Phurba Tashi RAE MXB MJB CA RATCHX CGC – Angela Carlson – Columbia City, OR
MACH Willow MXB MJS – Haley & Diane Bouchard – S. Burlington, UT
MACH Monkey Lane MJB XF – Patty Lane – Sperryville, VA
Multiple PACHS
Congratulations to these dogs who added more PACHs to their names:
PACH3 Harvey's Casper AX AXJ MXP13 MXPB2 MJP15 MJPS2 PAX4 CGC – Ronda Harvey – Calabasas, CA
MACH4 PACH3 Harley III MXC MJC MXP8 MXPG MJP8 MJPG PAX3 NF – Cheryl Alfred – Las Vegas, NV
PACH5 Savannah Altrive AX OAJ MXP14 MXPB2 MJP17 MJPS2 PAX6 NF XFP T2BP – Louise Gilchrist – Harrisonburg, VA
New PACHs
Congratulations to these first-time PACH recipients:

MACH2 PACH McKinney's Dexter MXS MXPB MJP3 MJPB PAX MXF T2B – Collette McKinney of Lexington, OH
"Dexter is my first dog. I found an ad in the paper for a border collie/golden retriever mix and thought what a good dog that would be," Colleen said. "I headed out to a local farm, and Dexter picked me." After a good friend exposed her to agility, she enrolled Dexter in some classes and "five years later I have this fantastic dog who has given me great joy and companionship. Dexter is a gentle soul with a heart of gold and always gives 100%. My life has been immeasurably enriched because of his presence." Dexter obtained his PACH on March 12, 2016 in Zanesville, OH, at the trial sponsored by the Golden Retriever Club of Columbus, OH.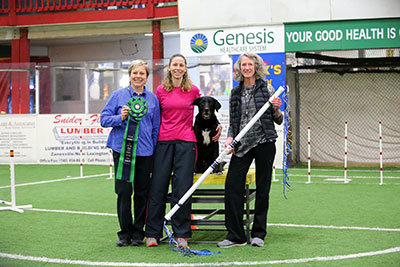 PACH Keno Ocb NA NAJ MXP5 MXP S MJP5 MJPS PAX owned by Paula Maxwell of Harrisonburg, VA
Paula was exiting her local shelter after an unsuccessful search for a new dog at the same time a man was entering with three puppies to surrender.

She knew immediately that she wanted the smallest puppy that was "cuddly but fearful," she said.

"Right from the start it was clear that Keno was (and is still) afraid of many things ranging from tile floors to floor lamps to skateboards, bicycles and the children that tend to be with them," Paula said. " Her fears are not always predictable or consistent. What terrifies her one day might be ignored the next. " But Keno had a sweet, lovable personality and a strong retrieve drive, chasing balls endlessly.

When Paula was at work, Keno spent the day with Paula's friend, Louise Gilchrist, and her two agility dogs. With Keno's strong ball drive, Louise found it was easy to include her in agility training. Keno learned the sport quickly.

But getting Keno into the competition ring, with all her fears, took a lot of patience, but gradually her confidence improved and she began to have success, ultimately earning her AKC Preferred Agility Championship in January 2016 in Lexington, VA.

"Though she still has difficulty competing at some venues, Keno is always a hard-working, delightful companion and competitor."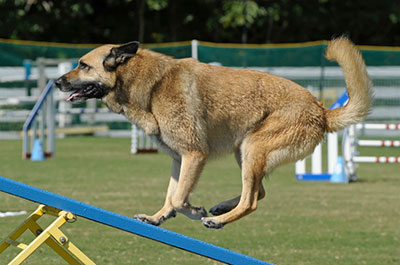 Congratulations to these other dogs who recently earned PACH:
PACH Uggie Bug Jones CDX RAE AX AXJ MXP5 MJP5 PAX2 OF MFP T2BP – Shannon Jones – Cary NC
MACH PACH Joe Cain CDX RE MXB MJB MXPB MJP3 PAX XF CGC – Justin & Heather Sims – New Athens, IL
Coursing Ability Tests
New Top Titled Coursing All-American
Iyong Tapat Kaibigan CAX5, also known as Kai, and his owner Stephanie Markgraf of Locust Grove, VA, recently earned the CAX5, making Kai the top titled mixed-breed in the sport – a really big achievement when you consider he overcame an illness to do so. When Kai, a 5- year-old Catahoula Leopard dog mix, started limping after a competition, Stephanie thought he was tired, or he might have strained a muscle or ligament. The next day Kai was at his vet's office for diagnosis and treatment. X-rays confirmed cranial cruciate ligament disease; his limping was not the result of trauma but a disease process. Kai was referred to a surgeon that specialized in his condition. The doctor confirmed both knees needed treatment so a staggered surgery plan was necessary. The left knee was operated on in November 2015 and the right knee in December 2015. Both surgeries went well, and Kai entered a strict rehab program geared to getting him back to competition. He began pulling low weights in the yard, swimming in a heated pool, and walking on a doggy treadmill. After months of rehab, Kai made his return to CAT events.
"After missing the fall and winter running season, we all watched very nervously as he returned to running CATs in April 2016," she said. "His knees look stronger and better than ever; we are so happy to be back on the bunny trail!"

Kai earned his CAX5 on April 16, 2016, at the Langley Kennel Club test in West Point, VA.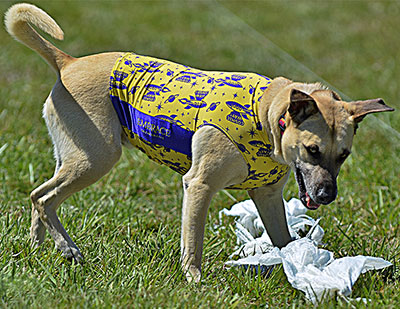 Multiple CAXs
Congratulations to this dog for adding another CAX to her name:
Hula Lula CAX2 – Susan Lewis of Wildomar, CA
New CAXs
Congratulations to these new CAX recipients for passing the CAT 25 times:
Finnick Odair CAX RN AX AXJ MXP MJP NF XFP CGC – Adriana Nottestad of San Leandro, CA
Finnick was adopted from the San Francisco SPCA in August 2014. "I was volunteering there at the time and was waiting for the right herding mix to show up, then there he was!," Adriana said. " I wasn't interested in dog sports at first, but we took a rally class, which then led me to take an agility class and now we do it all."

Finnick has titles in rally, agility, barn hunt, dock diving, and, his favorite, lure coursing. Outside of dog sports, he loves to chase birds and play fetch in the water. He received the CAX on Jan. 24, 2016, at the Monterey Bay Coursing Association test in Hollister, CA.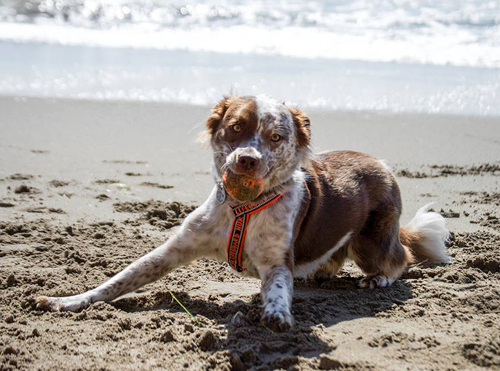 Mischief Managed RN CAX CGC – Shaylyn Kelleher of Hampton, VA
Lily is a 3 year old lab mix who was adopted from a shelter in South Carolina. "Once we started taking obedience classes, we thought it'd be fun to try some dog sports," Shaylyn said. "Coursing Ability Tests are her all-time favorite. Lily loves to chase the 'bunny'. The sighthound clubs tell us she must be mixed with greyhound."

Lily is also a trained service dog for Shaylyn. In her spare time, she enjoys competing in dock diving as part of Team Mischief Managed, training for agility and barn hunt competitions, and she has her AKC Rally Novice title. She earned the CAX title on Feb. 27, 2016, at the Sighthound Organization of Tidewater test in West Point, VA.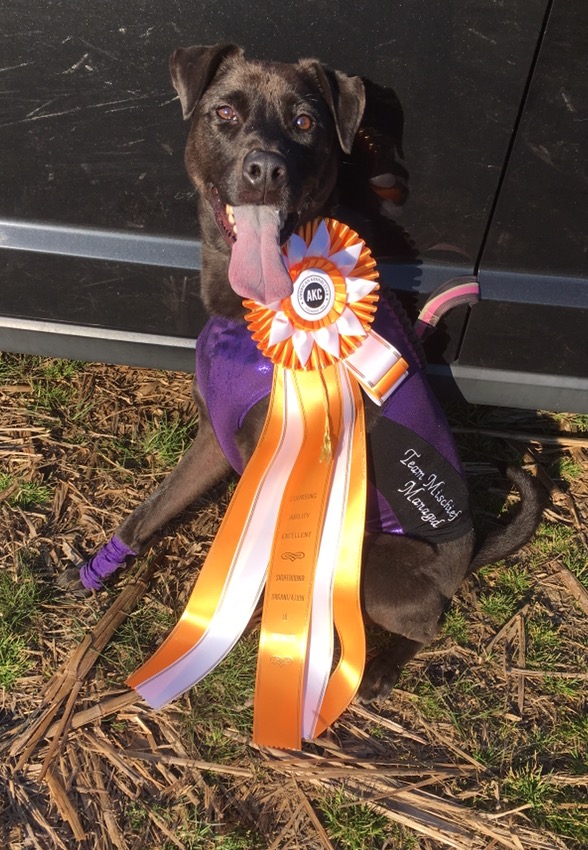 Evita Kola Gretzky CAX OA AXJ NF CGC owned by Molly Schmid of Claremont, CA
Kola is a terrier mix who was rescued from a Southern California pound in February 2010 when she was about 6 months old. "We started and continue training in agility and nose work and then we found lure coursing," Molly said. "By the second fun run, she recognized the sound of the motors, and I discovered her cloth crate was insufficient for lure coursing. By the third fun run, she decided that non-stop barking and squealing would help pass the time, and we moved (permanently) to the parking lot. As soon as we set up and hear 'Tally-Ho!,' she bolts away and blasters on to GET. THE. BAG. And then the lure circles back, slows down, and she can pounce on the bags, exhausted."

Kola got her CAX title on Jan. 24, 2016, at Diamond Dogs K9 Sports in Chino Hills, CA, and is working towards her CAX2.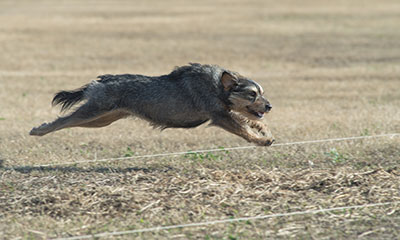 Photo by Clark Kranz
Congratulations also to this new CAX recipient:
Kumala CAX – Michelle Jung of Daly City, CA
OBEDIENCE
AKC National Obedience Championship
Congratulations to Jasmine of Lindenbrook UD CGC and Nan Daley of Woodside, CA, who made the Top 50 finals of the prestigious 2016 AKC National Obedience Championship (NOC).
The AKC invites the top three Obedience dogs of each breed, based on OTCH points, to the event that took place March 19-20 in Tulsa, OK. Jasmine was the only All-American Dog entered in the NOC. Jasmine holds the AKC title of Utility Dog (UD) and is a High in Trial winner.
​ ​​ ​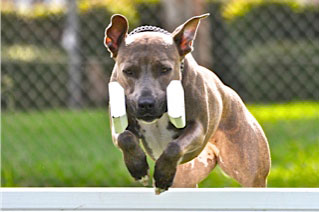 New Utility Dog titles
Sparkle City's Mori UD BN GN owned by Patrice Hoerster of Simpsonville, SC
Former shelter dog Mori earned his Utility Dog (UD) title with back-to-back second and third legs on April 23-24, 2016, at the Western Carolina Dog Fanciers Association trial in Waynesville, NC. His scores each day were 192.5 and 193.5 respectively. On his title leg, he even earned fourth place! "What a lovely mountain setting to celebrate our accomplishments: Great club, great people," Patrice said.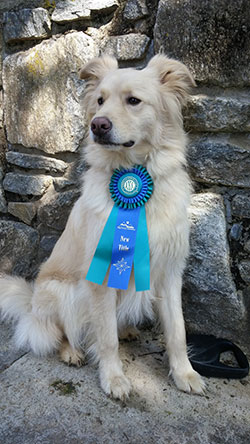 RALLY
AKC Rally National Championship
Ba Sammy Jo CDX GN PCDX RE RATN THDA CGC and her owner/trainer Brittany Allen of Decorah, IA, placed in the prestigious top 10 of the Rally Excellent class at the 2016 AKC Rally National Championship held in late March in Tulsa, OK.

Sammy, a former shelter dog, earned a score of 192 out of a possible perfect 200 and placed fifth in the class. This earned her a beautiful rosette and presentation in the awards ceremony.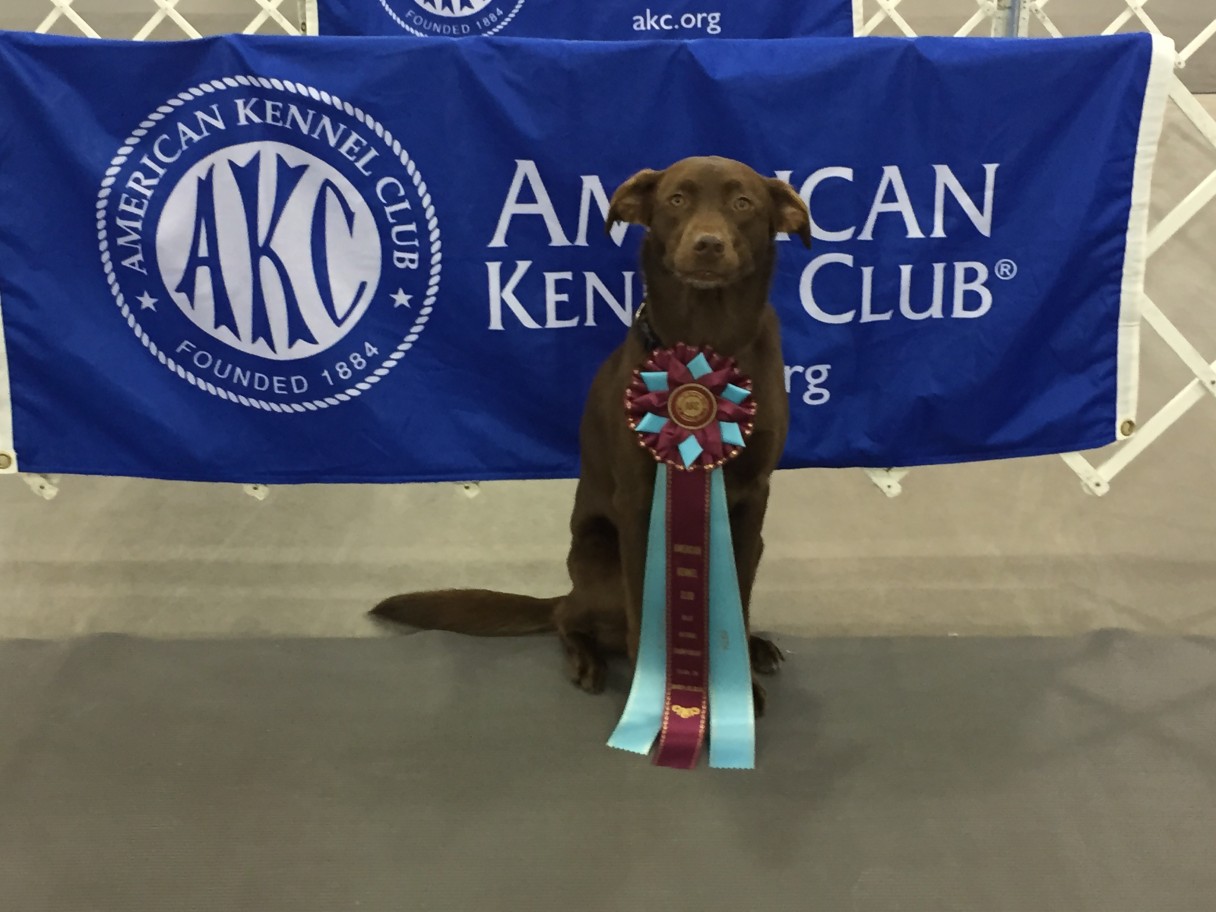 Multiple RAEs
Congratulations to these dogs who have added more RAE titles to their names:
Bossman Sweetater Freighter RAE12 – James & Barbara Roberts – Lakeland, FL
Beowolfe CD BN RAE3 – Michael Gilbert – Springfield, OH
Our Sweet Waally Waally Wabbitt CD PCD BN RAE5 – James & Barbara Roberts – Lakeland, FL
Stella CD RAE9 AXP AJP NFP RATN – Karen Powell – Frankfort, KY
New RAEs
Congratulations to these first-time recipients of the AKC Rally Advanced Excellent (RAE) title:
Little Repo Man RAE CDX CGC CGC-A owned by Christie Munden of Pasco, WA
Repo was found in a busy parking lot when he was about 6 months old. He weighed about 5 pounds and was looking for anybody to show him some love while he wandered between the many cars.

"He found my husband and kids just leaving the grocery store. My family was afraid he would get hit by a car so they picked him up and attempted to locate his owner," Christie said. "Nobody seemed to know anything about this little Papillon mix."

Christie signed him up for training at Columbia Basin Dog Training Club where he earned his AKC STAR Puppy certificate, AKC Canine Good Citizen and Canine Good Citizen-Advanced titles.

"We discovered that he LOVES training. So we continued on. He has since earned several agility titles and currently competes at the AKC Masters level. In obedience, he has earned the Companion Dog Excellent title and is currently working on his Utility Dog title. And in Rally, I am proud to say that he earned the AKC Rally Advanced Excellent title on May 17, 2015, at the Spokane Dog Training Club trial. "I am so proud of my little man who always gives me his all and with such happy enthusiasm," she said.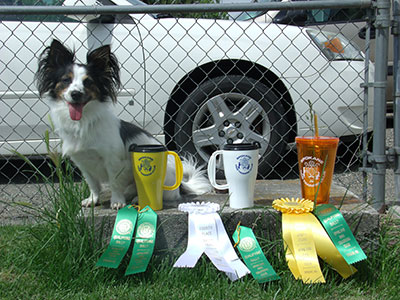 Dancing Cavy's Pain in the Butte RAE BN CA owned by Jamie Ohman of Camillus, NY
Risa is Jamie's first dog. She adopted her from a shelter when she was 2 years old and had dreams of competing with her in dog sports. Unfortunately, Risa was afraid of many things: dogs, people, and new places.

"When we first started training together, our trainer was working towards her RAE with her dog. I remember watching the two of them earn their RAE and thinking we'd never get a title like that. The obstacles were too great."
Several years later, AKC started the AKC Canine Partners program, and mixed-breeds started competing in AKC sports. Risa was now 6 years old, and we'd just recently competed in our first canine freestyle competition.
"I decided we'd give rally a shot. Despite being fearful, she did brilliantly in the ring. As we moved into the higher levels, we struggled a bit with focus. We continued to work hard, and she kept on improving. By the time we were working towards our final RAE legs, we were really clicking together in the ring. Spectators often commented on what a happy worker Risa was, and that made me smile more than the qualifying scores and ribbons."
We celebrated her 12th Birthday the weekend she earned her RAE at the Syracuse Obedience Training Club's trial on Jan. 9, 2016 -- exactly five years to the day after she earned her Rally Novice title at the same location. "What I once thought was impossible had been achieved. I never gave up on her, and she's always given me her all."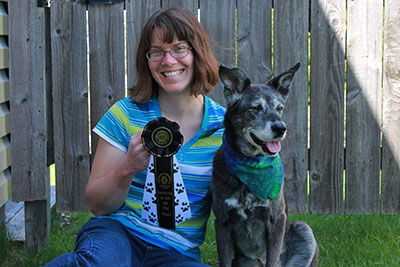 Jimenez's Max CD RAE NAJ NAP NJP owned by Ana Jimenez of El Paso, TX
In 2009, Ana went to a local animal rescue to adopt a dog. When she saw a little 5 month old terrier mix, she knew he was the one.

"Shortly after I decided to take a training class with Max on basic obedience and that is when I found out about rally," Ana said.

The rally class led to competitions and on Jan. 17, 2016, they earned the RAE title in El Paso, TX, at the Rio Grande Obedience Dog Club trial with a score of 93 in Advance Rally and a score of 97 in Excellent Rally. Max also has a CD in obedience, Novice agility titles, and is a certified therapy dog with close to 100 visits.

"Adopting Max has enhanced my life in so many ways. Max is my first dog, and I never imagined the love and companionship this fur baby has given me."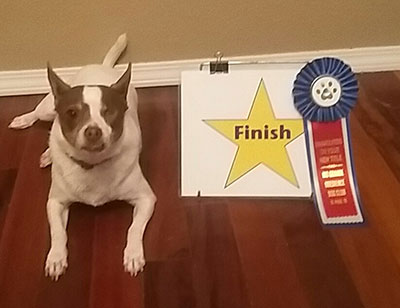 Pogo S. Porter RAE AX AXJ AXJ AJP XFP THDN CGC owned by Wendy Porter of Staunton, IL
Pogo was adopted by Wendy from an animal shelter on April 2, 2010, when he was 4 months of age, and they started agility training three months later.

Wendy said she resisted any formal obedience training, thinking it was too strict and tedious, but after much encouragement from her trainer, she finally decided to try rally training.

"Pogo took to it immediately, and we earned the RAE 18 months later. Rally is fun for both the handler and the dog, and Pogo thought of it as just learning tricks," she said.

Pogo and Wendy also compete in agility and Barn Hunt. They live with another All-American dog, Tigger T. Porter, who also competes in agility, Rally and Barn Hunt. They earned their RAE on Jan. 30, 2016, at the St. Charles, MO Kennel Club trial.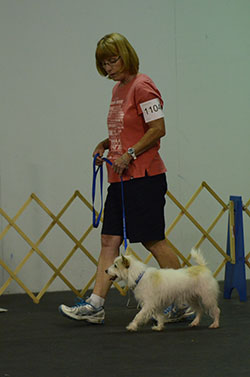 Jerry RAE BN GN owned by Emily Kocon of St. Paul, MN
Jerry was adopted from a small shelter in Minnesota in 2006. "He is my first competitive performance dog and he has taught me patience, diligence and humility," Emily said.

"I started taking him to obedience classes just to learn the basics. We both enjoyed the classes so much that we continued training.

"My instructor was the first to tell me about the AKC Canine Partners program and urged us to get registered. She was also the one who introduced me to rally. I remember signing up for our first AKC Rally competition and how much fun we had out there. We loved it so much that we decided to stick with the sport and earn our RAE title."

Their plans were put on hold for a while as Emily finished college. Then, on Nov. 3, 2014, Jerry developed severe pancreatitis that hospitalized him for several days. "His pancreatitis was one of the most severe cases the vet had ever seen. I thought that was the end of it but he proved me wrong. He's a trooper and he wasn't about to let this get the best of him." It took a year and a half to recover during which they dealt with several complications, including diabetes. "This year we are back in the swing of things, picking up right where we left off and loving every second of it."

They earned the RAE at the Wright County Kennel Club trial on March 12, 2016. They had a combined score of a perfect 200 and won the rally high combined award.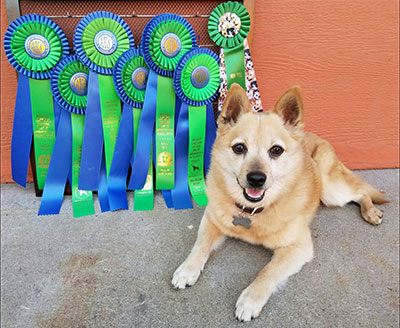 Congratulations also to these other new RAE recipients:
Marley RAE CGC – Jo Nall of Mason, OH
Cody Mori CD BN RAE - Audrey & Gerry Mori of Waipahu, HI
TRACKING
Cellier's Truffle TD owned by Margaret and Thierry Cellier of N. Vancouver, BC, Canada
Truffle is a five and half year old Thai Ridgeback mix who was rescued in California with her siblings when she was still a puppy. She was fostered in Canada and became a member of the Cellier family a couple of months after her rescue.

"Truffle is a hard-working and very bright dog. We started tracking a couple of years ago, and she loves it, rain or shine," Margaret said. "She tracks once a week in winter time and twice a week in the summer. She sometimes needs to be reminded that yes, rules do apply to her, all the time, but she has such a big heart and finds such joy working and pleasing us that she is easily forgiven one the rare occasions she misbehaves."

Truffle earned her TD title on March 6, 2016 in Bow, WA, at the Chuckanut Dog Training Association test. Truffle is now training for her TDX title.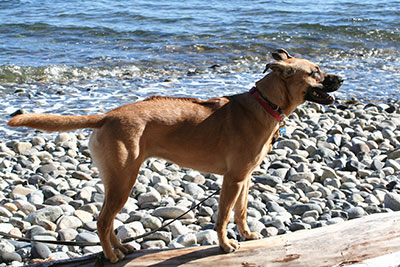 Congratulations also to Belle Star CD BN RA TD CGC-A owned by Hannah Robinson of Candor, NY, for recently earning the TD title.
VERSATILE COMPANION DOG
Congratulations to Harry for earning the VCD award that requires titling in three sports: obedience, agility and tracking.
Harry of SharonDale VCD1 PCDX GN RE OAP OJP owned by Sharon Atkers of Dimondale, MI
From being found wandering down a country road in fall 2008 as a puppy to achieving a VCD1 title by passing the Capitol Canine Training Club's Tracking Dog Test on March 20, 2016, Harry has traveled a long way, says his owner Sharon Atkins of Dimondale, MI.

"During the journey, he has been a joy, a source of complete amazement and frustration, and a book of knowledge (opened or otherwise) to this first time participant in canine sports," Sharon said.

According to DNA breed analysis, Harry is ¼ Border Collie, ¼ Australian Cattle Dog, and ¼ Airedale Terrier, with the last quarter being a mixture of terrier and a smidgen of Great Dane.

"This diversity in genetic makeup has resulted in a happy, smart, athletic, independent-thinking, and driven dog who has done very well in agility, rally, obedience (sometimes), and tracking," she said.

Harry also has a talent for dock jumping, having a personal best distance jump of 21-feet- 9-inches.

"Harry's favorite pastime is giving humans' unlimited opportunities to throw the ball or toy du jour for him to retrieve," Sharon said. "As the saying goes, he will retrieve 'till the cows come home.' His bovine neighbors have yet to leave the field for the barn."