Competition/Titles Update
Get all the news about the recent top title earners in Agility, Coursing, Obedience, Rally, and Tracking. This issue includes news of the All-American Dogs headed to the AKC Agility Invitational and the AKC Obedience Classic, plus the fourth mixed-breed to earn the Utility Dog Excellent title in Obedience and the third All-American to earn the Champion Tracker title.
Agility
2016 AKC Agility Invitational
Congratulations to the top five All-American Dogs in AKC Agility in Regular competition, plus the number one All-American in the Preferred division. All six dogs have been invited to the 2016 AKC Agility Invitational based on the rankings taken from Master Agility Championship (MACH) and Preferred Agility Championship (PACH) points from July 1, 2015, to June 30, 2016. The event will take place Dec. 17-18 in Orlando, FL.
MACH4 Donaldson's Daisy MXB2 MJG2 OF – Laura Donaldson – Elk Grove Village, IL
MACH6 Feel The Need MXG2 MJB3 MXF MFS TQX T2B7 CGC – Janet Boggs – Crawfordsville, IN
MACH7 Lanakila Doin It By Example MXG2 MJG2 MXF MFS TQX T2B7 – Caroline King – Sanger, TX
MACH5 Moses Raphael York UD BN GN GO RAE4 MXB2 MJG2 MXF MFB TQX T2B6 CGCA – Jordan York – Evansville, IN
MACH3 Zinfandel Hackman MXG MJC XF T2B4 – Betsy & Gene Hackman – Santa Fe, NM
PACH4 Harvey's Casper AX AXJ MXP17 MXPS2 MJP18 MJPG2 PAX5 CGC – Ronda Harvey – Calabasas, CA
Multiple Master Agility Championships
Congratulations to these dogs who have added more MACHs to their name:
MACH2 Kinzee Doodle MXS MJS XF T2B3
MACH2 Sir Tucker MXS MJC MFS TQX T2B3 CGC
MACH2 Andretti Spaghetti MXS MJG OF T2B
MACH2 Hayley The Crunch MXS MJS OF
MACH2 Day's Katie MXS MJS XF T2B2
MACH3 Zinfandel Hackman MXG MJC XF T2B4
MACH3 Maxman MXC MJB2 OF T2B
MACH3 African Queen MXB2 MJB2 OF T2B CGC
MACH3 Allie G MXC MJS2 NF
MACH3 My Little Maddie MXC MJC
MACH3 Caroline's Shining Star MXG MJG OF
MACH4 Annie Skabannie MXB2 MJB2 MXF T2B
MACH4 Cabonina La Saltadora MXB2 MJB2
MACH5 Donaldson's Daisy MXS2 MJC2 OF
MACH5 Stanley P-Nut MXC MJC XF T2B
MACH6 Moses Raphael York UD BN GN GO RAE4 MXB2 MJG2 MFB TQX T2B6 CGCA
MACH7 Lanakila Doin It By Example MXG2 MJC2 MFS TQX T2B7
MACH7 Feel The Need MXC2 MJS3 MFS TQX T2B7 CGC
MACH8 Dillon The Dog RN MXG2 MJC2 MXF TQX T2B2
New MACHS
Congratulations to these first-time MACH recipients:
MACH Hannah's Molly – Hannah Naiburg of Milford, CT
Molly is Hannah's first agility dog. The team started agility in their backyard when Hannah was just 11 and Molly was 4.

Molly is a rescue dog from the Westport Connecticut Humane Society.

"She's now 9 years old and is still going strong and winning a lot of classes! Nothing slows her down," Hannah said.

Molly achieved the MACH on May 28, 2016. She and Hannah also won the 8-inch division at the 2014 AKC Junior Agility Competition and made the finals of the 2016 AKC Westminster Master Agility Championship.

"Molly has definitely been a dream and I can't imagine my life without her. She's my heart dog."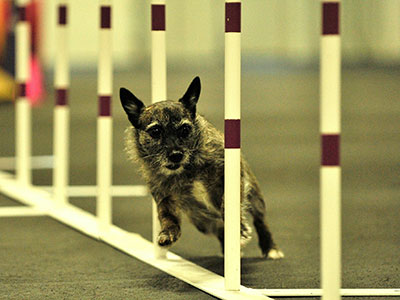 Molly

MACH Siren MXB MJB XF T2B- Kelly McFaul-Solem of Duluth, MN
Siren is an 11 1/2 yr old mixed breed that Kelly rescued in 2005 from a shelter in Minnesota.

"She was very skittish and afraid of new situations when we brought her into our lives. Agility has helped her blossom into the sweet, athletic dog she is today," Kelly said. "I was thrilled in 2009 when AKC changed their program to allow mixed breeds since I was playing AKC with my Pugs at the time."

Siren finished her MACH on April 8, 2016, at a trial sponsored by the Twin Cities Cavalier King Charles Spaniel Club. "We only needed a handful of points to earn her championship so I optimistically prepared a MACH celebration. Since she is an All-American, I set up a fun area with red, white & blue candies, flags and even a flashing siren! It was one of our most memorable days of her career!"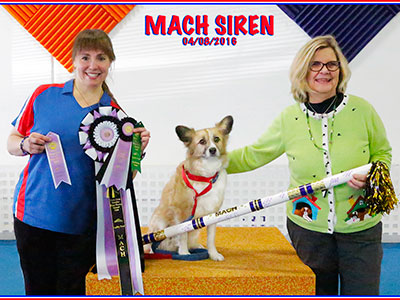 Siren
MACH Dancin' the Jive MXS MJS XF T2B – Cheryl & Jim Schiml of Beavercreek, OH
Cheryl and Jim have owned several Parson Russell Terriers (PRT). After the loss of their 16 year old PRT, they did not expect to own another terrier as Cheryl was doing agility with their Miniature American Shepherd.

That was until they met terrier mix Jive, whose entrance into the world was a couple of true rescues. Her mom was rescued from a kill shelter, taken to another rescue organization, and placed in a foster home. Several days later her mom gave birth to five adorable puppies.

The foster mom did a really good job of assessing the pups and thought Jive would do well in agility since she was the "playmeister"' of the litter.

Cheryl decided to take on a new challenge, and Jive was it. Jive had to work through several noise phobias but her talent for the sport of agility shined through.

They finished the MACH on Sept. 11, 2016, at the Dayton Dog Training Club trial. "Jive is truly an All American girl, and I am so very proud of her. She is really my pal," Cheryl said.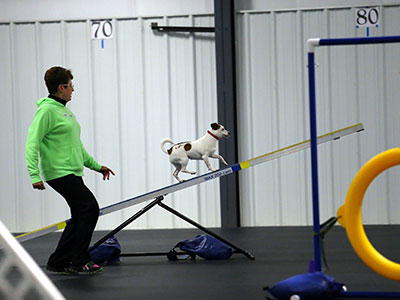 Jive
MACH The One and Only Mini Great Ape Joe MXB MJB – Naci Berkoz of Tarzana, CA
Monkey Joe was one of three pups that were found on the street with their mother, an American Eskimo, at roughly 4 weeks of age.

"My friend and roommate at the time was doing a favor and fostering them until they found homes," Naci said. "I fell in love with Monkey Joe from day one, even though it took a couple of months to convince myself to keep him. Best decision ever! He has gone from a homeless pup living in the streets of Los Angeles to a perfect companion and an amazing agility dog who at 3 years old has already made the European Open world team, competed at AKC National Agility Championship, and completed his MACH! And the cherry on top is he is the most happy, go lucky dog I've ever met!"

Monkey Joe finished the MACH on Sept. 24, 2016, at the Southern California Collie Club trial.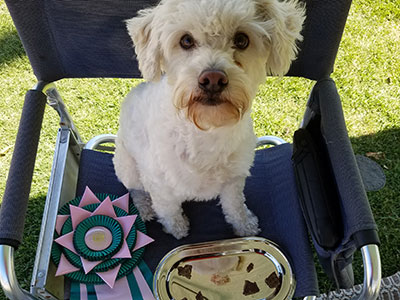 Monkey Joe
MACH Roula MXB MJB MXF T2B – Ann-Marie Moore of San Francisco, CA
Shortly after moving into a new home that allowed her to have a dog, Ann-Marie volunteered to foster a 2 year old Lab mix.
"I thought fostering a dog would be a good way to figure out if my lifestyle could adapt to dog ownership. The fostering didn't last long because after 10 days, I was in love with her. I named her Roula, and she moved in with me amongst all my unpacked moving boxes," Ann-Marie said.

While Roula was in good physical shape, her behavior needed a little help. "She liked to chase moving things, including cars and motorcycles. She lunged at other dogs and was adept at scavenging and knocking over trashcans. She couldn't hear a dog bark from a second-story window a half block away without losing her mind. I knew I needed help, and I got it: lots of exercise and professional trainers to train me to train her."

Basic training led to agility training which Roula loved and her behavior quickly improved. "I took Roula to our first trial in 2013 and, as the cliché goes, the rest is history. If class was fun, the wonder of learning how to be a good teammate for Roula in competition while helping her discover and gain confidence in her (and our) abilities was awe inspiring."

Roula finished her MACH at the Redwood Belgian Tervuren Fanciers trial on June 12, 2016.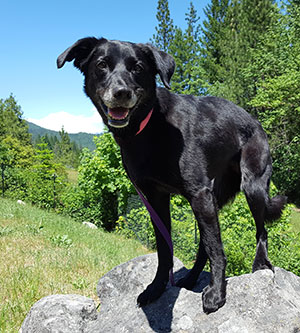 Roula
Congratulations also to these other new MACH recipients:
MACH Theodore Teddy Hill MXS MJS OF – Priscilla Hill-Wampler & Jon Wampler - Newark, DE
MACH Boston of Barnes MXB MJG OF T2B4 – Larry Ribbeck – Simi Valley, CA
MACH Nounours Lionheart Wynne MXB MJS – Alison Hall – Scottsdale, AZ
MACH Pretty Red MXB MJS MXF T2B – Bernice Tatum & Patricia Hester – Albuquerque, NM
MACH Kodiack Maverick Smith MXB MJB XF T2B – Jordan Smith – West Fargo, ND
MACH Ollie's Meerkat Maniac MXB MJS – Tiffany Dornan – Stephenville, TX
MACH Pirate's Covert Operation MXB MJS MXF – Karen Charles – Millbrae, CA
MACH Mignonne MXB MJS XF T2B – Robin Foret – Spring, TX
MACH Tucker Brown CDX BN GN RE MXB MJB XF T2B2 – Jill Brown – Columbus, OH
Multiple Preferred Agility Championships (PACHs)
Congratulations to these dogs who have added more PACHs to their names:
PACH2 Baja's Red Hot Chili Pepper CD RE MXP6 MXPS MJP6 MJPS PAX2 OFP T2BP2
PACH2 Elk Run Bella MXP9 MXPG MJP11 MJPC PAX2 OFP T2BP3
PACH2 The Mighty Quinlan RE AX AXJ MXP5 MXPS MJP7 MJPS PAX2 NF OFP
PACH2 Crosby's Quinn MXP5 MXPS MJP9 MJPG PAX2 XFP
PACH5 Harvey's Casper AX AXJ MXP18 MXPG2 MJP19 MJPG2 PAX6 CGCA

New PACHs
Congratulations to these first-time Preferred Agility Champions!

MACH8 PACH Prince Doggie MXG2 MJC2 MXPB MJP3 MJPB PAX NF T2B – Tacarra Andrade & Michael Marshall of Farmington Hills, MI
Eleven-year-old Prince Doggie has been a trail blazer in the AKC Canine Partners program, being the first mixed-breed to earn the MACH and holding the record for the most MACHS earned in the program for four years.

He earned his very first PACH and PAX on June 3, 2016, at the Sportsmen's Dog Training Club trial in Lapeer, MI.
"Princey was my first agility dog, and he has been an absolute dream teammate! He has accomplished so much in the sport of agility but he never takes it too seriously since he's all about enjoying the fun of the game as well as the treats he gets as rewards," Tacarra said.

His achievements include finalist at the 2012 AKC Agility Invitational, 2016 AKC National Agility Championship Challengers Round winner and runner up in the finals and more.

"More than an agility teammate, Princey is the love of my life as well as my most cherished companion. Words are seriously inadequate to convey the love and appreciation I have for Prince Doggie…he is my heart dog and our souls are truly connected."

Watch Prince Doggie's PACH winning run.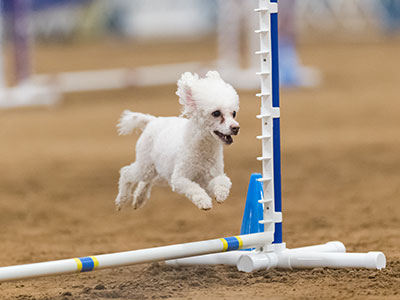 Prince Doggie
PACH Smoky Kramer MXP3 MXPB MJP4 MJPB PAX – Courtney Kramer of Naperville, IL
Smoky was rescued off the streets of Georgia and brought to a rescue in Illinois, where Courtney first saw him and fell in love with him.

"Only one thing stood in my way...my parents. Being a seventh grader, I had to beg them for days to allow me to bring him home. Fortunately, my begging paid off, and Smoky became a permeant family member. Little did I know this dog would change my life."

Courtney and Smoky have traveled around the country competing in agility and earned the PACH on July 2, 2016, at the Great Lakes Belgian Tervuren Club trial.

"Smoky earning his PACH this summer was the cherry on top as I am now a freshman in college in Florida (19 hours away from home), and I miss him. I am counting down the days until December when I get to see him again!"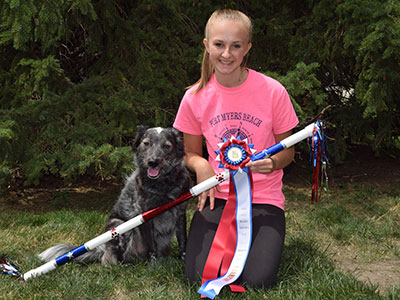 Smoky
PACH Zucchini Of Wylde Green NAJ MXP3 MXPB MJP3 MJPB PAX – Trish Nelson & Arron Wings of Iowa City, IA
Zucchini (aka ZuZu) is 9 years old and was adopted from the Iowa City animal shelter when she was 4 months old along with a sister, Sage, who also does agility. They were undernourished and afraid of everything. ZuZu was so afraid when she went to her first puppy kindergarten classes, it would take about 10 - 15 minutes sometimes to coax her out of the car. In class she would break free off of her leash and run across the room to be with Sage.

"At her first agility classes, she would cringe in the back of her crate and we had to patiently coax her out. It took a while, but we just kept making sure she had positive experiences with everything we asked her to do and gradually, she gained confidence," Trish said.

"She was 6 years old before we entered our first AKC agility competition. She needed lots of positive encouragement, but she now loves agility and is running more and more confidently, and faster all the time. Agility has played a huge role in helping Zucchini be the dog she was meant to be. We couldn't be prouder of our All American Girl!"

Zucchini earned her PACH at the Muscatine Agility Club of Iowa trial on July 16, 2016.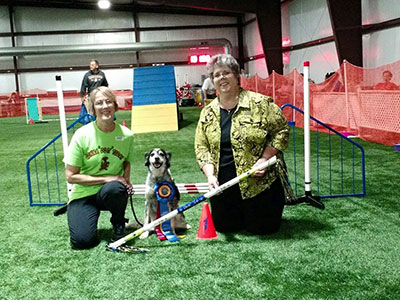 Zucchini

PACH Remy AX AXJ MXP7 MXPS MJP7 MJPS PAX2 NF OFP T2BP2 – Leslie Cash of Kalamazoo, MI
In 2008, Leslie decided to add a homeless dog to her canine family and found a little black terrier mix named Romeo in a Kalamazoo shelter.

"At the time, agility wasn't on my mind when I fell in love with this little dog, whom I was told had suffered abuse in his short 10 month old life. To celebrate his new start in his forever home , I renamed him Remy."

Leslie had seen agility and thought it looked like fun so she enrolled Remy in classes at the Kalamazoo Kennel Club. They started competing in May 2010 and earned the PACH on Sept. 17, 2016, at the Grand Rapids Agility Club trial.

"Remy is very accurate, but fast is not always his forte. We have persevered to earn his championship…Agility has taken us to places we never would have imagined and met many new friends along the way. Thank you AKC for recognizing the many abilities of All American Dogs."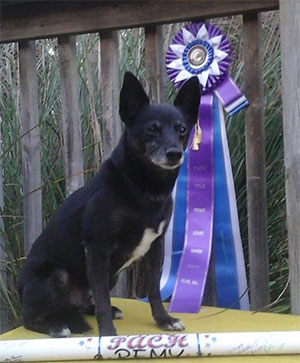 Remy
PACH Kowabunga Kate OA OAJ MXP12 MXPC MJP9 MJPG PAX3 NF OFP T2BP2 CGC – Vicki Brown of Hereford, AZ
Vicki says Kate picked her in 2008, at a time when Vicki was grieving the loss of her competition horse.

Kate was one of a litter of 10 puppies at the stable where Vicki's sister kept her horse.

"I was not really looking for a puppy, but Kate came up to the fence and continued to lick my hand while her sibling puppies (no two of which looked alike!) scampered about. So I took her home and soon found myself immersed all sorts of dog activities.

"Kate is my first agility dog. As the most novice of Novice beginners, we began competing in agility the first summer that AKC allowed Canine Partners to compete in agility trials. I thought that if AKC was willing to recognize mixed breed dogs, that I wanted to take advantage of the opportunity and let AKC know how much I appreciated it by participating. It has been a long and fabulous journey. I treasure the bond created between Kate and I through agility and love the agility community."
Kate is also a trick dog champion and works as a canine actor through her agency, Arizona Animal Actors.

Kate earned her PACH on September 9, 2016, at the Weimaraner Club of Albuquerque Agility Trial.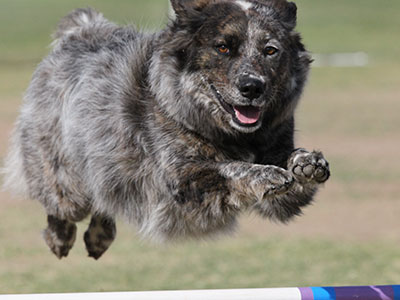 Kate
PACH MACH 4 Greer's Ellie MXB2 MJS2 MXP3 MXPB MJP3 MJPB PAX MFB TQX MFP TQXP T2B4 – Carol Greer of Mineral Bluff, GA
Seven-year-old Ellie came to Carol as a 9 week old puppy, "energetic and eager to learn. She's very sweet tempered, is an outstanding agility partner, and loves her treats at the end of every run!"

After earning a MACH 4 in April this year, Carol decided to move Ellie to Preferred and a lower jump height.

"Her other passions are bossing her two canine brothers, supervising food preparation activities, and trying to chase the feral cats next door. My girl has a mind of her own, but she loves to cuddle and always tries her best to earn a Q for me on an agility course."

Ellie earned her PACH at the Greater Monroe Kennel Club AKC trial in Concord, NC, on August 13, 2016.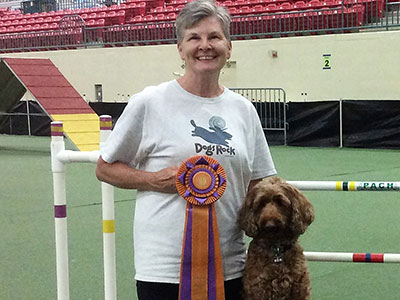 Ellie
PACH Ellie Ferdinand MJP 4 MJPB PAX MFP - George Ferdinand of Yelm, WA
George became interested in agility before he got Ellie. His daughter was in the Thurston County Dog 4-H program with her Pug, Max, and George started volunteering with the youth group. "After helping the kids with training, I became hooked. I was given Ellie when she was 8 weeks old; she came from a ranch in southern Oregon. We started our agility training in January 2011 and joined the AKC Canine Partner program in September 2011."

They entered their first competition two months later and were hooked. Five years later, Ellie's PACH was awarded on July 30, 2016, at the Northwest Bearded Collie Club of Puget Sound trial.

"We have had good runs and bad, but after what I call 30 seconds of fun. We leave the ring the way we came in -- happy to be with each other and feeling accomplished whether we have qualified or messed up the course. On the way home, she will put her paw on my arm, give me the look saying she had fun and when do we get to go play again. I am very passionate about agility and recruit people whenever I get a chance to sell them on it too. As for Ellie and I we have started working on our second PACH, and look forward to the road ahead."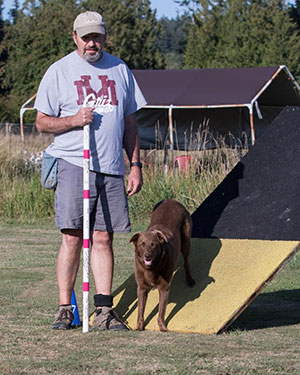 Ellie
Congratulations to these other new PACH recipients:
PACH Stetson Taterhead Lamping MXPB MJPB PAX – Teresa Durbala – Lake St. Louis, MO
PACH Qi AX AXJ MXP3 MXPB MJP5 MJP5 MJPS PAX NF OFP – Wanda Day – Tucson, AZ
PACH Charles Lincoln Vojtas CD BN RE MX MXJ MXP3 MXPB MJP6 MJPS PAX XF CA – Pam Vojtas – Pompano Beach, FL
PACH Good Golly Miss Mollie AX AXJ MXPB MJP3 MJPB PAX NF – Kristen Phillips – Burbank, IL
Coursing Ability Tests
Top Titled Coursing All-American
Iyong Tapat Kaibigan CAX6 – Stephanie Markgraf of Pittsburg, PA
Kai earned his CAX6 title in Palmyra, PA, at the Langley Kennel Club's Coursing Ability Test, continuing his reign as the top titled All-American Dog in AKC Coursing Ability. Kai has 149 ribbons from CAT events. For his 150th run, the Langley Kennel Club awarded him the Golden Bunny Trophy, with which he is pictured along with his handler Kate Renner. "He loves chasing his 'bunnies,'" Stephanie said.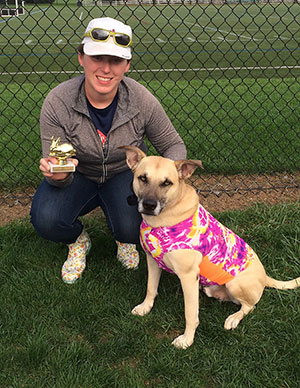 Kai
New Coursing Ability Excellent (CAX) title
Congratulations to this dog who is a first-time recipient of the CAX award for passing the AKC Coursing Ability Test 25 times:
Arianna Brown CAX – Pamela Brown of Cudahy, WI
FAST CAT Top Titled All-American
Koda Dane Lincoln Mo Rausch CAA DCAT RATM CGC, the first All-American to title in the FAST CAT program is also the current top titled mixed-breed having earned the DCAT title for 300 points. He is also tied for second place in the national ranking of fastest All-Americans in FAST with a time of 29 mph clocked. Koda is owned by Jeanette Rausch of Mount Juliet, TN.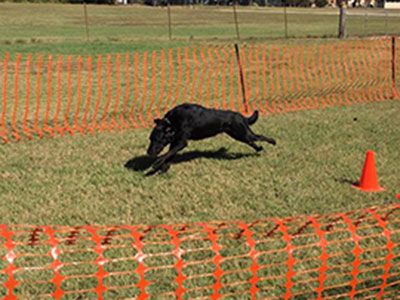 Koda
Obedience
AKC Obedience Classic
Good luck to these All-American Dogs who qualified for and entered the 2016 AKC Obedience Classic, taking place Dec. 17-18 in Orlando, FL. The national event includes competition in all levels of Obedience.
Novice Class
Seaspray's Timmi Hansell CD BN CGCA CGCU – Susan Hansell of Winter Haven, FL
Sanford's Pippin CD BN CGC – Virginia Sanford of Hamden, CT
Mavis Gunnels-McCord CD BN RN NA NAJ NF CGC – Susan Gunnels of Little Rock, AR
Open Class
Ziva D. of Wissota CDX BN GN RAE3 – Rexann Lemke of Chippewa Fall, WI
Sammi Paisley Rains CDX PCDX BN CGC – Connie Alexander of Smyrna, TN
Moroughan's Roxy CDX BN RAE CGC – Vicki Moroughan of Hurlock, MD
Lola Sugar and Spice CDX PCD BN GN RE CA CGC – Kathryn Harvey of Apple Valley, MN
Utility Class
Henry Head Over Heels UD PCDX BN GN RE THDA CGC – Kathryn Harvey of Apple Valley, MN
Fourth All-American to Earn UDX
Sassy Sissy UDX OM2 CGC – Donna Hartwig of Big Rock, IL
Sissy UDX OM2 CGC is only the fourth All-American Dog to earn the UDX. The challenging endeavor requires dogs to first earn through the Utility Dog (UD) and then they must qualify in both Open B & Utility B classes at the same trial on the same day 10 times.

Donna adopted Sissy when she about 7 weeks old. "She has been such a joy to have in my life. We have learned so much together during this obedience journey. Sissy always gives me her all in the obedience ring and that is why we keep continuing ."
Sissy received her UDX Title at the Golden Retriever Club of America all-breed obedience trial on June 18, 2016, with a third place in the Utility B class.

She also got to be in a movie which just came out, starring Alicia Silverstone, called "Who Gets the Dog?" that was filmed in Chicago in January. "It was Sissy's obedience training that earned her the part, and even though it was a small part, it was an experience that will never be forgotten."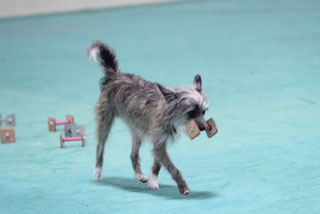 Sissy

New Utility Dog (UD) titles
Earnestly Being Barrett UD VER RN – Susan Moore of Clarkston, GA
In December 2011, Barrett was picked up as a stray by animal control when he was about 6 months old. He had been in the high-kill shelter for about two months when a friend shared his photo on Susan's Facebook page. An advocate for the shelter set up a Chip In for him on Paypal to raise enough money to cover his veterinary bills.

"When we had raised enough money to cover his care, I went pulled him from the shelter for a rescue group, intending to foster him. After about three months, I realized I couldn't part with him; I became a failed foster," Susan said. "Barrett had a naturally friendly, willing nature, but he clearly had a lot of baggage. We couldn't know what he had been through in his life. But, over time he learned to trust and began to bond with me. Now, we love each other very much; he follows me everywhere and watches to see what might be next."

Training went slowly at first with Barrett, but once he "learned how to learn," progress was rapid. He earned his AKC Obedience Novice and Open titles each in three straight shows and earned the honor to enter the AKC Obedience Classic in 2014 and 2015. Barrett earned his Utility title with a win out of Utility B at the Lawrenceville Kennel Club show in Atlanta, GA, on Aug. 27, 2016.

"When the judge called our number for first place, I burst into tears. It has been an emotional journey with my special boy; he has overcome so much. Now he is a happy, confident dog. I couldn't be more proud!"

Training Barrett was definitely starting from scratch, but once he learned how to learn, his progress was rapid. He earned his Novice and Open titles each in 3 straight shows and earned the honor to enter the AKC Obedience Classic in 2014 and 2015.

Barrett earned his Utility title with a win out of Utility B at the Lawrenceville Kennel Club show in Atlanta, Ga. on August 27th, 2016. When the judge called our number for first place, I burst into tears. It has been an emotional journey with my special boy, he has overcome so much. Now he is a happy, confident dog. I couldn't be more proud! Barrett has a lot friends, I can't thank them enough for their support and encouragement.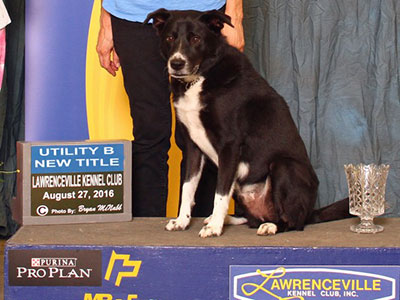 Barrett
Emmy Emmy UD BN RE NA NAJ AXP AJP - Patricia Jane Martin & Yaro Hospodarsky of Mt. Vernon, IL
Emmy was surrendered to the local fire station during the mortgage crisis of 2008. She ended up in the shelter where Patricia adopted her along with Jenny, another All-American Dog.

"Both dogs settled right into their new home immediately with Emmy definitely ruling the roost. She is both affectionate and fiercely independent. She will cuddle when she chooses but don't pick her up," Patricia said.

"We began training in agility and obedience about a year later. Emmy finished her Excellent Preferred titles in agility and, while she loved the social aspects of the trials, running the courses was optional. We continued on in obedience. She is the first dog that I have trained and we have both learned a lot."

Emmy finished her Utility Dog title on Aug. 13, 2016, at the Jefferson County Kennel Club trial at Purina Farms in St. Louis, MO.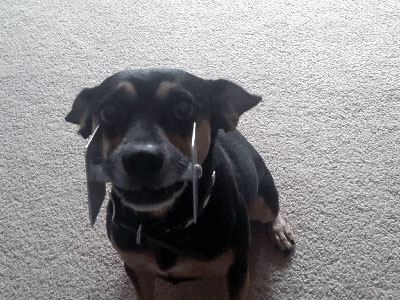 Emmy
Rally
Multiple Rally Advanced Excellent titles
Congratulations to these dogs who recently added more RAEs to their names:
Bossman Sweetater Freighter RAE14
Mattie Ross CD BN RAE2 OA OAJ OF CA CGC
Turbo-Nadir CDX BN GN RAE2 CGCA
Our Sweet Waally Waally Wabbitt CD PCD BN RAE7
New RAEs
Congratulations to these first –time recipients of the RAE title:
Jada Mayhem CD BN RAE2 - Greg & Mary Gouge of Florissant, MO
Greg & Mary adopted Jada from the Humane Society in St. Louis, MO, in late 2012 when she was 2 months old.
"From the very beginning, we knew this little girl was special," Greg said. "My wife and I have both had dogs our while lives, but neither one of us had ever shown dogs. We enrolled Jada in puppy class in January 2013 and from that class on, all of our instructors commented on how smart she was and encouraged us to show her in AKC events." Greg decided to start with rally classes, and Jada loved them.

Jada earned her RAE on June 26, 2016, at the North St. Louis County Obedience Training Club (NCOTC) trial. She earned one High Combined award while earning her RAE. On Oct. 14, 2016, she earned her RAE2 at the Mound City Obedience Training Club (MCOTC) trial. She earned three High Combined awards while earning her RAE2. She has also earned the AKC Obedience titles of Beginning Novice (BN), Novice (CD - with 3 first place scores), and Preferred Novice (PCD). She is currently in training for Open.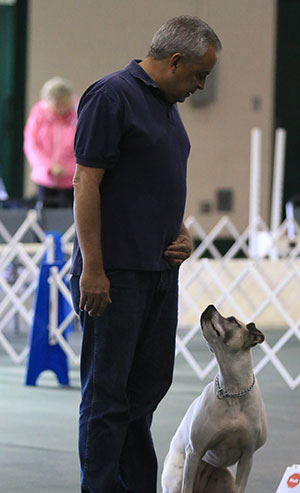 Jada
Mary's Abby Girl RAE MX MXJ OF RATO - Mary Ondeck of Hudson, IL
Mary adopted Abby at age 8 weeks from a shelter in the Chicago area. After completing basic obedience training, Mary started Abby in agility classes. Abby earned her first AKC agility title in 2010 and her first AKC rally title in 2014.

Abby was honored to compete in the 2015 AKC Rally National Championship at the Advanced level. While working on the RAE title, two of Abby's RAE legs were with High Combined honors. She earned her RAE title at the Peoria Obedience Training Club on Aug. 20, 2016. In addition to enjoying a lively game of Frisbee, Abby competes in barn hunt in addition to agility and rally.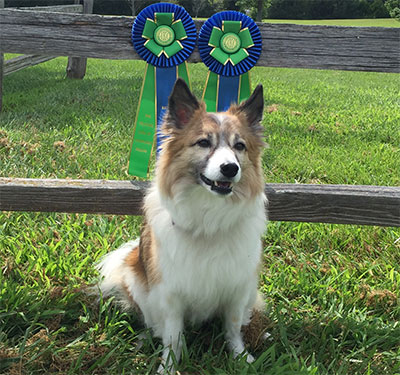 Abby
Piper Sue CD BN RAE – Gene Rhamey of San Antonio, TX
At 10 weeks of age, Piper was desperately in need of a home so Gene adopted her.

"Who could resist those blue eyes? She fit right in and learned many of her skills from big 'sister,' Lily. She is very sweet and loving. She loves to go to all training groups and practices, especially if they include cookie rewards. She loves to run and play with her younger brother, Rusty. She also enjoys cuddling on the couch with Mom and visits to the dog park, car rides and the beach. Her newest interest is barn hunt."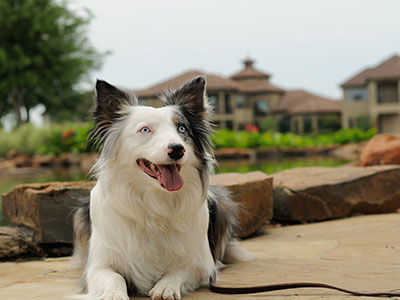 Piper
Congratulations also to these new RAE recipients:
Chase Cheney of Alamo Ranch CD RAE CGC – Heidi & Frank Cheney – San Antonio, TX
Lucky Cricket RAE OA AXJ NF CGC – Elizabeth Piper – Albuquerque, NM
Debra's Tripperjanz Adventure CDX BN GN RAE – Debra Moyer-Petrusjanz – Drums, PA
TRACKING
New Champion Tracker
CT Halvorsen's Cleo CD CGC – Maia Halvorsen of Bellingham, WA
Cleo TDX CGC became only the third mixed-breed dog to earn the AKC Champion Tracker (CT) title when she passed the AKC Variable Surface Tracking (VST) test recently. To become a CT, dogs must pass three tracking tests – Tracking Dog (TD), Tracking Dog Excellent (TDX), and the VST.
Maia adopted Cleo from a shelter when the pup was 7 months old, and Maia was already her fourth home. "Cleo was friendly and athletic, but when I got her home I discovered I adopted Houdini; she got out of every fence/kennel I had. Cleo and my Aussie, Star, became friends almost instantly. My relationship with Cleo took a little longer." Mai tried obedience lessons and other activities, like herding and skijoring, to bond with Cleo, but nothing was working. "She became more and more independent and less respectful of me. Things got worse than when I got her. Someone recently described that time as Cleo looking like 'a fish on a lure' and me looking nervous." Maia found a trainer to help her and one day at class she overheard someone talking about tracking. Cleo always had her nose to the ground and had a strong desire to follow scent so Maia decided to try it. "Within a week I was at a local hay field with Cleo and a tracking book open on the hood of my truck. That went well, so I then went to a tracking seminar. Cleo and I were hooked." Today, Cleo is 7 years old and is a member of the Summit to Sound Search and Rescue group.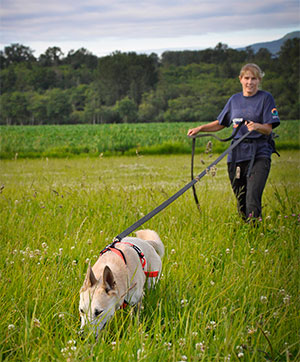 Cleo