Competition/Titles Update
Get all the news about the recent top title earners in Agility, Coursing, Obedience, Rally and Tracking. We have some big news to report about All-Americans succeeding at earning the top titles and honors in all these sports!
AGILITY
2017 AKC Agility Invitational
Congratulations to the top five All-American Dogs in AKC Agility in Regular competition, plus the number one All-American in the Preferred division. All six dogs have been invited to the 2017 AKC Agility Invitational based on the rankings taken from Master Agility Championship (MACH) and Preferred Agility Championship (PACH) points from July 1, 2016, to June 30, 2017. The event will take place Dec. 15-17 in Orlando, FL. Congrats to:
MACH7 Cabonina La Saltadora MXC2 MJC2 & Jason Meier of Germantown, WI
MACH6 Donaldson's Daisy MXC2 MJS3 OF & Laura Donaldson of Elk Grove Village, IL
MACH10 Feel The Need MXS3 MJC3 MFG TQX T2B9 CGC & Janet Boggs of Crawfordsville, IN
MACH2 Jeter Morris MXS MJS MXP MJP2 OF NFP T2B & Kaela Morris of Thousand Oaks, CA
MACH8 Moses Raphael York UD BN GN GO RAE4 MXC2 PAD MJS3 PJD MFB TQX T2B7 CGCA & Jordan York of Evansville, IN
PNAC MACH9 PACH2 Logan Lake Hope MXC2 MJG3 MXP6 MXPS MJP6 MJPS PAX2 XF T2B CGC & Kim Barton of Johnstown, OH
Multiple Master Agility Champions
Congratulations to these dogs who have earned more MACHs:
MACH10 Feel the Need MXS3 MJC3 MFG TQX T2B9 CGC owned by Janet K. Boggs of Crawfordsville, IN
MACH2 Oldwoodsfarm Mack MXS MJS owned by Mary J. Mackenzie of East Carondelet, IL
MACH2 High Octane's Borgoe Tobias MXS MJS MFB TQX T2B owned by Anouk Boon of Lakewood Park, FL
MACH2 Deenie MXS MJS MXF T2B owned by Carol Bowers of Sunnyvale, CA
MACH2 Hamilton's Boo MXS MJS MXF THDD owned by Bruce Earl Hamilton of Holladay, UT
MACH2 Euro Fine Girl MXG MJC AXP AJP XF NFP T2B CGC owned by Joe Felix of Cincinnati, OH
MACH2 Bailey Gaines MXS MJC owned by Christine J. Gaines of Granite City, IL
MACH2 Jeter Morris MXS MJG MXP MJP2 OF NFP T2B owned by Kaela Morris of Thousand Oaks, CA
MACH2 Nounours Lionheart Wynne MXS MJG owned by Alison Hall of Scottsdale, AZ
MACH2 Peter Pan Skippy Doo MXG MJC owned by Karen and Mark Anderson of Zimmerman, MN
MACH2 Cooper X MXG MJB2 OF T2B CGC owned by Shelley R. Webster of Trenton, NJ
MACH3 Theodore Teddy Hill MXG PAD MJG OF owned by Priscilla Hill-Wampler and Jon Wampler of Newark, DE
MACH3 Silva's 1957 "Chevy" Belair MXG MJG XF T2B owned by Joni and Jo Silva of Sandwich, MA
MACH3 Buddy MXC MJC T2B owned by Anita Selent of Berea, OH
MACH3 Layla Wild Tail MXC MJB2 owned by Kenneth G. Kistler of Vandalia, OH
MACH3 Hayley The Crunch MXG MJG OF T2B owned by Bettina Markowitz of Sterling, VA
MACH4 Sweet Skylar MXG MJB2 owned by Lynn Van Vleet of Rockford, IL
MACH4 My Little Maddie MXB2 MJS2 owned by Marion Kasch of Hanover Park, IL
MACH4 Mel's Amazing Mooch MXB2 MJB2 MXF T2B3 owned by Melanie Thomas of Findlay, OH
MACH4 African Queen MXG2 MJG2 OF T2B CGC owned by Maryanne Borowski of Millstone Township, NJ
MACH7 Cabonina La Saltadora MXC2 MJC2 owned by Jason and Melissa Meier of Germantown, WI
MACH7 Donaldson's Daisy MXC2 MJS3 OF owned by Laura J. Donaldson of Elk Grove Village, IL
MACH8 Trinity's Carbon Copy TD MXB3 MJC2 MFB TQX T2B2 owned by Beth and John Elliott of Elgin, IL
MACH8 Moses Raphael York UD BN GN GO RAE4 MXC2 PAD MJS3 PJD MFB TQX T2B7 CGCA owned by Jordan Patrick York of Evansville, IN
MACH9 Lanakila Doin It By Example MXB3 PAD MJB3 PJD MFS TQX T2B8 owned by Caroline A. King of Sanger, TX
MACHS
Congratulations to these new first-time MACHs:
Giddy Up N Go Dallas MXS MJS MXF T2B DS ETD owned by Dianne Gabel of Lewisberry, PA
It all began in December 2012 when Dianne saw Dallas' picture on Pet Finder.com and fell in love. He was just a puppy in a foster home in Delaware when she made the visit and immediately brought him home. Dallas was named simply from a road sign while traveling home. The name seemed to fit his look. 
"Dallas has been a natural in agility, a quick learner who aims to please. He is also a fabulous swimmer and can't get enough. At 6 months, he jumped into a pond and swam like a duck. He has titled in dock diving and does a little barn hunt when there is time. Dallas also enjoys learning tricks and has earned trick titles as well," says Dianne.
"In March 2017, we made our debut at the AKC National Agility Championships in Georgia. In July, Dallas received a High-in-Trial Agility award from the DDTC trial in New Cumberland, PA. Dallas recently turned 4 ½ years old and has been a companion, friend, teacher, and inspiration for me to keep busy. He never seems to slow down."

Dallas and Dianne achieved their MACH title on May 7, 2017, at the Colonial Rottweiler Club in Palmyra, PA.

​ ​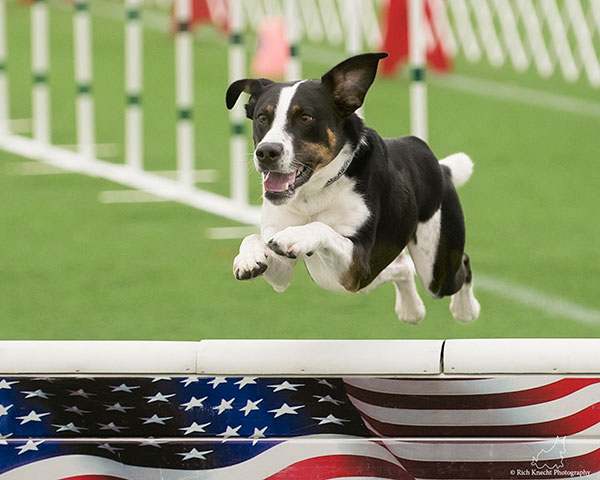 Dallas
MACH Josie Jo MXB MJB NF owned by April Meyer of Portland, OR
April got Josie Jo, an Australian Cattle Dog/terrier mix, from the Oregon Humane Society in Portland, OR. She was approximately a year old and had been picked up as a stray then transferred to OHS when no one claimed her. She had terrible separation anxiety and fear aggression. April is grateful that those issues diminished as Josie replaced them with the focus and play of agility. She's a smart, speedy girl who at 11 still loves to play agility.
Over the years she has achieved several titles in several organizations.
 "I know how lucky I am to have such a wonderful partner who enthusiastically stuck with me through my own learning," says April. "Thanks to the AKC Canine Partners program, Josie Jo achieved her MACH on June, 11 2017, at a Columbia River Agility Club trial."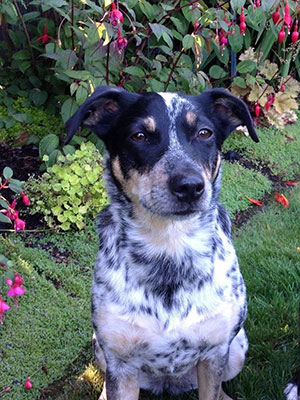 Josie
MACH Kramer The Golden Boy MXB MJB MXF CGCA owned by Lori Napoli of Mechanicsburg, PA
When Lori brought Kramer home she wasn't even aware of agility, so they didn't start classes until Kramer was 18 months old.
"Kramer was a perfect first agility dog as he let me make (many) mistakes and never quit on me!" says Lori.

The pair began competing in AKC agility in January 2015.  Lori is often stopped at trials by people she does not know who tell her how much they enjoy watching them run. Kramer is a crowd pleaser and even has a special agility prayer he likes to show off at trials! He is Lori's only Novice A dog and now her first MACH dog. "He is a special boy and I couldn't be more proud to have my 'little red-headed young man' as my partner!"

Kramer earned his MACH on March 31, 2017, at the York County Dog Training Club trial held at Bella Vista Training Center in Lewisberry, PA.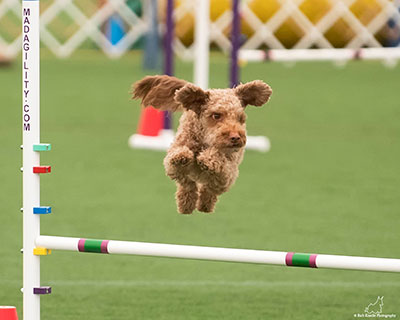 Kramer
MACH Mark's Lark MXG MJS owned by Geraldine and Mark Sonnenschein of Midland, MI
When she was young, Lark was removed from a bad place, taken into a dog rescue and cared for by a dedicated foster mom. Geraldine, Mark, and their dog Arlo (also a rescue) met Lark in April 2013, fell in love with her and were thrilled to adopt her.
Lark was then 18 months old. She was sweet, but shy and nervous. She had many fears, and avoided whatever worried her. She shied away from most dog toys and was very sensitive to noises;a squeaky toy could send her into hiding. Mark and Geraldine worked to build her confidence. They provided socialization opportunities, took her to dog school classes at TNT Dog Center in Midland, and introduced new activities. Geraldine was already doing agility with Arlo and hoped it would be a good fit for Lark, too.
Sure enough, Lark loved agility. Running, jumping, going through tunnels, climbing the A-frame and dog walk were all exciting. The only obstacle that briefly gave her pause was the seesaw because of its noise, but it quickly became more fun than scary. Geraldine registered Lark as an AKC Canine Partner, and by December 2013 she was ready to compete in Novice Agility.
Lark progressed rapidly. She reached Master's level in no time, and surpassed Arlo in her pursuit of points and double Q's. It seemed like her journey to MACH would be a quick one.
Then they hit a snag. Lark was running a course and about to go over a jump, when someone yelled what sounded like "no." It wasn't directed at her, but she froze. It seemed as if her fears of doing something wrong had come rushing back. It marked the start of a phase during which she would pause in places during a run, especially if an obstacle was located near the audience.
The team worked on rebuilding enthusiasm and confidence. Geraldine became a better cheerleader and teammate, and Lark refocused on what she loved to do: run an agility course with her partner. She showed her joy at each run's end with a happy, celebratory spin.
On July 1, 2017, Lark and Geraldine had a perfect run, earning the last few points needed for Lark's MACH title, at the Michigan Boxer Club trial.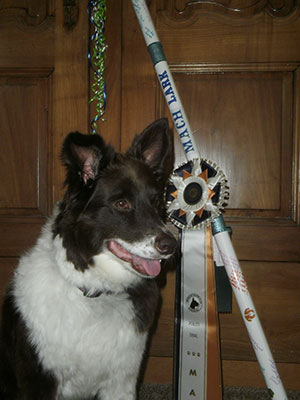 Lark
MACH T.N.T. MXB MJB owned by Shenna Lemche of Cedar, MN
T.N.T. "Dynamite!" is a 6-year-old All-American who seems to be just made for agility. She holds many accomplishments including representing the USA on the European Open team in Hungary and Germany. Dynamite! earned her MACH on May 13, 2017, at the Twin Cities Obedience Training Club trial, and now proudly holds four agility championships. "She just keeps getting better," Shenna said.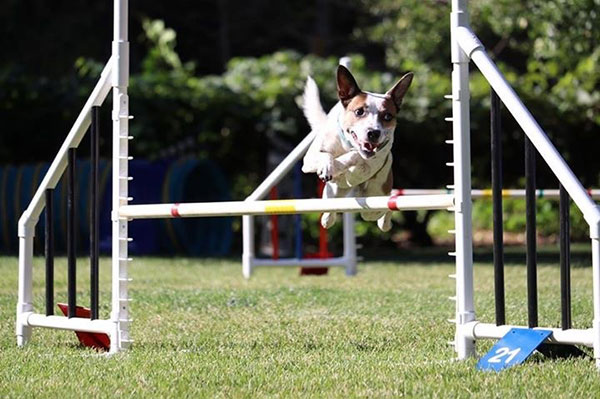 Dynamite!
Congratulations also to these first-time MACHs:
MACH Dancing Dogs Shiner Bock CDX RA MXB MJB XF owned by Mary Waugh Swindell of Boyd, TX
MACH Some Like It Hot MXB MJS XF T2B owned by Valerie and Bruce Crawford of Austin, TX
MACH Averie MXB MJB XF T2B owned by Samantha Ferrie of Little Elm, TX
MACH Penny For Your Thoughts RAE MXB MJB XF T2B CAA CGC owned by Mandy Kleiman of Westerville, OH
MACH Haley's Buddy Pogo MXB MJS XF T2B2 CGCA owned by Elisabeth Marr of Galena, OH
MACH Sullivan's Remy MXB MJB CGC owned by Robert E. and Kit T. Sullivan of Richmond, VA
MACH Cote MXB MJS OF CGC owned by Jim and Lisa Koras of Wethersfield, CT
MACH Euro Boy Make a Big Noise MXB MJS OF T2B RATN CGC owned by Joe Felix of Cincinnati, OH
MACH Resq's Dopamine Rush RN MXB MJB MXF T2B FM CGCA owned by Rosemary Strasser and Miguel Ordorica of Omaha, NE
MACH The Terra Mist Grazianna MXB MJS MFB owned by Mark Ostrich of New Orleans, LA
MACH Flying Seamus MXB MJB XF T2B2 owned by Becky S. and Stephen W. Stanczyk of Graham, WA
MACH Rrh Lulu MXB MJS owned by Denise Tudor-Hayes of Loveland, OH
MACH Sheriff Brooks of Powderhorn MXB MJB NF T2B owned by Patricia Ann Evans and James William Evans of Manchester Center, VT
MACH Tuckman Of San Francisco MXB MJB XF T2B2 owned by Larry Rich of San Francisco, CA
MACH Windair's Little Princess MXB MJS NF owned by Valera Russell of West Point, IA
MACH Ozlo Of Ashbury MXS MJS owned by Kenneth O. and Patricia D. McNerney of Washington Township, OH
Preferred Agility Championships (PACH)
Multiple PACHs
Congratulations to these dogs who have earned more PACHs:
MACH PACH2 Joe Cain CDX RAE MXB MJB MXP5 MXPS MJP6 MJPS PAX2 XF CGC owned by Justin and Heather Sims of New Athens, IL
MACH2 PACH2 Boots II MXS MJS MXPB MJP5 MJPS PAX2 T2BP RATS CGC owned by Bari and Scott Boersma of Winchester, CA
MACH2 PACH2 Mckinney's Dexter MXS MJS MXP5 MXPS MJP6 MJPS PAX2 MXF NFP T2B owned by Colleen Janette McKinney of Lexington, OH
PACH2 Keno Ocb NA NAJ MXP9 MXPG MJP8 MJPG PAX2 owned by Paula J. Maxwell of Harrisonburg, VA
PACH3 Crosby's Quinn MXP9 MXPG MJP13 MJPB2 PAX3 MFP owned by Krisanne Crosby of North Chesterfield, VA
PACH7 Harvey's Casper AX AXJ MXP25 MXPS3 MJP26 MJPS3 PAX9 CGCA owned by Ronda Lauren Harvey of Calabasas, CA
Congratulations to these first-time PACH recipients:
PACH Pr'Alasco's Kvichak MXP3 MXPB MJP4 MJPB PAX owned by Karissa Solberg of Cookeville, TN
Kaiser, a 9-year-old Alaskan Klee Kai, earned his PACH on June 25, 2017, at the Murfreesboro Obedience Training Club in Murfreesboro, TN. Kaiser is the first of his breed to earn the title of Agility Champion in AKC Agility. He started competing in AKC agility in May 2013. He attended the AKC National Agility Championships in Georgia this spring and was the third place dog in the 8" Performance division. Kaiser has struggled with the consistency aspect of AKC agility over the years but has had a great year. Owner/handler Karissa Solberg owns and operates Agility Acres Dog Training in Cookeville, TN.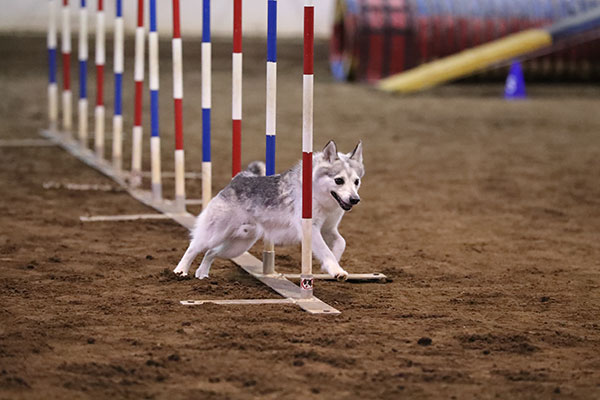 Kaiser
PACH Darci Mae AX AXJ MXP4 MXPB MJP3 MJPB PAX NF CGC owned by Mari Jo Reese of Altoona, PA
Darci is a 9-year-old nine-pound mix who came into the hearts and lives of Mari Jo Reese's family in an unusual way. "On the morning of the first anniversary of the tragic death of my 29-year-old son John," said Mari Jo, "I opened my phone and there was this picture of the sweetest little baby girl sent to us straight from Heaven. At the time, I already had three dogs and really didn't want a fourth but because of the circumstances there was no way I could walk away."

They started agility just to have fun. After years of classes they finally went to their first trial and became hooked after qualifying in their first run. Since then, they have "made many awesome memories," said Mari Jo.

"Darci is well known for her perpetual puppy looks and sweet nature. She is a total little tom boy. No cuddly little princess here! We thought it would take years for her to acquire 750 points – that's no easy feat when your little legs are only four inches long! But she did it and we are so proud of her. She has the heart of a lion in a little teddy bear body and is the love of our lives.

"She is already working on her PACH 2! We are looking forward to many more fun memories in the future. The addition of her new Aussie sister Roxi has spurred her on to greater heights in the agility arena so who knows? Little legs a leapin'! Go Darci, go!"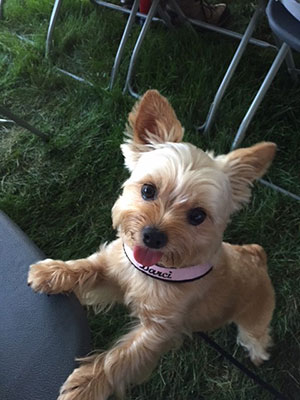 Darci
PACH Audrey R. Bean AX AXJ MXP3 MXPB MJP4 MJPB PAX OF MFP T2BP owned by Lynda Folwick of Upper Marlboro, MD
Audrey Rae Bean was one of a surprise litter of pups from a female who was too sick to be spayed before getting too far along in her pregnancy. 

"We thought we were rescuing one dog from a high-kill county shelter - turns out we rescued five!" said Lynda Folwick. 

By the time Audrey was 4 weeks old, she was watching Lynda's every move from inside the whelping pen while the other pups played around her.

"I said to myself, 'there's my agility dog!' and knew immediately she was staying." 

Serious, smart, and eager to please, Audrey earned her AKC Canine Good Citizen award at 7 months and went on to obedience, lure coursing, and dock diving. But their real love is agility. 

Audrey started competing in Novice A in August 2013, and earned her PACH on June 11, 2017, at Oriole Dog Training Club's (Artful Dodgers) agility trial in Baltimore, MD. "Now she's working on a MACH, because this All-American girl can do whatever she sets her paws to!"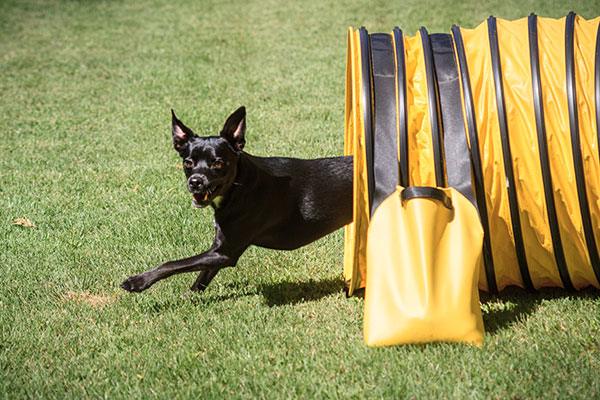 Audrey
PACH Manchey's Cowboy RN MXP6 MXPS MJP5 MJPS PAX owned by Theresa A. Manchey of Strasburg, VA
Cowboy was found during a snow storm in February 2010 huddled with his sister under a bush, nearly frozen to death. 

He came to Theresa Manchey in April 2010 at 14 weeks old. They began their journey as an agility and therapy dog team. Along the way Cowboy overcame a health crisis that threatened his agility career, but he has "proven to be a tough little guy," says Theresa.

He makes regular therapy visits to special needs children in two schools and participates in exhibition programs sponsored by her training club, Blue Ridge Dog Training Club. Cowboy also holds titles in rally and tricks. He earned his PACH on April 7, 2017, at the Capital Dog Training Club of Washington, D.C. Trial in Frederick, MD.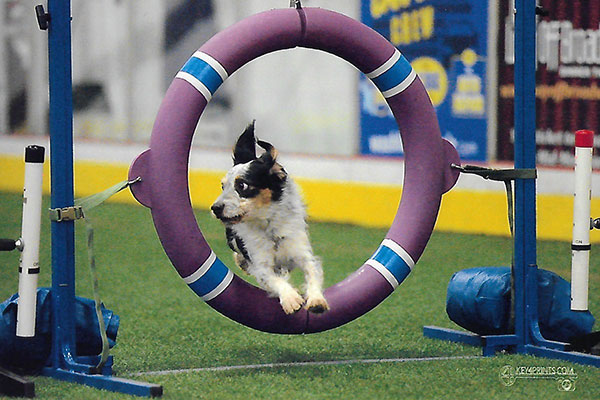 Cowboy. Photo by Key4Prints.
MACH3 PACH Allie G MXC MJS2 MXP3 MXPB MJP3 MJPB PAX NF owned by Molly Winder of Green Bay, WI
"Great things come in little packages, and that is my Allie girl," says Molly. "She will be 13 on Oct. 6 and still loves agility."

Last year after earning her MACH 3, Molly moved Allie to Preferred. "She shows no sign of stopping! She may not be the fastest one out there but she pours her heart into every run. I couldn't ask for a better partner," Molly said.

Allie earned her PACH on July 2, 2017, at the English Cocker Spaniel Club of Southern Wisconsin trial.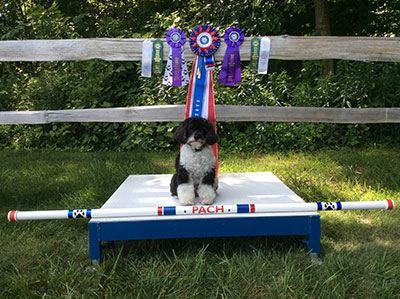 Allie
MACH10 PACH SAMANTHA MXS3 MJC3 MJPB PAX FTC1 MFC TQX T2B6 owned by Donald & Leash Eicher of Laurel, DE
Sami and Don started competing in AKC agility in 2010, and they were one of the five All American teams to compete at the AKC Agility Invitational in 2011. The pair earned their first MACH on June 6, 2011, and have gone all the way to MACH 10 on Nov. 5, 2016.

In the fall 2014, Sami was diagnosed with stem cell cancer. After two surgeries and a six-month recuperation, she returned to competition like a true trouper.

"The Blue Heron Agility Association of Delaware is our home training site and has given us the support, cheering, and encouragement that agility people all seem to share," says Don. "Sami is a people person. She figured out early on that the humans have pockets with treats in them or they will pet her, which makes for a happy tail-wagging pup."

Sami and Don have attended two AKC National Agility Championships, the latest in Perry, GA, and had a wonderful time. Now, at age 12 ½, Sami is still "QQing" as they continue their agility journey.

Sami's jobs at home include retrieving and delivering the morning newspaper and the daily mail, shoe fetching, and cleaning the kitchen floor.

On June 25, 2017, at the Gloucester County Kennel Club, at Total Turf in NJ, they earned their first PACH.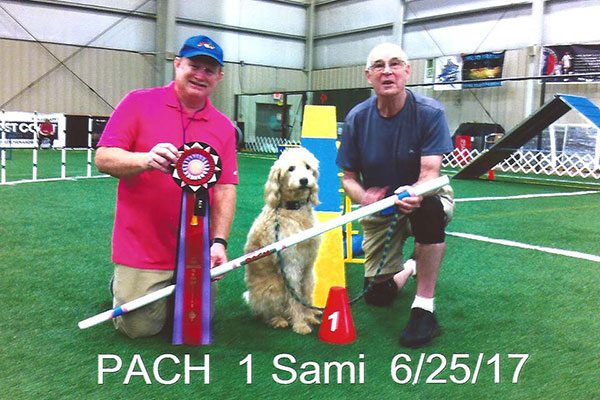 Sami
MACH PACH Quicksilver's Word Up RE MXB MJB MXP3 MXPB MJP5 MJPS PAX OF XFP T2B CA FM RATS owned by Penny Leigh of Graham, NC
Nine-year-old Cameo is a social butterfly who loves everyone. She is known for giving kisses and love nibbles to anyone who says hello to her.

Cameo has had a very successful agility career which includes earning a Master Agility Championship and Preferred Agility Championship. She also made the finals of the 2015 AKC National Agility Championship (NAC), winning first in the 12-inch Preferred class, and made the Challengers' round of the 2017 NAC.

In addition, Cameo is the first mixed-breed dog in the country to earn a Barn Hunt title and also has the AKC Rally Excellent title, as well as titles in flyball and coursing. She finished her PACH in early May at the Winston-Salem (NC) Dog Training Club trial.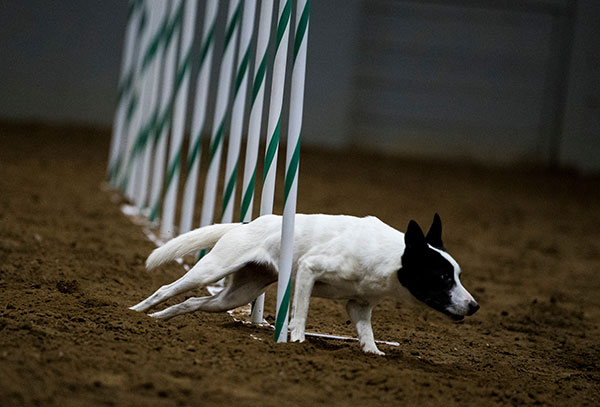 Cameo
Congratulations also to these first-time PACHs:
PACH Cayenne Shaw MJP3 MJPB PAX MFP T2BP owned by Trina R. Shaw of Cave Junction, OR
MACH PACH Bradley's Brandy RN MXG MJS MXP4 MXPB MJP4 MJPB PAX OF XFP T2B2 T2BP RATCH CGCA TKN owned by ALISON JOYCE BRADLEY/KEVIN NEAL BRADLEY of Fayetteville, AR
MACH4 PACH Little Miss Ginger Snap MXS2 MJG2 MXP3 MXPB MJP3 MJPB PAX OF T2B owned by Lisa D. Brooks of Houston, TX
MACH PACH Nezumi MXB MJS MXP3 MXPB MJP3 MJPB PAX MFB TQX MFP TQXP T2B owned by MICKELLA A ROSILES of Austin, TX
COURSING ABILITY
Coursing Ability Excellent (CAX)
Congratulations to these dogs who have earned the Coursing Ability Excellent title for passing the test 25 times:
Fox Hill's SirPrize BN RA CAX owned by Stephanie Shafer of Baltic, CT

SirPrize came to Stephanie at 9 months; he had been twice thrown into the pound before she got him. "He looked me in the eye the day he arrived," says Stephanie, "and said 'I won't let you down,' and he never has."
SirPrize also competes in dock diving, obedience and rally.  He finished his CAA April 30, 2017, at the New England Rhodesian Ridgeback Club Coursing Ability Test. "He never ceases to amaze me. He is my Heart Dog," says Stephanie.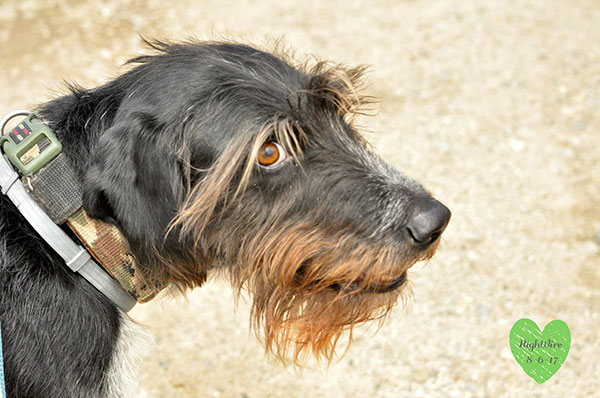 SirPrize
Pointador Cootie Gone Wild BN RA CAX owned by Janine E. Pollard of Greenbush, NY
On Oct. 13, 2010, as president of PointerRescue.Org, Janine Pollard was contacted about two pregnant Pointers at a shelter in Kansas. Within 24 hours both Pointers were being transported to a foster home in Colorado. Both moms went into labor at the same time on Oct. 17, whelping 21 adorable Pointer-Labrador mix puppies. At 8 weeks old, six pups were transported to Janine's house in New York for fostering.

One of the puppies, Darcy, was fearless, outgoing, always happy, and very easy to train. Having three dogs already, Janine was not sure she wanted a fourth dog. She decided to start training Darcy while in her foster care, and the pup exceeded her expectations of how quickly an almost-3-month-old puppy could learn. "There was no way I was going to let a dog this eager and talented slip away, so I adopted her. As for my other dogs, they were not as happy and decided she had 'cooties,' but as she got older they adored her too," said Janine.

Darcy has trained in obedience, rally, agility, scent work, and freestyle.  Janine has yet to find something she does not enjoy and learn quickly. Her absolute favorite sport is Coursing. "She goes insane the second I pull out her coursing lead and will bark like crazy when we pull into the CAT trial site. Not only does she love coursing, she is also really fast. I love training and competing in dog events with Darcy because she finds such joy in everything she does. No challenge is too hard, and she loves learning new things."

Darcy earned her CAX on May 7, 2017, at the Hudson River Valley Hound Association test in Westerlo, NY.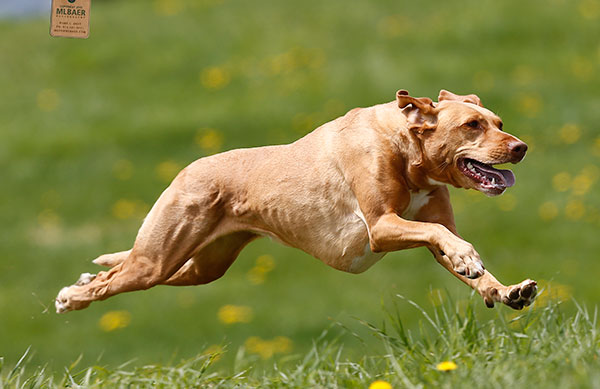 Darcy. Mark L. Baer, MLBaer Photography

Congratulations to these All-American Dogs who also earned their CAX titles:
Annie of R C CAX owned by Janet De La Torre of Rancho Cucamonga, CA
Gamboa's Sammy AX AXJ CAX owned by Karen Gamboa of  Phelan, CA
The Trouble With Trevor? Whippets! CAX owned by Maribeth Shanley of Halfmoon, NY
Bailey's Irish Kreme RN AX OAJ CAX CGC owned by Kay Jennerwein of Simi Valley, CA
Little Golden Whirlwind CAX CGC owned by Ken Rosenberg of Madison, WI
Fast CAT
Congratulations to these dogs who earned Fast CAT titles:
DCAT Ingomar Di Mancini Torsione Pane RN CAX8 DCAT CGC owned by Katharine Renner of Sewickley, PA
BCAT Pippa Inglehart CA BCAT DS owned by Miriam and Stephen Inglehart of Euless, TX
Cody38 CA BCAT owned by Debbie Lajoie of Buda, TX
Maria Saintly Collorafi BCAT owned by Susan Marie Collorafi of Schertz, TX
Wylie Texas Fottler Sox BCAT owned by Gordon Douglas Kane and Lori Laine LaGasse of Allen, TX
Wylie Texas Fottler Sissie BCAT owned by owned by Gordon Douglas Kane and Lori Laine LaGasse of Allen, TX
Ingomar Di Mancini Torsione Pane RN CAX8 DCAT CGC owned by Katharine Renner of Sewickly, PA
Creek Ridge Found In A Pickle CD BN RE CAX3 BCAT ACT1 CGCA owned by Terry Lane of Peachtree City, GA
Iyong Tapat Kaibigan FDC CAX9 BCAT owned by Stephanie Joan Markgraf of Burlington, NC
Lauren's Zoo Rez BCAT owned by Lauren Smitherman of Mobile, AL
Cookie O NA NAJ CA BCAT owned by Amy Okrasinski of Titusville, FL
Diva XIV NJP CAX BCAT owned by Debra Lajoie of Buda, TX
Rising Tide of Middle-Earth RN NAJ BCAT CGC owned by Erin Cox of Starkville, MS
Kibo's Femke CA BCAT owned by Chad C. Taylor of Crestview, FL
Big Hickory Zelda CA BCAT owned by Wanda Thrasher of Foley, AL
Buddy Robertson CAA BCAT owned by Lisa and Lizzy Robertson of King, NC
999 Happy Haunts, There's Room For One More CAX2 BCAT owned by David and Jennifer Light of Leesburg, VA
Chase's Crazy Train BCAT owned by Sharyl Barnes of Shelbyville, TN
American Super Margo Scarlette CA BCAT owned by Elizabeth M. Frum of Whitehall, OH
Ruby in The Rough OA OAJ BCAT CGC owned by Katharine Marshall Lenhart of Dayton, OH
Lucky Lucy Lu BN RA OA OAJ OF CA BCAT CGCA TKA owned by Sharon Porter/Michael Porter of Wooster, OH
Pickle Pickle CA BCAT CGCA owned by Georganna L Acord of Frazeysburg, OH
St. Christopher CA BCAT CGC owned by Georganna L Acord of Frazeysburg, OH
Mozart's Fly Me to The Moon BCAT owned by Valerie Aldred of Charlotte, NC
Meadow Full of Misty Purple AX OAJ CA BCAT TKN owned by Willow S Martin/Randi G Martin of Williamsburg, VA
Ninja Noodle CA BCAT owned by Dianne Winterling Cottrell of Winston Salem, NC
Woodacre's Little Big Man CAX2 BCAT owned by Jackie Phillips of San Leandro, CA
Axle Chumley BCAT owned by Gene K. Chumley of Abingdon, VA
MACH3 Folly Farnsworth MXC MJC XF T2B2 BCAT owned by Trudy and Sean Price of Kingsport, TN
Maycomb's Mockingbird NAJ CAA BCAT owned by Chelsea Burroughs of Seattle, WA
Licorice Miller CAX2 BCAT CGCA owned by David H. Miller of East Greenbush, NY
Ely-Harmony Woods Mad Madison AX MXJ CAX2 BCAT CGCA owned by Mari Coderre of Freehold, NJ
Siendo's Daniel Boone NAJ NF CAX BCAT ACT1 owned by Mari Coderre of Freehold, NJ
 
OBEDIENCE
New Obedience Trial Champion (OTCH)
Congratulations to OTCH Lola Sugar and Spice UDX PCDX OM1 BN GN GO RE CAA CGC, just the fourth All-American Dog to earn the AKC Obedience Trial Championship. Lola is owned by Kathryn Harvey of Apple Valley, MN. Lola also recently earned the Utility Dog Excellent (UDX) title.
Congratulations also to these dogs who earned the UDX title or additional UDXs:
OTCH Lola Sugar and Spice UDX PCDX OM1 BN GN GO RE CAA CGC owned by Kathryn Harvey of Apple Valley, MN
Kamigirl UDX BN GO RA owned by Darilyn Harding of Butler, PA
OTCH Henry Head Over Heels UDX2 PCDX OM3 BN GN RE THDA CGCA CGCU owned by Kathryn Harvey of Apple Valley, MN
Sassy Sissy UDX3 OM4 CGC owned by Donna Hartwig of Big Rock, IL
RALLY
Multiple Rally Advanced Excellent (RAEs)
Congratulations to these dogs who have added more RAEs to their names:
Our Sweet Waally Waally Wabbitt CD PCD BN RAE10 owned by James and Barbara Roberts of Lakeland, FL
Bossman Sweetater Freighter RAE17 owned by James and Barbara Roberts of Lakeland, FL
Kaytee CDX PCDX BN GN RAE2 CGCA owned by Rhonda Derrickson of Springfield, OR
Grand-View My Retirement Plan BN RAE2 TD owned by Patricia Simon of Borden, IN
RAEs
Congratulations to these first-time RAE recipients:

Chico Bandito RAE owned by Beverly K. Clark of Springdale, AR
"On a late night in May 2007 my daughter Heather was on her way home from work when she noticed a puppy wandering by the roadside," says Beverly Clark. "She stopped to check on the puppy, leaving her driver's side door open and the puppy jumped into her car. She brought him home and after days of searching for anyone who knew anything about him, we decided to keep him."

This is how Chico Bandito became part of Beverly's family. Her daughter soon left for college, and Chico stayed with Beverly. "I decided to see how he would do in rally training and the rest is history. On July 2, 2017, he finished his RAE title in Oklahoma City. In the 29 times he competed in rally he never NQ'ed, and his average score was 92. Not bad for a little dog who was once left behind."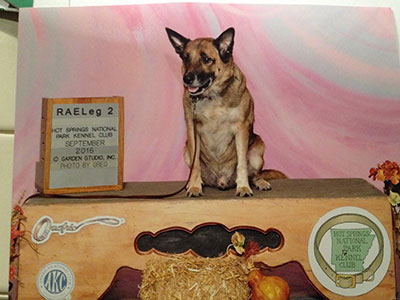 Chico
Emmy Grace Semeraro CD PCD BN GN RAE CGC TKN owned by Karen and Joseph Semeraro of Brentwood, TN
Karen says 7-year-old Emmy is "my special blessing and I am so thankful to have her!"

Karen and Emmy train with the Nashville Dog Training Club (NDTC) in Nashville, TN, and have earned numerous titles in several sports.
Emmy earned her RAE on July 2, 2017, at the NDTC trial. In addition to earning the title, she received the top scores all around for the event. "What a great honor and feeling it was as we had put forth a lot of training," said Karen. "Along the way we met some amazing people and their animals. I learned a lot by just watching some of these great owners with their dogs."

Emmy and Karen attended for the AKC Rally National Championships in Perry, GA in March. "It was an awesome experience! Both of us were a little nervous so had a small oops on the first run. Never the less, we did finish in the top 25-30 entries. I hope to attend 2018 trials and show in RAE."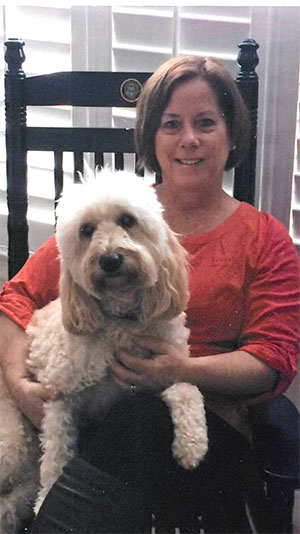 Emmy

Justamere Pita CD BN RAE CGC owned by Patricia W. Small of Mechanicsville, VA
Pita was brought into the veterinary practice where Patricia works by an animal control officer who had picked him up as a stray with a collar deeply embedded in his neck. The practice nursed him back to health over the next few weeks and decided they wanted to find a home for him instead of returning him to the shelter. Several of the techs took turns keeping him and Patricia finally decided to adopt him as it was not fair for him to be passed around. He needed a stable environment.

"It was one of the best decisions I have ever made. Since coming to live with me, Pita has become a certified therapy dog, and we visit retirement homes, participate in the Special Olympics visiting the children, sit quietly in Read 2 Rover programs at an elementary school, and support the SPCA dog jog to help raise money for the animals in their care," said Patricia.

With his caring and wanting-to-please temperament, Patricia decided to train him for competitions. He breezed through his RN, RA and RE titles so she decided to go for his RAE. "Not surprising to me he completed his title by getting double Q's in 10 straight competitions, finishing on July 2 at the Southern Maryland Kennel Club trial. Now we will be attending a seminar to learn about the new Masters Rally Title in hopes to add that to his name.

"Pita is a wonderful addition to my family and has encouraged me to participate in activities I never dreamed I would be doing. He is around 6 years old and I hope he will be with me a long time."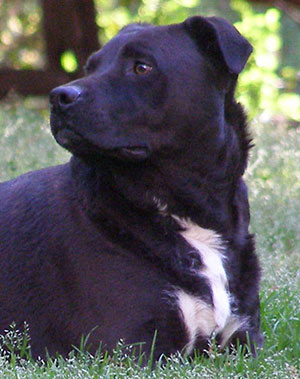 Pita

Congratulations to these dogs who also earned RAEs:
Gabe V CD BN RAE NA NAJ RATO CGC owned by Julie and Tom Wittry of Dorchester, IA
Ripple in Still Water CD BN RAE NF CGCA TKA owned by Amelia Wiley of Middleburg, FL
Dempsey's Dumpster Diving Diva BN RAE NA NAJ owned by Sheila and Shaun Dempsey of Jane Lew, WV
TRACKING
Congratulations to this recipient of the Tracking Dog Excellent (TDX) title:
Shaffer's Sullivan VCD1 BN RE TDX OAP OJP NFP CA CGC owned by Cherie Shaffer of Whittier, NC
Sully, a Standard Poodle mix almost 5 years old, found his forever home with Cherie at 6 months. It quickly became evident that his "high energy" and "creative thinking" needed some direction.
"I was excited to learn that as an All-American dog he could compete in many AKC events," says Cherie. "We happily tackled rally, obedience, coursing, agility and tracking. He loved it all! Sully especially enjoys tracking, earning his TD and TDX on his first attempts."
The pair is training for VST and aiming for a Champion Tracker title. Sully has also earned VCD2, RE, CDX, CGC, CT titles and competes in agility at the Excellent level. "Best of all he is the furry, loving and funny companion who shares and enriches my life."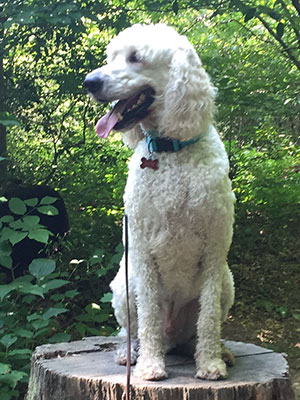 Sullivan

Congratulations also to this dog who earned the Variable Surface Tracking (VST) title:
Sype's Harlie RN VST TDU THD CGCA CGCU TKN owned by Gail and George Sype of Rossford, OH
Congratulations to these dogs who earned the Tracking Dog (TD) titles:
Sweet Charlie TD owned by John Heilman of Bozeman, MT
That'll Do No Dye Packs RN TD owned by Rochelle Fugate of Montgomery, OH