Sled Dog's Actions Save Owner's Life
Husky mix Flint earned an honorable mention honor in the 2016 AKC Awards for Canine Excellence (ACE) awards for his heroic actions in leading his team home after his owner was badly injured on the trail.
Nearly 10 years ago, dog sledding enthusiast Helen Corlew started the difficult search for a new lead dog.
The former treasured lead of her team, an Alaskan Malamute, passed away from lymphoma, and Corlew knew it would take a very special dog to fill his role.
"Lead dogs have to be intelligent, confident, and willing to follow commands but also able to think and solve problems and one that I trust and it trusts me," Helen said. " I look for the things I mentioned but also I look for a dog that is very in tuned to me, wanting to please me but not clingy."
The North Dakota resident heard about a litter of husky mixes in Alaska that were bred to run traplines and could have all the elements she desired. It was good timing as her husband was on sabbatical in Alaska, and she asked him to take a look at the pups. Before she knew it, her husband was on the way home with a 9-week-old fuzzy recruit.
"Flint's dam looked very much like a Siberian husky, but his sire was a trapline Alaskan husky so a mix of Siberian husky, possibly malamute and whatever else people that run traplines have available to create the type of freight dog they need: tough feet, nice double coat to tolerate the cold and wind, and long legs to be able to break trail."
Corlew was not disappointed in her high expectations for the pup. Flint proved to be smart and responsive and went into training with the goal of being lead.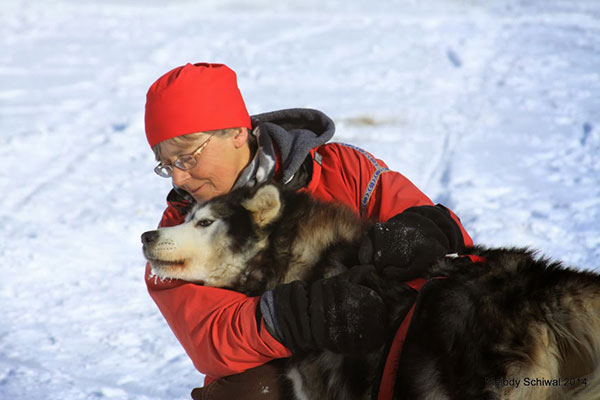 "Flint became a lead dog by me rotating him in lead with my steady command leader Gavin, a Samoyed. Flint was rotated to the position and was comfortable being in front of the team, plus he picked up on commands quickly. He learned from Gavin how to listen for commands but also Flint is allowed to think and I could see he understood he was leading and it was not just him out there."
Flint assumed the role of a lead dog in short order and did not disappoint. His most difficult task came unexpectedly on a beautiful, but brutally cold, winter morning in February 2016 when Corlew decided to hitch up seven dogs and take a fun run.
"We were on our way home after seven miles, and I decided to take the dogs on a mile-long loop through a field with tall grass, which we had not done in a while. The trail was not obvious anymore and not packed at all. But I knew the dogs could handle it.
"While in the field a jack rabbit suddenly jumped up to the left of the team, and I did not respond fast enough. The team decided to do a quick turn to the left to chase. I lost my balance and came down on my right knee on the ground. Sled and dogs kept going. I went to stand up and fell again in extreme pain in my right leg. I yelled 'whoa' and hoped they would.
"Flint was in lead and he slowed down, and about that time the two snow hooks bounced off the sled and hit the ground and actually stuck into the snow to completely stop the team. Now I am a good 25 yards or more from the team and cannot walk, so I crawled to the sled. It had to be adrenalin because I am not sure how I stood on just my left leg, but I did and then I evaluated the team for tangles and was amazed there were no tangles.
"I was hoping the dogs remembered all the miles of training 'easy' since I could not stand on the sled brake and needed to keep my good leg on the runner. The other problem was we were in a location where the dogs had ever been. I had to trust Flint to listen to my voice commands to go across the field, which I knew would bring us to one of the trails to the house.
"Flint traversed the field on uneven, unbroken snow with a steady pace as if he knew I could not use the brake at all. Flint did each gee/haw (move to the right/left) when I directed, and he never gave up even though he was not sure where he was headed. He sensed the regular trail ahead of him before he could see it, but he did not speed up but just stayed at the easy pace I needed to stay upright. He took the team around a row of trees with ease, and I stopped the team then to make a call on my cell for help. Flint led the team at a nice easy pace for the last mile to our yard, and he held the team there for over an hour until my husband arrived to take care of the dogs. Flint kept calm, which helped the other team members to stay calm and focused to bring me home. "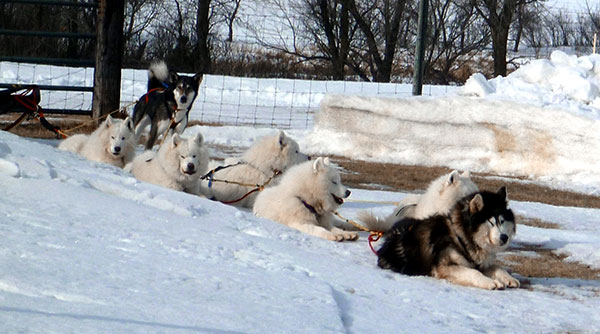 Corlew's leg was in bad shape. She broke the tibial plateau (top of the tibia so the lower weight-bearing bone) and the top of her fibula on her right leg. She is still under a doctor's care for the injury more than a year later.
The injury has hampered her ability to go dog sledding, a passion she has had for 17 years, and delayed her ability to share the sport with others as she used to do educational programs for church, scouting and tourist groups.
But she says she might not even be alive today if it was not for Flint. His heroic actions earned Flint an honorable mention honor in the 2016 AKC Awards for Canine Excellence (ACE) in the category of Exemplary Companion Dog.
"Because of his ability to listen and perceive something was wrong with me, he led the team slowly to home. The temperature that day was below zero degrees, and I was dressed to be out in the cold, but not to deal with a tibial plateau fracture. Because of Flint's abilities to lead and the strong bond between us, I know I was brought home safely."