Bella: An Unlikely Therapy Dog
Nine years ago, Jean Baur took on a rescue puppy from Puerto Rico. Bella was sweet, but she was a handful – full of wild energy and issues like noise fears and reactivity to some dogs. But Jean knew Bella had something special to share and through training and love, Bella became a therapy dog who has spread happiness at hospitals, nursing centers and schools. Jean, a writer now living in Connecticut, has produced a book about their journey: Joy Unleashed: The Story of Bella, An Unlikely Therapy Dog.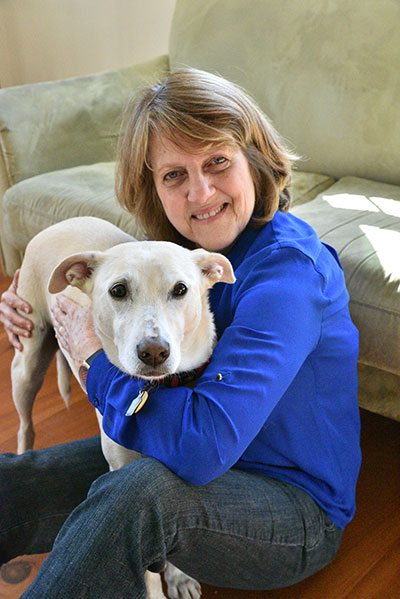 Dogs had always been a part of Jean Baur's life, but training them never entered her mind.
While growing up, her family's dogs ran their country property and never had to be on leashes. Later, she adopted a year-old rescue collie-shepherd mix who had been trained by a previous owner and came equipped with good manners.
But today, Jean knows a lot about training, thanks to Bella, a rescue dog with boundless energy and the need for an outlet.
Bella came from Puerto Rico as one of that country's hundreds of unwanted dogs that are dumped at a place called Dead Dog Beach. Luckily, the 4-month-old puppy was rescued and brought to the United States in 2007. Jean and her husband Robert Guarino, then residents of Pennsylvania, met her at a shelter in New Jersey.
"Our vet thinks she's a mix of lab, terrier and whippet. She might also have a bit of Mexican hairless as she has black skin and a high body temperature."
Bella was very sweet but also was wildly energetic so Jean enrolled her in a puppy obedience class in fall 2007. She took Bella to dog day care two days a week, and they took additional training classes.
"When she was about 2 years old, I told my vet that she was still driving us crazy--so much energy --and he said she needed a job. So we enrolled in agility classes and did that for two years from 2008 to 2010. Bella got pretty good at it, although her wild streak still made her unpredictable."
Bella competed in three agility competitions at which point Jean said she realized the sport wasn't the best fit for either of them. A career for Bella seemed unlikely.
But then Jean's neighbor told her she was taking her dog to classes to prepare for therapy dog certification and asked Jean if she would like to bring Bella too.
"I said 'Yes!'…even though I knew Bella had some things working against her: that terrier drive and independence, being head-shy, her fear of loud noises, thunder, fireworks, gunshots, etc., and her reaction to other dogs. She either loves them or hates them, but there's not much middle. So I knew it was going to be an uphill battle, but I also instinctively knew that she'd be great at it if we could pass the test."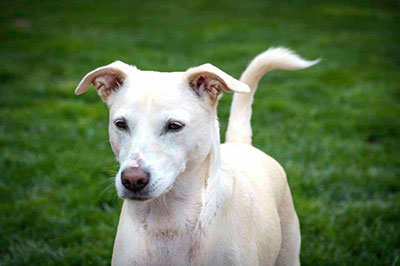 Their work began, and Jean practiced diligently with Bella. One of the first hurdles was taking the AKC Canine Good Citizen test, often a prerequisite for therapy dog certification. Bella passed and then in late 2011 she tackled the therapy dog test with Bright and Beautiful Therapy Dogs Inc.
"She passed the test with one provision: that we didn't work where we'd be in close proximity to other dogs. This meant not working in the courthouse. We agreed, and it hasn't been an issue in the schools, nursing homes, hospitals, cancer centers and colleges where we work."
Bella, however unlikely a candidate, was an official therapy dog and went to work in a hospital in January 2012.
Just as Jean thought, Bella did an outstanding job and quickly was in demand for her friendly, loving personality.
"At the hospital and nursing home, I'd stand by the door of a patient's room and ask, 'Would you like to see the dog?' It only took a few seconds to figure out if this was a yes or a no. I trained Bella to put her paws up on the side of the bed or wheelchair so the patients could see her, give her a treat, and pat her. The treats helped distract her from her head-shy issues. What was interesting was that Bella had her own ideas about what each person needed, so sometimes, instead of doing paws up, she'd leap onto the bed and curl up next to the patient. As I watched, I saw them relax, and even patients who were in pain, often smiled. In the nursing home, where we saw the same residents week after week, they would wait for Bella, buy dog treats for her, and tell her and me about the dogs they had had when they were younger."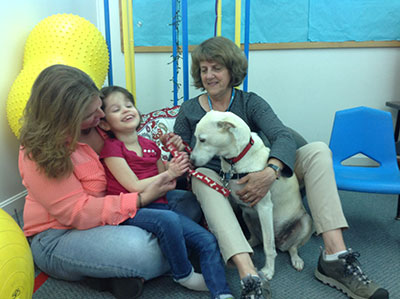 Working with children is also a specialty of Bella's. She became an integral part of a special education classroom in an elementary school.
"If they were able to read, they read a story to her. If they couldn't read, they showed her the pictures from a book. Then we had play time. This could be taking a walk outside (with two leashes so they could guide her), hiding a tennis ball to see how long it took for Bella to find it, or just hanging out. Bella was amazing. One boy with autism was deathly afraid of dogs, but within a few weeks was telling his teacher 'I want to see Bella.' A girl who was blind got her face washed by Bella and laughed. Other children loved the status of being the one with the dog."
Jean is a long-time writer so it was natural that she kept a journal about Bella's journey. "Writing a book about her evolved naturally and took about two years. With Bella having worked as a therapy dog for four years by the time my manuscript was due, she gave me lots of material to draw from."
Joy Unleashed: The Story of Bella, the Unlikely Therapy Dog was published in August 2016 by Skyhorse Publishing and is available in bookstores, on Amazon, as a Kindle book and in many public libraries.
Bella is now nearly 10 years old, and Jean has cut down a bit on her therapy visit schedule. But there are no plans to stop their volunteer work as Bella remains in high demand.
"Bella radiates sweetness and looks like a puppy," she said.
For more information on Bella and her book: www.joyunleashed.org.