AKC Title Recognition Program – Therapy Dog, Search & Rescue, Flyball, Barn Hunt, Dock Diving
The AKC now works with a number of non-AKC service and sports organizations to recognize the titles that AKC-registered dogs earn in their programs. This includes the AKC Therapy Dog titling program and the AKC Search & Rescue title program. AKC also recognizes titles of the Barn Hunt Association (BHA); North American Diving Dogs (NADD); and the North American Flyball Association (NAFA). For more information on how to apply for AKC recognition of these titles, go to: http://www.akc.org/dog_shows_trials/titles/ Read on to meet some of the All-American Dogs who are recent achievers in these sports.
AKC Therapy Dog Title
The AKC Therapy Dog Title program offers titles based on the amount of service that a therapy team has volunteered, giving more dogs the opportunity to earn the honor. Dogs also must be certified by an AKC-recognized therapy dog organization. The titles are:
AKC Therapy Dog Novice (THDN). Must have completed 10 visits.
AKC Therapy Dog (THD). Must have completed 50 visits.
AKC Therapy Dog Advanced (THDA). Must have completed 100 visits.
AKC Therapy Dog Excellent (THDX). Must have completed 200 visits.
AKC Therapy Dog Distinguished (THDD). Must have completed 400 visits.
We salute these All-Americans who are recent recipients of the THDD title for 400 or more visits!

Coale B. Shadow Sloan THDD CGC owned by Amy and Jeff Sloan of Mt. Juliet, TN
Coale is a 5-year-old Golden Retriever/Rottweiler mix. He and his owner/handler, Amy Sloan, are active members of Music City Love on a Leash. They visit a variety of settings around the Nashville area such as assisted living/memory care homes, rehabilitation facilities, special needs children, a VA hospital, schools, and community events.

Coale is most known for his soft fur, wet kisses, sweet personality, and large size, Amy said. Coale hope to motivate other therapy teams to continue their work to spread love and happiness by sharing wonderful pets.

When not "working," Coale enjoys playing with tennis balls, swimming in the lake, going to the dog park, and hanging out with his human family.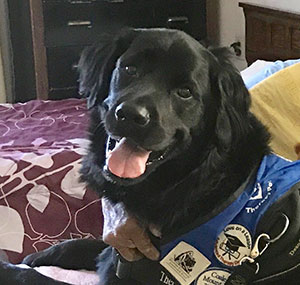 Coale
Memphis Whysall-Fraser THDD CGC owned by Beth Whysall-Fraser of East Garafraxa, Ontario, Canada
Six-year-old Memphis seemed as though he was born to be a therapy dog, right from the start, Beth said.

"He had this amazing empathy for people. He was calm and nothing fazed him. He also knew what I wanted from him before I even said the words. That's why I take no credit for the awesome Therapy Dog he has become."

Beth had Memphis certified as a therapy dog because she knew he would be able to help with her elementary class students who had some behavioral struggles. Her principal was supportive, and Memphis soon became a permanent fixture in that school (and in the school that she later transferred to). She still runs into parents of children from the first school who thank her for bringing Memphis.

Beth now teaches Special Education at a school in Orangeville, Ontario, and says "He is such an asset to the whole school. Sometimes we try and try and try to reach a child, and nothing seems to work. But I can honestly say that with the help of Memphis, I am now reaching those kids. From students who struggle with reading confidence, to students who need help making friends, to students having violent meltdowns, to students who just need a non-judgmental ear… I've seen it all."

In addition to their regular job of teaching, Memphis and Beth participate in a weekly Paws to Read program run by Therapeutic Paws of Canada, visit three retirement homes, and attend special events such as Exam Anxiety Rooms at high schools and colleges as much as they can. Beth recently became the team leader for Therapeutic Paws of Canada for Team Orangeville/Caledon, so is now part of running evaluations to certify more therapy dogs for her area.
"I have seen for myself the great joy that Therapy Dogs can bring to people," says Beth.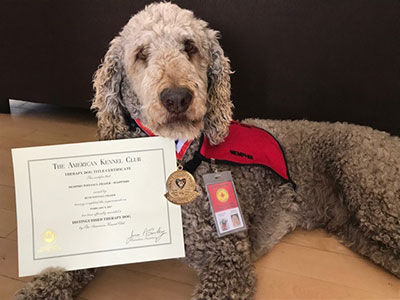 Memphis
CONGRATULATIONS ALSO TO THESE THDD EARNERS:
Precious Little Miss Lucy THDD CGC – Cindy Mayo of Tucson, AZ
Mayah RE THDD CGCA - Barbara Blakenship of Henderson, NV
Tinsel Kern THDD – Wendy Kern of Basking Ridge, NJ
Enchanted Pearls Aaron THDD CGCA CGCU – Marla Lea Bost of Austin, TX
Olivia Oros THDD CGC – Toni Oros of Buffalo, NY
Kawai's Lucy THDD CGC – Florence Kazue Kawai of Aloha, OR
Boy George THDD CGCA CGCU - Julie Scott of Dade City, FL
Frangelica Meloni THDD CGC – Kathryn A. Meloni of Chadds Ford, PA
Webber II THDD – Joanne Arndt Coe of Syracuse, NY
Salgado's Molly THDD - James L Salgado of Tampa, FL
North America Diving Dogs
NADD offers titles in both distance dock jumping and air retrieve for all dogs. Dogs receive titles based on how far they jump and only compete in the same division with dogs that jump similar distances. For more information go to www.northamericadivingdogs.com.

Congratulations to this All-American Dog for receiving AKC recognition of the top-level Dock Elite (DE) title for making five jumps over 23 feet:

Lexie DE owned by Janice Costa of Bethpage, NY
From an accidental litter between a black Labrador narcotics detection dog and a Belgian Malinois protection dog, Lexie came from strong working lines. She wasn't cut out for narcotics work like others in her litter, but she had plenty of play drive and she loved water and balls, making her a natural for dock diving.

When Lexie got excited watching the action at a dog fair in New Jersey, Janice decided to give it a try. Lexie needed no coaxing – she jumped right in and surpassed 16 feet by the end of her first day. They were only signed up as a "try it," but the event organizers were supportive, giving Janice tips on throwing techniques and helping with timing. Soon they were competing.

"At our first NADD event in 2015, I was thrilled to learn that Lexie could earn AKC titles as a mixed breed. I immediately registered her with AKC, and my All American Dog was ready to go for the gold," says Janice.

In May 2016, the AKC Ladies Kennel Association & Long Island Kennel Club hosted its first-ever NADD dock diving event. Lexie was by this time jumping about 20 feet but Janice thought that with four straight days of diving they could add a few feet to that. Lexie did not disappoint, taking home her Dock Master title plus four legs of her Dock Elite title. She also won first place in the competition with her best-ever jump of 26 feet, earning an invitation to the NADD National Championships.

They needed another big jump to earn the Dock Elite title. On a chilly Oct. 16 at AKC's The Harvest Cluster in Augusta, GA, Lexie got her chance. Janice was warned that dogs didn't always jump well in the cold, but Lexie was unfazed. She earned her DE that afternoon with a jump of 24-feet-6-inches.

Lexie was one of 20 dogs chosen to compete at the National Dog Show in Philadelphia in November 2016, where she jumped with the top-ranked dogs in the country. The pair joined a newly formed local club, Long Island Dock Jumpers, and are looking forward to getting to know other dogs and handlers who are as passionate about the sport as they are.

"Lexie turns 8 this June, but you'd never guess it to see her on the dock. And nothing makes me happier than watching her fly through the air, a big smile on her face, seeming to defying gravity. In those moments, when there's nothing in the world for her but me, her toy, the dock and the water, she really does epitomize the spirit of the All-American Dog -- joyous, athletic, excited and just so happy to be outside on a beautiful, sunny day, running, chasing and playing this fabulous game with her human BFF. I feel the same way!"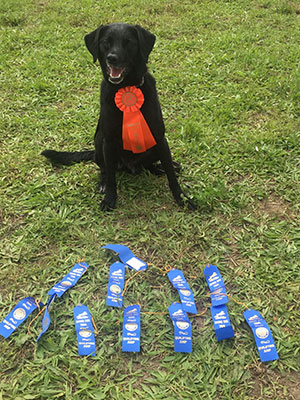 Lexie
North American Flyball Association
AKC recognizes three titles of NAFA competitors – the Flyball Dog Champion (FDCh) for 500 points; Flyball Master (FM) for 5,000 points; and the Onyx award for 20,000 points. For more information on NAFA and how to get involved go to www.flyball.org
Congratulations to this All-American Dog for earning the FDCh:
Flynn Romeo Ivory FDCH owned by Maurusian Ivory of Blue Island, IL
Barn Hunt Association
The BHA enables all dogs to participate in the sport of hunting for vermin. Dogs track rats safely enclosed in sturdy tubes that are hidden among hay bales. The titles range from Novice level to Champion to Champion Excellent. Go to www.barnhunt.com for more information.Congratulations to All-American Dogs who recently received recognition of their BHA titles:
RATCH (Barn Hunt Champion)
Susie Cory Santangelo BN CAA BCAT RATCH CGC owned by Sissy Santangelo of New Orleans, LA
Susie was just a small puppy when she was discovered huddled under a house in Mississippi. A friend of Sissy's took her in for about a year, but couldn't keep her, so Sissy took her on and started training her. She quickly discovered that Susie is very smart and willing to please.

Sissy competed in Barn Hunt with her other dog, who loves it, and decided to see if Susie would be interested. At her first trial, she made it clear that she was.

"She was awesome and had a blast," says Sissy. Susie passed her sister up and continues to excel in the sport. She earned her RATCH on Sept. 5, 2016, at NOLA Barn Hunt Friends Trial.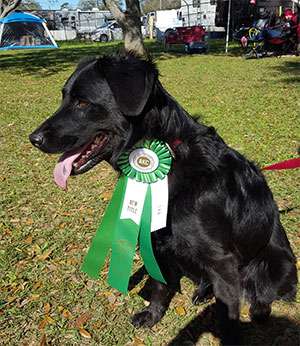 Susie

Also congratulations to New RATCH:
Vespa NA AXJ OF RATCH CGC owned by Suzanne Laird of Winnsboro, LA