AKC Title Recognition Program – Therapy Dog, Search & Rescue, Flyball, Barn Hunt, Dock Diving
The AKC now works with a number of non-AKC service and sports organizations to recognize the titles that AKC-registered dogs earn in their programs. This includes the AKC Therapy Dog titling program and the AKC Search & Rescue title program. AKC also recognizes titles of the Barn Hunt Association (BHA); North American Diving Dogs (NADD); and the North American Flyball Association (NAFA). For more information on how to apply for AKC recognition of these titles, go to: http://www.akc.org/dog_shows_trials/titles/ Read on to meet some of the All-American Dogs who are recent achievers in these sports.
AKC Therapy Dog Title
The AKC Therapy Dog Title program offers titles based on the amount of service that a therapy team has volunteered, giving more dogs the opportunity to earn the honor. Dogs also must be certified by an AKC-recognized therapy dog organization. The titles are:
AKC Therapy Dog Novice (THDN). Must have completed 10 visits.
AKC Therapy Dog (THD). Must have completed 50 visits.
AKC Therapy Dog Advanced (THDA). Must have completed 100 visits.
AKC Therapy Dog Excellent (THDX). Must have completed 200 visits.
AKC Therapy Dog Distinguished (THDD). Must have completed 400 visits.
We salute those All-Americans who are recent recipients of the THDD title for 400 or more visits!
Tyler Leon Allegretta THDD owned by Patricia Allegretta of North Bergen, NJ
Tyler is an 8 year old Maltese who is certified by Bright and Beautiful Therapy Dogs. He has been doing therapy work for the past six years. He visits many places including Holy Name Hospital and Englewood Hospital, as well as many nursing homes. He has been recognized by both hospitals for outstanding service. He is a delight to hold and behold.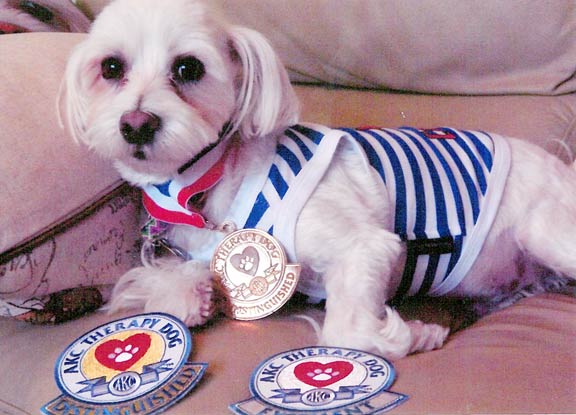 Tyler
Tripper Amy THDD owned by Deanna & Laurence Wade of Bradley, ME
Deanna served as a Hospice volunteer and shelter manager and noticed that residents always perked up when pets came to visit. This was especially true for people who once had pets and could no longer have them because of health or age issues.

The couple realized that their Newfoundland dog, called Bella, had the right temperament to make a great therapy dog. After becoming certified, she started with troop greetings at the airport.

"These troops were returning from Iraq, and they were overjoyed to see a dog after being in a war zone for a year," Laurence said. "This was very rewarding."

Bella has made appearances at Boy Scout and Girl Scout events; visited libraries and day cares, the YMCA, and even a reading program for kindergarteners.

Currently Bella does her therapy dog magic at nursing homes and cancer care centers. She also visits the pediatric and rehabilitation departments of Eastern Maine Medical Center.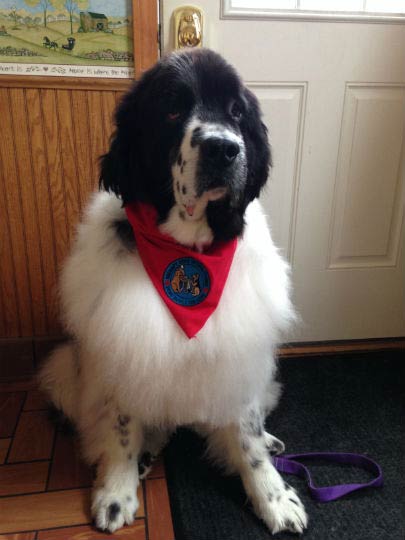 Bella
Coconut THDD CGC owned by Dr. Elizabeth Lynch of Greenwich, CT
Elizabeth adopted Coconut from The Yonkers, NY, Animal Shelter, where he was owner relinquished after being locked in a basement for three years. "I was looking for my next therapy dog, and I thought that I saw something good in his face. He was completely untrained, missing a lot of hair, bow legged, and wild. He came with the name Coco, but my kids promptly added the 'nut' to the end because he was so crazy," Elizabeth said.

She enrolled Coco in the Family Manners Obedience classes at Port Chester Obedience Training Club. "We repeated many classes, but managed to advance slowly through the sequence. With exercise and care, his legs straightened out, and his hair grew back in, revealing a small golden heart on his chest. It was a sign!"

One year after his adoption, Coconut passed the AKC Canine Good Citizen test and went on to be registered as a therapy dog with the Good Dog Foundation and Pet Partners (previously the Delta Society). Today he visits in two hospitals, including intensive care, cardiology and a cancer center, as well as several schools as a reading therapy dog.

"I was so lucky to find Coco, and he is happy making other people happy. What a great job to have in life."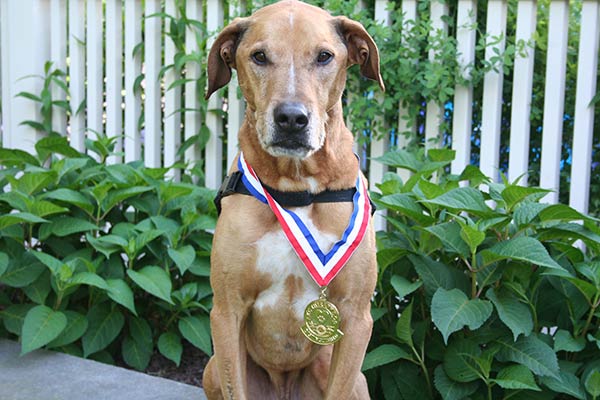 Coconut
Mazie Grace THDD CGC owned by Beverly Hammett of Starkville, MS
Mazie was born on Aug. 29, 2010, in Selymar, CA, where she was trained by Guide Dogs of America to assist people with vision impairments. Beverly trained with Mazie in October 2012 and then they returned home to Mississippi where Mazie was quick to get to work.

"Mazie serves as a mentor and an educator as to what service and guide dogs can do," Beverly said.

In addition, Mazie serves in many other capacities. "The first venue where Mazie shines is in the nursing home. While there, she does friendly visiting and encourages those undergoing physical therapy. For example, the patients can throw a ball, and Mazie can catch it," she said. "The second venue Mazie serves is in the Boys and Girls Club. Here, Mazie provides a time for children to be comforted. She also serves as a great listener while children are practicing reading skills."

Mazie received an award for four years of service at the Boys and Girls Club. In addition, Mazie also visits libraries, churches, daycares, hospitals, civic organizations, and more.

"Mazie Grace is multi-talented and shows all her skills as she is working as a therapy dog, guide dog, and animal assistance team dog," Beverly said.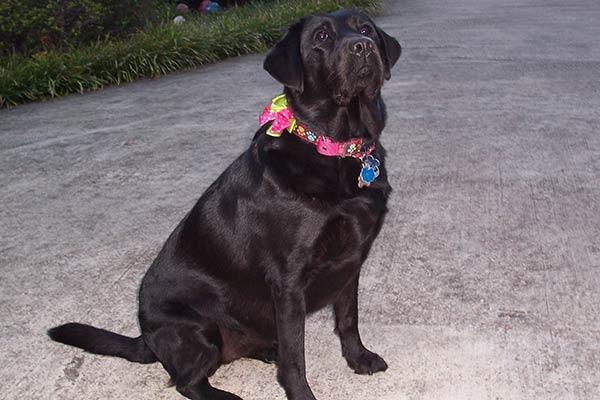 Mazie
Martin Adydan THDD CGC owned by Jeannine Adydan of Rochester, NY
Martin is a Standard Poodle , not even 2 years old yet. From the very beginning Jeannine noticed that Martin had a very sweet, gentle and calm demeanor.

"As a program director of a non-profit, I was aware of the benefits of therapy dogs; I reached out to various subject matter experts to learn more. I quickly realized that Martin's demeanor made him a good candidate to be a therapy dog. The staff at my agency agreed to have Martin at the office each day as part of his training. It takes a village, or in this case, an office, to raise a therapy dog. They participate in his training, reward him, walk him, and most definitely love him."

Martin tested for and passed his therapy dog certification at the early age of 1 year. Martin has made more than 400 visits, earning the THDD at 1 ½ years old. He interacts daily with staff and individuals who receive services, participates in events like Developmental Disability Days, visits nursing homes, and goes to church. He loves to work, swim, play ball, and eat vegetables.

He brings happiness and cheer to everyone he comes in contact with.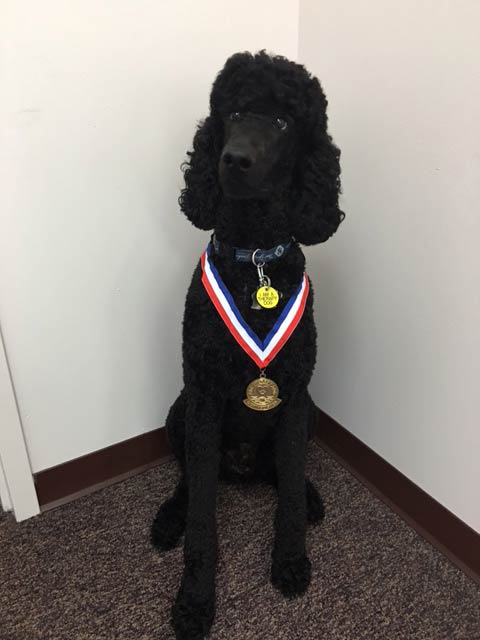 Martin
Loudon's Maggie THDD CGC owned by Rennie Louson of Warwick, RI
Maggie is a Reading Education Assistance Dog. She is certified with Bright and Beautiful Therapy Dogs and registered with R.E.A.D. Intermountain Therapy Animals and Cold Noses Warm Hearts.

After seeing how much Maggie enjoyed meeting new people, especially children, Rennie decided she would make a good therapy dog. Rennie settled upon the idea of Maggie being a reading education assistance dog as the best job.

"She tells the students she visits that she had to go to school so she could come to school to visit them. To this day, when she passes one of these 'other' libraries she gets excited, hoping to go in and see kids. She always starts to 'sing' and does the Snoopy dance, when we are about a mile away from one of the schools or libraries where she volunteers. This is how we are sure that she is happy doing this work."

In addition to visiting schools and libraries, Maggie has been invited to a local bookstore and a comic convention.

"We never cease to be amazed at how one small Beagle has found a place in this big world. And we are ever so grateful that she picked us to share it with."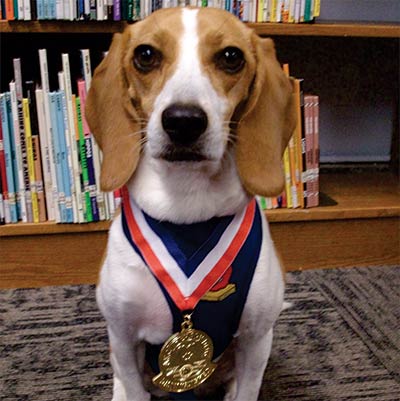 Maggie

North American Flyball Association
AKC recognizes three titles of NAFA competitors – the Flyball Dog Champion (FDCh) for 500 points; Flyball Master (FM) for 5,000 points; and the Onyx award for 20,000 points. For more information on NAFA and how to get involved go to www.flyball.org.

Congratulations to this All-American Dog on receiving AKC recognition for the Flyball Master honor:
Resq's Dopamine Rush RN MX MXJ XF T2B FM CGC owned by Rosemary Strasser of Omaha, NE
Roo was just 6 months old when he was picked up as a stray dog and turned into rescue.
Rosemary was not looking for a new dog, but a friend with Midwest Rescue Network kept telling her she had just the dog for her.

"For two weeks she kept saying, 'You have to come meet him; he's just your type of dog,'" Rosemary said.

"We fostered him, and I took him to local agility trials, trying to find a performance home, but it didn't take long before we knew we'd be a 'foster failure' and keep him," she said.

Soon, Rosemary was taking Roo to training classes at Go Dogs in Omaha.

"One of our very favorite classes was called 'Recallers,' which worked not only on solid, fast recalls but also beginning flyball. We were hooked! We joined the Omaha Speed Racers flyball team. Roo ran in his first flyball race about a year after we adopted him and finished his Flyball Master (FM) title about a year later."

Roo currently has his Flyball Master Excellent title (FMX, 10,000 pts), and we are currently working toward our ONYX which is 20,000 pts in the North American Flyball Association.

Roo also competes in agility and in March competed in his first AKC Agility National Championship in Tulsa, OK, just before he turned 4 years old and made it to the finals round in the 12 inch jump height division.

"Roo is not only a great little performance dog, he is the sweetest dog I've ever owned. Sometimes the right dog comes along whether you are ready or not."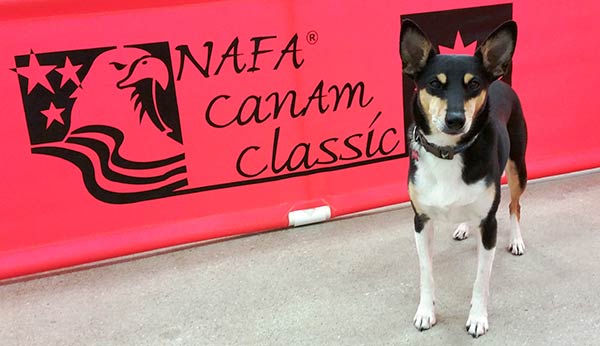 Roo
Barn Hunt Association
The BHA enables all dogs to participate in the sport of hunting for vermin. Dogs track rats safely enclosed in sturdy tubes that are hidden among hay bales. The titles range from Novice level to Champion to Champion Excellent. Go to www.barnhunt.com for more information.

Congratulations to All-American Dogs who recently received recognition of their BHA titles:
Rat Open (RATO)
MACH Bradley's Brandy RN MXG MJS OF T2B2 RATO CGC – Alison & Kevin Bradley of Fayetteville, AR
Raucous Highland Ceilidh RATO CGC – Stephanie Kennerley of Louisburg, NC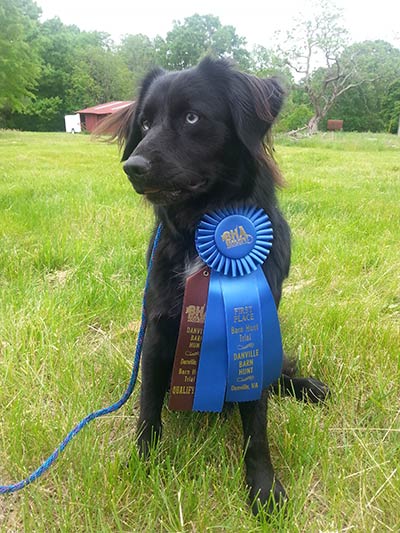 Raucous Highland Ceilidh RATO CGC
North America Diving Dogs
NADD offers titles in both distance dock jumping and air retrieve for all dogs. Dogs receive titles based on how far they jump and only compete in the same division with dogs that jump similar distances. For more information go to www.northamericadivingdogs.com.

Congratulations to these dogs who recently earned AKC recognition of their NADD titles:
Dock Novice (DN)
Spring Loaded Coop De'Ville CD RE NA CA THDN RATO DN CGCA owned by Kimberly Romain of Northport, AL
Dock Senior (DS)
Whiskey DS owned by Nancy Farrer of San Antonio, TX