Competition/Titles Update
There are many exciting new advanced titles to report for All-American Dogs in the AKC Canine Partners program, including many new MACHs, UDs and RAEs. In addition, the second mixed-breed to earn a Champion Tracker title has been crowned. Read about all the latest winners in Agility, Coursing Ability, Obedience and Tracking.
AGILITY
Multiple MACHs
Congratulations to these dogs who have added more MACHs to their name:
MACH8 Samantha MXC2 MJB3 FTC1 MFC TQX T2B6 – Donald & Leah Eicher – Laurel, DE
MACH5 Lanakila Doin It By Example MXS2 MJS2 MXF MFB TQX T2B7 – Caroline King – Sanger, TX
MACH7 Parris April Williams MXS2 MJG2 MXF TQX T2B – Kim Williams – Lawrenceville, GA
MACH5 Sally Of Ingleside MXB2 MJS2 XF T2B2 – Valerie Dietz – O Fallon, IL
MACH4 Donaldson's Daisy MXB2 MJS2 OF – Laura Donaldson – Elk Grove Village, IL
MACH4 Moses Raphael York UD BN GN GO RAE4 MXC MJB2 MXF T2B4 CGCA – Jordan York – Evansville, IN
MACH4 Missy XIII MXB2 MJS2 NF T2B3 -- Jeanette Ivie – Newbury Park, CA
MACH3 Annie Skabannie MXC MJC MXF T2B – Joan Russo – Ocala, FL
MACH2 Pepsi RAE MXS MJS NJP MXF TQX T2B4 – Mette Bryans – Eureka, CA
MACH2 Werz's Tallulah MXS MJG – Mary Werz – Iowa City, IA
MACH2 Shane MXS MJG T2B – Joan Woodward – Fairfax, VA
MACH2 Buddy MXG MJG T2B – Anita Selent – Olmstead Falls, OH
MACH2 Olszewski's Buffy MXG MJG NAP NJP NF NFP – Sandra Olszewski – Freeland, MD
MACH2 Allie G MXG MJB2 NF – Molly Gorecki – Green Bay, WI
MACH2 Caroline's Shining Star MXS MJS OF – Melissa Muniz – Chantilly, VA
MACH2 Folly Farnsworth MXG MJG XF T2B – Trudy & Sean Price – Kingsport, TN
MACH2 Bax To The Future MXS MJG OF CAA – Maggie Fan – Athens, GA
MACH2 African Queen MXC MJC OF T2B CGC – Mary Anne Borowski – Millstone Township, NJ
New MACHs – Congratulations to these new Master Agility Champions:
MACH Finley's Ruby CD BN MXB MJB – Judy Finley of Edina, MN
Ruby was a 5 month old wormy, scrawny stray when Judy adopted her from our local shelter. "She had a lot of energy, so I was hoping she would like agility. Ruby didn't like agility -- she loved it! But she was very dog reactive, and I didn't think we would ever be able to compete in a trial. With the help of a great trainer, Ruby became more confident around other dogs, and I learned how to better manage her." At their first trial, Ruby was completely focused on agility, and they've had fun in the ring ever since. In addition to agility, Ruby enjoys nose work, obedience and "chasing all sorts of critters. We're starting in Barn Hunt and looking forward to that RAT title!"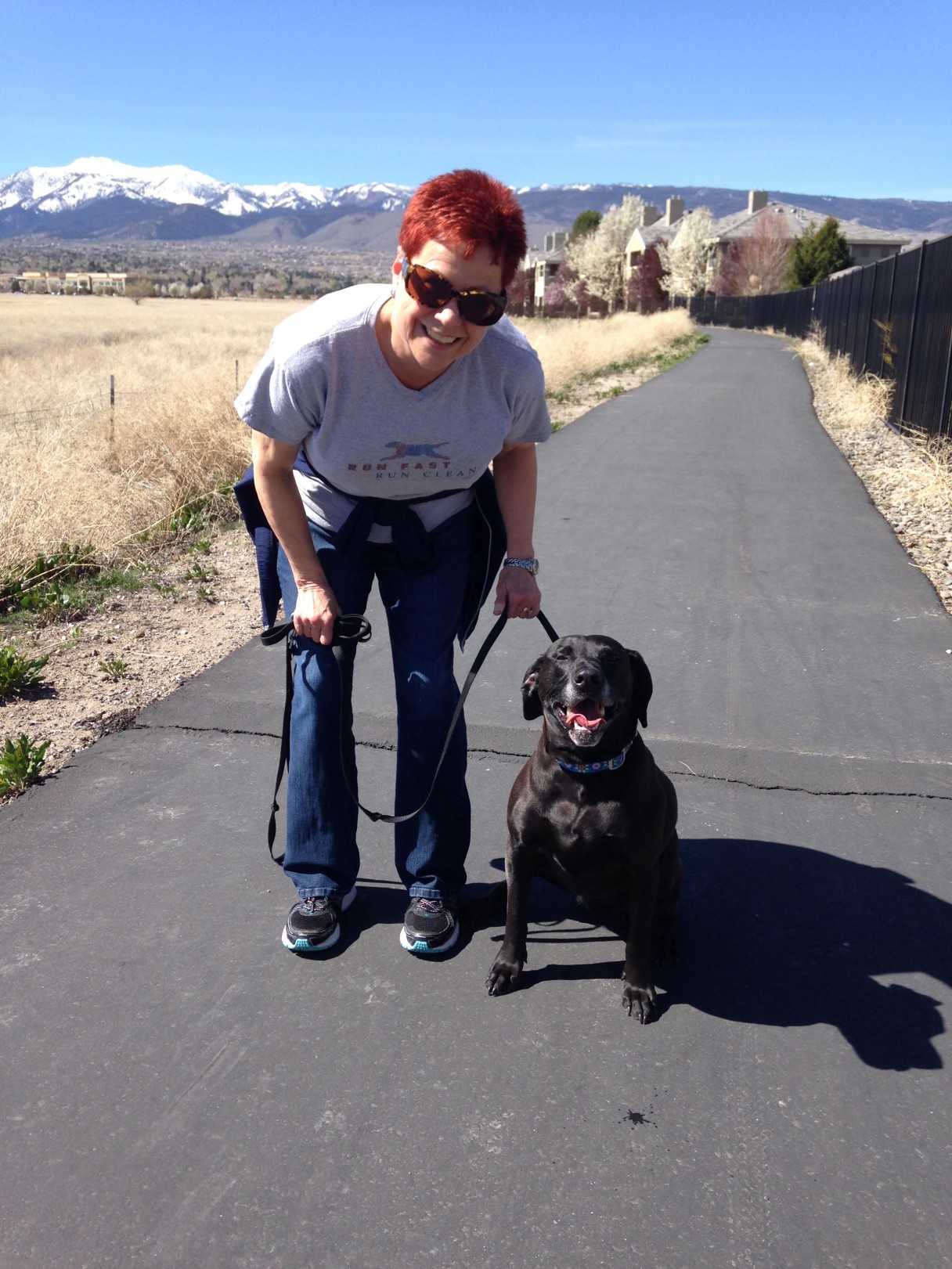 Ruby
MACH Audacious Audi RN MXB MJS NF – Linda Kay Spears of New Albany, IN
Audi is a 6 year old Poodle – Golden Retriever mix who is competing in AKC Agility, Rally, and Obedience trials. He finished his MACH on Oct. 17, 2015 at the Derby City Agility Association Trial in Louisville, KY, and is well on his way to his second MACH!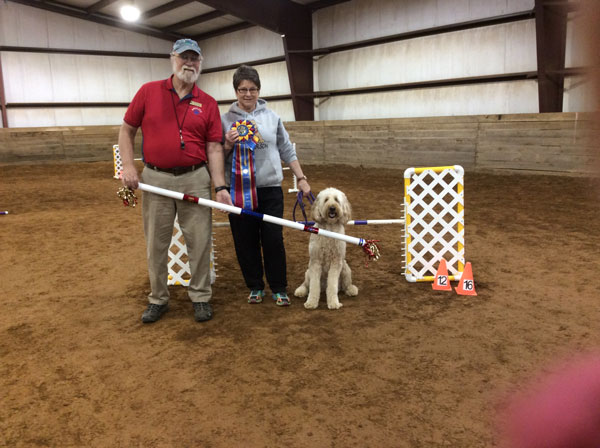 Audi
MACH Ghillie Altrive - Louise Gilchrist of Harrisonburg, VA
Four-year-old Ghillie was one of a litter of puppies from a rescue organization in northern Pennsylvania. His mother was a Border Collie, but his father was unknown. "Given that he came into a home that already had an All-American agility dog (PACH 4 Savannah Altrive), there was no doubt that he would be doing agility too," Louise said. "Although he has Border Collie looks, his jumping and running style is all his own, earning him comments about being a 'prancer,' 'circus dog,' and 'so cute.' " Ghillie loves a good snuggle on the couch too!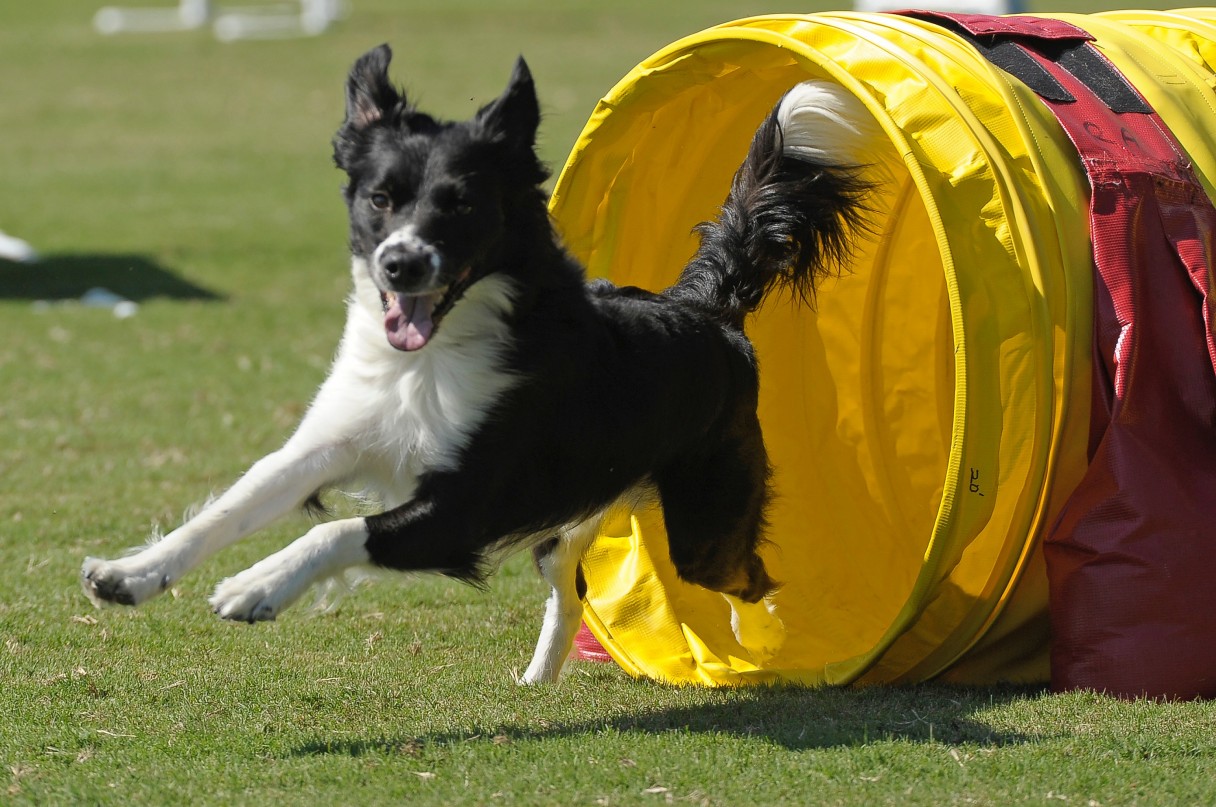 Ghillie
MACH Layla Wild Tail MXS MJS – Kenneth Kistler of Vandalia, OH
Kenneth and his wife Sandy have owned Boxers for years so they readily said "yes" when asked by a friend to take in a rescue Boxer as a foster. When the dog arrived at their house, she turned out not to be a Boxer, but a Boxer-Lab mix that the Kistlers dubbed a "Boxador."

"The young girl seeking the temporary foster home was going through a number of issues, including a residence," Kenneth said. "After about a month, she let us know she was coming to get Layla but she was going to give her up to the shelter. Having already completely fallen in love with Layla, I said 'no way.'

Kenneth decided he better start training Layla if she was going to be living with them. "Through beginning obedience classes, where Layla wanted to be the social butterfly and tried to meet and greet every other dog anywhere in the vicinity, we worked through it, sometimes pulling my arms out of the sockets in the process.

"Having taken Boxers to advanced levels of agility, I had the same goal for Layla. Agility training was long and arduous. Once we started competing, Layla decided to show off by running on top of a tunnel instead of going through it."

Slowly they progressed through the levels: Novice, Open, Excellent and finally Masters. They achieved MACH on May 17, 2015, at the Hamilton Dog Training Club trial. "Through it all, exhibitors would comment about how happy Layla is," Kenneth said.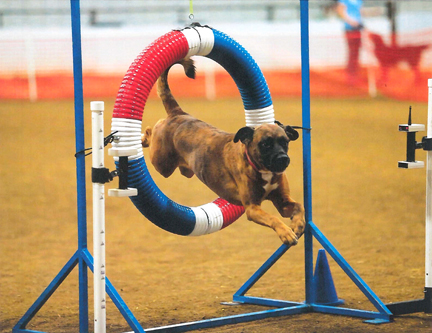 Layla
MACH Sophie MXB MJB XF T2B2 – Lauren & Kenneth Kadrich of Presque Isle, MI
In 2007, Kenneth and Lauren were searching for a puppy as it had been two years since they lost their previous dog. "I looked for a long time and as soon as I saw her adorable face on Petfinder, I knew she was the one," Lauren said. They adopted the Pointer mix puppy from an animal control facility.

"As she grew, we were amazed by how athletic and agile she was. She never went through that awkward puppy phase. Other people noticed, too, and during a basic obedience class it was suggested that we try her in an Introduction to Agility class. She loved it and was a very fast learner."

Sophie was soon ready to compete, but unfortunately Lauren lives several hours away from any trial sites and had limited training opportunities near her. "The first few years we trialed occasionally and had some success, but never really had the time or resources to make much progress. Finally we built a training facility, purchased equipment, and began training more regularly."

In addition, Lauren is an animal chiropractor and began treating performance dogs so she could practice at agility trials. This enabled her to travel and trial more frequently and soon Sophie was on her way to MACH. On Oct. 17, 2015, at the Ibizan Hound Club trial in Dexter, MI, she finished the championship. "It was even more special because she earned it on the eighth anniversary of her adoption."

Sophie also loves camping with her family, upland bird hunting with her "Dad," playing ball or Frisbee with her two- legged brothers, swimming with her four-legged sister, fishing, kayaking, and snuggling on the couch.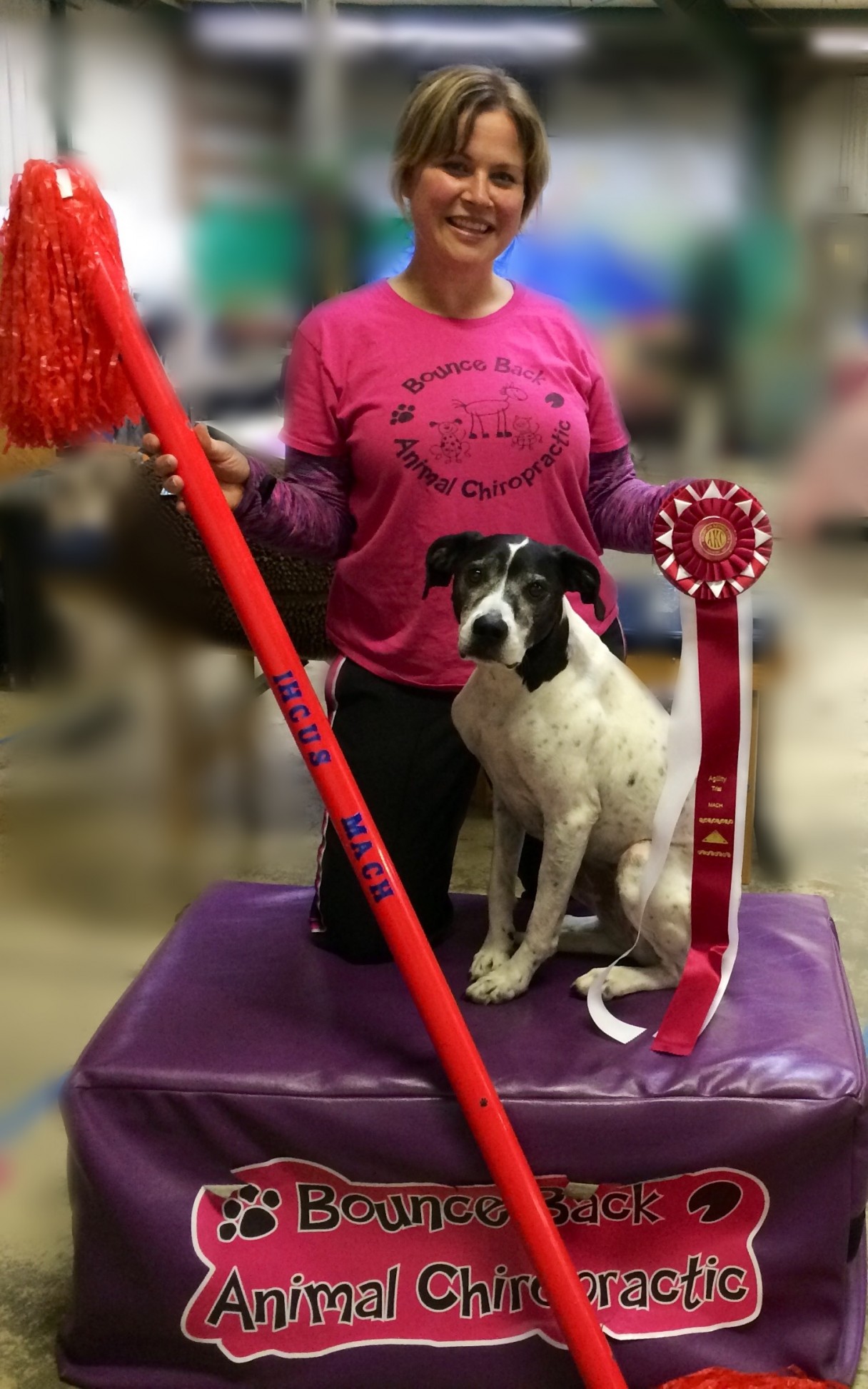 Sophie
MACH Amarillo MXB MJB MXF T2B – Belinda Rodriquez of Pearland, TX
Belinda was in search of a rescue Golden Retriever to compete with in agility as she had owned a Golden many years before and they were involved in agility. "I kept checking the rescue organizations online, visiting several rescues. There was this litter of puppies, all black, born to a Golden mother, but I was not interested. I wanted a Golden."

Belinda continued her search and met a few potential agility partners, but all had issues which did not make them good candidates for agility. Eight months later, one of the black puppies appeared back on the on rescue group's website with the caption "I'm Back." She had been returned because she was too active for the family.

"I reluctantly contacted Golden Beginnings and asked to meet her, hoping she did not work out for my family of dogs, cats, child, husband and agility. But she passed all the tests, and the vet approved her for agility. So here we are. Aimee may not look like a Golden but she acts like one, has the heart of one, and has won my heart as well as my family's." Aimee earned her MACH on Oct. 23, 2015, at the Southeast Texas Agility Club trial at the age of 3.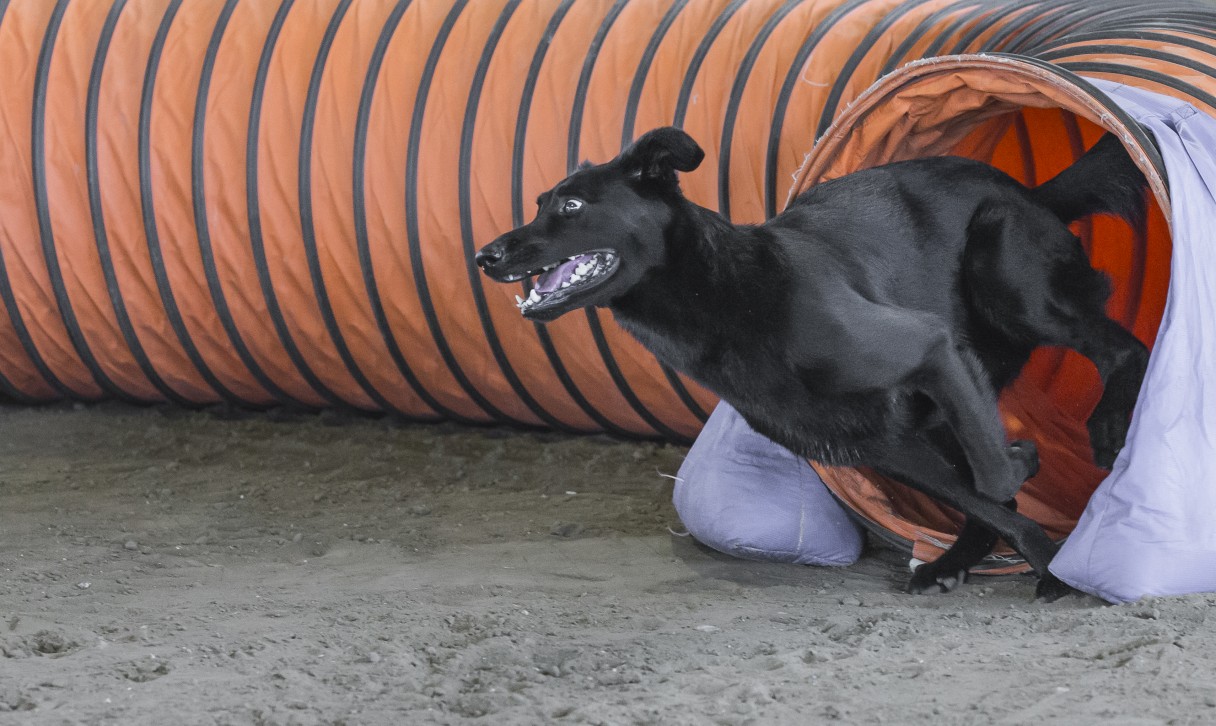 Aimee. Photo by Jozef Lewandowski/Ted's Photo Reflex
MACH Sir Tucker MXB MJG MXF MFB T2B3 CGC – Scott & Denise Beaumont of Granite Falls, WI
In November 2010, Scott & Denise helped "socialize" a litter of 8-week-old Aussie mix puppies at Lil' Waif Puppy Rescue, not intending to bring one home. "But Tucker chose us that day. Thankfully he did," Denise said. They started training Tucker right away, first in puppy classes and then basic obedience classes. He passed the AKC Canine Good Citizen test and enjoyed all the training, but his true love turned out to be agility.

"Obedience type classes were just too 'boring' for Tucker and probably for the handler (his Dad) too," Denise said. "Our goal was to get a MACH title by the time Tucker was 3, but medical issues with the Dad part of the team pushed the time line out almost two years." After the medical issues were resolved, there was another setback when Tucker and Scott collided on course three months before the March 2015 AKC Agility National Championships (NAC). Scott had a fractured and badly sprained ankle, and Tucker had two dislocated ribs. "With great naturopathic therapy, they did make it to Nationals, but weren't quite back to form." Tucker finished his MACH on Aug. 29, 2015, and has qualified for the 2016 NAC. Besides agility, Tucker also loves to fetch balls.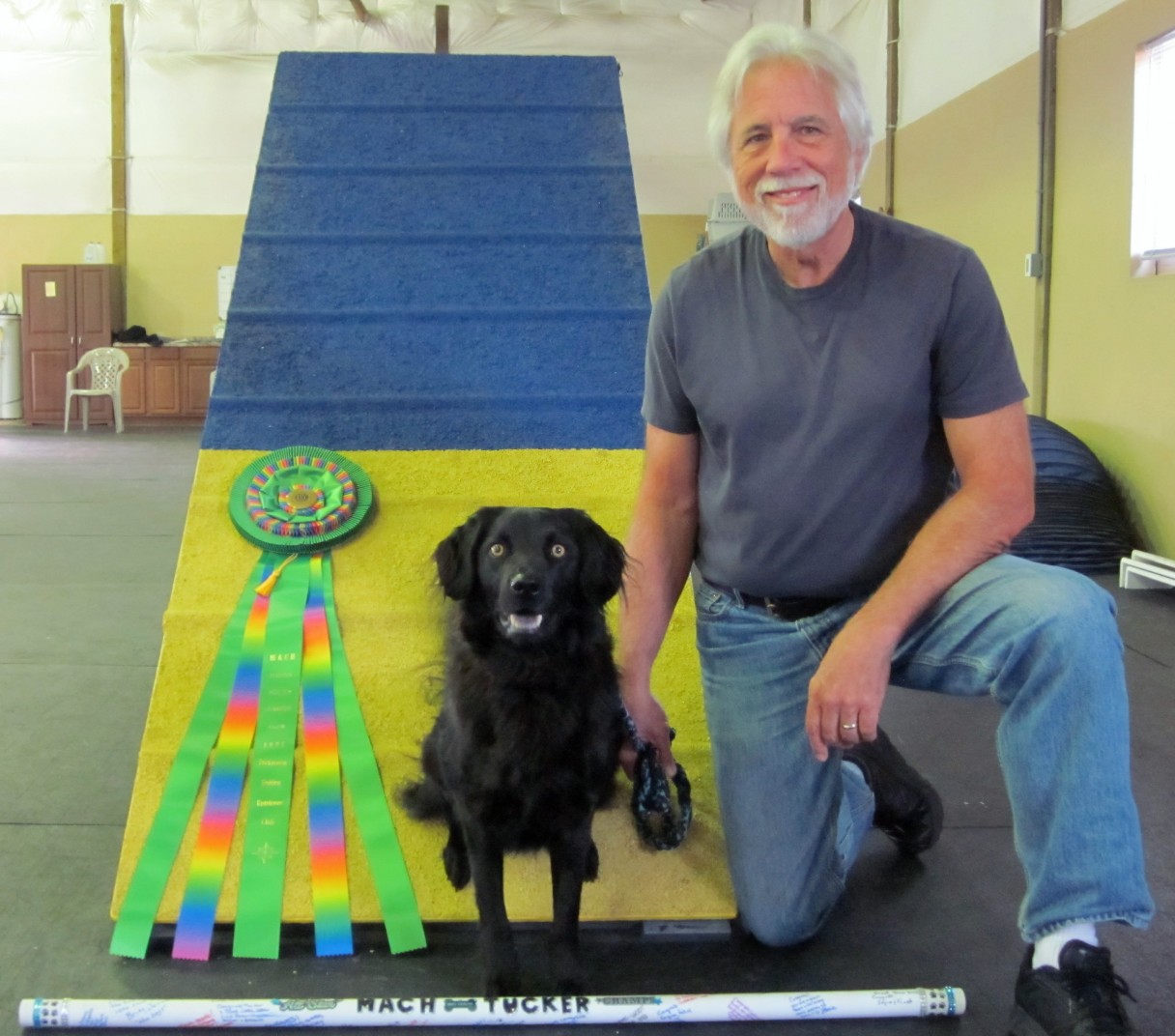 Tucker
MACH Stella Mains MXS MJS – Donald Mains of Hiawatha, IA
Stella was born on Aug. 22, 2004, and came to live with Don when she was 7 months old.

BeforeAKC opened the door to mixed-breeds in spring 2010, Stella competed in other agility venues and earned numerous titles. At age 11 years, Stella earned her MACH on Sept. 25, 2015, at the Scott County Kennel Club trial in Davenport, IA.

In addition to being an agility competitor, Stella is a certified therapy dog and has made more than 600 therapy and Kids-Reading-to-Dogs visits. She is currently working towards her Preferred Agility Championship (PACH).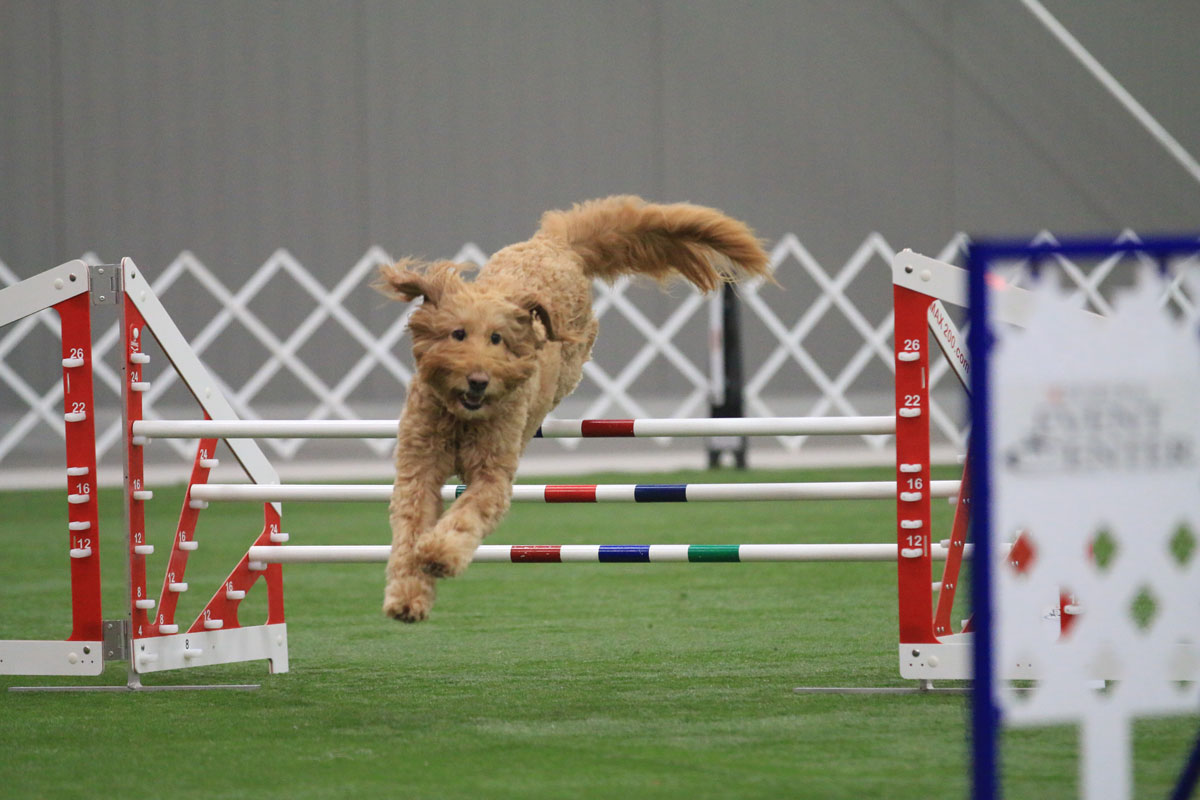 Stella
MACH Hayley's the Crunch MXB MJB OF – Bettina Markowitz of Sterling, VA
It had been two years since Bettina lost her last dog when she went on a search for a new canine companion in 2011. She volunteers with Homeless Animals Rescue Team (HART) on the cat side so she attended a HART dog adoption event. That very day, Hayley was being returned by the man who adopted her a year prior because his new girlfriend was allergic to dogs. Before that, Hayley had been a stray in southwest Virginia and ended up at a high kill shelter before HART pulled her in summer 2010.

"She was super sweet and good natured, but she had no training and was not cat friendly. (I have 3 kitties)," Bettina said. "But she learned really fast. She was quite fearful and working on training helped her start to overcome that.

"I always wanted to do agility since first seeing it on TV about 10 or 12 years ago. I fortunately found A Click Above training school not too far from me and signed us up to try it out, in hopes it would build her confidence. Clearly, we both loved it!"

They started competing in August 2013 and have continued improving all the way to their MACH on Dec. 12, 2015, at the Reva Agility Club Enthusiast trial in Reva, VA.

"She has overcome a lot, and people are often surprised to hear about how afraid she was of everything when I got her… She's easy to live with and travel with. She is a fast learner with a huge desire to please. She is just the most perfect dog. I have no idea how I got so lucky!"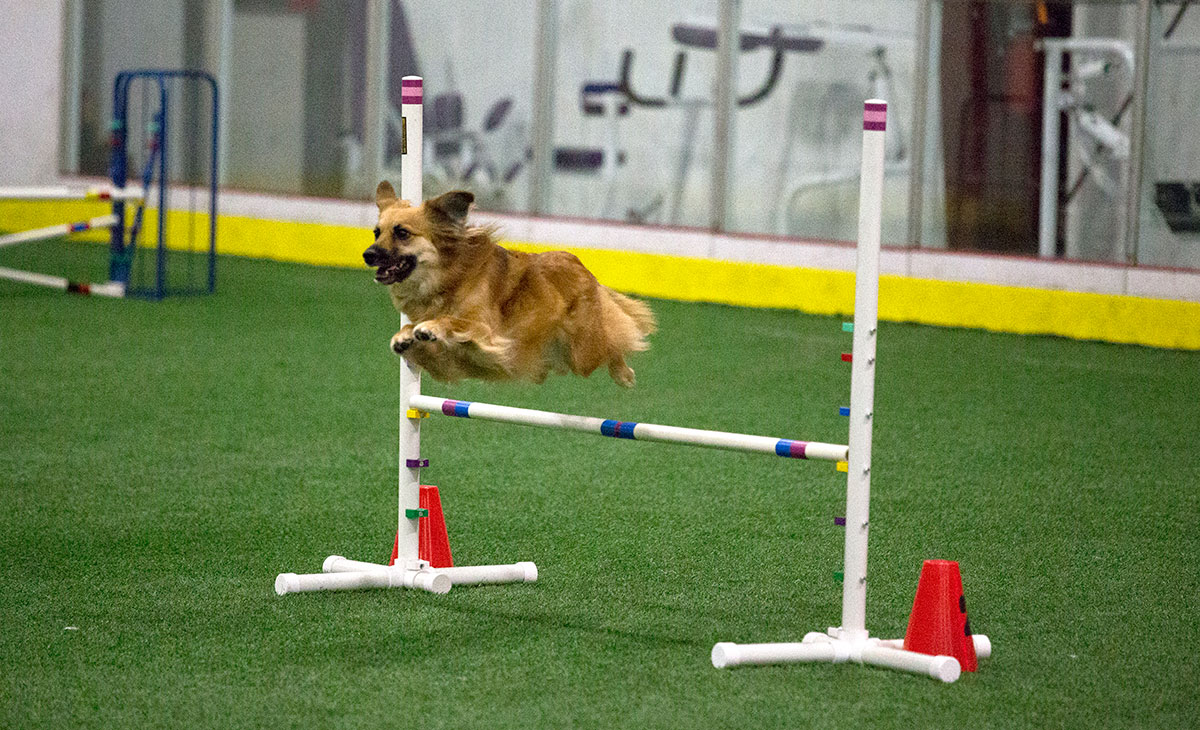 Hayley
MACH Our Sweet Annie MXS MJB OF T2B – Herman & Diane Schermer of Collinsville, IL
In late summer 2010, a year old Poodle-Lab mix was found wandering outside Indianapolis, IN. She was taken to the local animal shelter where a staff member contacted a rescue dedicated to "doodles."

"Several weeks later, Diane and I saw a picture of her on Petfinder and fell madly in love," Herman said. "We had sold our business and were retiring, and I was looking for a partner to help me learn agility." Almost five years later on Sept. 27, 2015, Annie earned her MACH at the Greater St Louis Agility Club's trial in Glen Carbon, IL. In addition to agility, Annie also does therapy work at the local mental health center.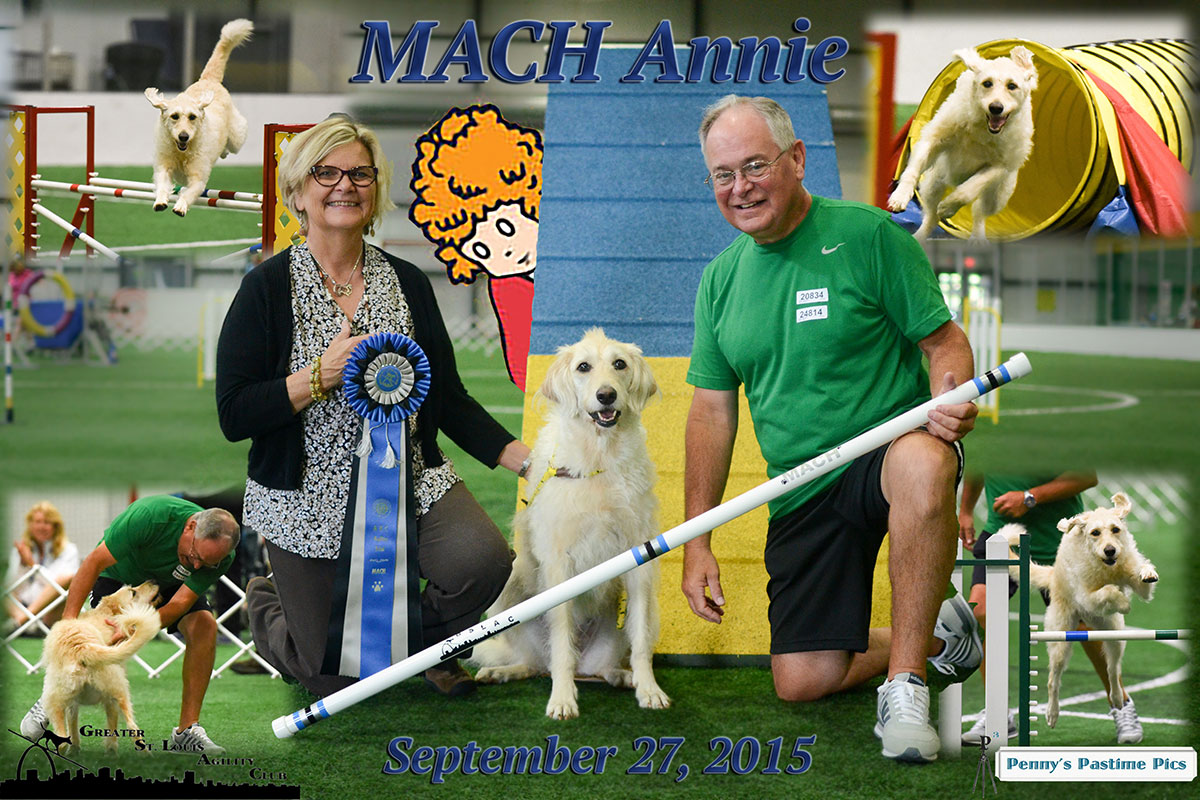 Annie
MACH Good Shepherd Silly Girl MXB MJB - Kathleen Povey of Hadley, NY
Silly was picked up as a stray by animal control when she was about 6 months old. She went through one shelter and two rescue groups before Kathleen adopted her and started training her. "She took to agility like she was born to it," she said. Silly earned her MACH at the Southern Adirondack Agility Club trial on Aug. 23, 2015. The photo shows her crossing the finish line, winning first place in 16" Masters Standard at the Mid-Hudson Kennel Association trial on April 27, 2014. "Next up, we plan to start competitive obedience."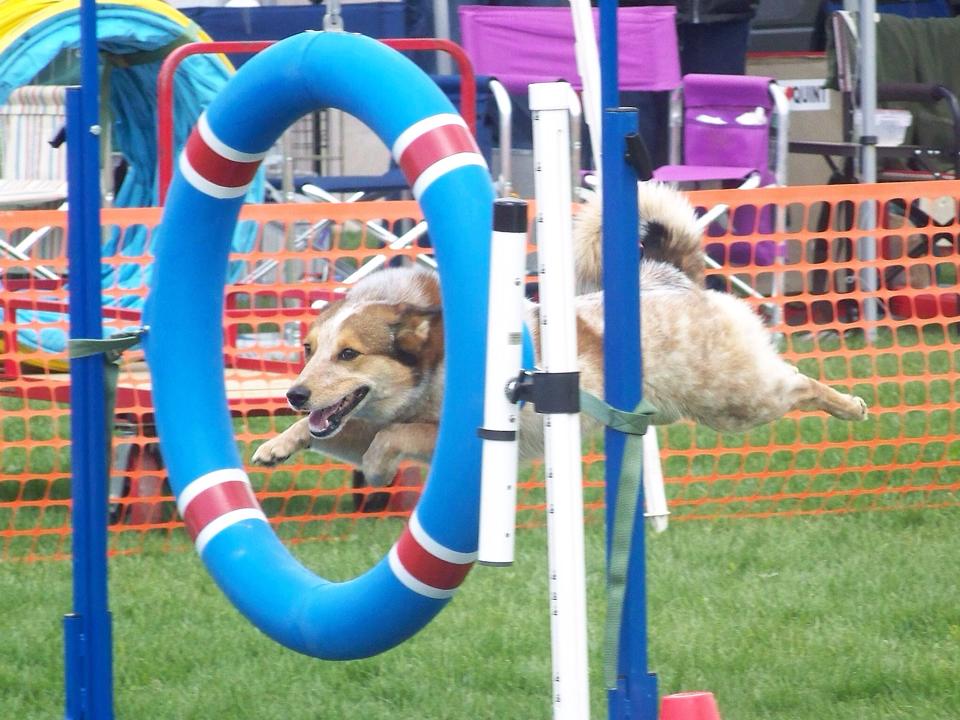 Silly
MACH Popeye's Lady Love MXB MJB XF T2B – Emilie Camilleri of Lockport, NY
When Emilie got Olive as a 6 week old puppy, she says she had no idea the journey Olive would take her on and all the things they would learn along the way. "After 10 years of riding hunter/jumpers, I stopped and that left a real void for me. Something was missing, I didn't feel like myself. Starting agility classes with Olive was a natural transition. I had enjoyed the puppy and obedience classes we took, so I pursued agility, something I remembered seeing on TV many years ago." That was in 2010 when Olive was 3 years old. On December 3, 2015, at the Western Reserve Kennel Club trial, Olive and Emilie earned their MACH. "Olive has taught me more than I could ever imagine, and I will be forever grateful that she was my first dog. Her being such a willing and dedicated partner is what really gave me the agility bug!" Aside from agility, 8-year-old Olive enjoys chasing rabbits in the backyard, swimming, tugging, snuggling and being an excellent watch dog.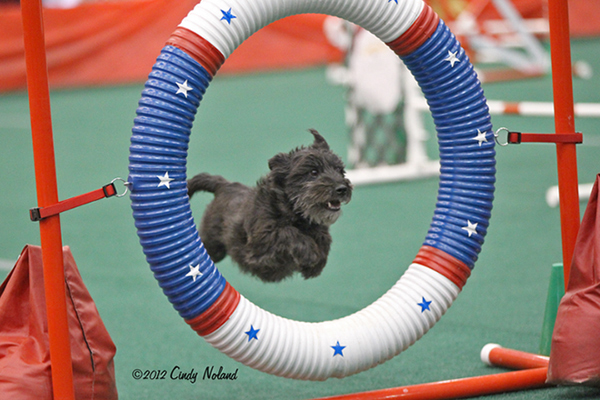 Olive
Congratulations also to these new MACHs:
MACH Abby One – Bruce Hamilton – Holladay, UT
MACH Ellie Ellie Kim – Narae Kim & Ron Ellis – Concord, CA
MACH Zinfandel Hackman – Betsy & Gene Hackman – Santa Fe, NM
MACH Sarah – Jenny & Kathy Lackey – Jackson, NJ
MACH Gracey – Chris Valencia & Rick Martin –Albuquerque, NM
MACH Kaia of Kings Point – Ann Savage – Excelsior, MN
MACH Edward Shmigles – Yale West – Bethlehem, PA
MACH Bailey Gaines – Christine Gaines – Granite City, IL
MACH Miss Sophie – Marti Conrad – Naples, FL
PACH – Congratulations to these new Preferred Agility Champions:
Multiple PACHs
Congratulations to this dog who has earned a second PACH:
PACH2 Bella Boo MX AXJ MXP9 MXPG MJP9 MJPG PAX3 XF – Cindi Capobres – Detroit, MI
New PACHS
Congratulations to these dogs who have achieved the PACH title:
PACH Cody MXP3 MXPB MJP4 MXPB XFP T2BP RAE2 RATO – Karen Powell of Frankfort, KY
In August 2007, Karen started fostering Cody and his brother, Biggie, when they were 8 week old puppies from Owen County Friends of Animals. "I named them Big (2.9 pounds) and Small (2.8 pounds) because I didn't plan on keeping them.My mother's friend adopted Small and named him Cody, and I decided to be a foster failure with Big and adopted him. I took Cody to classes and walks for his owner because she wasn't able to, and when her husband died in 2010, I took Cody back with me, never expecting to find out that he had such huge talents!"

Karen started halfheartedly training him for AKC Rally in 2011, and Cody surprised her by coming in fourth in his first Rally Novice class and finishing off his RN title with a score of 99!She started training him in agility in fall 2012, and by fall 2013 he had his AXP and AJP. "Long story short, he earned his RAE2 on Oct. 3, 2015, at Hamilton County Dog Training Club and his PACH on Oct. 31, 2015, at Queen City Dog Training Club, both in Cincinnati, OH. He's since earned his Barn Hunt Senior title and has one Q in Masters.He's a hard worker and wants to please me at every turn.Living with him is a real joy!"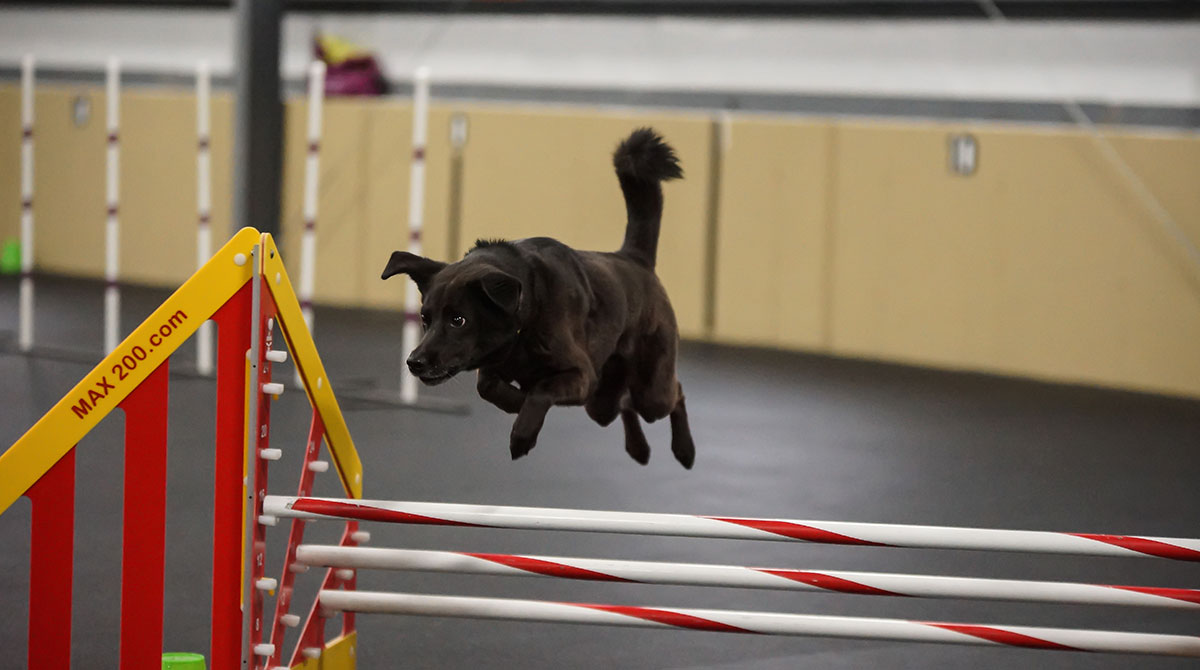 Cody
MACH PACH Greenbluff's Marley MXB MJB MXP3 MJP3 MJPB MXF – Shelley Kochel of Colbert, WA
Marley was rescued from an animal shelter in Spokane, WA, 12 years ago. "She was my first agility dog, accomplishing more titles and ribbons than I've kept count of. She has traveled to nationals, earned a total of seven championships, two of those in AKC. She earned her MACH on Mother's Day in May 2012. She earned her PACH in October 2015 at the Evergreen Afghan Hound Club trial in Auburn, WA. "The PACH run was Marley's final AKC agility show. She is officially retired and lives the life she deserves, enjoying hiking with her friends, napping on my bed and knowing she's a one in a million All American Dog!!"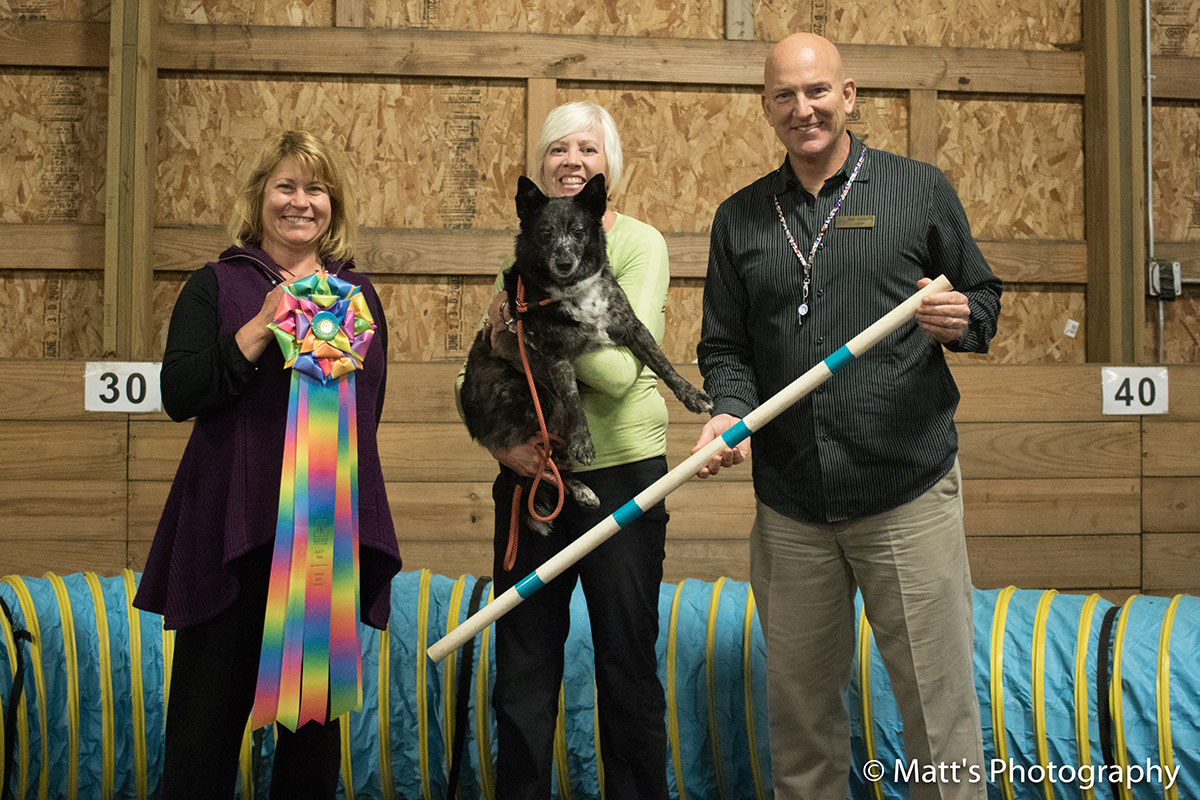 Marley
PACH Forgotten Friends Maggie Mae MX MXB MXJ MXP6 MXPS MJP6 MJPS PAX2 OF – Susan DeMar of Austin, TX
Susan was looking for a buddy for her Sheltie puppy, who had just lost his two big "brothers." Maggie was brought along for the ride when a rescue group brought another dog for Susan to meet. "Maggie was being treated for heartworms, and we offered to foster her so she could recover in air conditioning. Needless to say, she didn't leave," Susan said. She was currently training a Sheltie in agility but took Maggie along to his classes just for fun. "When our sheltie was diagnosed with Progressive Retinal Atrophy, Maggie ended up being my only agility dog, and she rose to the occasion. In January 2015 she tore her ACL chasing squirrels and climbing trees, but she came back after surgery and rehab." Maggie finished her PACH on Oct. 16, 2015, at the Bell County Kennel Club trial. "Maggie taught me humility, patience, and perseverance. As they say, when you rescue a dog, you end up being rescued as well."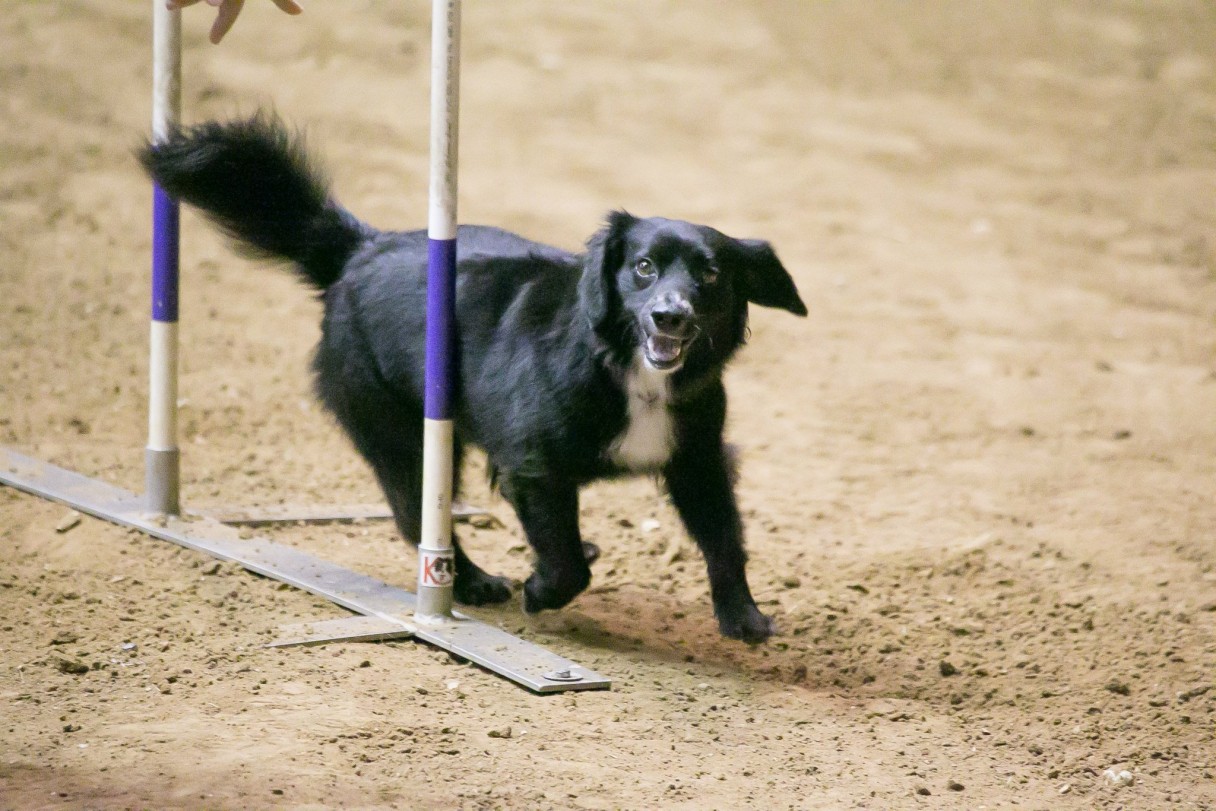 Maggie
PACH Beagle's Josie MXP3 MXPB MJP3 MJPB PAX – Nancy Beagle of Midland, MI
Josie is a 7 ½ year old "true All-American," Nancy says. "Her DNA results could only account for about 50% of her genetic makeup, but there is certainly a herding breed in there somewhere as demonstrated by her herding me around the agility course."

Nancy adopted her from a rescue organization as a puppy and quickly realized that Josie needed confidence building and socialization. "The answer was agility.Our instructor surely was frustrated with us as we repeatedly declared we were 'just there for socialization.' That all ended with her first agility trial, resulting in blue ribbons. We were hooked!"

Josie achieved her PACH on Dec. 5, 2015, at the Central Michigan Agility Club trial in Midland, MI. "She is now a far cry from the little black dog hiding under the chair at class," Nancy said.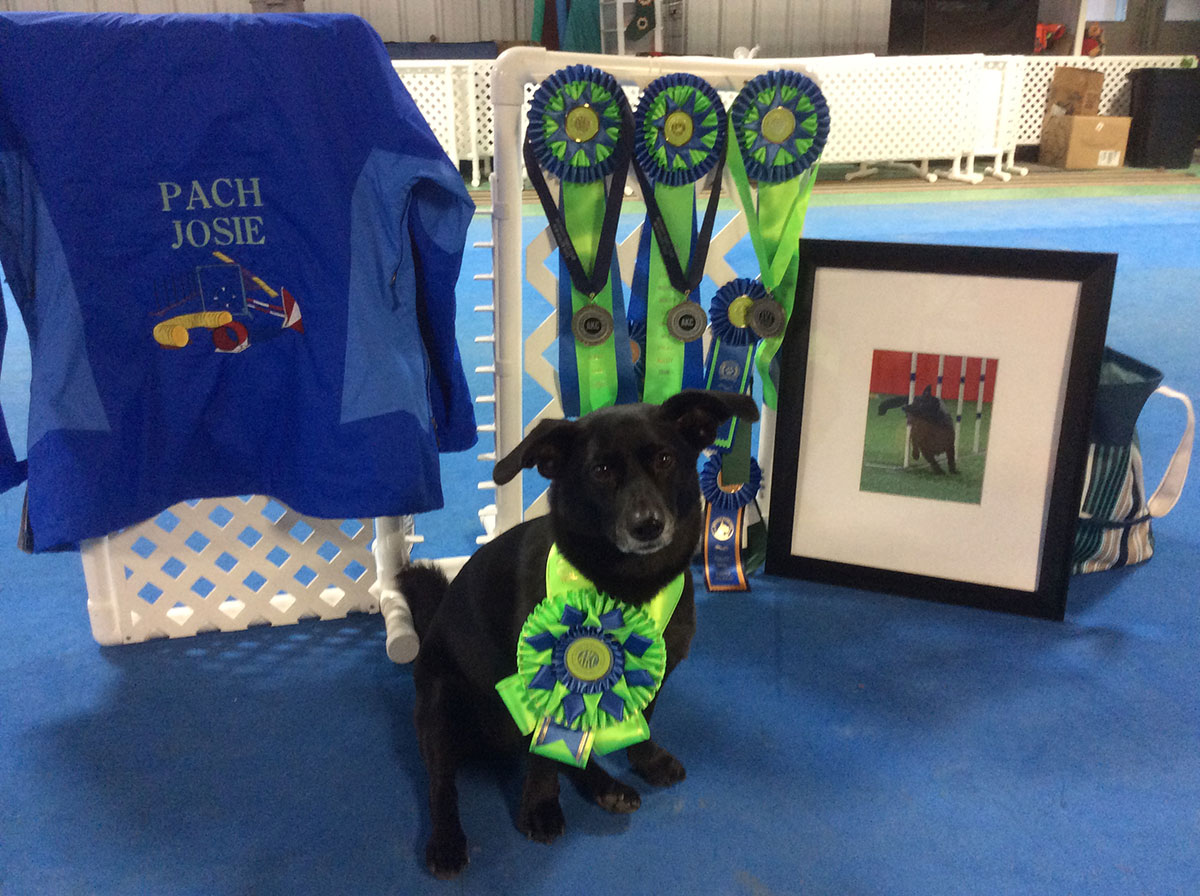 Josie
Congratulations also to these new PACHS:
PACH Jack Monster – Karen Norris - Van Nuys, CA
PACH Crosby's Quinn – Krisanne Crosby - N. Chesterfield, VA
Coursing Ability Tests
Multiple CAX Recipients
Congratulations to these dogs who have added more Coursing Ability Excellent titles to their name:
Woodacre's Little Big Man CAX2, owned by Jackie Phillips of San Leandro, CA, earned his CAX2 title on Jan. 23, 2016, in Hollister, CA, through the Monterey Bay Coursing Association.
NEW CAX – Congratulations to these dogs who have earned the CAX title passing the CAT test 25 times:
Emmy Lue RATCH CAX - Jennifer Baicco of Orlando, FL
Emmy is an 11 year old cattle dog mix and was adopted from Best Friends Animal Sanctuary in Kanab, UT, in 2008.
"At the time, she was an insecure dog who knew very little about being a dog and generally seemed to lack any sense of purpose," Jennifer said. "Eventually, she followed another dog in the family into agility classes."

It took some time for Emmy to figure out why she should want to do this, but one a day a light bulb came on and Emmy suddenly saw dog sports as the job that this herding breed dog never knew she needed. For then on, Emmy thrived on competing in agility trials, where she is currently running in the AKC Masters level. She also loves AKC Coursing Ability tests.

In 2014, they gave Barn Hunt a try. Again, Emmy was hooked from the start, eventually earning her RATCH on Nov. 1, 2015, at the Paws & Ques trial in Williston, FL.

"Participating in dog sports has changed Emmy more than I could have ever imagined, taking her from a life of insecurity to that of an Australian Cattle Dog who thrives on the chance to do a good day's work.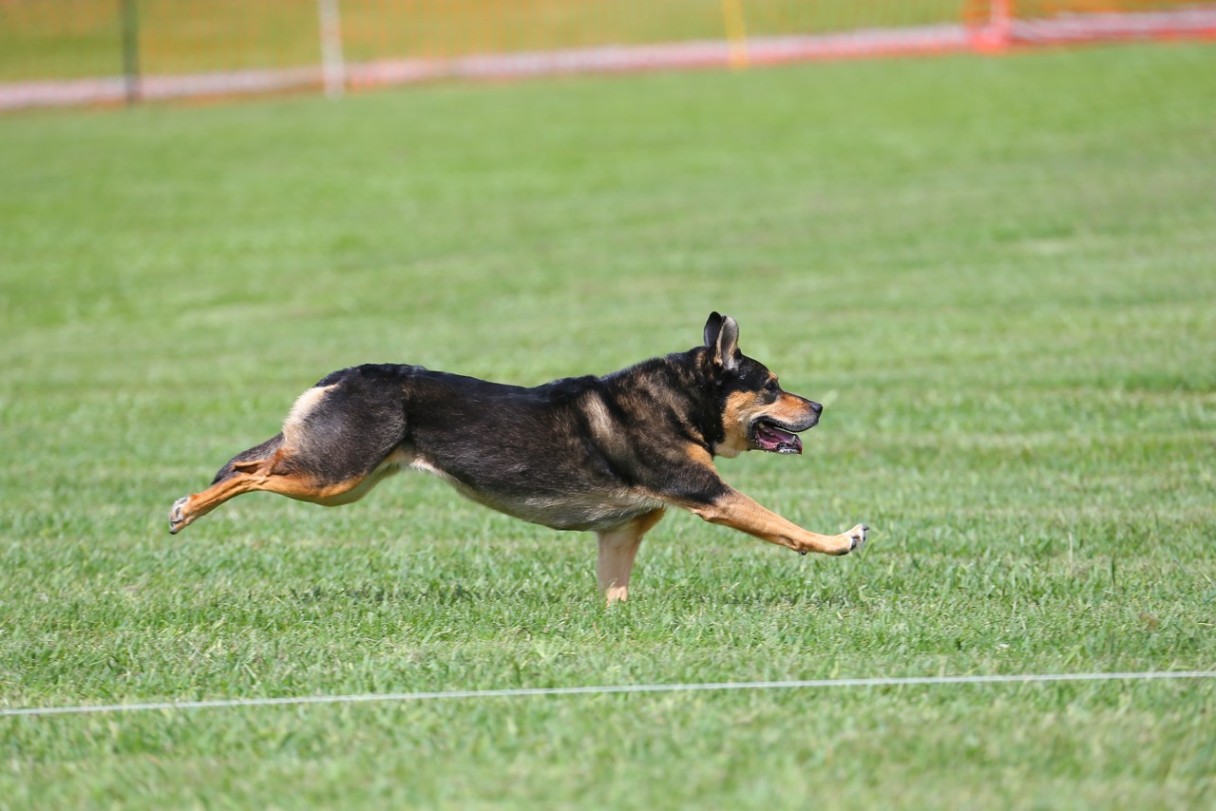 Emmy Lue
Congratulations also to these dogs who earned the CAX:
Peg's Osobear AX AXJ CAX – Peggy Chittick – Broomfield, CO
Medendorp's Hoodoo by Barribeau CD RAE2 NA OAJ NF CAX – Billie Medendorp – Decatur, AL
Freitag's Duke of Hales Corners BN RA AXP AJP CAX CGCA – Nancy & Mark Freitag – Hales Corner, WI
OBEDIENCE
New Utility Dog titles
Congratulations to these dogs who have earned the UD title:
MACH4 Moses Raphael York UD BN GN GO RAE4 MXC MJB2 MXF T2B4 CGCA – Jordan York of Evansville, IN
Jordan got Moses six years ago as a family pet from a friend at work. They started out with basic house training/obedience classes at a pet store just so Moses could learn some manners.

"After completing these classes, the teacher wanted to know if we had ever thought about taking agility classes. This was the first that I had ever heard of something like this. After researching online and finding a local agility and obedience club, I foundrecommendations that rallywas a good stepping stone from the Canine Good Citizen test to agility. There started ourcompetitive story. Moses stared competing in rally and then moved to obedience while practicing agility." On June 6, 2015, Moses finished his UD at the Evansville Obedience Club in Evansville, IN, and on Dec. 6, 2015, Moses finished hisMACH4 at the Greater Lafayette Kennel Club in Indianapolis, IN. "Moses has been one of those dogs that 'just does it.' I can ask him to do a new task and within two to three attempts at learning it, he has it perfected!"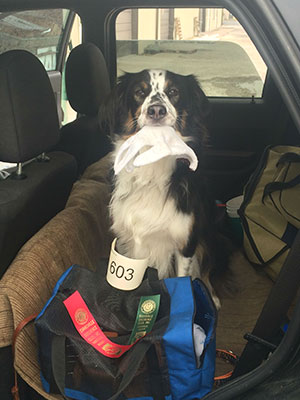 Moses
Guiness UD GN GO RAE CGCA – Loretta Rodeghier of Ottawa, IL
Loretta describes 8-year-old Guiness as a wonderful dog who loves everyone and everything.

"He even loves cats, and he is happy all the time," she said.

Guiness achieved the UD title on Sept. 20, 2015, with a second place at Forest City Dog Training Club in Loves Park, IL.
"Now that we have accomplished getting his UD title, we are trying out agility. This is right up his alley because he has so much energy."

Guiness
Murphy Tiberius Watson UD CGCA – Eric Klatt of Baltimore, MD
Eric just wanted his new puppy to not pull when he took him on a walk. He headed off to training classes where Murphy learned some manners and gained some much-needed confidence.

"We finally understood how to communicate effectively with each other. In a little under a year, he was a joy to walk and much less afraid. We never had any intention of competing, but our instructors said we would do well in obedience trials so we gave it a try."

Murphy earned his AKC Companion Dog (CD) title in three trials over one weekend so Eric decided to keep training. Murphy earned the Companion Dog Excellent (CDX) title in three trials in spring 2014.

"Training and time together was valuable, and Murphy clearly wanted more challenges so we kept working on the UD exercises and were able to complete that title in fall 2015. Murphy has to date earned over a dozen first place ribbons in official trials and is very proud of himself. His confidence is ever increasing and because of his manners and training, Murphy is an absolute delight to be around."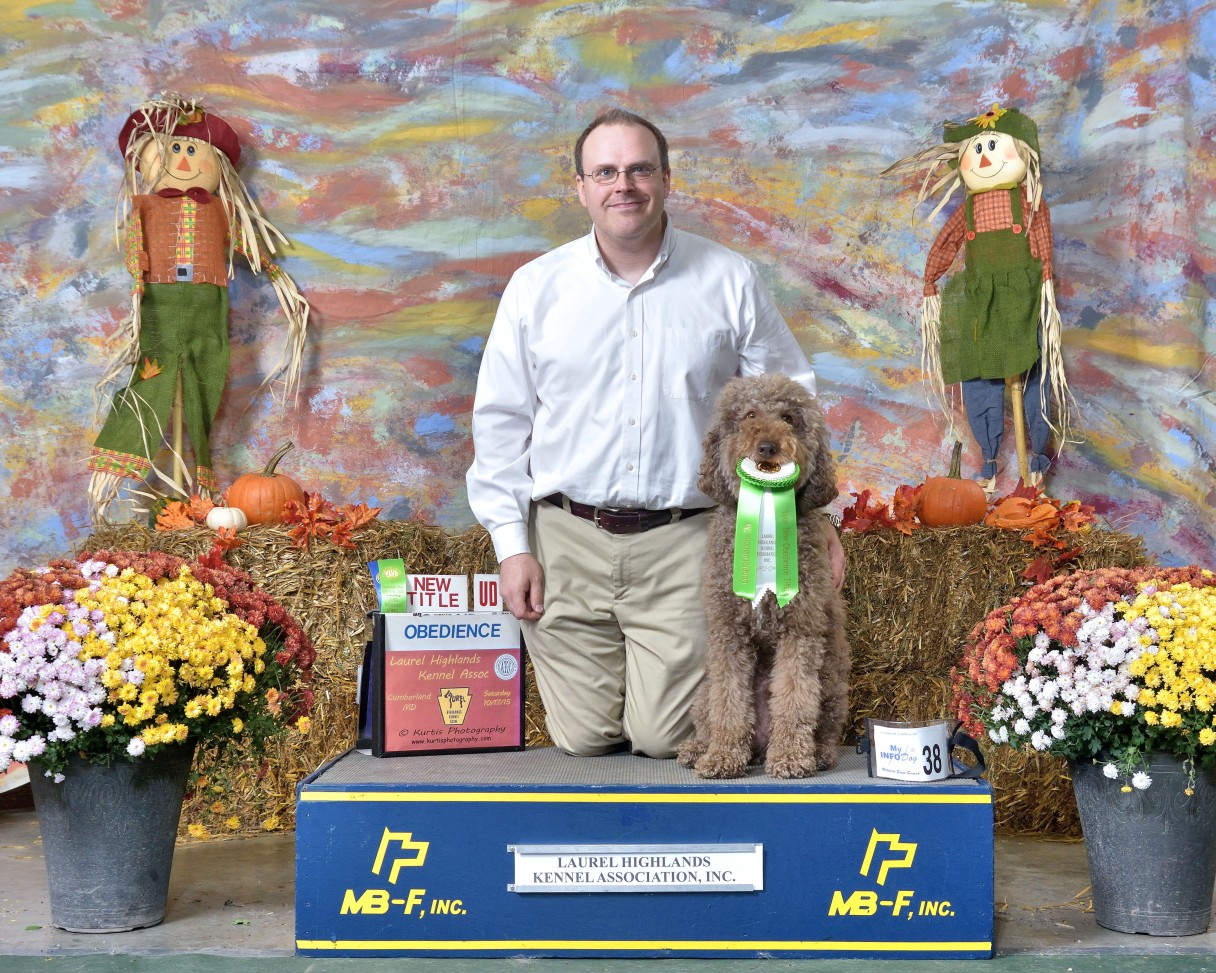 Murphy
Song Dog Bright Angel UD GO – Sheila Ann Crombie of Monument, CO
Fena came to live with Sheila as an 8 week old puppy. She was high energy and smart and definitely needed a job so Sheila began training her in agility, rally, and obedience as a very young dog.

Fena is a rare breed known as the American Indian Dog that is not yet recognized by AKC, but she can compete through the AKC Canine Partners program. "She is listed as an All-American Dog by AKC. But I think the title 'All American' is fitting because the American Indian Dog is descended from a breed that has its origins in this country," Sheila said. "At the age of 11, she still has the bounce and drive of a puppy. Her sense of humor and love of competition make her a joy to work with. I don't think she will ever retire."

Fena received the UD title on Nov. 9, 2015, at the Southern Colorado Kennel Club show in Pueblo, Colorado. They are now pursuing the Utility Dog Excellent (UDX) title!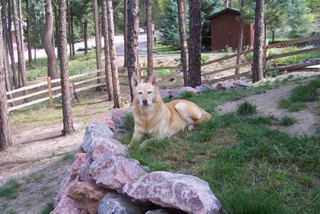 Fena
Sassy Sissy UD – Donna Hartwig of Big Rock, IL
Donna adopted Sissy when she was about 7 weeks old. "She was so full of energy that I knew I would need to channel it some way or she was going to be trouble all the time," she said.

Donna started Sissy in training classes as a puppy, and they had so much fun that they continued advancing all the way to their CD obedience title.

"We finished that pretty quickly so decided to just keep on going and go through her UD. It has been a blast. We have learned together, both making mistakes at times but never giving up. What better than to be working with your best companion to reach a goal." Sassy Sissy UD received her title at the Car-Dun-Al Obedience Dog Training Club trial on Nov. 8, 2015. They plan to continue in obedience and maybe start some rally and agility classes.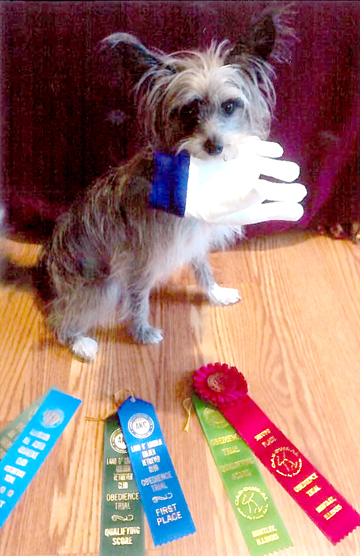 Sissy
Congratulations also to New UD:
Kamigirl UD BN GO RN – Darilyn Harding – Butler, PA
RALLY
Multiple RAEs
Congratulations to these dogs who have added more RAE titles to their names:
Bossman Sweetater Freighter RAE12 – James & Barbara Roberts – Lakeland, FL
Stella CD RAE8 AXP AJP NFP RATN – Karen Powell – Frankfort, KY
Our Sweet Waally Waally Wabbitt CD PCD BN RAE4 – James & Barbara Roberts – Lakeland, FL
MACH4 Moses Raphael York UD BN GN GO RAE4 MXC MJB2 MXF T2B4 CGCA – Jordan York – Evansville, IN
PACH Cody VIII RAE2 MXP3 MXPB MJP4 MJPB PAX XFP T2BP RATO – Karen Powell – Frankfort, KY
Jack-Daniels UD GO RAE2 – Alison Smith – Ontario, Canada
New RAES
Congratulations to these dogs who have achieved the RAE title:
Karma Whisper CD BN RAE NAJ – Beth McKay of Selma, IN
Beth adopted Karma from the Blackford County Animal Shelter in September 2008 when the pup was 4 months old. Karma, a Lab mix, was one of 11 in her litter.

"It was love at first sight for me. I enrolled her in puppy classes immediately. She has continued in classes off and on since. She also participates in agility. She has had a rough road, having knee injuries but still loves to participate in obedience, rally and agility."

Karma obtained her RAE at Muncie Obedience Training Club's trial on Oct. 11, 2015.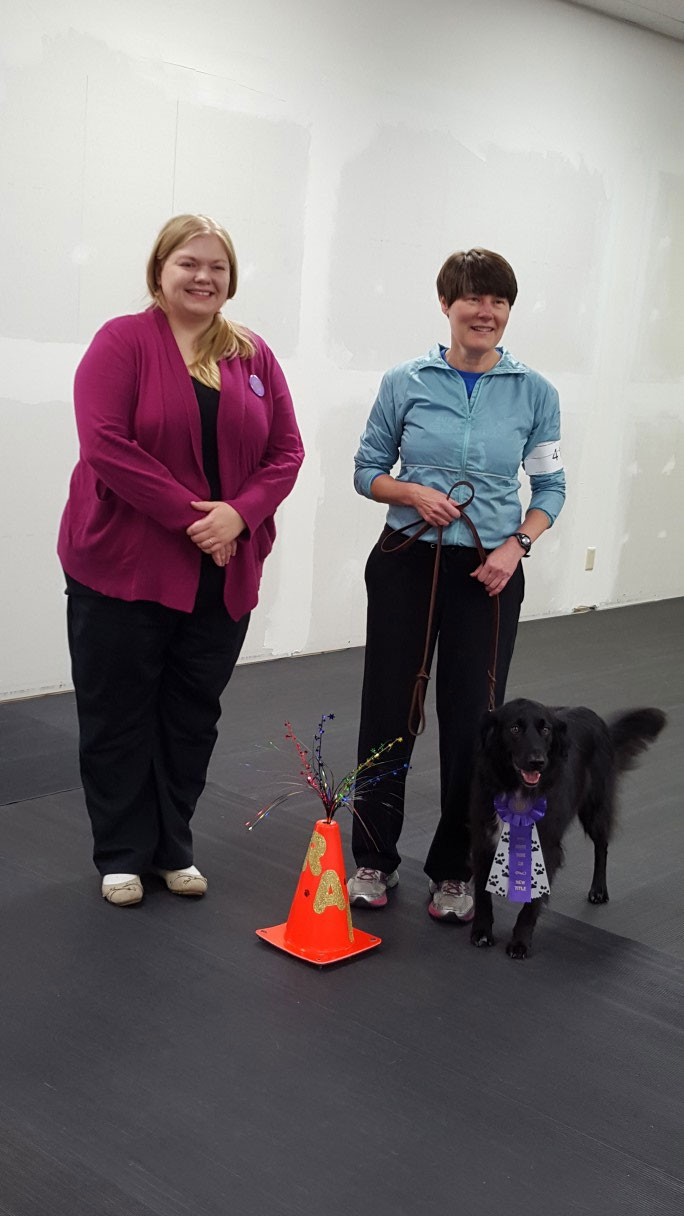 Karma
Sandy River Casts a Shadow BN RAE – Jan Treharne of Brush Prairie, WA
Shadow,a Border Collie/Lab mix, came into Jan's life when he was 8 weeks old and she says he has amazed her since the day she brought him home.

"He loves to learn new and different things so I started teaching him the rally signs at about 12 weeks.We workedin our kitchen, garage and backyard, or anywhere I could find to train. Hepicked up on it so quickly that at 6 1/2 months, I felt he was ready to go to his first rally competition. He sailed right through Novice, Advanced, and Excellent. RAE was our next venture, and once again he was always in the ribbons."

Shadow finished the RAE title at Greater Clark County Kennel Club on Nov. 29, 2015, atthe age of 2 years/1 month and1 day. "Shadow is also working on agility and is just starting his journey in this sport and loves that as well.Working with my dogs keeps me young and there's nothing better than the companionship of your best buddies to just make your day brighter. "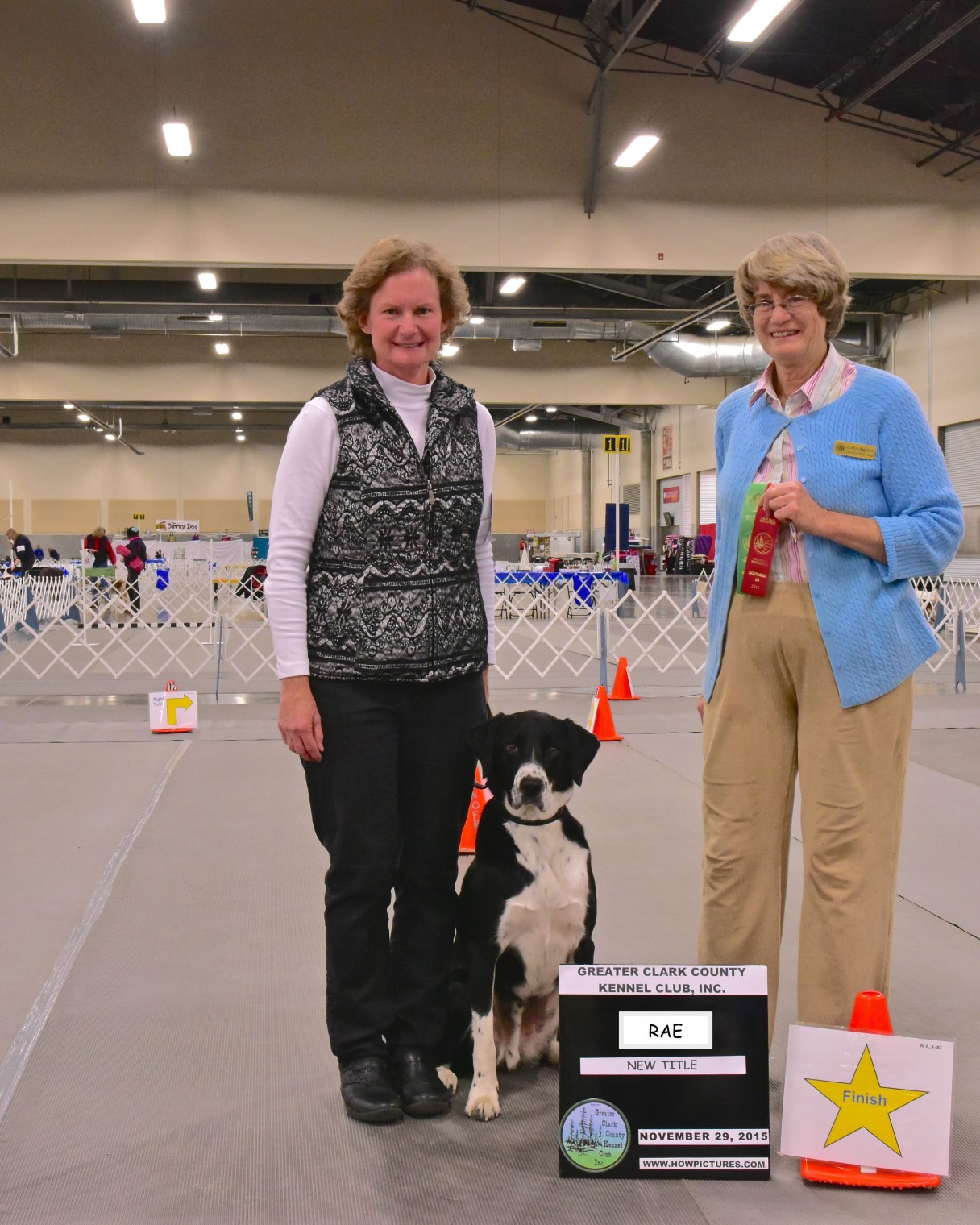 Shadow
Hank CD BN RAE – Gloria Jean Crowcroft of Muncie, IN
Seven-year-old Hank was born in a rescue facility. His mother was a Miniature Schnauzer, and his father was a "traveling man."

"I was going to keep him for one weekend, but he never left my home," Gloria said. Hank loves to train and work and earned his RAE on Oct. 10, 2015, at the Muncie Obedience Training Club trial.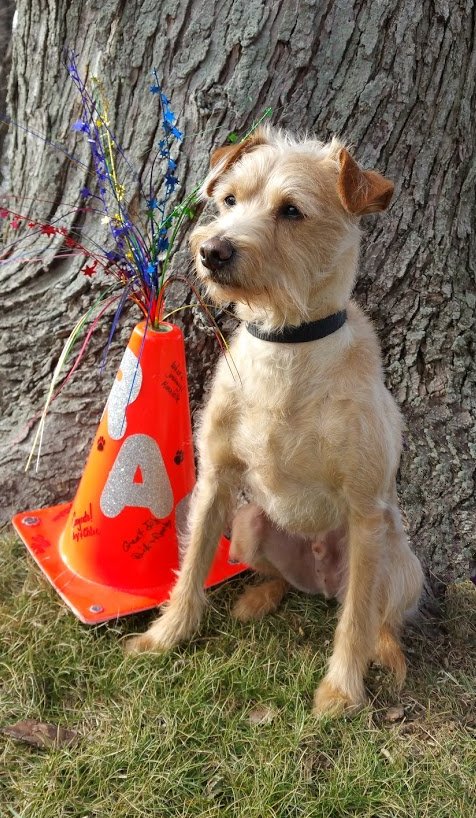 Hank
Dakota Milky-Way Bradley CD RAE CGC – Mariah Bradley of W. Chester, OH
High school freshman Mariah adopted Aussie mix, Dakota, five years ago from a rescue group.

"I first started showing Dakota in 4H events, and as we grew in skills and confidence, I started showing him in AKC events. We breezed through Rally Novice, Advance, and Excellent. However, achieving the RAE proved to be a bit of a challenge at times, but we finished our RAE on Oct. 15th, 2015, at the Dayton Dog Training Club."

Dakota and Mariah also competed in the 2015 AKC Rally National Championship and qualified in the Advance class.

In addition to Rally titles, Dakota also has the AKC Obedience title CD and is a certified therapy dog who regularly visits the residents of a retirement home. Mariah & Dakota continue to be active in 4H and are training with the Queen City Dog Training Club for Graduate Novice and agility.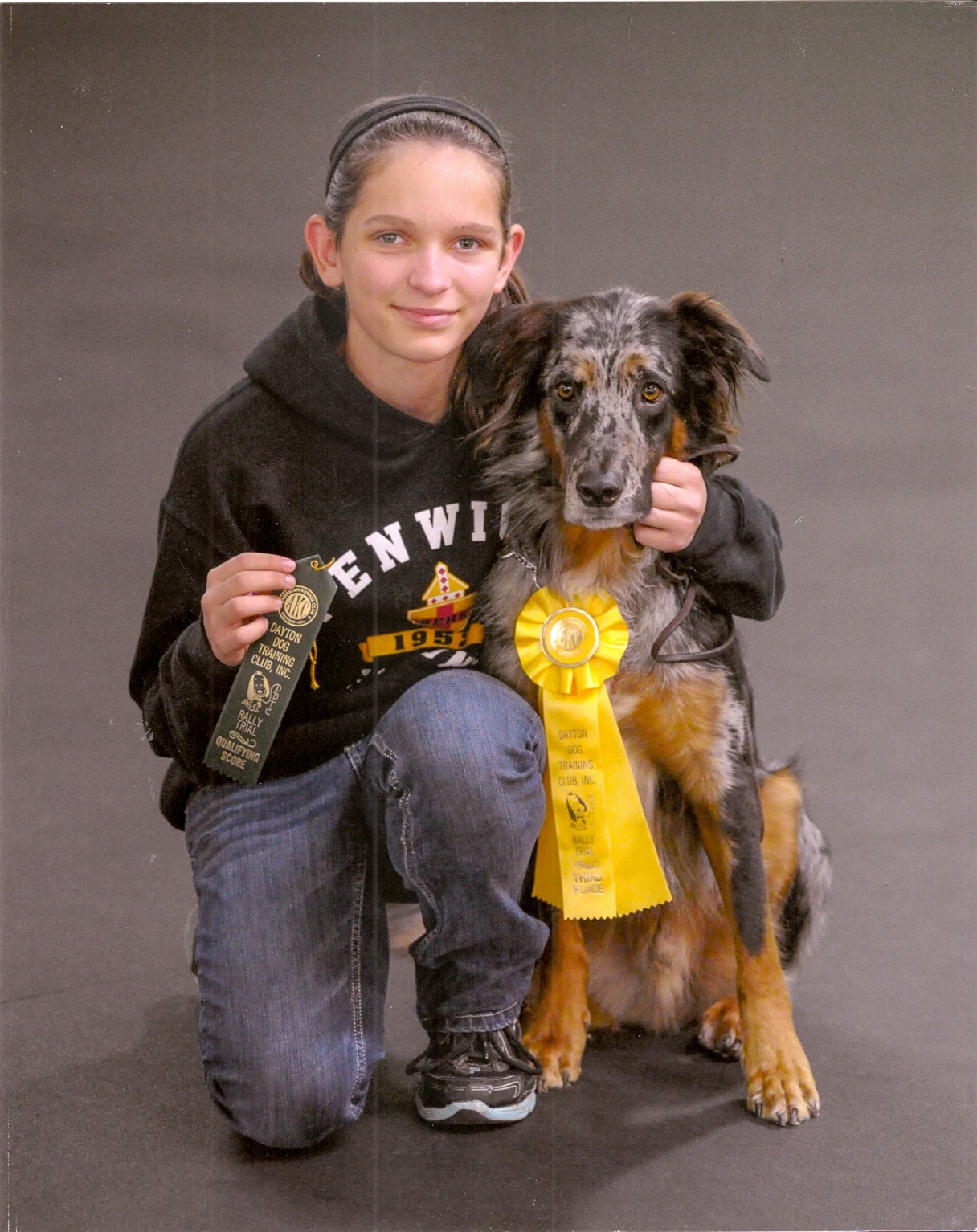 Dakota
Jemima CDX RAE – Caralyna Pfaff of Mitchell, IN
Jemima was born in an animal shelter in 2007 and then was fostered by a rescue volunteer until Caralynda adopted her at age 5 months.

"The best guess is that she is a mix of Yorkshire Terrier and Dachshund," Caralynda said. "Jemima loves to work and has the typical tenacity of a terrier!"

She has earned many high 90's scores in rally and high 190's in obedience classes throughout her career. She finished the RAE in September 2015 at the Evansville Obedience Club in Evansville,IN. In October 2015, she finished her CDX title in obedience.

In addition to competing in rally and obedience,Jemima and Caralynda enjoyed visiting nursing facilities, doing obedience demonstrations at farm supply and pet stores,and performing at children's parties and church youth groups.

"Jemima is a fun little dog with a huge heart," she said. "She makes friends wherever she goes, and enjoys life to the fullest."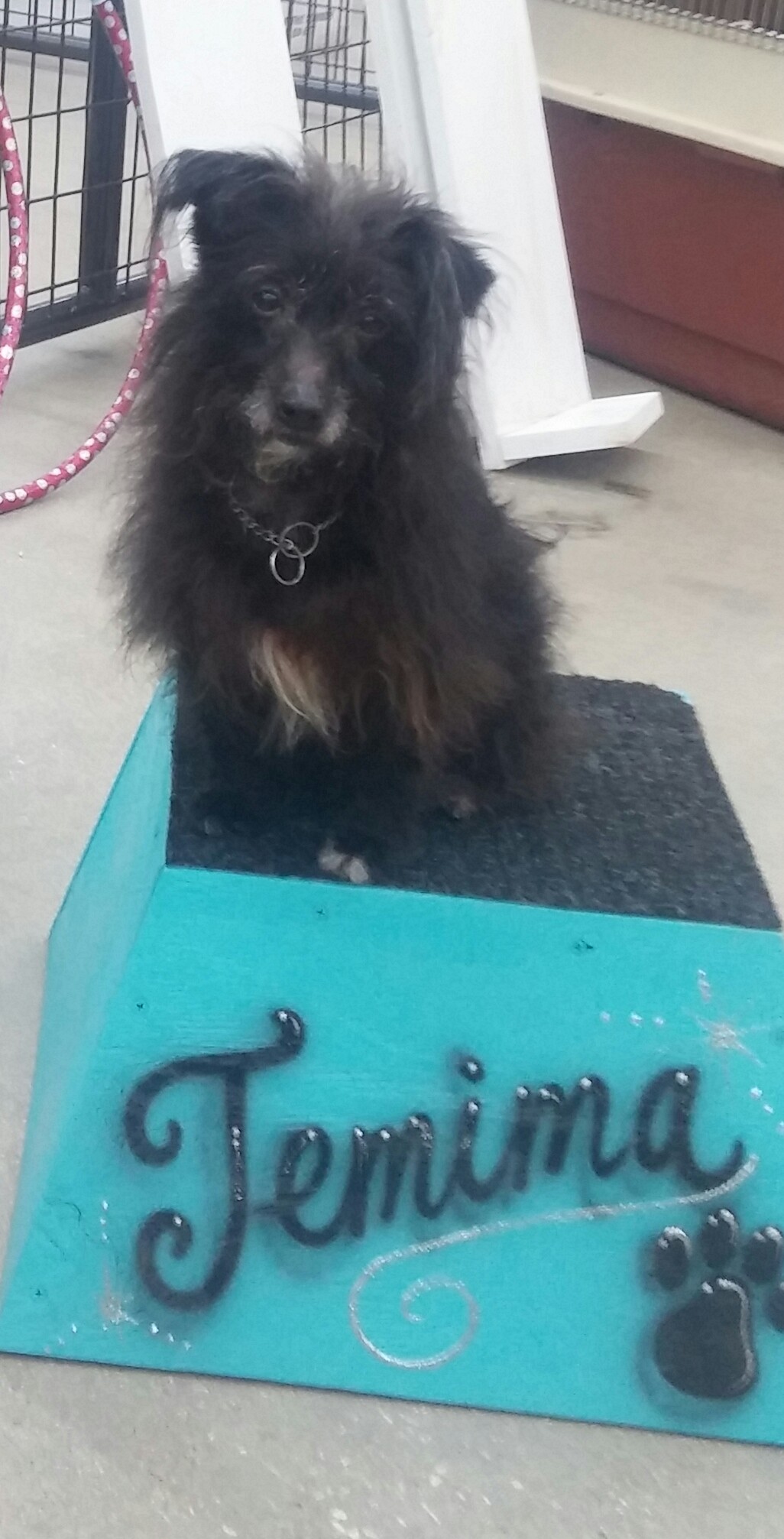 Jemima
Nutmeg BN RAE – Sarah Kreps of Muncie, IN
Sarah brought Nutmeg home when the pup was 8 weeks old and had no plans to compete with her new dog. But when the puppy turned a year old, they started taking classes in competition obedience and rally. Nutmeg did so well that they entered their first trial and have been competing in rally for eight years now. They earned the RAE at the Muncie Obedience Training Clubs trial on Oct. 10, 2015.

"It's been a fun adventure, and I couldn't be more proud of her," Sarah said. "Besides doing rally, Nutmeg is a certified therapy dog and loves visiting her friends at the nursing center, and she has recently started Barn Hunt."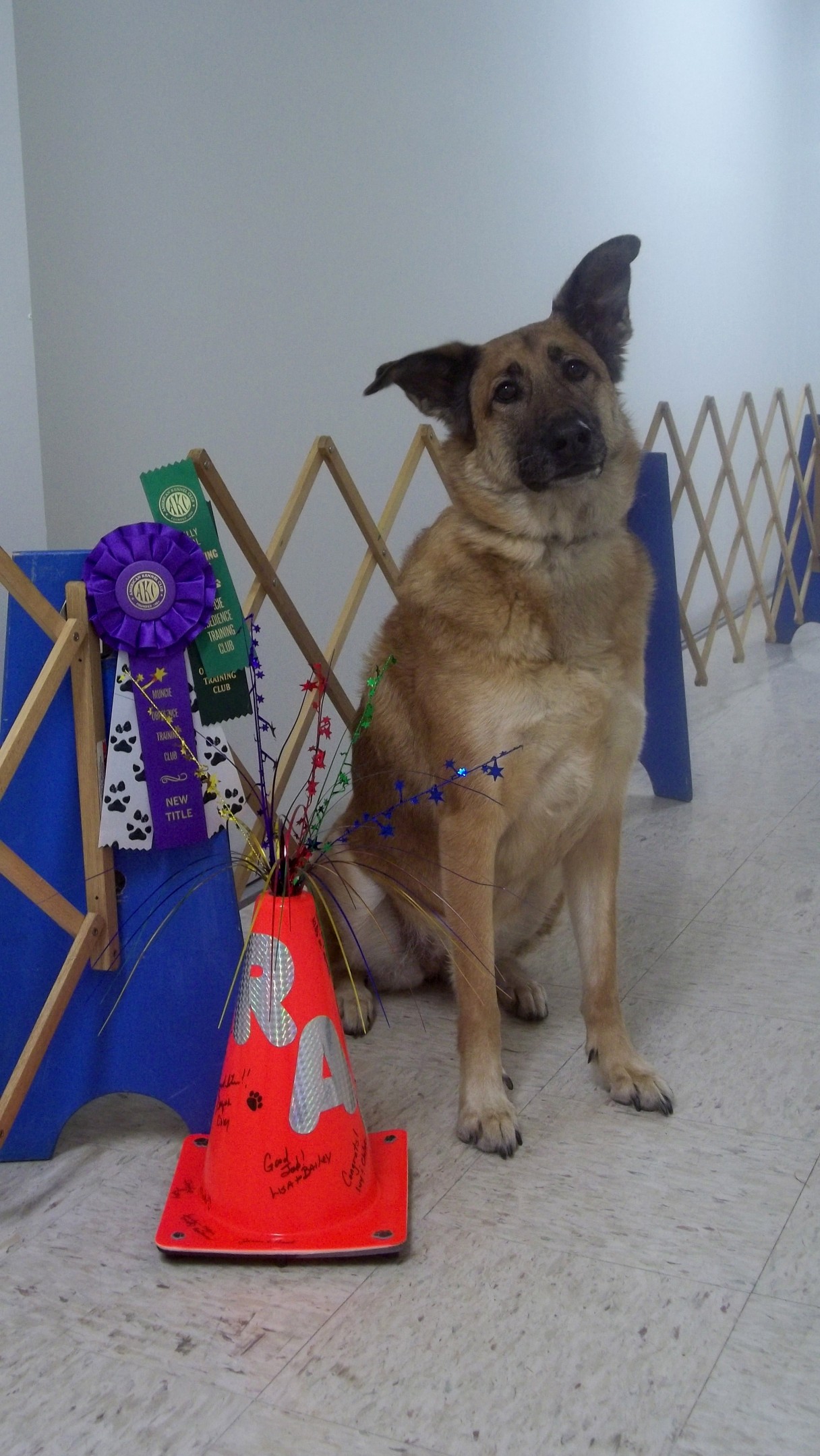 Nutmeg
Salty Dawg's Stormin' Norman CD BN RAE CA – Valerie & Danny Aaron of Yulee, FL
Norman wasn't supposed to be Valerie's dog. "I simply went to PetSmart on the wrong day, at the wrong time --- adoption day, 15 minutes before they closed. A pitiful looking 6 month-old pointer / hound mix looked up at me quietly with the saddest, most soulful eyes I have ever seen and a volunteer whispered in my ear 'this is his last chance to be adopted…' That look was all it took. I couldn't let those sweet eyes be put down, so I took him home determined to find a suitable home for him myself. On the ride home I dubbed him 'Norman.'

"Within about 15 minutes of getting home, the gangly puppy leapt off my elevated front porch and promptly broke his front right leg. After a large vet bill and several weeks of nursing him back to health, Norman was completely ensconced in our lives."

Since Valerie and Danny show Staffordshire Bull Terriers, they decided that Norman should get a job too so he could come along to the competitions. She took him to basic obedience classes and discovered that he loved to work. They continued working and soon entered the rally ring, earning high scores and top honors. Norman completed his RAE with another High in Trial honor at K9 Obedience trial in Jacksonville, FL, in October 2015.

Norman also is a registered therapy dog and brings joy to everyone he visits.

"My husband and I often joke that the mutt in our house has more titles than any of our well-bred Staffords! But the highest honor Norman has earned is Champion of my Heart — I'm so glad he's mine!"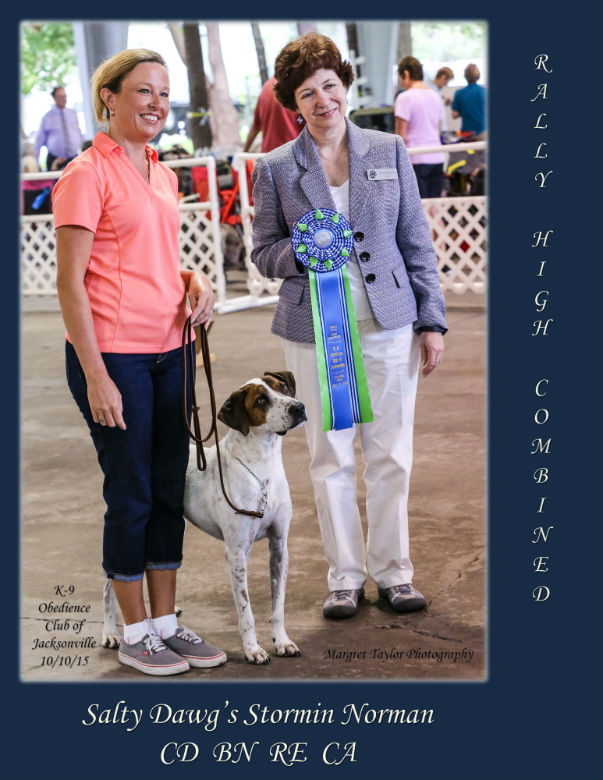 Norman
Congratulations also to these dogs who earned the RAE:
Mattie Ross BN RAE NA NAJ NF CA CGC – Arwen Price – Versailles, KY
Dudley Do Right CD RAE AXP AJP CGC – Elizabeth Piper – Albuquerque, NM
Chipley's First to Fly Solo RAE CA – Chelsey Conklin – Port St. Lucie, FL
Grand-View My Retirement Plan BN RAE TD – Patricia Simon – Borden, IN
Zeke of Griggs RAE CGC – Barbara McClew – Somerset, NJ
Shrewsbury Little Miss Sunshine CD BN GN RAE OA OAJ CGC – James & Jennifer Huskins – Little Rock, AR
Bonnie B. Good CD RAE – Nancy & Charles Hefley – Palmyra, IN
Benson of Willow CD BN GN RAE – Virginia Cranston – Wilson, NY
My Little Pistol CD RAE – Carla & Greg Scott - St. Paul, MN
Frodo the Ring Bearer CD BN RAE – Pearson Marx of Redding, CT
Buster Carlsson CD BN RAE – Greg Carlsson of Pasadena, CA
TRACKING
New Champion Tracker
CT Maddie Dunn – Charlene Dunn of Fort Worth, TX
Congratulations to Maddie Dunn who passed the AKC Tracking Dog Excellent (TDX) test on Oct. 4, 2015, to become the second mixed-breed dog to achieve the AKC Champion Tracker honor. She also is the first mixed-breed dog to earn all five of the AKC Tracking titles.

Charlene found now 13-year-old Maddie in the streets of Arlington, TX, 12 years ago. The vet estimated her to be about 1 ½ years old. Despite attempts to find Maddie's real family, she ended up staying at the Dunn household.
"Maddie is best we can tell a Border Collie / Basset Hound mix, lovingly named a 'Boss-I,'" Charlene said. "Maddie was afraid of everything when she first came to us. Being owned by a tracking/obedience judge, she quickly was put to work as tracking builds a dog's confidence. "
At age 12, when the AKC allowed mixed breeds to enter tracking tests, she earned her Tracking Dog (TD) title. One week later, she was the second All-American Dog to earn her Tracking Dog Urban (TDU). Less than six months later, she became the first All American to earn the Variable Surface Tracking (VST) title.
"At age 13 she is showing all those youngsters how this game works," Charlene said.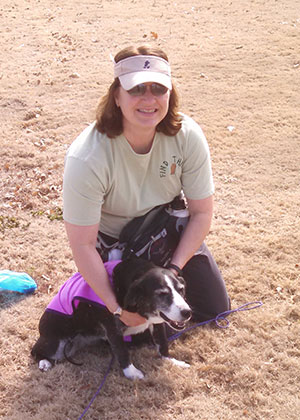 Maddie
New Tracking Dog Urban Title Holder:
Sype's Harlie RN TD TDU THD CGCA CGCU – George & Gail Sype of Rossford, OH
The Sypes adopted Harlie at age 8 months from Planned Pethood Rescue in Toledo, OH. He was a return. The previous owner claimed he was untrainable and made her children hyper. She put him in a vacant rental property with little food or water until he was rescued again.

Despite his rough puppyhood, Harlie loves people. "He is very much an interactive boy with a high energy level and prey drive. We started training him right away. This boy likes to fetch and learn new tricks," Gail said. "He became a certified therapy dog just 11 months after he became part of our family."

When Harlie was 3 years old, the Sypes took him to a dog festival that had a Great American Mutt Show as a fund-raiser for the local humane society. Harlie took first place in both classes and best in show.

"This peaked our interest in dog sports. It just took us a while to figure out where to start," she said. Harlie started tracking before AKC opened tracking to mixed-breeds and got his first tracking title through Mixed Breed Dog Clubs of America on Oct. 14, 2013.

A year later, AKC allowed mixed breeds in tracking trials. Unfortunately that year, Harlie was sick, and George had a stroke.After they both recovered, they earned the AKC Tracking Dog (TD) title on May 3, 2015. Two weeks later, they earned the AKC Tracking Dog Urban (TDU) title. This year they will be entering Variable Surface Tracking and Tracking Dog Excellent trials. Harlie has also earned the Rally Novice title and the CGC-Urban and CGC-Advanced titles.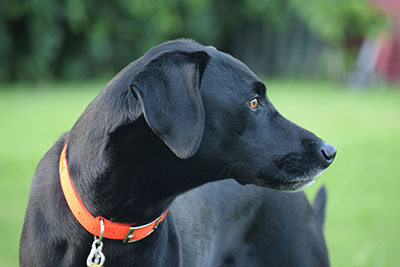 Harlie