AKC Title Recognition Program – Therapy Dog, Search & Rescue, Flyball, Barn Hunt, Dock Diving
The AKC now works with a number of non-AKC service and sports organizations to recognize the titles that AKC-registered dogs earn in their programs. This includes the AKC Therapy Dog titling program and the AKC Search & Rescue title program. AKC also recognizes titles of the Barn Hunt Association (BHA); North American Diving Dogs (NADD); and the North American Flyball Association (NAFA). For more information on how to apply for AKC recognition of these titles, go to: http://www.akc.org/dog_shows_trials/titles/ Read on to meet some of the All-American Dogs who are recent achievers in these sports.
AKC Therapy Dog Title
The AKC Therapy Dog Title program offers titles based on the amount of service that a therapy team has volunteered, giving more dogs the opportunity to earn the honor. Dogs also must be certified by an AKC-recognized therapy dog organization. The titles are:
AKC Therapy Dog Novice (THDN). Must have completed 10 visits.
AKC Therapy Dog (THD). Must have completed 50 visits.
AKC Therapy Dog Advanced (THDA). Must have completed 100 visits.
AKC Therapy Dog Excellent (THDX). Must have completed 200 visits.
AKC Therapy Dog Distinguished (THDD). Must have completed 400 visits.
We salute those All-Americans who are recent recipients of the THDD title for 400 or more visits!
Sliwa's Jake CD BN RE THDD CGC & Dr. Wayne Sliwa of Bluegrass, IA
Sliwa's Jake, better known as Dr. Jake, is a 6 year old chocolate Labrador Retriever, who was adopted from Quad City Animal Welfare Center in Milan, IL, when he was 3 years old.

From the moment that Wayne saw him in the shelter, Jake's remarkable disposition and intelligence stood out. Wayne took Jake to classes at the Quad City Obedience Club, and the handsome dog was a quick learner. He earned the AKC Canine Good Citizen, Companion Dog and American Kennel Club's Canine Good Citizen (CGC), Companion Dog (CD), and Rally Excellent (RE) titles.

Wayne and Jake then pursued training as a therapy dog team with the Alliance of Therapy Dogs, and Jake became a certified therapy dog. In September 2015, Jake qualified for the AKC Distinguished Therapy Dog (THDD) title for assisting Wayne for more than 400 hours in his clinical psychology practice at Psychology Health Group.

Jake goes to the office every day with Wayne. He greets those patients who want to be greeted and instinctively avoids those patients who prefer not to be greeted by a dog. He attentively lies next to Wayne, observing the patients' actions and moods. When a patient's anxiety or depression is not able to be quickly calmed, Jake will sit up and look for a hand signal to approach the patient.

With permission, Jake will place his head on the lap of the patient or push his or her hand to pet him. These behaviors almost always result in the patient focusing on Jake and, as a result, experiencing a reduction in anxiety. For those patients needing extra attention and comfort, he will lie on their feet or nestle next to their legs for as long as the patient needs him. At the end of the therapy session, Jake is frequently asked for a good-bye kiss or is given a good-bye kiss or hug by the patients.

Children especially like their therapy sessions with Jake. They immediately get on the floor and start talking to him. Many times they will tell Jake their most hidden secrets and problems when it is too hard to tell an adult.

Jake's other responsibilities include greeting other provider's patients in the waiting room and bringing joy and love to the secretarial staff. Frequently other therapists request Jake's presence in their office to provide the same therapeutic skills and behaviors that he provides in Wayne's office.

"Jake brings an overwhelming sense of peace, acceptance, and security to my office," Wayne said. "If I had known what a difference a therapy dog would bring, I would have invited a therapy dog to join my practice years ago. But Jake also is a very special one-of-a-kind dog."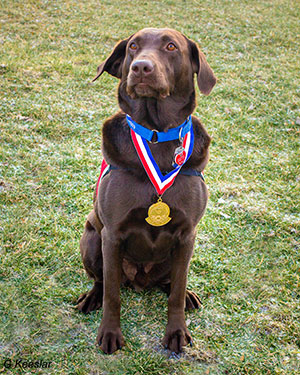 Jake
Miller's Molly THDD & Caroline Miller of McKeesport, PA
Molly is a Labrador Retriever - Newfoundland mix who Caroline found in a local animal shelter. "From the moment I saw her, I knew there was just something special about her," she said.

She started training Molly when the pup was 4 months old, and both Caroline and Molly worked hard to become a therapy dog team.

Today, Molly attends community events, visits nursing homes, volunteers at the Tails That Wag reading program, and goes to college for mid-term and finals weeks.

Her favorite place is an elementary class for children with special needs. The teachers at the school call her visits "Molly Day" -- the day that magic happens.

"The students can't wait for Molly Day. The children who do not read are now reading, and the children who don't touch are now showing signs of their surroundings and are touching. The teachers are so happy and so is Molly. She looks at each child as if he or she is the only person in the room. The teachers asked me how I got Molly to look at the books when the children are reading to them. I just said, 'It's the magic of Molly.' "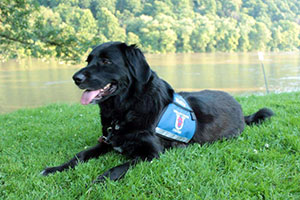 Molly
Guira's Bella THDD CGCA CGCU & Eileen Guiry of Dover, DE
Bella, a 10-year-old Miniature Schnauzer, was a rescue dog from Kent County SPCA shelter. Eileen adopted her and recognized that Bella had the makings of an excellent therapy dog.

"When I first got Bella, she was so loving and trusting I knew she would make a great therapy dog. She passed her AKC Canine Good Citizen class with flying colors and has also earned her advanced level of CGC."

The two have been volunteering at Bayhealth Kent General hospital in Dover two days a week for past four years, along with visiting various nursing homes and the veteran's home.

In 2015 Bella put in 296 hours visiting patients at the hospital alone. "Bella loves to visit where ever we go and the patients, and the staff loves her back. Many patients are surprised to see dogs in the hospital, especially when they see Bella riding in a stroller. Patients will even ask if they could take her home with them."

Bella and Eileen were one of two therapy dog teams invited to be on the Delaware Senate floor on April 11, 2014, when they passed a law declaring April 11 as National Pet Day in Delaware.

Bella was awarded the 2014 Spirit of Planetree Pet Therapy Award from Bayhealth Kent General Hospital. The national award recognizes the role that therapy pets plays in the healing of patients.

"Bella is not only a therapy dog; she is also my service dog for PTSD. Bella is my best friend and I would surely be lost without her."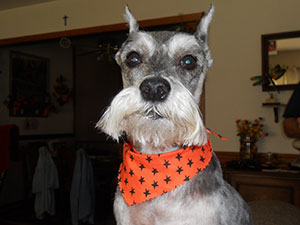 Bella
Yogi THDD CGC & Lawrence Feinberg of Bensalem, PA
When Yogi was about 3 months old, Lawrence took him to a group obedience training class. There were a whole lot of dogs, and Yogi just wanted to play with all of them. The trainer thought Yogi was a distraction and asked them to leave the group. But Lawrence never gave up. He training Yogi on his own, and Yogi really caught on.

Since Yogi loved people, Lawrence thought it would be a great idea for him to become a certified therapy dog. Yogi went to a therapy dog class and then passed the CGC and certified therapy dog tests with flying colors.

A few weeks after passing the exams, they began volunteering at a nursing home. "I still remember our first day at the nursing home. I was nervous, and Yogi was ready to show off. There must have been about 40 residents waiting for us when we came into the community room," Lawrence said. "Yogi performed tricks to start things off. The residents laughed and smiled. the one trick everyone really loved was when yogi performed math; he can add, subtract and do square roots. We wound up visiting the nursing home four days a week. We just love making people feel good!"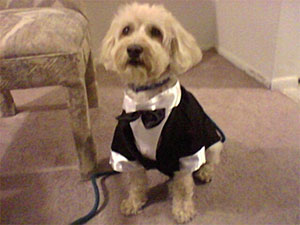 Yogi
Whispering Winds Jigi VCD1 RA NJP NF RATCHX CGC THDD and Whispering Winds ZuZu THDD BN RN TD NA NAJ NF RATCHX2 CGC - Bonnie & Charles Bird of Bellingham, WA
Whispering Winds Jigi and Whispering Winds Zuzu are All-American Dog twins, born on Bonnie's birthday and brought to their forever home on Charles' birthday.

They are both Grand Champion Barn Hunters and Distinguished Therapy Dogs. Jigi is additionally the second All-American Dog to earn the Versatile Companion Dog title in the country.

The two got into therapy dog work almost five years ago and have made hundreds of visits to schools, libraries, nursing homes, hospitals, cancer treatment facilities, and adult day Care centers. They are friendly, intelligent and great entertainers.

They work hard and they play hard. Barn Hunt—Disneyland for Dogs—is their absolute favorite sport. Zuzu is very accurate and methodical in his hunts; Jigi is more free-form and engaging.

People think Jigi is "faster" than Zuzu in Barn Hunt, but looks are deceiving. Zuzu's times are almost inevitably better than his litter mate's and he accumulates qualifying scores more consistently.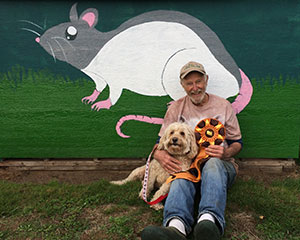 Jigi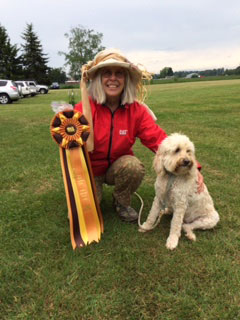 Zuzu
Barn Hunt Association
The BHA enables all dogs to participate in the sport of hunting for vermin. Dogs track rats safely enclosed in sturdy tubes that are hidden among hay bales. The titles range from Novice level to Champion to Champion Excellent. Go to www.barnhunt.com for more information.

Congratulations to All-American Dogs who recently received recognition of their BHA titles:
BHA Championship Excellent 2 (RATCHX2)
Whispering Winds ZuZu BN RN TD NA NAJ NF THDD RATCHX2 CGC – Bonnie & Charles Bird – Bellingham, WA (see bio above in THDD section)
BHA Championship Excellent (RATCHX)
Whispering Winds Jigi VCD1 RA NJP NF RATCHX CGC THDD – Bonnie & Charles Bird – Bellingham, WA (see bio above in THDD section)
BHA Championship - RATCH
Emmy Lue RATCH CAX - Jennifer Baicco of Orlando, FL
Emmy is an 11 year old cattle dog mix and was adopted from Best Friends Animal Sanctuary in Kanab, UT, in 2008.

"At the time, she was an insecure dog who knew very little about being a dog and generally seemed to lack any sense of purpose," Jennifer said. "Eventually, she followed another dog in the family into agility classes."

It took some time for Emmy to figure out why she should want to do this, but one a day a light bulb came on and Emmy suddenly saw dog sports as the job that this herding breed dog never knew she needed. For then on, Emmy thrived on competing in agility trials, where she is currently running in the AKC Masters level.

In 2014, they gave Barn Hunt a try. Again, Emmy was hooked from the start, eventually earning her RATCH on Nov. 1, 2015, at the Paws & Ques trial in Williston, FL.

"Participating in dog sports has changed Emmy more than I could have ever imagined, taking her from a life of insecurity to that of an Australian Cattle Dog who thrives on the chance to do a good day's work."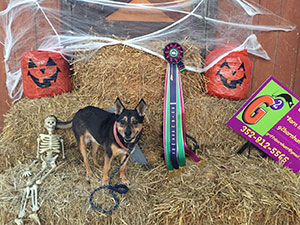 Emmy Lue
Tyson "Chicken Legs" Angiulo RN RATCH CGCA - Cynthia Angiulo - Commerce Township, MI
Tyson was approximately 12 weeks old when he joined Cindy's family in July 2010. He was rescued off the streets of Detroit, found by a local rescue group, in a box labeled "Free Puppies" along with three others. Cindy took Tyson to puppy class and progressed to basic obedience and early agility training. "At 18 months of age, we realized Tyson had something wrong with his knees. He would play like a puppy and would fall over in pain, limping on his back legs when able to regain his composure. At one point he was unable to move his back legs entirely. Tyson was diagnosed with luxating patellas in both his back legs. I thought Tyson's days of activities and fun were over."

Tyson had surgery to repair his right knee in April 2012. Physical therapy followed in an effort to strengthen his core and right rear leg muscles. Tyson's physical therapist recommended the sport of rally to advance his recovery and to keep him active. In November 2012, Tyson received his AKC Rally Novice title winning second place in his class! "That was our first taste of competition and sparked our journey into other dog events."

In August 2014, I entered Tyson in our first barn hunt trial. "Barn hunt became a blessing in disguise. Tyson showed an immediate passion for this sport. Barn hunt is less physically demanding on his body, and this made the sport ideal for his knees. Barn hunt continues to strengthen our bond and we are finally participating in a sport that we both enjoy."

On June 12, 2015, Tyson became the first mixed/cross breed dog in Michigan to receive a Master Barn Hunt (RATM) title - this title requires five qualifying performances. On Aug. 1, 2015, Tyson became the first titled Barn Hunt Champion (RATCH) mixed breed in Michigan - a requirement of 10 additional master level qualifying performances after earning RATM.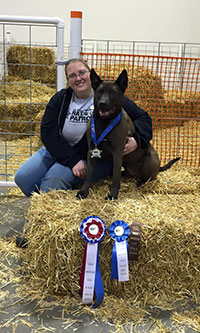 Tyson
Rat Open (RATO)
Keller's Toccoa Millie RN CAX RATO - Robert & Paulette Keller – Clearwater, FL
T-Molly NA NAJ NF RATO CGC - Donna Dolezal – Loveland, CO
Sir Oliver Mcquirky Of The South Side RATO CGC – Kelli Nowak – Burbank, IL
Barn Hunt Novice (RATN)
Jessie Jane Of Kingfisher OA OAJ XF CAX RATN DN CGC - Wade Shetler & Amy Maxfield – Clearwater, FL
Kurtis Of Kingfisher CAX RATN DS CGC – Wade Shetler & Amy Maxfield – Clearwater, FL
Bodie From The Lakes BN RE NA NAJ MXP4 MXPB MJP2 MJPB XFP THDX RATN CGCA – Monika & Beat Schmid - W. Richland, WA
Shaniko From The Lakes CD BN RE MXJ XF CA RATN CGCA – Monika & Beat Schmid – W. Richland, WA
Privett's Eli's Coming Hide Your Heart CD BN RE THDA RATN CGCA - Lisa D Privett – Lonoke, AR
North American Flyball Association
AKC recognizes three titles of NAFA competitors – the Flyball Dog Champion (FDCh) for 500 points; Flyball Master (FM) for 5,000 points; and the Onyx award for 20,000 points. For more information on NAFA and how to get involved go to www.flyball.org.

Congratulations to this All-American Dog on receiving AKC recognition for the prestigious Onyx honor:
Olive ONYX CGC – Alysha Riel of Savage, MN
Olive is a 5 year old French Bulldog/Boston Terrier mix who Alysha rescued at 8 weeks old. "After plenty of obedience classes and a focus on the game of fetch, she was ready to move on to flyball. We began her flyball career in October 2012; since then she has competed with her team EZ Goin in four states and multiple tournaments including the North American Flyball Association's CanAM Classic in Indianapolis." Olive earned her ONYX title from NAFA in February 2015 and is working on the next title FGDCh-Flyball Grand Champion. Olive also earned her CGC title in the fall of 2015. Olive's next endeavor is to enter the world of agility as we begin her training this spring. When not competing she enjoys wrestling with her French Bulldog brother, long walks, puzzles, social brewery visits, and patio dining with the family."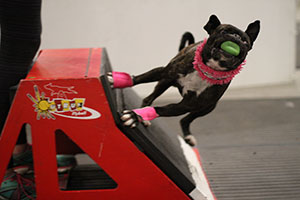 Olive
North America Diving Dogs
NADD offers titles in both distance dock jumping and air retrieve for all dogs. Dogs receive titles based on how far they jump and only compete in the same division with dogs that jump similar distances. For more information go to www.northamericadivingdogs.com

Congratulations to the first All-American Dog to received AKC recognition of a NADD Air Retrieve title:
Air Master (AM) (18 to 21 feet):
The Joke's On You AX AXJ OF DS AM – Joan Kossaras – Phoenix, AZ
Snickers was a frightened, filthy, pathetic looking pup when Joan adopted her four years ago from a shelter at the age of 1 year.

"I brought Snickers home with the intent of having a playmate for my other dog, a Rottweiler, but this busy girl needed a job. She was terrified of swimming, so I thought there was no way this dog would be a decent dock candidate. It saddened me to think she would never experience the joys of water fun that all my Rottweilers had," Joan said. "Well as Snickers began to gain confidence and drive, my initial thoughts could not have been proven more incorrect! Snickers went from not being able to swim and needing a life vest, to being able to jump 24-plus feet."

Snickers was invited to the 2015 North America Diving Dogs national championship and the Purina Incredible Dog Challenge.

Agility is another favorite of Snickers, and she competes in the Masters level of AKC Agility. "It has been a true pleasure adding Snickers to my life, and I can say that I have learned volumes with this ride," Joan said.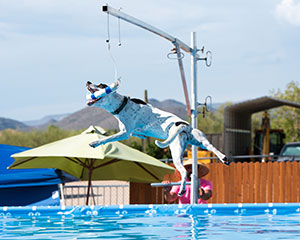 Snickers
Congratulations to these dogs who have earned distance titles:
Dock Master (DM) (20' – 23' 11''):
Scout Finch RA DM CGCA – Ruth Buchanan – Tomball, TX
Ontarget Mischief Managed MX MXJ MXF MFB T2B – Nicole Bailey – Pasadena, MD
Dock Senior (DS) (15' – 19' 11''):
Lizzie DS – David Trofholz – Omaha, NE
Kurtis Of Kingfisher CAX RATN DS CGC – Wade Shetler & Amy Maxfield – Clearwater, FL
Dock Junior (DJ) (10' – 14' 11''):
Crawford's Athena DJ - Shawn Crawford - Winterhaven, FL
Sir Rambo DJ - Lori Signs - El Cajon, CA
Dock Novice (DN) (0' 1'' to 9' 11''):
Banjo of Jackson Creek RD. DN - Mary Ann Norman - Bozeman, MT
Scarlett Wynd OA NAJ OF CAX DN CGC – Wade Shetler & Amy Maxfield – Clearwater, FL
Jessie Jane Of Kingfisher OA OAJ XF CAX RATN DN CGC – Wade Shetler & Amy Maxfield – Clearwater, FL
Coppertone Muttley Cyrus Rock Stars Groupie DN – Heather Signs – El Cajon, CA