AKC Title Recognition Program: Therapy Dog, Barn Hunt, Diving Dogs and Flyball
The AKC now works with a number of non-AKC service and sports organizations to recognize the titles that AKC-registered dogs earn in their programs. This includes the AKC Therapy Dog titling program, which is newly expanded to enable more dogs to earn this honor, and the AKC Search & Rescue title program. AKC also recognizes some titles of the Barn Hunt Association (BHA); North American Diving Dogs (NADD); and the North American Flyball Association (NAFA). For more information on how to apply for AKC recognition of these titles, go here.

Read on to meet some of the All-American Dogs who are recent achievers in these sports.

AKC Therapy Dog Title
There is exciting news for the AKC Therapy Dog Title program. AKC now offers more titles based on the amount of service that a therapy team has volunteered, giving more dogs the opportunity to earn the honor. Dogs also must be certified by an AKC-recognized therapy dog organization. The new titles are:
AKC Therapy Dog Novice (THDN). Must have completed 10 visits.
AKC Therapy Dog (THD). Must have completed 50 visits.
AKC Therapy Dog Advanced (THDA). Must have completed 100 visits.
AKC Therapy Dog Excellent (THDX). Must have completed 200 visits.
AKC Therapy Dog Distinguished (THDD). Must have completed 400 visits.
We salute those All-Americans who are recipients of the THDD title for 400 or more visits!

Portia Rocks Alsup THDD owned by Kathleen Smiley-Aslup of Rockford, IL
Portia was found wandering in Texas. She was heartworm positive and taken in by a Bullmastiff rescue organization. She was adopted out twice, but returned. Her second foster parent chose not to take her back. She needed entropian, an eye surgery, and had other issues. Bullmastiff Rescue Inc chose to bring her into its organization and placed her in the foster care of Kathleen at age 4 years in March 2013.
"I was to assess and monitor her for a week. She was going to hopefully go to her forever home from there," Kathleen said.
As a member of the AKC training club, Forest City Dog Training Club, Kathleen took Portia to classes and worked on her socialization skills. She went home with a loving family, but sadly was returned about two weeks later. Discussion ensued among the rescue groups about what could be done for her or if she should be euthanized.
"During this time, I continued to work with her in obedience and socialization. As she visited my parents, I saw how she reacted to them," Kathleen said. "She changed her attitude with them and became calmer and leaned up against them for attention. I thought she would be a great therapy dog. So I contacted the rescue group and told them she was to be a 'foster failure' and would stay with me."
Within six months, Portia had received AKC's Canine Good Citizen® award, her first leg in an obedience trial, and, passed her Therapy Dog evaluation with Bright and Beautiful.

Portia loves to visit at OSF Saint Anthony Medical Center.
"She is not bashful and will look winsome at anyone walking by to get their attention. She is happy, outgoing and her personality shines when she wears her red collar to work. Portia visits patients, staff and visitors at the hospital," Kathleen said.
She is also good with children and has children read to her at various schools. She helps at children's events promoting dog friendly activities, pet care management, therapy dog awareness, and rescue dog awareness. She volunteers as a training aide at the dog club and appears at public relations events for the dog club and hospital.

"She is now an example for the classes I teach at Forest City Dog Training Club and continues to take classes there for socialization. She wasn't the dog I was looking for, but she is the dog I needed in my life. She has proven that no matter the challenges in a dog's life – they will always repay with love."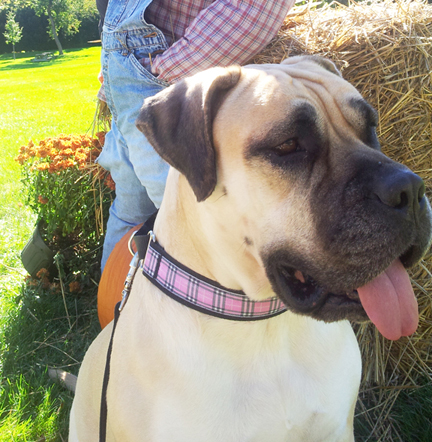 Portia Rocks Alsup THDD

Burn's Max THDD owned by Stephen Burn of Mansfield, TX
For nearly five years, former shelter dog Max and his owner Steve Burn have been visiting rehabilitation, assisted living and retirement centers in the Dallas-Fort Worth, TX, area.

"We both enjoy doing this because we like seeing how the residents light up when Max enters the facility," Burn said. "It provides joy to all involved in the encounters."

Steve rescued Max from the Arlington (TX) Animal Services Center in December 2009. He is a mixed breed and, according to a DNA test, he is part Chow Chow, Chihuahua, German Shepherd, Great Dane, Bull Terrier and Poodle!

Steve recognized immediately that Max had a wonderful temperament and would make a great therapy dog. Max's credentials include AKC's Canine Good Citizen title and the AKC Therapy Dog title. Max and Steve are both registered as a therapy dog team with Pet Partner and, in addition, Max is an American Red Cross Therapy Dog.

In addition to visiting retirement centers, Steve and Max also volunteer in the R.E.A.D. (Reading Education Assistant Dogs) program. The R.E.A.D. program takes place in schools and libraries and helps the children read with confidence to a patient, listening ear that loves to be petted.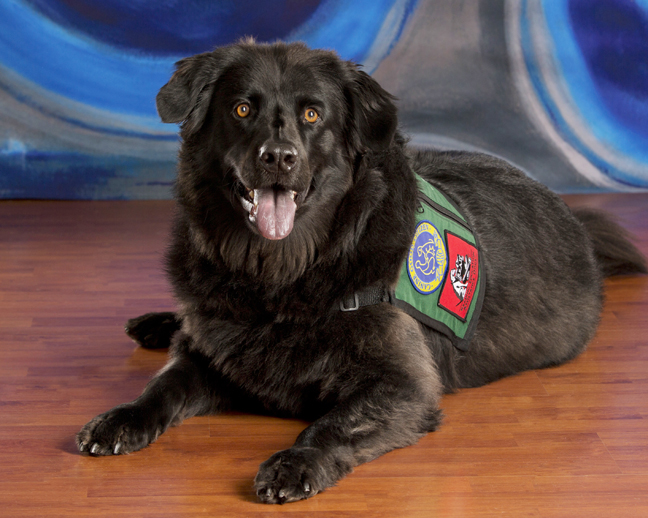 Burn's Max THDD. Credit: Glenda Beckwith/Alexander Portrait Designers

Lemke's Rudy THDD owned by Judy Lemke of West Sacramento, CA
Ten-year-old Rudy is an unassuming little dog who is a mix of Schipperke and Toy Poodle. "Packed within this small dog is a loving and willing heart," Judy said.
Rudy tested in March 2009 for Lend A Heart, Lend A Hand Animal Assisted Therapy based in Sacramento, CA, and at the same time, he tested for Delta (now Pet Partners). "He passed both tests with flying colors!" Judy said.

Rudy received AKC's Canine Good Citizen award in September 2009. Since then, he has spent several hundred hours offering comfort and other services to people in need.
Within Lend A Heart, he has visited nursing centers, hospitals, and schools with reading programs for at-risk children. He also is a Reading Ambassador dog for library programs and after school programs for children.
Rudy's favorite place to visit is the University of California, Davis, Medical Center (UC Med) and Children's Hospital, where he joined the Pets Helping Us Recover program. He has made many friends over the years and continues to make more.
In 2014, Rudy was invited to participate in the Childhood Cancer and Canine Program (CCC) run by the Pediatric Oncology Center at UC Med. CCC is a national study to measure the effects of animal assisted therapy on pediatric oncology patients, their parents/guardians, and therapy dogs. It is a groundbreaking study in that the dog's stress levels have never been measured under these conditions.
Five other national children's hospitals are involved in the study.
In October 2014, Rudy was partnered with a 12-year old leukemia patient. "They quickly fell in love with each other as Rudy visited her weekly for four months.

Rudy's part in the study concluded in March 2015. His patient was getting better and was put on maintenance, much to our joy!"

"Rudy is proud of his AKC Distinguished Therapy Dog Service Award, and looks forward to making further visits to receive more ear scratches and smiles!"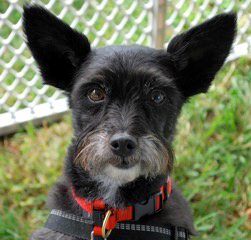 Lemke's Rudy THDD

Mister Murphy THDD owned by Christine Witzler of Bowling Green, OH
Murphy is a 10-year-old Bichon Frise that Christine rescued when he was a year and a half old.

"You could tell at the first meeting that he was born to be a therapy dog," she said. "He has been in cribs in hospitals with 1 year old babies, and he has cuddled a lady who was 106 years old. There is not a soul on earth who Murphy would not love.

"He has brightened up the day for cancer patients, made the elderly feel less alone, comforted the sick and recovering patients, and listened to children during library reading programs. No matter when or where the visit occurs, Murphy is always looking forward to it."

Even after a cancer diagnosis and tumor removal, Murphy still is happiest when getting to see his other therapy dog buddies and visiting at the next facility on the schedule. "I have been the luckiest person to have this loving bundle of joy in my life."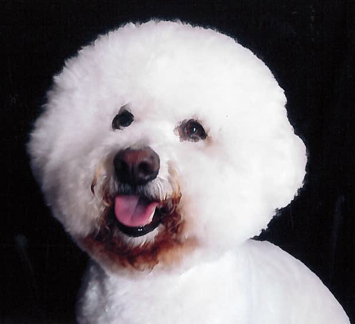 Mister Murphy THDD

MACH2 Hailey MXS MJG MXF T2B THDD CGCA owned by Karen Profenna of New City, NY
Karen had never trained a dog beyond just the basic "sit" and "down" commands until her fiancé' gave her Hailey as a present and she knew she had to find something to keep the high-energy puppy entertained. The Beagle-Boston Terrier mix now is a champion trick dog and a certified therapy dog, who makes about 200 visits a year to nursing homes, hospitals and schools. Hailey also is a very successful agility competitor who has earned two AKC Master Agility Championships.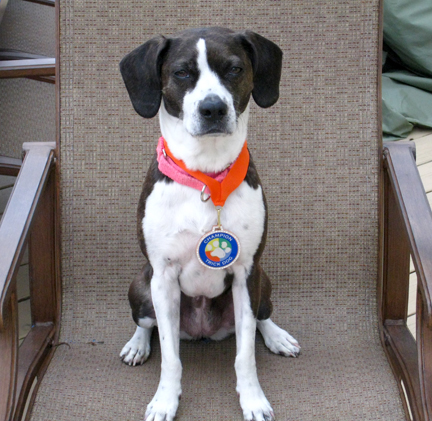 MACH2 Hailey MXS MJG MXF T2B THDD CGCA

Congratulations also to these All-American Dogs who qualified for the AKC Therapy Dog Distinguished title:
Perceus THDD CGC - owned by Deborah Jones of Houston, TX
Wankle's Buddy THDD - owned by Paul Wankle of Pleasanton, CA
Barn Hunt Association
The BHA enables all dogs to participate in the sport of hunting for vermin. Dogs track rats safely enclosed in sturdy tubes that are hidden among hay bales. The titles range from Novice level to Champion to Champion Excellent. Go to www.barnhunt.com for more information.
Congratulations to All-American Dogs who recently received recognition of their BHA titles:
Barn Hunt Champion – RATCH
On T A R G E T's Rock The Casbah OA NAJ FM RATCH DM CGC – Dale McElrath & Penny Leigh of Graham, NC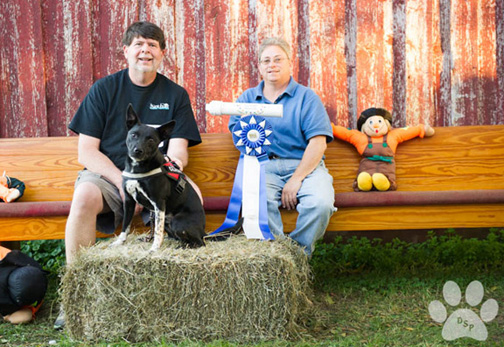 On T A R G E T's Rock the Casbah OA NAJ FM RATCH DM CGC. Credit: The Dog Sport Photographers

Master Barn Hunt – RATM
Emmy Lue RA MXP4 MXPB MJP XFP T2BP CAA RATM CGCA - Jennifer Baicco of Orlando, FL
Open Barn Hunt – RATO
Rakestraw's Diamond-in-the-Ruff BN RE AXP OJP OFP RATO – Kathy Rakestraw of Ball Ground, GA
Cody VIII RAE MXP2 MXPB MJP4 MJPB OFP T2BP RATO – Karen Powell of Frankfort, KY
Berks Jackson NJP NFP RATO CGC – Jennifer Baiocco of Orlando, FL
Novice Barn Hunt – RATN
Rakestraw's Flower Power RATN – Kathy Rakestraw of Ball Ground, GA
Lil' Red Of Bakersville RATN – Careen Barsby of Crocker, MO
BIGGIE RAE2 MXP MJP XFP RATN – Karen Powell of Frankfort, KY
Josie Girl BN RN RATN - Barbara Visinski of Freehold, NJ
STELLA CD RAE7 AXP AJP NFP RATN – Karen Powell of Frankfort, KY
Coco Madison RN NFP RATN - Jennifer Baiocco of Orlando, FL
North America Diving Dogs
NADD offers titles in both distance dock jumping and air retrieve for all dogs. Dogs receive titles based on how far they jump and only compete in the same division with dogs that jump similar distances. For more information go to www.northamericadivingdogs.com

Congratulations to All-American Dogs who recently received AKC recognition of their NADD titles:
Dock Junior (DJ) – 10' – 14'11''
Colt Stahly DJ – Blaise Stahly of La Verkin, UT