AKC Title Recognition Program: Therapy Dog, Barn Hunt, Dock Diving, Flyball
The AKC now works with a number of non-AKC service and sports organizations to recognize the titles that AKC-registered dogs earn in their programs. This includes the AKC Therapy Dog titling program, which is newly expanded to enable more dogs to earn this honor, and the AKC Search & Rescue title program. AKC also recognizes some titles of the Barn Hunt Association (BHA); North American Diving Dogs (NADD); and the North American Flyball Association (NAFA). See more information on how to apply for AKC recognition of these titles.
Read on to meet some of the All-American Dogs who are recent achievers in these sports.
AKC Therapy Dog Title
The AKC Therapy Dog Title program offers titles based on the amount of service that a therapy team has volunteered, giving more dogs the opportunity to earn the honor. Dogs also must be certified by an AKC-recognized therapy dog organization. The titles are:
AKC Therapy Dog Novice (THDN). Must have completed 10 visits.
AKC Therapy Dog (THD). Must have completed 50 visits.
AKC Therapy Dog Advanced (THDA). Must have completed 100 visits.
AKC Therapy Dog Excellent (THDX). Must have completed 200 visits.
AKC Therapy Dog Distinguished (THDD). Must have completed 400 visits.
We salute those All-Americans who are recent recipients of the THDD title for 400 or more visits!
Dragon Run's Little Lion THDD CGC owned by Beth & Paul Peterson of Dover, DE
Beth shared this special story of Taco, who just earned the AKC Therapy Dog Distinguished honor for making more than 400 visits to help others.
Dragon Run's Little Lion THDD CGC, known as Taco, is a Pekingese / Pembroke Welsh Corgi mix who became my rehabilitation dog in January 2012. He was going to be put to sleep if I could not take him. Within two months, about the time to place him on the rescue website, we knew we had to keep him.
Taco began his therapy dog career shortly after our decision to formally adopt him. He had been my demonstration dog at my foundation classes for the past month. We began seeing residents of the State Nursing Home, the facility we have been visiting since 1990. Taco, with his small self and swagger – and later traveling in a modified baby stroller – was a hit. We gathered our credentials and began visiting at the local medical center. Taco, with his one-of-a-kind looks, beautiful coat, and a slightly snaggletooth grin, soon became known and loved by all.
Taco has logged in over 850 hours, and over 500 visits since early 2012. He's been in the local newspaper and on television promoting Therapy Dog Visitation.
We're proud to announce that our Taco also has been awarded the prestigious Planetree Patient-Centered Hospital System's Spirit of Plaintree Therapy Animal of the Year for Bayhealth Medical Center of Delaware for 2015.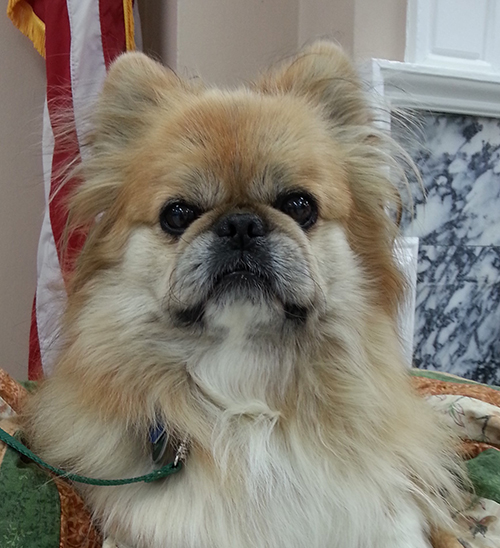 Taco
Wankle's Buddy THDD owned by Paul & Cathy Wankle of Pleasanton, CA
The Wankles rescued Buddy from a shelter eight years ago, and the Golden Retriever-Lab mix has more than repaid the favor by being a wonderful companion to them and helping thousands of children in need.
Since joining the Wankle household, the now 11-year-old Buddy has been a very active member of the Valley Humane Society (VHS) http://valleyhumane.org/ Canine Comfort Team. Buddy has accumulated more than 1,200 hours of therapy dog service and has earned the AKC Therapy Dog Distinguished (THDD) title for making more than 400 visits.
Buddy's specialty is children and he has helped them in numerous ways, including meetings at a local psychiatric unit; visits to the children's oncology ward; children's reading programs with Paws to Read; and activities involving special needs children.
Buddy helps grief-strickent children at a bereavement camp for kids dealing with the loss of a loved one, organized each year by Paul in conjunction with the Kara organization of northern California.
One of Buddy's biggest honors was receiving the distinguished You Make a Difference Award from the Tri-Valley Special Education Plan Area. California Assembly Member Joan Buchanan honored Buddy with the award in May 2014 for his dedication to the Special Developments Class (SDC).
When not working as a therapy dog, Buddy is quite well known in the town of Pleasanton and can often be found in his other "job" as V.P. of Human Relations at Classic Cars Ltd., a business owned by Paul for more than 20 years.
"Perhaps most important, Buddy has become a very special part of the entire Wankle family and is adored by his elder relatives as their favorite 'Grand Dog,' " Paul said. "It is a fair statement that Buddy has never met a stranger."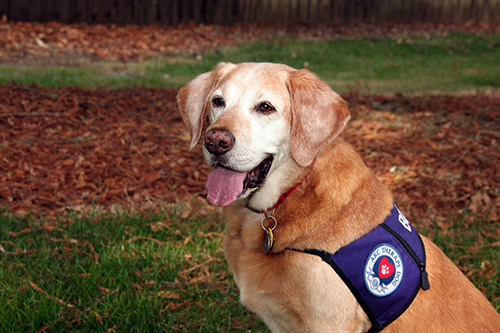 Buddy
Congratulations to these dogs who also earned their Therapy Dog Distinguished (THDD) title recently:
Barkley Schwein THDD – Ann Marie Schwein of Manchester, MO
Fullen's Brutus THDD – Brittany & Marilyn Fullen of San Diego, CA
North American Flyball Association
AKC recognizes three titles of NAFA competitors – the Flyball Dog Champion (FDCh) for 500 points; Flyball Master (FM) for 5,000 points; and the Onyx award for 20,000 points. For more information on NAFA and how to get involved go to www.flyball.org.
Congratulations to this All-American Dog on receiving AKC recognition for the prestigious Onyx honor:
Horton RAE ONYX CGC owned by Barbara Wojciak of Harpersville, AL
The formerly homeless dog earned his 20,000-point Onyx title in flyball in July 2014 from the North American Flyball Association (NAFA).
Horton has been a member of the Dixie Flyers flyball club of Birmingham, AL, since 2012 and, even at nearly 12 years old, still enjoys the excitement of this fast-paced sport, Barbara said. Horton and his teammates have been so successful that he will soon be able to claim the coveted 30,000-point title known as Flyball Grand Champion.
The below photo shows Horton getting ready to catch the ball in the race where his Dixie Flyers teammates helped him earn his final 25 Onyx points.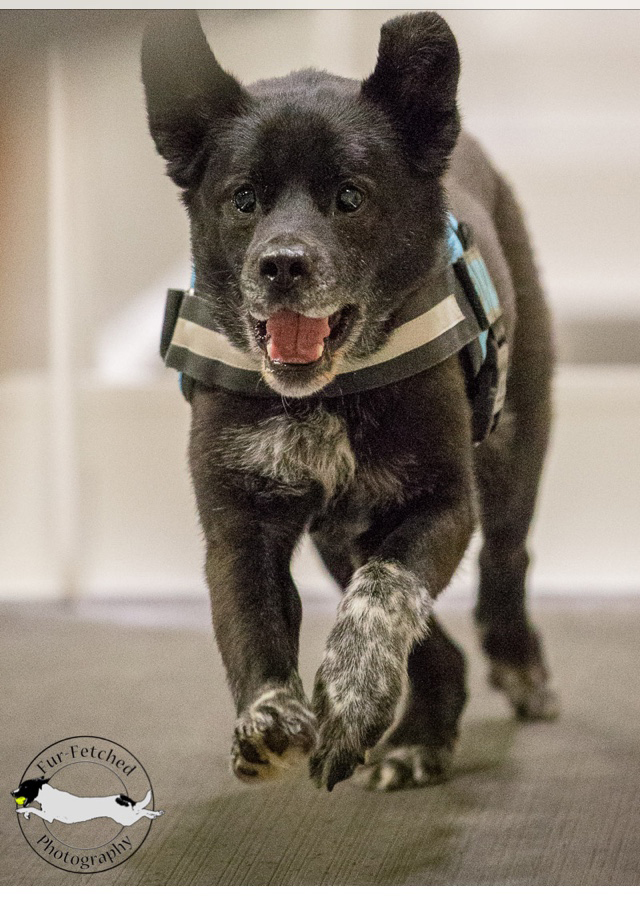 Horton
Barn Hunt Association
The BHA enables all dogs to participate in the sport of hunting for vermin. Dogs track rats safely enclosed in sturdy tubes that are hidden among hay bales. The titles range from Novice level to Champion to Champion Excellent. Go to www.barnhunt.com for more information.
Congratulations to All-American Dogs who recently received recognition of their BHA titles:
Rat Senior (RATS)
Steely's Mag-Nificent Girl NA NAJ NF CA RATS CGC – Brenda Steely of O Fallon, MO
Vespa NA OAJ OF RATS CGC – Angela Laird of Winnsboro, LA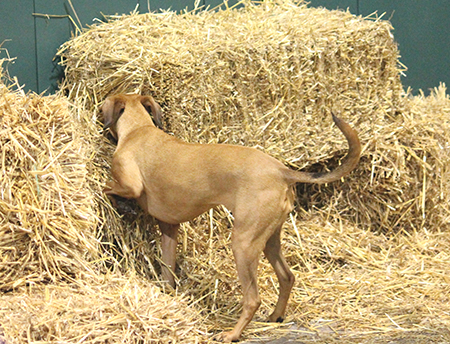 Vespa
Rat Open (RATO)
Marco's Middle Eastern Journey RATO – Jennifer Baiocco of Orlando, FL
Copeland's Daisy of Mars Hill Rd. RATO CGC – McKenna Copeland of Cumming, GA
Coco Madison RN NFP RATO – Jennifer Baiocco of Orlando, FL
Lucy's Got Some 'Splainin' To Do CD RA CAA RATO CGC – Nancy Lewin of Glendale, WI
Rat Novice (RATN)
The Sir Francis Bacon BN RA THDN RATN CGC – Katie Weihbrecht of Iowa City, IA
T-Molly NA NAJ NF RATN – Donna Dolezal of Loveland, CO
North America Diving Dogs
NADD offers titles in both distance dock jumping and air retrieve for all dogs. Dogs receive titles based on how far they jump and only compete in the same division with dogs that jump similar distances. For more information go to www.northamericadivingdogs.com.
Congratulations to All-American Dogs who recently received AKC recognition of their NADD titles:
Dock Senior (DS) 15' – 19'11'' – Scout Finch RN DS CGCA– Ruth Buchanan of Tomball, TX
Dock Junior (DJ) 10' – 14'11'' – Kurtis of Kingfisher CAX DJ CGC – Wade Shetler & Amy Maxfield of Clearwater, FL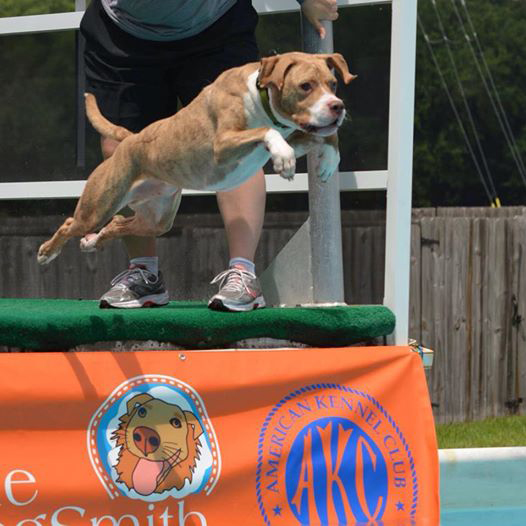 Kurtis