Junior Spotlight
11 Years of Team Work Creates Close Bond between Junior & Her Rescue Dog
Clara Selle and her mixed-breed dog, Scottie, have been together for 11 years. Clara's family saved Scottie from euthanasia when they adopted him from a local shelter, and Clara started training him not long after he came home. Today, they are a successful competition team and won first place in the Rally Novice class and third place in the Beginner Novice class at the 2014 AKC Juniors Classic, a national obedience and rally competition held in Orlando, FL. Scottie's formal name is Selle's Charming Aristocrat CD BN CGCA.
Clara Selle
Age: 18
Hometown: Delaware, OH
School: Otterbein University
Parents: Rita and Brian Selle-Grider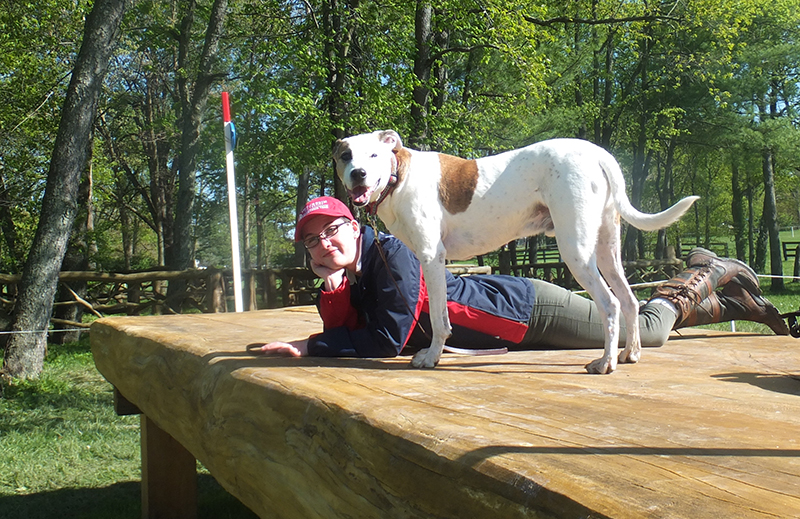 How did Scottie come into your family's life? How old is Scottie and do you know what breed/mix he is?
In 2004, my family and I adopted Scottie from a Franklin County shelter. He was six months old and actually scheduled to be euthanized that day. Originally we were planning on adopting another dog, but the shelter adopted that dog out. I was really upset at that – I was 7 years old at the time and I had been asking for a dog for years. My dad found Scottie in one of the last cages. He was hiding in the back of the cage, and I fell in love the minute I saw him. A fun fact is that he used to be named Ducky. I named him Scottie in the backseat of our car as we took him home.
Scottie turned 12 in July. My educated guess on which breeds he's mixed with is Greyhound, Dalmatian, Aussie, and Pit Bull.
What got you started in training Scottie and involved in 4-H? Is your family involved in dog training/showing?
I started training Scottie when I was around 9 years old. My mom decided to enroll me in 4-H, and training Scottie was the first project I ever started. I've stuck with it ever since. I started showing in AKC events two years ago, which really prompted me to start training harder and with different goals in mind.
I love my family, but they aren't really "dog savvy." They know their basics about care and training, but that's about it. They are not involved in my training and showing other than being supportive, which is always a big help. It's normally just myself and the boys at shows.
What do you like best about working with Scottie? In addition to obedience and rally, what other sports do you compete in with Scottie?
There are several things I love about working with Scottie. He has an incredibly willing attitude to work and is always ready to go. He loves to learn new things, which is something we share. He is also very intelligent; he picks things up very quickly and always thinks things through. My last reason is that Scottie and I have a very strong bond. I have been working with him for the past 11 years so we can read each other very well. He always tries hard for me.
Scottie and I also compete in agility, and we are starting Barn Hunt and Tracking. We are also very involved in therapy work, specifically with an organization called Agility Ability that focuses on children with disabilities.
What titles/honors have you earned with Scottie?
Scottie has the AKC Obedience titles of Beginner Novice (BN) and Companion Dog (CD), the AKC Rally title of Rally Novice (RN), and the AKC Canine Good Citizen-Advanced title. Through 4-H, Scottie has won many high scoring obedience, rally and agility awards, as well as high scoring exhibitor. He is currently one of the most advanced 4-H obedience and rally dogs in the state. We are just about to finish his AKC Graduate Novice title and are now working on his Companion Dog Excellent (CDX) title. We are also starting to work towards his Utility Dog (UD) title.
How did you decide to enter the national AKC Juniors Obedience/Rally competition? What contributed to your success at the event?
I had heard about AKC Junior Nationals, but I didn't really know what it comprised of, or how to qualify. A good friend of mine filled me in on the details and encouraged me to go. I was interested in competing from the beginning and ended up going down and competing with a groups of friends from 4-H. Scottie won the Rally Novice class and placed third in Beginner Novice.
There were a few things that contributed to our success. Our years of experience showing, coupled with a tight schedule of trials before Nationals, helped prepare and fine tune us. A good warm-up before going into the ring and lots of support from family and friends definitely helped. Not to mention the high reward treats, like chicken nuggets. My dog show friends are always laughing at me because I constantly have different treats, like a cheeseburger or mac n cheese.
Do you own any other dogs or pets? Any others that you compete with and in what sports?
I do have another dog. I also have six cats, two chickens, and a horse. My other dog is a 3-year-old Golden Retriever named Cooper. Our major focus is obedience, but we also compete in agility and rally. We are starting to get into tracking and field trials. Unfortunately, he tore his left cruciate ligament and just finished his rehab from surgery in April. That meant we have had to put our competing and training on hold for a bit. I also show in my horse in hunter/jumpers and am on my college's equestrian team.
What are your future goals in the sport of dogs?
Right now, my goal is to finish Scottie's CDX by the end of the year. Once Cooper is ready to get back to competing, I am aiming for his Obedience Trial Championship (OTCH), although that will likely take a couple of years. I am not sure of my goals further ahead of that, but I am definitely planning to stay involved in AKC.
Do you plan do to something animal-related as a career?
Yes. I am currently double majored in Equine Pre-Vet and Equine Business Management. I'm planning on becoming an equine and small animal vet.