Competition/Titles Update
We have some big news to report in the world of All-American Dogs in competition in this issue. The first mixed-breed dog to become a Champion Tracker has been crowned, and we have the fourth All-American to earn the Versatile Companion title. Plus, meet a new Obedience High in Trial winner and see who is competing at the Agility Invitational and Obedience Classic this year. Get all the news about the top title earners in Agility, Coursing, Obedience, Rally, Tracking and Versatile Companion Program.
AGILITY
Congratulations to All-Americans Invited to 2015 AKC Agility Invitational
Congratulations to the top five All-American Dogs in AKC Agility in Regular competition, plus the number one All-American in the Preferred division.
They have been invited to the 2015 AKC Agility Invitational. The event will take place Dec. 11-13 in Orlando, FL, in conjunction with the AKC/Eukanuba National Championship and the AKC Obedience Classic. All-American Dogs compete in AKC Agility through the AKC Canine Partners program for all dogs, including mixed-breeds and rescues.
Congrats to:
MACH8 Logan Lake Hope & Kim Barton of Johnstown, OH
MACH4 Feel the Need & Janet Boggs of Crawfordsville, IN
MACH3 Stanley P-Nut & Stephanie Theis of Pleasant Ridge, MI
MACH4 Lanakila Doin It by Example & Caroline King of Sanger, TX
MACH4 Sally of Ingleside & Valerie Dietz of O Fallon, IL
PACH2 Harvey's Casper & Ronda Harvey of Calabasas, CA
Multiple Master Agility Championships
Congratulations to these dogs who have added more MACHs to their name:
MACH8 Logan Lake Hope MXC2 MJS3 XF T2B
MACH7 Samantha MXG2 MJC2 MXF MFC TQX T2B6
MACH5 Cooper Holdem Parkside MXG2 MJC2 MXF
MACH5 Trinity's Carbon Copy MXS2 MJB2 MXF T2B
MACH4 Feel The Need MXB2 MJS2 MXF MFB TQX T2B4
MACH4 Arff Tallulah MXC MJB2 MXF MFB TQX T2B
MACH4 Stanley P-Nut MXG MJG XF T2B
MACH3 Donaldson's Daisy MXC MJB2 OF
MACH3 Leon De Mi Vida MXG MJG MXF T2B3
MACH3 Moses Raphael York UD BN GN GO RAE3 MXG MJC MXF T2B3 CGCA
MACH2 Mel's Amazing Mooch MXS MJS XF T2B2
MACH2 Jinx Falkenburg McLean MXS MJS T2B
MACH2 Olivia II MXS MJG MXF T2B2
MACH2 Stumler's Harley MXS MJS XF
MACH2 Carazo's She's A Keeper MXS MJG
MACH2 Boots II MXS MJS CGC
MACH2 Allie G MXS MJC NF
First Time MACHs
Congratulations to these dogs who recently earned the AKC Master Agility Championship:
MACH Princess Sophie Jo CD BN RE MXS MJG OF owned by Debra Tervelt of Loves Park, IL
Sophie was nearly a year old when she joined the Tervelt home in 2006. Debra started her in a puppy training class at the Forest City Dog Training Club just to learn some manners.
"Never in my wildest dreams would I have believed what would happen to us next," she said. "You might say that I got hooked on dog training with that first class."
Debra and Sophie continued in obedience classes and then started in agility classes when Sophie was 3 years old. They started competing and Sophie made her debut in AKC Agility on May 15, 2010. Just a year later, they were competing at the most advanced level.
Everything was going great and then they hit a major obstacle. In October 2011, Sophie started having short seizures after trials. "After many blood tests, she was diagnosed with an auto immune disease, hemolytic anemia. Her own body was destroying her red blood cells faster than her body could produce them. Two weeks later she needed a blood transfusion to get her red blood cells up to a level to keep her alive. She also needed time to give the medications she was now taking a chance to start working."
A few weeks after the transfusion, Sophie started to improve and they started gradually taking her off the many medications. "We started trialing again in January 2013. We took it slow because she needed time to get back to her old self."
Sophie earned her long-sought MACH on April 25, 2015, at the Car-Dun-Al Obedience Dog Training Club trial.
"This was a very sweet victory. Now I run just for fun withSophie.Thank you AKC for letting me play with my little Canine Partner!"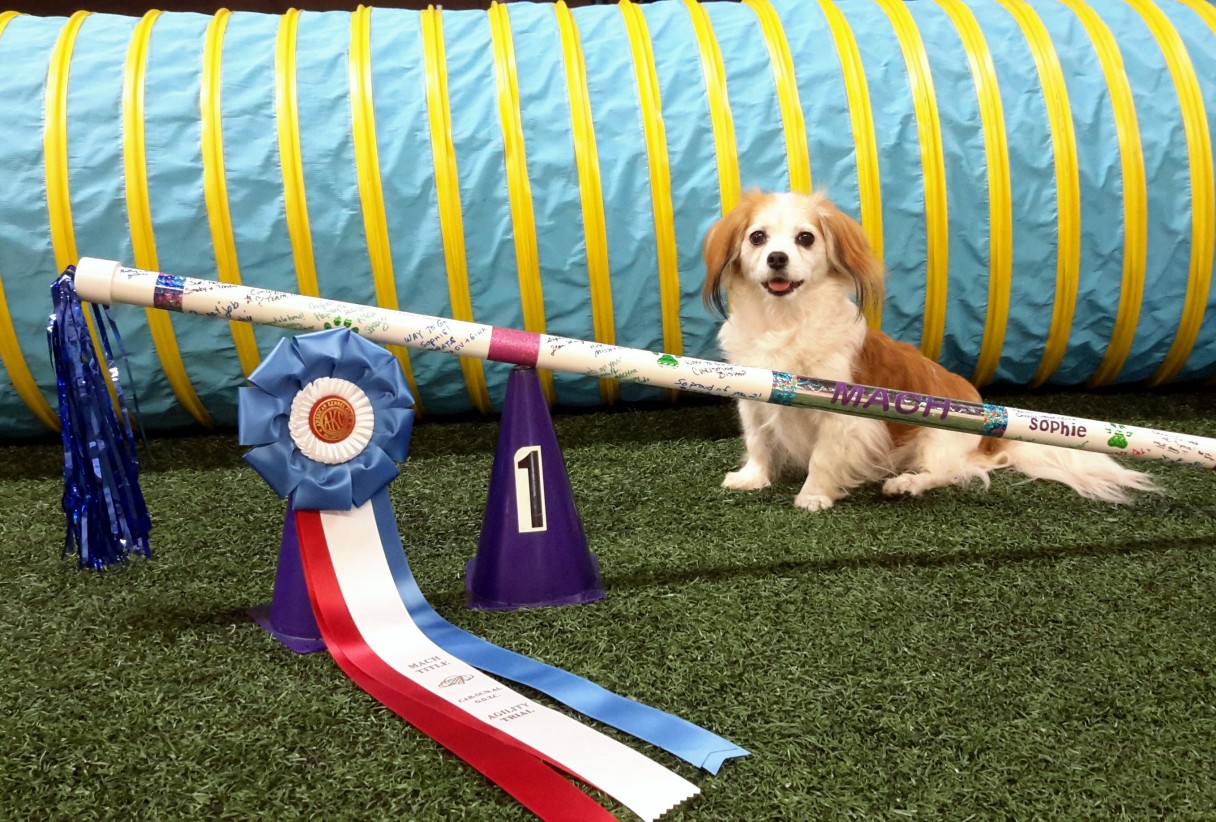 Sophie Jo
MACH Kink MXS MJS OF CGC owned by Allison Blakley of Cazenovia, NY
Kink is a 12 ½ year old mixed-breed dog who was adopted at the age of 2 years from the island of St. Kitts in the West Indies.
He did not start his agility career until the age of 9 due to Allison's education path and frequent moves around the country.
But Kink loved the sport and soon was competing. "Kink was not the fastest dog on the course but was steady, qualifying more often than not," Allison said.
In November 2014 as Kink closed in on his MACH, disaster struck.
"He unfortunately ruptured a disk in his back. After a few months off, plus acupuncture, physical therapy, and medications, the neurologist cleared him to run one more time before surgery to remove the ruptured disk," Allison said. "It was decided that no matter the outcome of the trial, this would be Kink's retirement." Kink was entered in his last trial on May 16-17, 2015, at the Dog Obedience Training Club of Rochester, NY.
Although slower than previously, Kink still qualified in both classes Saturday and in the Standard class on Sunday morning. This left only the Jumpers with Weaves class on Sunday with him needing two final speed points for the MACH.
"On the last run of his career Kink qualified with the two points to earn his MACH. There was not a dry eye in the house. The next week Kink had a successful surgery to remove the ruptured disk and now is enjoying retirement pain free. "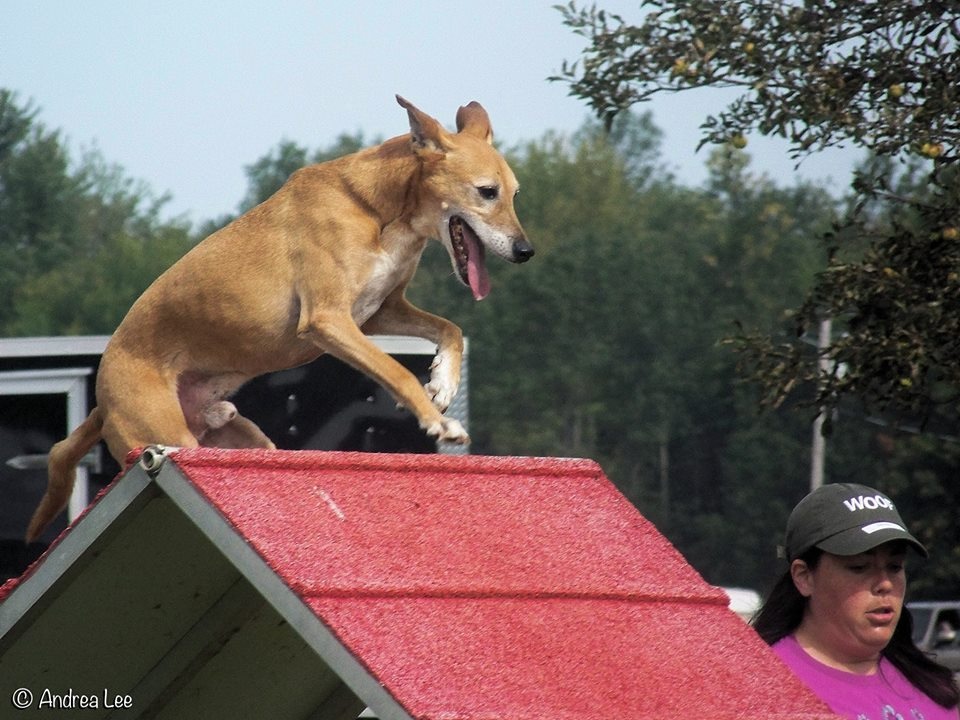 Kink
MACH Kinzee Doodle MXB MJB XF T2B2 owned by Rick & Leslie Large of Jamestown, CA
Kinzee Doodle is a 7 year old Border Collie/Queensland Heeler mix, who is a true working dog.
She serves as a herding and ranch dog at Back of the Moon Ranch in Jamestown, CA. Besides driving the horses out to pasture every morning, Kinzee's other duties involve helping her disabled owner, Rick.
"When Kinzee was a pup, she spent so much time jumping up on bales of hay that were stacked three high and climbing fences that I thought she might make a great agility dog," Rick said. "So we decided to have her begin training with Karen Kaua in Murphys, CA."
Karen suggested that she should start competing at local trials in 2011. Kinzee did so well that in 2013, Karen advised that Kinzee should expand her knowledge and attend classes with Kathie Kikuyama in Granite Bay, CA, and enter trials in larger cities.
Kinzee quickly worked her way up through the classes and earned MACH on May 22, 2015, after placing fourth in the standard class of the Two Rivers Agility Club of Sacramento. She also has qualified for the 2016 AKC National Agility Championship. "Not bad for a novice team," Rick said.
In addition to agility, Kinzee's favorite pastimes are: "to dive into a horse trough on a hot day, to hunt squirrels and foxes, and to watch large trucks and tractors."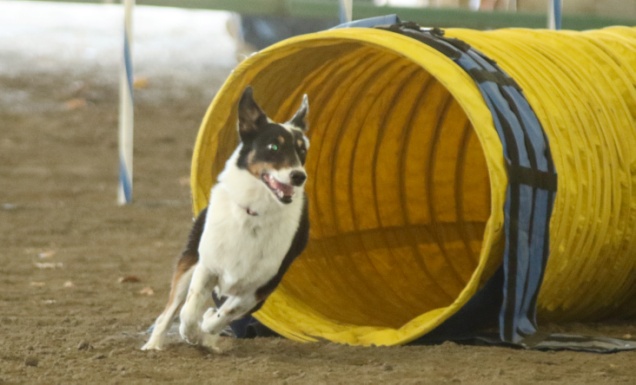 Kinzee
MACH High Octane's Borgoe Tobias MXB MJB MXF TQX T2B owned by Anouk Boon of Lakewood Park, FL
Borgoe earned his MACH in June 2015 and Anouk says she could not be prouder.
"Agility has changed our lives," she said. "We love every aspect of it. Borgoe is a very versatile and accomplished little boy and we hope he will earn his MACH 2 before the end of 2016."
Borgoe also has served as a therapy dog for the past two years.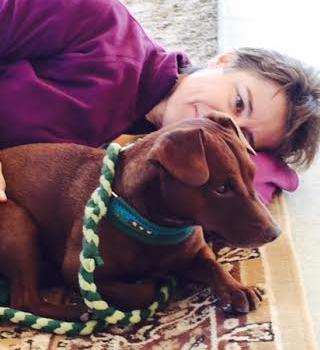 Borgoe
MACH Cooper MXB MJG OF owned by Shelley Webster of Trenton, NJ
In summer 2009, Shelley stopped by her local shelter in Princeton, NJ, in search of a new companion.
"I had just lost my dog and was looking for a large, friendly dog to adopt, preferably a shepherd/lab mix," she said. "The staff showed me the dogs they thought I might like, but there wasn't a match. Then they brought out a 1 1/2 year old, 66-pound hound mix. What a bundle of energy -- happy but totally without discipline or training. When he came into the office, he literally climbed up on the desk!"
Cooper had been found as a stray as a puppy in Ohio and spent 11 months, most of his life, in shelters. Cooper wasn't what Shelley was looking for, but she felt that he needed a chance.
"I had been warned that he would take a lot of work, but I was up to the challenge, and they thought I could handle him. Then I found out why no one had adopted him. He was rough, strong and stubborn. He was also sweet, lovable and too cute to stay mad at!"
The first three months after Cooper's adoption were tough. Shelley and Cooper took obedience classes, walked for miles, and ran around her large fenced yard in an effort to burn up his endless energy.
The obedience training helped, and Cooper improved. He passed the AKC Canine Good Citizen test and then Shelley decided to try channeling his energy into the sport of agility. It was a hit!
"He loves it or maybe it's the treats he loves! I'm still amazed at what he can do and he makes me laugh every day."
Cooper earned the MACH on July 4, 2015, at the Lower Camden Dog Training Club trial in Pitman, NJ.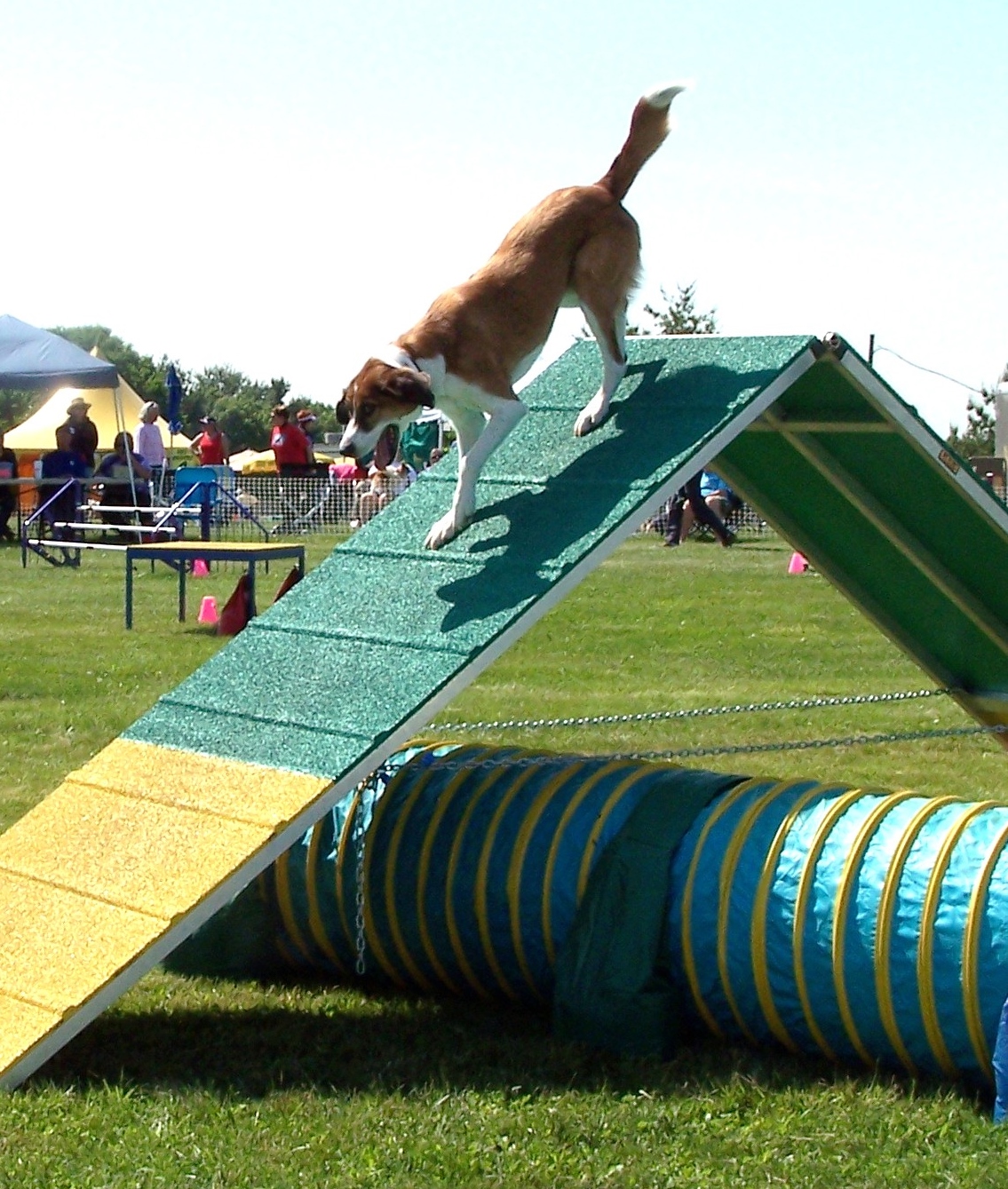 Cooper
MACH Madeline of Pine Banks MXB MXS T2B2 OF owned by Jennifer Clemons of Las Vegas, NV
Maddy came into Jennifer's life after she moved to Las Vegas in 2006 and was studying for the BAR exam to practice as a lawyer.
"I didn't know anyone in Las Vegas and decided now would be as good time as any time to get a puppy. She was 12 weeks old and she was my first dog. During study breaks and after work, I would take her to the dog park and quickly realized that despite her small size she had a LOT of energy. She loved getting the other dogs to chase her and she'd zoom around and weave past dogs changing direction at a dime with a huge smile on her face."
Jennifer had seen agility on television, but had never trained a dog before. "Eventually, I got up the courage to enter a beginner's agility class when Maddy was 3 years old. Maddy caught on quickly and loved it."
They started competing with a year after they started training and quickly moved into the advanced levels.
"Maddy was known for her crazy zoomies around course, but she was having so much fun running around with a huge smile on her face that myself, judges, and spectators couldn't help but smile and laugh. What is agility if the dogs aren't having fun?! To this day at age 9, she occasionally still gets the zoomies on course."
On Aug. 14, 2015, Maddy got her last "double Q" at the Keeshond Club of Southern California/Papillion Club of Southern California in Fountain Valley, CA, and earned her MACH - a feat made even more special because Jennifer was running her at 8 months pregnant with her first child!
"I feel very lucky to have found such a special dog who introduced me to agility and ignited my passion for the sport."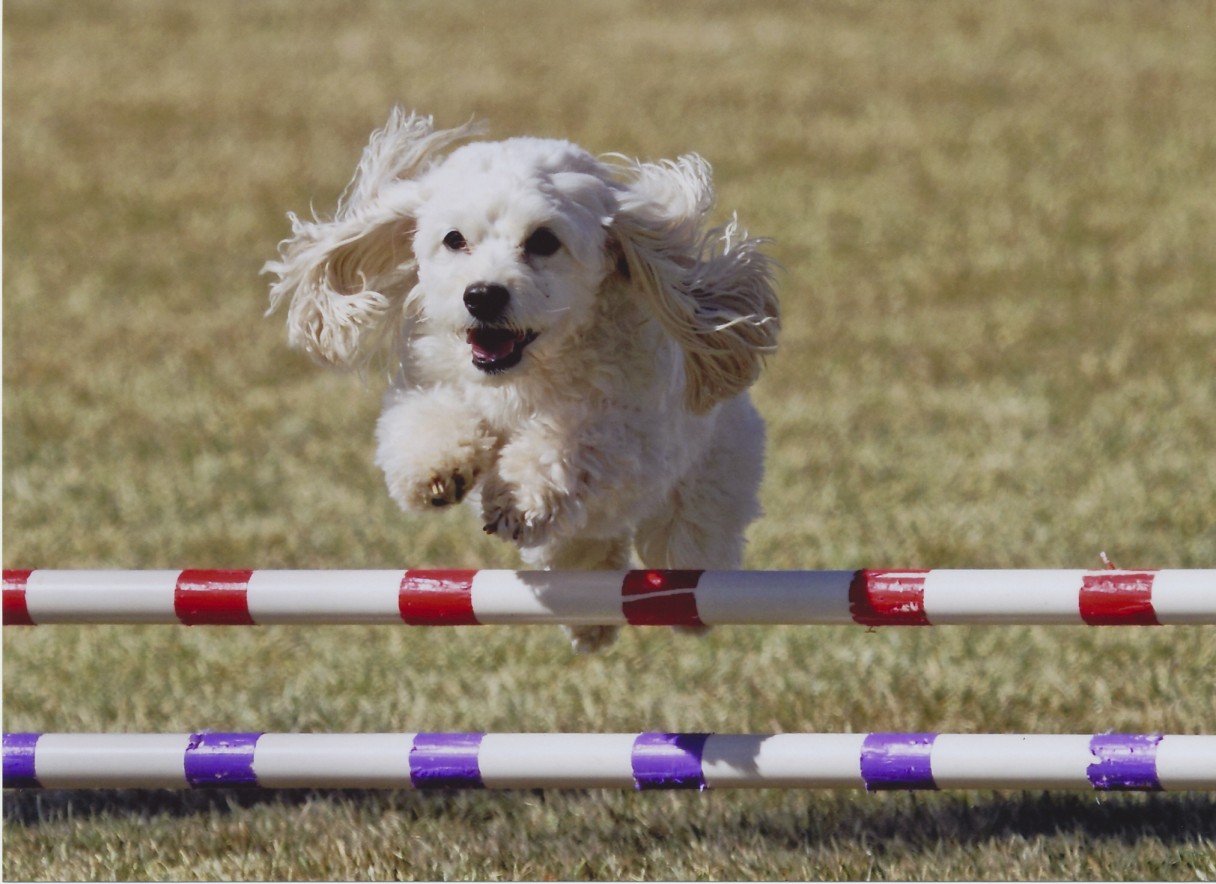 Maddy
MACH Andretti Spaghetti MXB MJB OF owned by Inez Pennington & Don Erickson of Raytown, MO
Andretti is a rescue dog whose early life is unknown. A recent X-ray revealed that he has two microchips. "You can only speculate on the chaotic nature of his puppyhood," Inez said. "We know that he went from the Kansas Humane Society to Beagles-And-More Rescue and had at least one failed adoption before finding his forever home with us."
The cute Beagle mix had a super high energy level and all he wanted to do in his new fenced-in yard was run fast in circles so Inez and her husband, Don, named him Andretti. "The 'spaghetti' tag was added when he was registered with AKC Canine Partners as there was already a dog in the program named Andretti and we thought it added a lighthearted note," she said.
After a few years of Andretti being just the family dog, they decided he needed some formal training and a channel for his high drive. Inez had experience showing hunter/jumper horses and she knew that Andretti loved to run and leap high into the air for pure joy. So she researched and found an Introduction to Agility class. Andretti loved the class and advanced quickly.
In just 12 months, Inez and Andretti were competing at the AKC Agility intermediate level of Open and in another 12 months they had their first qualifying run in Master Jumpers. Andretti and Inez achieved the MACH on Aug. 15, 2015, at the Dog Agility Association of the Ozarks trial.
The honor was very special considering that Andretti had lost six months of competition due to an injury caused by a slip while playing on slick ground during the winter months. It took rest and rehabilitation before he could come back onto the agility field.
"The AKC Championship was especially sweet having thought it lost," Inez said. "What's next on the horizon for Andretti Spaghetti? Why, working on faster course times and better handling towards MACH2, of course!"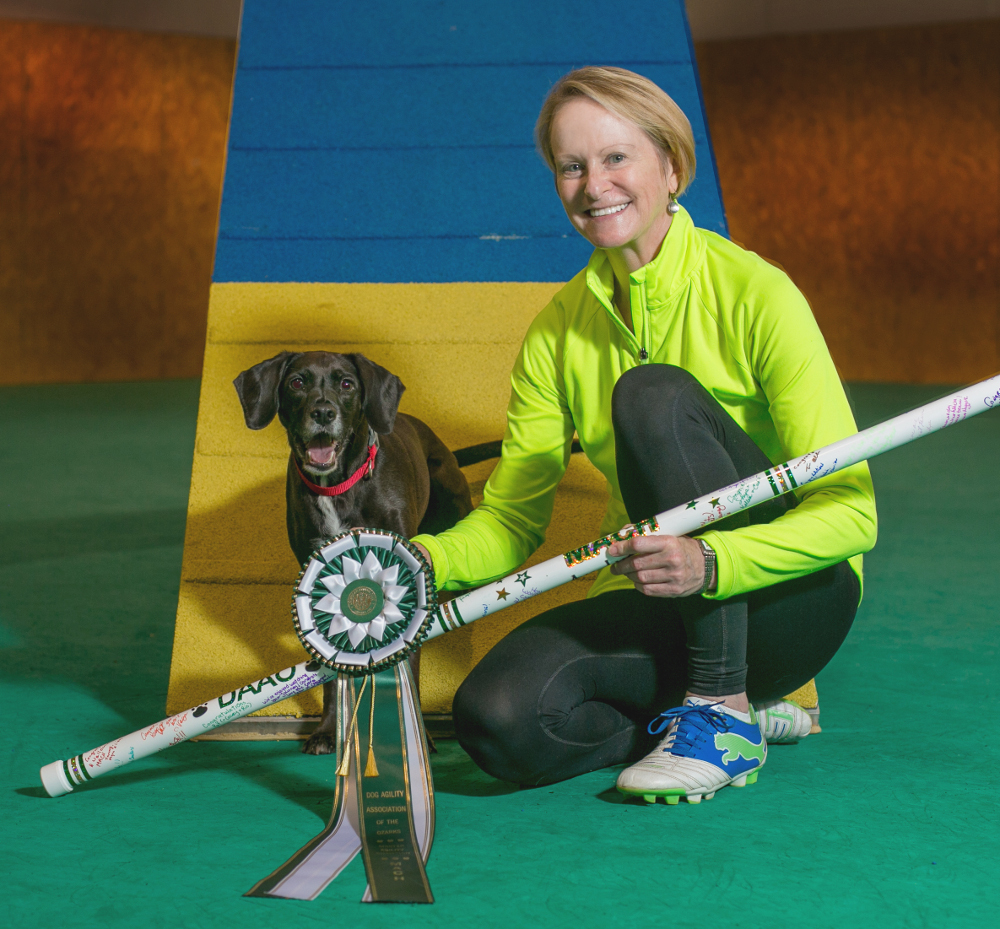 Andretti
MACH Bradley's Brandy RN MX MXS MXJ MJS OF T2B CGC owned by Alison & Kevin Bradley of Fayetteville, AR
Kevin and Alison adopted Brandy, from the Fayetteville Animal Shelter on Nov. 22, 2008. Alison immediately enrolled Brandy in obedience lessons and quickly progressed through the beginner, intermediate, and advanced classes.
When AKC opened the doors to mixed-breed dogs through Canine Partners in April 2010, the Bradleys were encouraged by their local training facility to enroll Brandy. Brandy earned her first AKC title – a Rally Novice title – on Oct. 8, 2011.
Alison soon began showing Brandy in agility trials. Brandy earned her first agility (NAJ) title on Oct. 29, 2011. In Enid, OK, on Sept. 27, 2015, Brandy completed the requirements to obtain the MACH. Brandy is the first "All-American Dog" in Arkansas to receive the MACH title!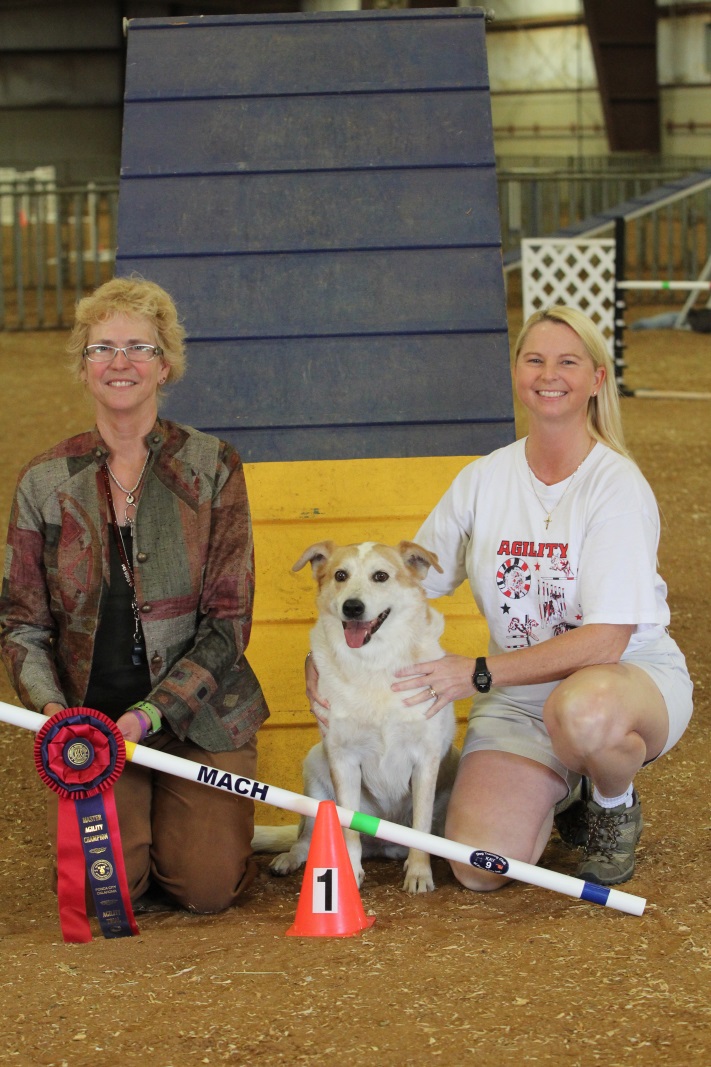 Brandy
Congratulations also to these MACH recipients:
MACH Mia Lobato MXB MJS OF T2B – Elizabeth Lobato of Lewisberry, PA
MACH Layla Wild Tail MXS MJX – Kenneth Kistler of Vandalia, OH
MACH Euro Fine Girl MXB MJS OAP OJP OF NFP CGC – Joe Felix of Cincinnati, OH
MACH Ole Hickory MXB MJS XF T2B – Dee Ann Peine of Indianapolis, IN
MACH Brilar's Prince of Thieves CD RE MXB MJS OF – Lauren & Brian Bennett of St. Louis, MO
MACH Peter Pan Skippy Doo MXB MJS –Karen & Mark Anderson of Zimmerman, MN
Preferred Agility Champions

Multiple PACHs
Congratulations to these dogs for adding more PACHS to their name:
PACH2 Peanut Bee RA AX AXJ MXP10 MXPC MJP14 MJPB2 PAX4
First-Time PACHS
Congratulations to these first time PACH recipients:
PACH the Mighty Quinlan RE AX AXJ OFP owned by Chris & David Hodges of Wichita Falls, TX
Quin was dropped out in the country and wondered up on a farm when he was only around 5 months old.
"A friend of mine went and got him, thinking she might be able to find him a home," Chris said. "I had been looking for a little dog to start in agility so I took my other dogs with me, and we went to Olney, TX, to meet this little dog. I decided to take him home that day and I have never regretted that decision."
Quin soon started puppy agility classes and moved into beginner's agility as soon as he was old enough. He graduated from beginner's agility in April 2012 and entered his first trial in June 2012.
Quin received the PACH on Aug. 8, 2015, at the Fort Worth Kennel Club agility trial.
"Quin also has his AKC Rally Excellent title and is a registered therapy dog. He is also one of my very best friends," she said.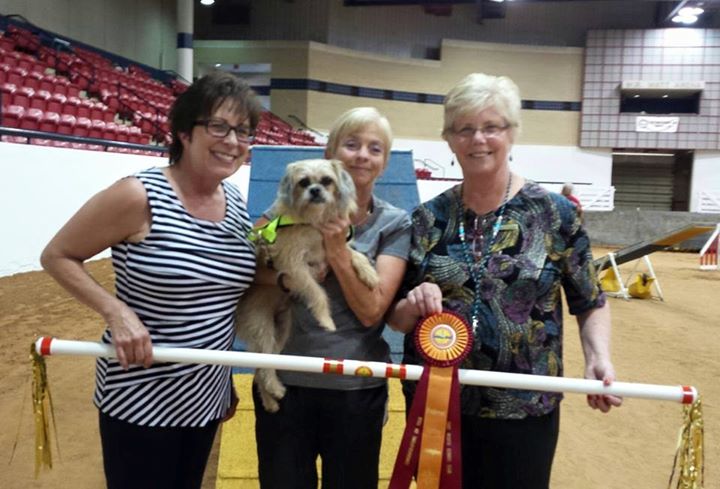 Quin
PACH Smiley Riley MXP3 MJP4 PAX owned by Paula Kotowski of Santa Barbara, CA
"The Greatest Treasure to Come My Way: A Little Stray from East LA" - That is how Paula describes her little rescue dog Riley.
Paula adopted Riley when he was about 9 months old from a crowded Los Angeles shelter, where he had been brought in as a stray.
"From the very start, Riley was the friendliest, most easy-going dog imaginable, and we spent our first year together enjoying a 'belated puppyhood', while learning basic obedience along the way," Paula said.
"Having dabbled in agility in the past, I then decided it would be fun to enroll Riley in a weekly agility class, and as is so often the case, I was soon bit by the 'agility bug'. Eight months later we found ourselves entering the novice ring, and since then have had nothing but fun training and attending trials with all the great agility friends we've made along the way."
At age 4 years, Riley competed at the 2015 AKC National Agility Championship (NAC) in Reno, NV, and three months later earned the PACH on June 14, 2015, at the Contact Point Agility of Greater Los Angeles trial.
"We look forward to many more years of agility fun together, hopefully attending another NAC, and are very grateful that the AKC allows 'All Americans' to participate in their agility program," Paula said.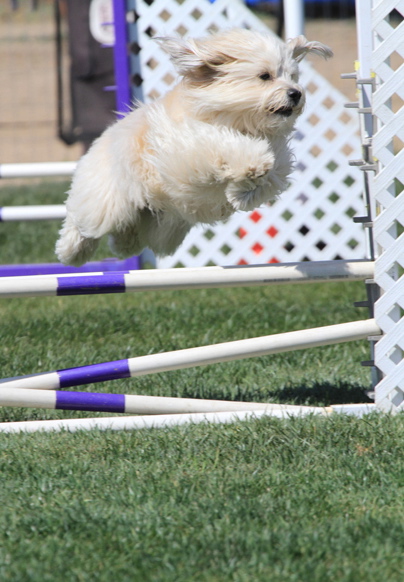 Riley
PACH Pistol Pete MXP3 MJP3 PAX owned by Barbara Thomas of Minerva, OH
Pistol Pete, better known as Petey, is an 8 year old Poodle – Shih Tzu mix.
"As a pup, he was quitea handful. We enrolled in agility class just to blow off some energy, and the rest is history," Barbara said. "He loved it right from the start, and it has become our passion."
Petey achieved the PACH) on June 20, 2015, at a trial in Niles, OH.
"Petey gives his all on every run, and I think he just keeps getting better. I hope we can compete for many more years," Barbara said.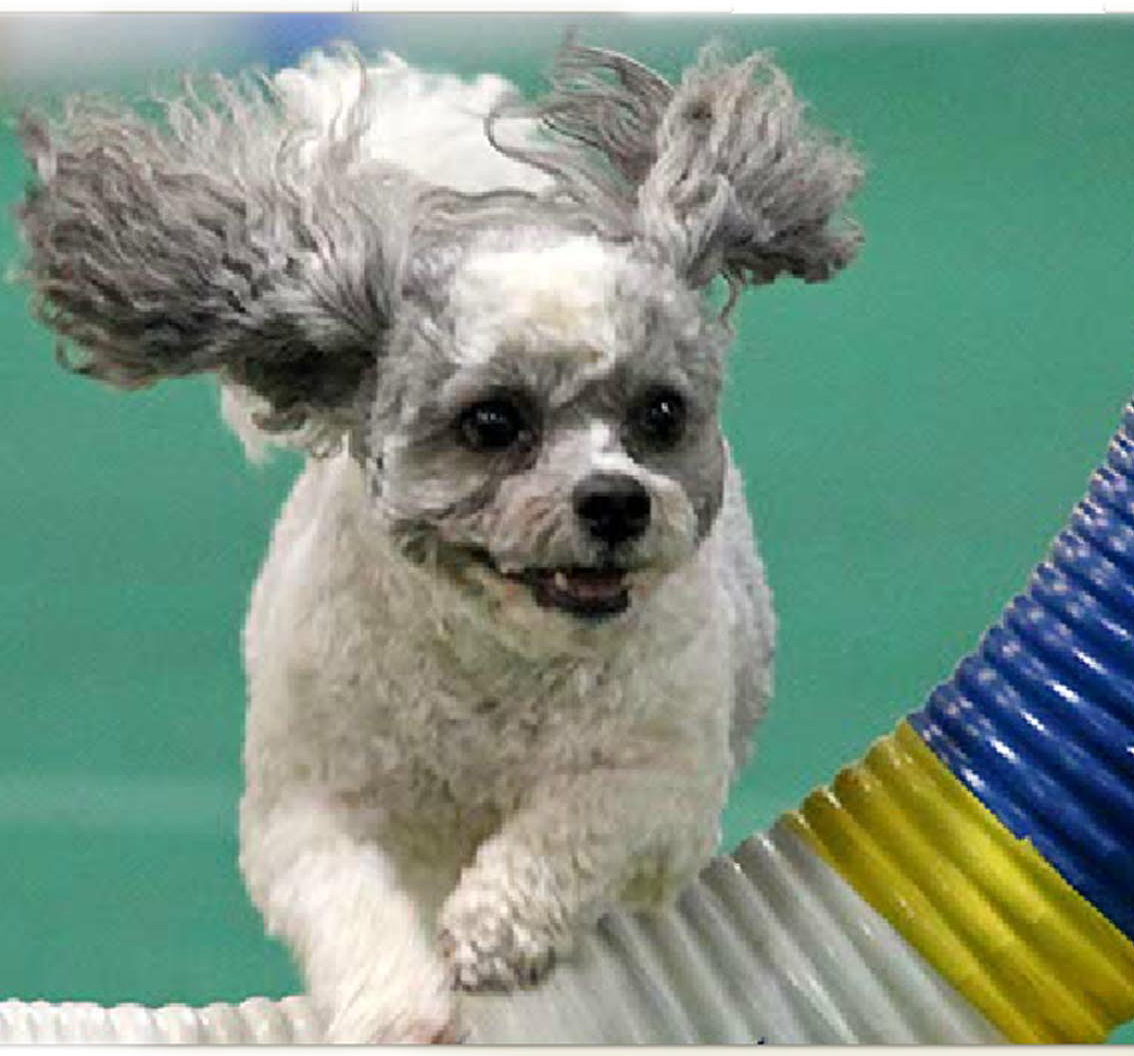 Pete
Congratulations also to these new PACH recipients:
PACH Tanner MXP6 MXPS MJP7 MJPS PAX2 – Sherry & Gary Comegys of Decatur, TX
MACH5 PACH James Albert McLean – Adrienne McLean of Richardson, TX
AKC Coursing Ability
New CAXs
Congratulations to these dogs for earning the highest honor in AKC Coursing Ability – the Coursing Ability Excellent (CAX) title for 25 passes of the lure coursing test:
Woodacre's Lucky Dragon CAX owned by Jackie Phillips of San Leandro, CA
Palo was born on April 1, 2011, in the Ventura County Animal Regulations animal shelter, in Ventura, CA, after his mom, dad and 30 additional relatives were part of a large-scale humane confiscation.
After the court case was closed, Canine Adoption Rescue League (C.A.R.L.) took all the dogs.
"I saw Palo, or Radar as he was then called, posted on Petfinder, and I drove down to Ventura County from Northern California to adopt him at the age of 10 weeks," Jackie said.
Palo has not only been a beloved pet for Jackie, but he also loves to stay active in a number of sports. His favorite is lure coursing and he completed the CAX on May 10, 2015, through the Monterey Bay Coursing Association, in Hollister, CA.
Palo also has titled in weight pull, racing, and has recently started training in rally. He also loves to play off leash with all of his friends at dog parks and on dog hikes.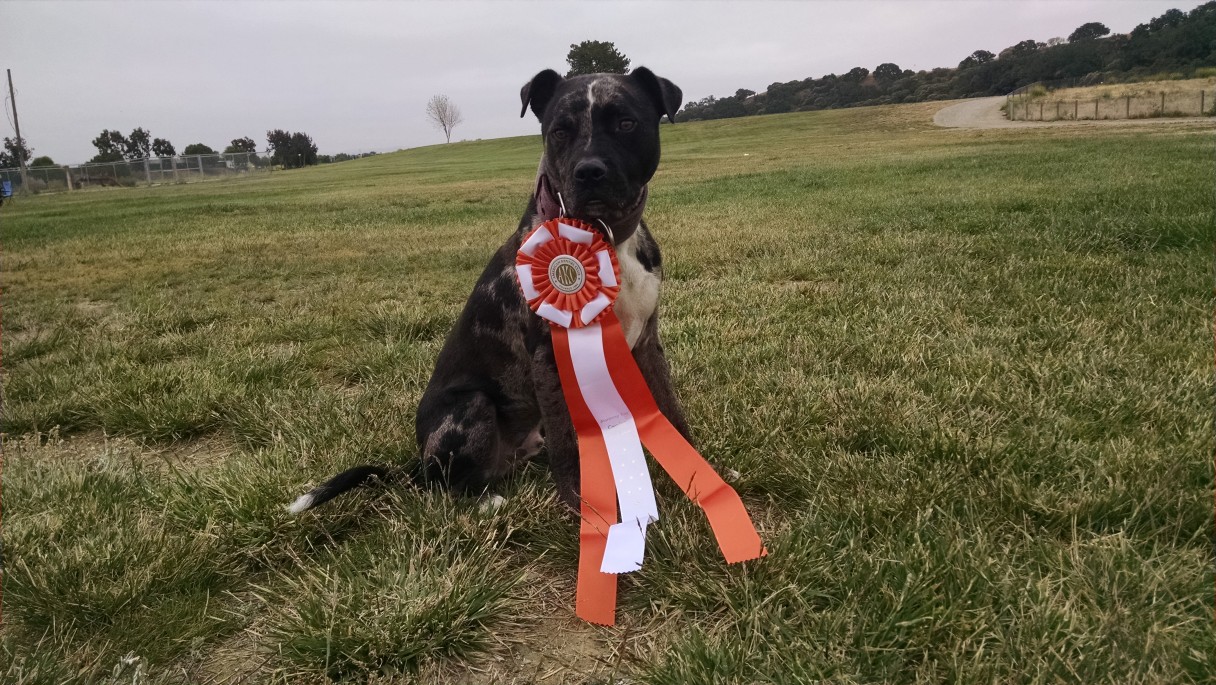 Palo
Kurtis of Kingfisher CAX DJ RATN CGC RATI FDX owned by Amy Maxfield & Wade Shetler of Clearwater, FL
Kurt was a homeless dog, turned in as a stray to the Humane Society of Sarasota County (FL), which is where Amy and Wade discovered him and adopted him.
They quickly realized that Kurt was a very smart dog who wanted a job.
"Kurt has an inquisitive mind and an adventurous spirit. He loves to trynew things and learn new skills," Amy said.
Kurt loves lure coursing and earned the CAX onMay 16, 2015, with the Sunshine State Rhodesian Ridgeback Club. "He just loves to catch that lure while running the course," she said.
He also puts his keen nose and prey drive to good use in Barn Hunt in which he has earned earned the Rat Novice (RN) and Rat Instinct (RI) titles. "Barn Hunt has quickly become one of his favorite sports," she said.
He also competes in dock diving with the North America Diving Dogs (NADD) and earned a Dock Junior (DJ) title. Last December, Kurt participated in the NADD/AKC/Eukanuba National Championship, where he was part ofthe finals in the AKC Canine Partners division.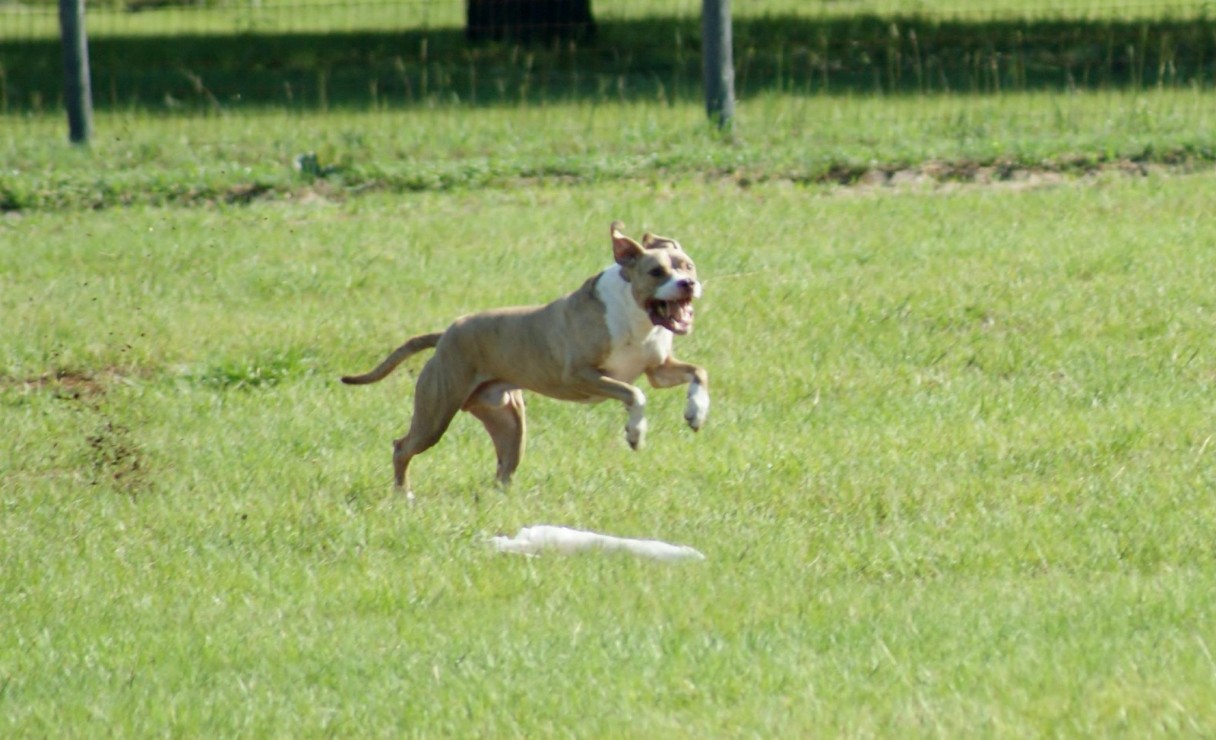 Kurtis
Licorice CAX CGC owned by David Miller & Linda Connolly of East Greenbush, NY
Licorice was a homeless dog, roaming the streets, before animal control officers picked him up and took him to the shelter.
He soon endeared himself to the shelter staff, and they managed to keep him there for weeks, longer than usually allowed. Just before his borrowed time was to expire, a rescue group near Albany, NY, transported him to that area and placed him in an adoption clinic.
Linda Connolly and Dave Miller stopped by the clinic just for a cuddle fix. "But something about the skinny aloof dog with oversized ears changed our minds about window shopping," Linda said. "When placed in the back seat of the car, he laid his head in my lap and gazed up at me in thanks."
At his new home, he did everything that he was asked, but demonstrated a high activity level. Searching for ways to keep Licorice happy and engaged, Linda and Dave looked into lure coursing and found their way to the AKC website for information. "When he tried it out, it was pure EXUBERANCE - for the entire family," she said.
Dave and Linda signed Licorice up for all the CAT events they could once he reached one year of age. He achieved the CAX in less than nine months, earning his title on June 27, 2015, at a test sponsored by the Taconic Hills Kennel Club.
Licorice also loves hiking, agility, nose work, going canoeing, and hanging with his human and canine friends.

Licorice
OBEDIENCE
AKC Obedience Classic
Three All-American Dogs will compete in the 2015 AKC Obedience Classic. The event takes place Dec. 11-13 in Orlando, FL, in conjunction with the AKC/Eukanuba National Championship and the AKC Agility Invitational. Qualifying dogs will compete at all levels of obedience from Novice through Utility.
Good Luck to:
Novice Class
Sammi Paisley Rains CD BN CGC – Connie G. Alexander of Smyrna, TN
Lola Sugar and Spice CD BN PCD RE CGC – Kathryn Harvey of Apple, MN
Open Class
Henry Head Over Heels CDX BN PCD GN PCDX RE THD – Kathryn Harvey of Apple, MN
High in Trial Winner
A big congratulations to Jasmine of Lindenbrook UD & Nan Daley of Woodside, CA, on a very prestigious win in AKC Obedience competition. Jasmine went High in Trial and High Combined Score at the Nor-Cal Keeshond Club all-breed obedience trial on Nov. 6, 2015, in Napa, CA. Jasmine scored 198.5 out of a possible perfect score of 200 in both Utility B and Open B classes.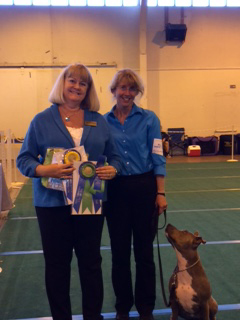 Jasmine
Congratulations to these new recipients of the AKC most advanced class level of Utility Dog (UD):
Jack-Daniels UD GO RAE owned by Alison Smith of East York, Ontario, Canada
JD is a 6 year old Jack Russell and Corgi cross who was born just down the road from the Jack Daniels distillery in Lynchburg, TN.
"I never planned on showing him in the obedience or rally rings, but he has so much fun in training that I thought I would give it a shot," Alison said.
But at the age of 2 ½ years, JD had a major setback in training when he had to undergo spinal surgery on almost all of the discs in his back and neckto treat spinal disc disease.
"I know just how lucky I am that he recovered so well from his surgery, and I could not ask for a better partner both inside or outside the ring," Alison said.
JD recovered and has had an extremely successful show career, earning the top AKC Rally title of RAE and most recently the top AKC Obedience title of UD. JD earned the Utility title in just two weekends, completing the title at the Syracuse Obedience Training Club trial on June 7,2015, with a first and a second place finish.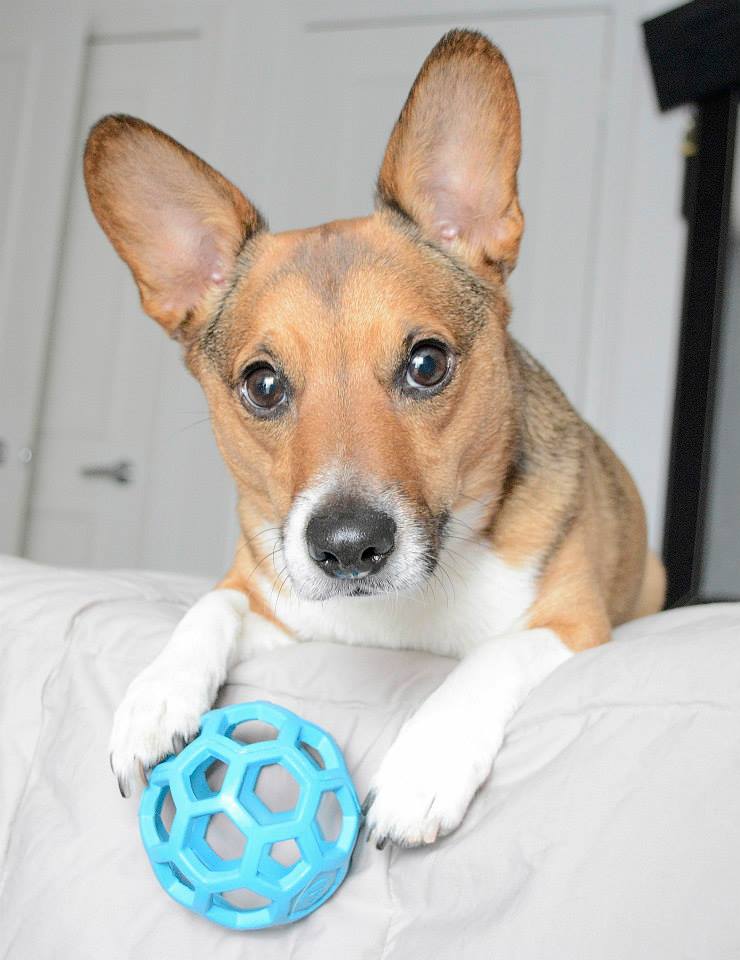 JD
Ginger Pinky Boojie Von Patrick UD RE owned by Laurene Von Klan of Santa Monica, CA
Ginger was a shelter puppy, on the red-list alert for euthanasia, before Laurene adopted her. Ginger is now 4 years old, and she and Laurene love to hike, run, and train for obedience.
In only three years of competing, Ginger has earned the AKC Canine Good Citizen award, AKC Rally Excellent (RE) title, and gone through the highest level of AKC Obedience to recently earn the UD title on July 28, 2015, at a trial in Long Beach, CA.
Ginger, whose DNA test says she is part bulldog and corgi, occasionally assists Laurene with her work as a professional dog trainer by helping puppies and adult dogs develop social skills. Laurene is a member of the board of the Association of Professional Dog Trainers Foundation, which seeks to advance dog training through scientific knowledge, and is also a volunteer at her local shelter.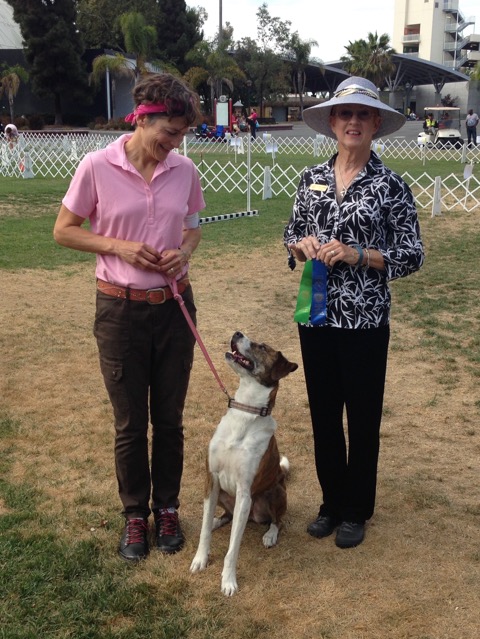 Ginger
Congratulations also to this new UD recipient:
MACH3 Moses Raphael York UD BN GN GO RAE3 CGCA – Jordan York of Evansville, IN
AKC Rally
Multiple Rally Advanced Excellent titles:
Congratulations to these dogs who have added more RAE titles to their names:
Bossman Sweetater Freighter RAE9
Our Sweet Waally Waally Wabbitt CD BN PCD RAE3
Bella Mia CD BN RAE2 CGC
Medendorps Hoodoo By Barribeau CD RAE2 NA OAJ NF CAA
First-Time RAEs
Congratulations to these new recipients of the RAE title:
The Life of Riley CD RAE CA owned by Sandra Taylor of Goldsboro, NC
Riley is a mixed-breed dog who started showing in AKC Rally in August 2012. Since her first time in the ring, she acted as though she was born to compete.
"She had never been to a dog show, or anything like it, but that didn't matter," Sandra said. "She loved getting to show off her skills and never seemed to be nervous at all."
Through each level of Rally, she got better and better and was dubbed "The Wonder Dog."
Riley received an invitation to the AKC Rally National Championships in 2014 and placed seventh in the Excellent class.
She received the RAE title on March 19,, 2015, at the Tarheel Dog Shows in Raleigh, NC. Out of a perfect score of 100, Riley had scores of 99 and 98 in the Excellent B and Advanced B classes.
"Her rally record is something that we are most impressed with; she has placed in the top four dogs in 27 out of her 31 classes with only 1 non-qualifying (NQ) score caused by me when I passed by a sign," Sandra said.
In her down time, Riley enjoys being a therapy dog. "She also is working on agility where she has already jumped ahead to the top of her class. She truly is my 'Wonder Dog' and I can't wait to see what we accomplish next!"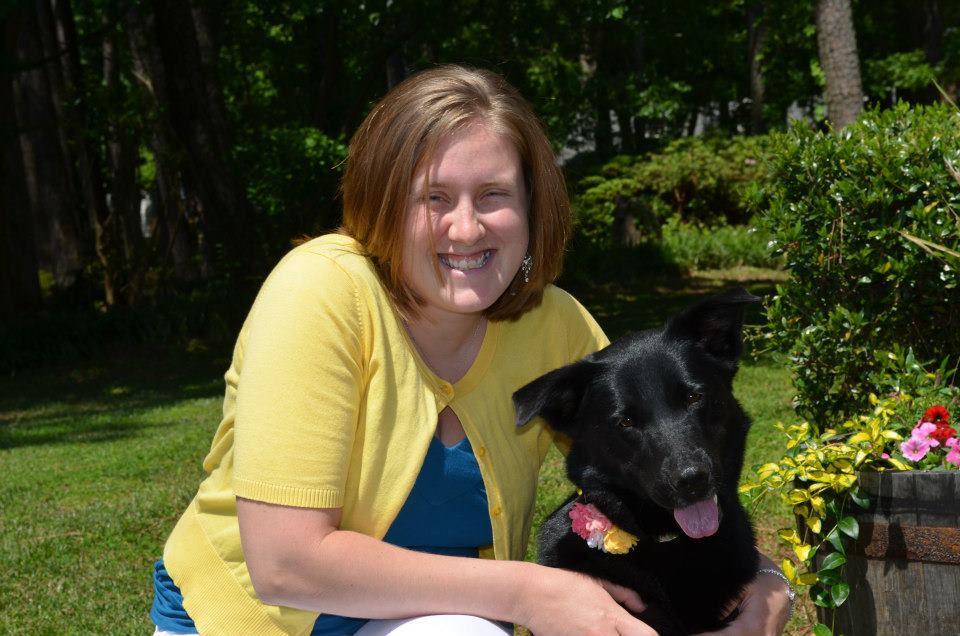 Riley
Princess Jewell Smith RAE THD CGC owned by Susan Smith of Bordentown, NJ
Susan adopted Charm at the age of 7 months, through Pet Rescue of Mercer, NJ. At the urging of concerned persons, Charm's previous owners had relinquished her. Her owners could not afford to treat her leg, which was broken by an unknown cause, and she was very malnourished.
After rescue, she stayed with a foster family for three weeks during which time her leg was realigned and set. "After those three weeks, we adopted her in July 2009 and followed through with the post-surgical appointments. With rehabilitation, including swim therapy, Charm's leg fully healed," Susan said.<
Charm proved quite adept at learning. She sailed through classes in obedience, agility and rally.
She displayed great aptitude for AKC Rally so Charm was entered in her first competition in April 2013, and by May 17, 2015 she won the RAE. She scored no lower than 90 in any of her competitions and earned 18 blue ribbons. Most significantly, Charm competed in the inaugural AKC Rally National Championship in Harrisburg, PA, in March 2014, and came in fifth place in the Advanced class!
Additionally, Charm recently earned her AKC Therapy Dog title for making more than 50 visits to nursing homes and schools. "She really enjoys spending time with people and performing various tricks, such as sneezing on command," she said. "People are absolutely captivated by her and tell her that she has such a 'charming' personality."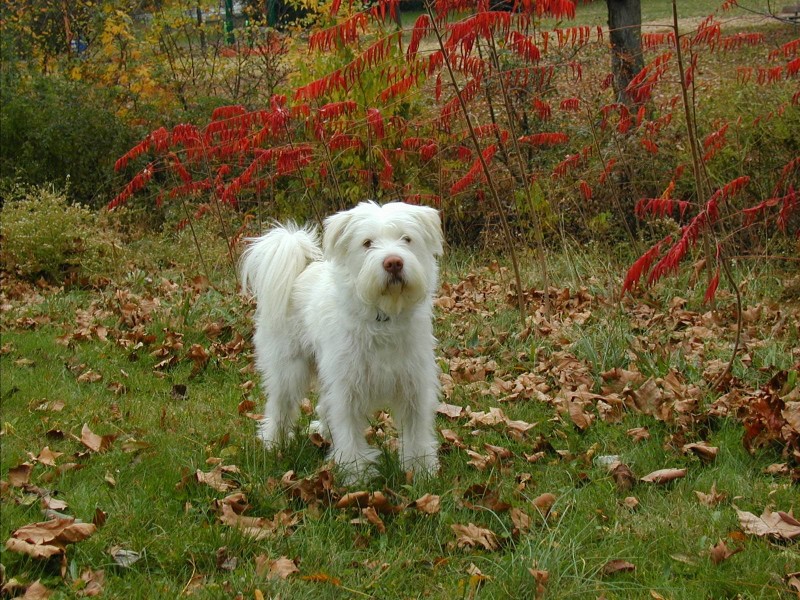 Charm
Katie Lynn Panger Santangelo CD BN RAE CAA CGC owned by Sissy Santangelo of Harahan, LA
Katie's mother, a Whippet, was picked up on the streets as a pregnant stray, and Katie was born a few days later in the hands of Whippet rescue in Louisiana. Katie came to Sissy as a foster puppy.
"After spending time with her, I realized how sweet she was and decided to keep her," Sissy said. "At 10 weeks, she would cry in the crate while watching me train my other dogs. When she was old enough, I took her out at class one night, and her obedience potential shined through! I had never competed in formal obedience, but my trainer, seeing that potential, urged me to work with her and consider performance venues."
"When we thought we were ready, we entered the trials at the Houston World Series of Dog Shows in Houston, TX. She got her first title at that show in July 2011 at only 11 months old!"
Katie completed the RAE title at Louisiana Capital City Obedience Club trials in May 2015 with a 1st place, six 2nd places and one 3rd place.
She also now has the Beginner Novice and Companion Dog obedience titles, Coursing Ability Advanced title and the Barn Hunt title of Rat Master.
"We are currently training for CDX and hope to enter the Open Obedience ring soon," she said.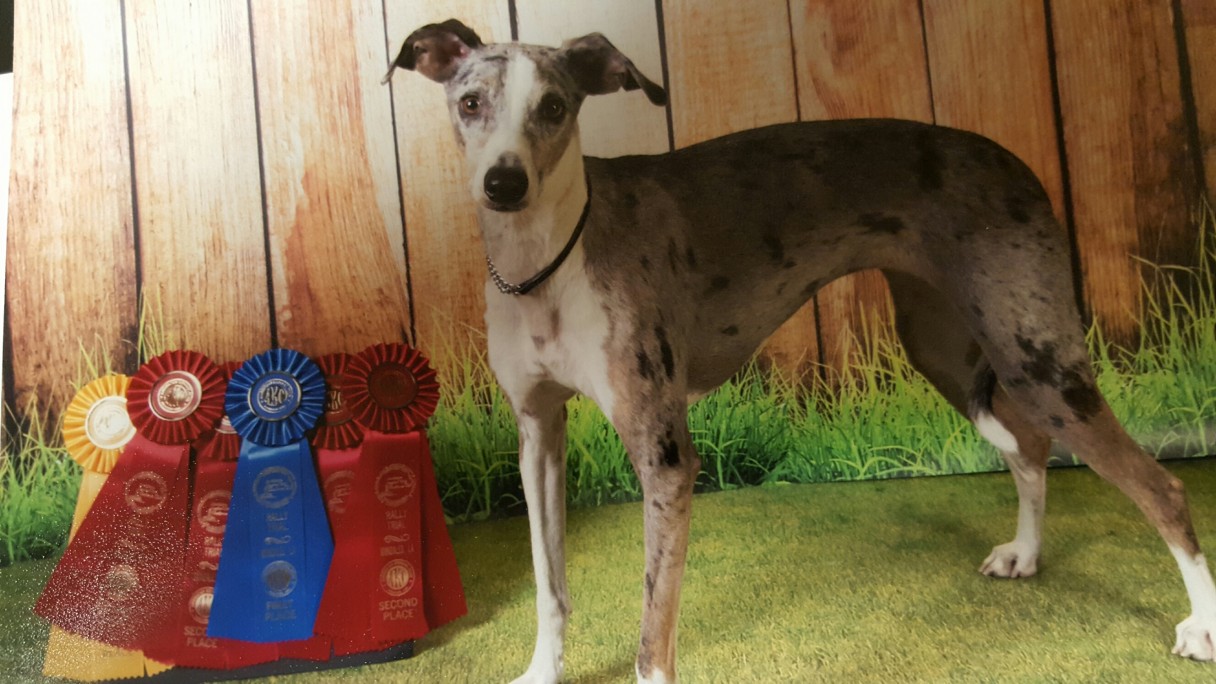 Katie
Speas' Max A Million RAE NA NAJ NAP NJP NFP owned by Pat Speas of Cumberland, VA
Max received the RAE title on June 21, 2015, at the Richmond (VA) Dog Obedience Club trial.
His title came on a very appropriate day – Father's Day. Max originally belonged to Pat's father, Marcus Speas, and upon his passing in February 2008, Max joined Pat's dog family.
Pat went to work on training Max in several sports. Max has been very successful, having earned the AKC Canine Good Citizen (CGC) and the AKC Novice Agility titles. He also serves as a certified therapy dog.
"Max is a very good companion and makes a great team member," Pat said.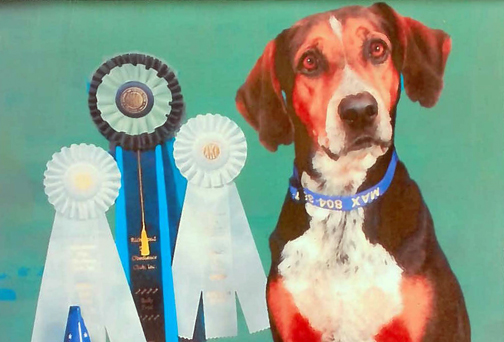 Max
La Muneca Del Diablo RAE owned by Thomas Stancliff of Manvel, TX
Doll showed up in the Stancliffs' driveway one day in July 2012 when the temperature had reached 103 degrees.
"When we first saw her, she appeared to perhaps be a Labrador Retriever puppy about 6 to 8 weeks of age. We searched the area for someone that might have lost her and called all the local veterinarians and asked if they knew of anyone that had lost a puppy." No one claimed the pup so Thomas asked his wife, Jeanne, if he could keep her.
"She told me yes with two conditions: She gets spayed and she gets trained."
Doll proved to be an energetic handful and loved running with the Stancliffs' Collies, which they show in a number of events. "She showed a lot of the traits of a Lab, but by this time it was apparent that she was a mix with something else. Recent DNA testing shows that she is Labrador Retriever and Australian Shepherd," he said.
Jeanne was training one of the Collies for Rally and so started also training Doll when she was about 8 months old. Less than a year later, Doll finished the Rally Novice title, but then came the off-lead work required for the advanced level titles.
"She did great in training class, but when they got to the shows, Doll would decide to go visit someone outside the ring or visit the judge or wander around the ring. It took a long time to get through the Advanced and Excellent courses because every other trial or so she would bust."
"We were down to looking for the last double qualifying score for her RAE, and she was entered in four shows back-to-back. The first show she did her thing and was busted. The second show, she started to wander off and my wife reached out and corrected her. It was an automatic bust, but the judge let them finish the course. Doll got the idea, and on the third day she scored very nicely in both Excellent and Advanced to complete her title. This was on July 18, 2015, at the Beaumont Kennel Club show. On the fourth day, they showed just for fun, because they were entered, and she scored in the 90s in both classes!"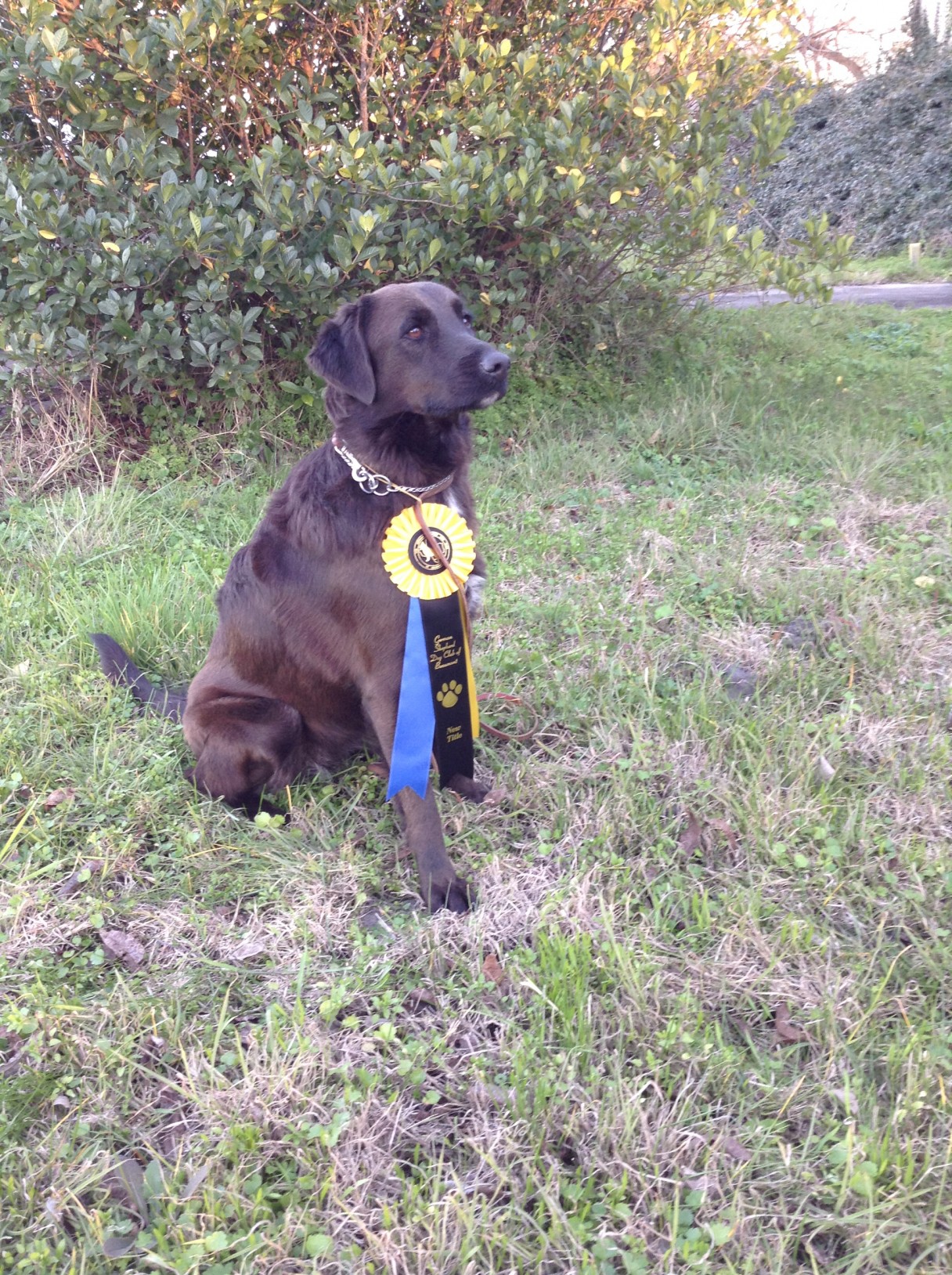 Doll
Horton RAE ONYX CGC owned by Barbara Wojciak of Harpersville, AL
The once homeless Horton has had a very exciting year of accomplishments.

This past July, 11-year-old Horton reached a milestone at the 4 Paw Agility Club of North Georgia's obedience trial. He started by qualifying in both Rally Excellent and Rally Advanced all three days, earning Legs #8, 9, and 10 and achieving RAE status.

He placed every day, even taking one first place. Then, for a final flourish, he was awarded the Rally High Combined ribbon on the last day.
"This formerly homeless boy with the puppy face continues to amaze me. Horton is covered in stardust," Barbara said.
In July 2014, Horton earned his 20,000-point Onyx title in flyball. He has been a member of the Dixie Flyers club from Birmingham, AL, since 2012 and, even at nearly 12 years old, still enjoys the excitement of this fast-paced sport.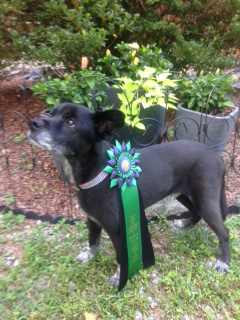 Horton
Congratulations also to these new RAE recipients:
Lucky Dog Baumann RAE CGCA – Chris Baumann of St. Louis, MO
Little Repo Man CDX BN RAE AX AXJ OF CGCA – Christy Munden of Pasco, WA
Turbo-Nadir CD BN GN RAE CGCA – Kimberly Hoeppner of Welsh, LA
Astela's Keltey Blue Light Special CD BN RAE OA AXJ OF – Tami Richardson of Spokane Valley, WA
Sunsethill's Tanglefoot Rizzo CDX RAE CAA FDCH – Mary Kinsler of San Marino, CA
MACH Sassy RAE MXB MJB TQX T2B3 – Mette Bryans of Eureka, CA
AKC TRACKING
First Champion Tracker Mixed-Breed Crowned!
Griffin Fielding became the first mixed-breed dog to earn the prestigious AKC Champion Tracker (CT) title!
The 7-year-old dog passed the Variable Surface Tracking (VST) test held Oct. 4, 2015, by the Great Salt Lake Dog Training Club. The club held the test on the campus of the University of Utah in Salt Lake City.
To obtain the CT status, dogs must earn three titles – Tracking Dog (TD), Tracking Dog Excellent (TDX), and Variable Surface Tracking (VST). Griffin had already earned the TD and TDX.
Griffin is a mix of German Shepherd and German Shorthaired Pointer and has an excellent nose and work ethic, says his owner Maureen Fielding of N. Vancouver, British Columbia, Canada.
In addition to competition tracking, Griffin puts his incredible nose to good use by helping find lost pets.
"Griffin has successfully tracked two lost dogs and has attained local media coverage for his tracking and search and rescue abilities," Maureen said. "He is sociable, very athletic, agile, muscularly fit, and strong so he also enjoys hiking, swimming and a fast game of Frisbee."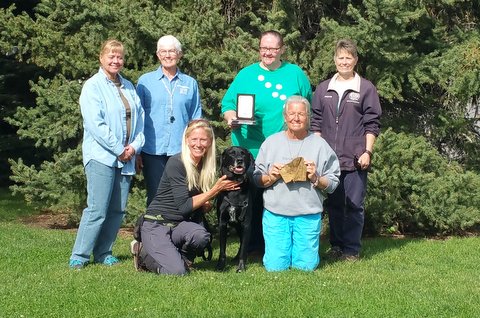 Griffin
Congratulations to this new recipient of both the AKC Tracking Dog (TD) and Tracking Dog Urban (TDU) titles:
Sype's Harlie RN TD TDU THD CGCA owned by Gail & George Sype of Rossford, OH
AKC Versatile Companion Dog
Congratulations to Pari Darwina Hope VCD1 CD RA OA AXJ TD CGCA on becoming the fourth mixed-breed to earn the AKC Versatile Companion Dog (VCD) title. The VCD program honors dogs that have earned titles in AKC Obedience, AKC Tracking and AKC Agility.
Pari's owner Mary Ann Igoe of Blackfoot, ID, tells us the story of how the now 5-year-old Pari came into her life and became a successful competitor.
Pari and I were introduced in fall 2011 when I volunteered to walk a humane society dog in need of a home at a local Mutt Strut.
When I arrived to pick up this cute little dog, I was handed an absorbent pad to protect my car seat and told she gets nervous riding. She was also fearful of big dogs, and I had my own 50 pound dog in the car.
We arrived at the Mutt Strut without any issue. The dogs had a great day, yet Pari was not adopted that day. I could not stop thinking about the shy little dog and several days later, I signed her adoption papers.
To help Pari with confidence issues and channel her high energy, I enrolled us in a beginner obedience class; at the end of eight weeks, she earned her AKC Canine Good Citizen. The class was fun for us both, and the exposure to other dogs was very positive for Pari, so I joined the Upper Snake River Valley Dog Training Club with a goal to try all the areas of training the club has to offer.
The journey to build Pari's confidence and the ability to be involved with AKC Canine Partners has opened a new world of fun for both of us as I have always had mixed-breed dogs and never trained to the level to participate in AKC events.
The required training and the ring experience to earn AKC titles has been a challenging but rewarding learning curve for me; thankfully, Pari is very forgiving of my handling errors and is eager to learn. As long as she continues to wag her tail and flash that toothy grin, we will continue on this path where ever this journey takes us.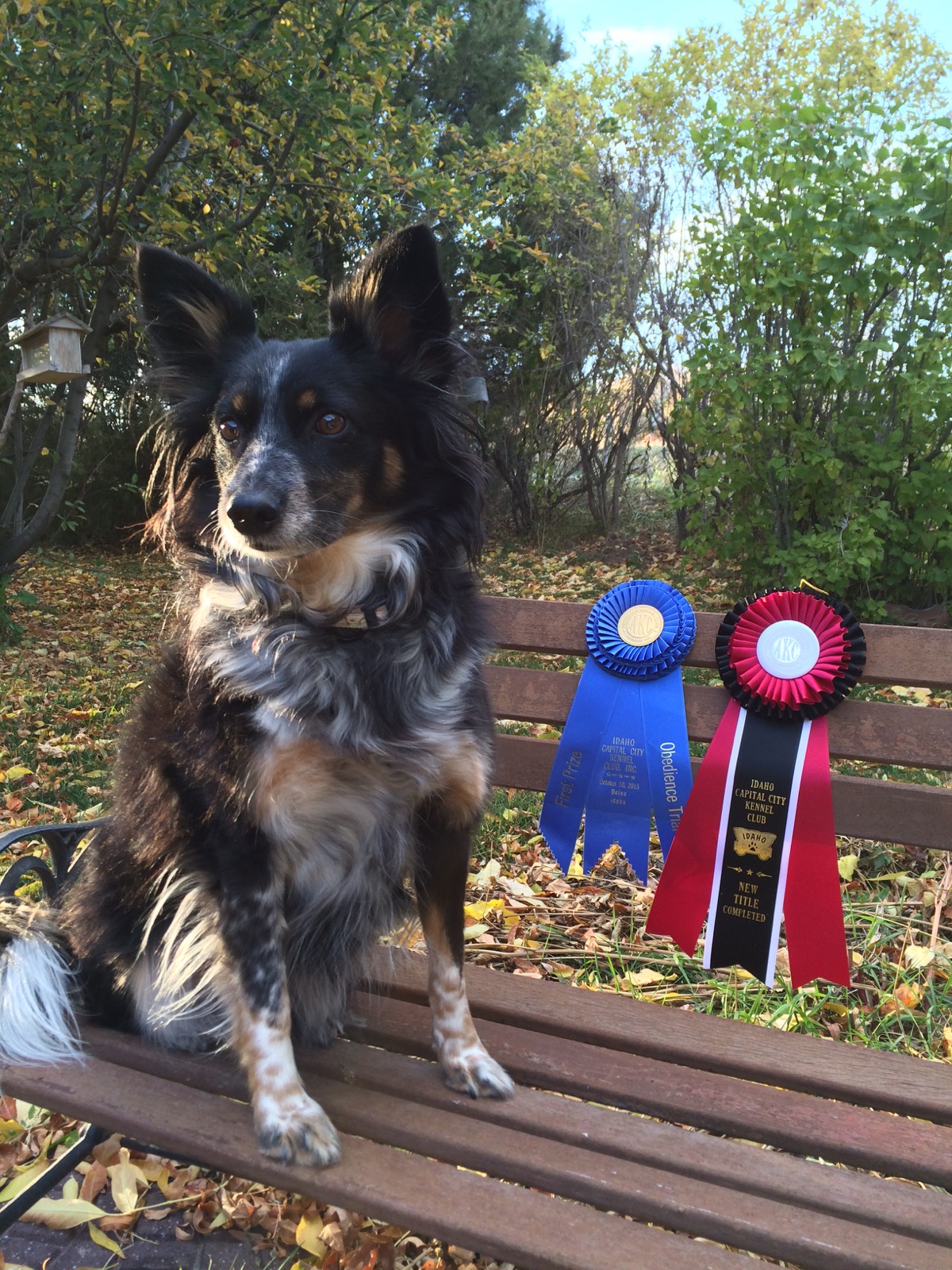 Pari