Competition/Titles Update
AGILITY
Master Agility Championships (MACH)

First MACH8 in AKC Canine PartnersSM!
MACH8 Prince Doggie and Tacarra Andrade of Novi, MI, continue their winning ways – recently earning their eighth Master Agility Championship – and maintaining Prince's status as the top titled All-American Dog in AKC Agility!

Prince completed the eight MACH on March 14, 2015, at the Youngstown All-Breed Training Club trial in Niles, OH. Tacarra reports that this will end Prince's MACH career as he has semi-retired and moved to the Preferred program, which allows dogs to jump one height lower.

He is now pursuing his PACH at the 4-inch jump height and Tacarra said she hopes he will qualify for the 2016 AKC National Agility Championship in the Preferred division.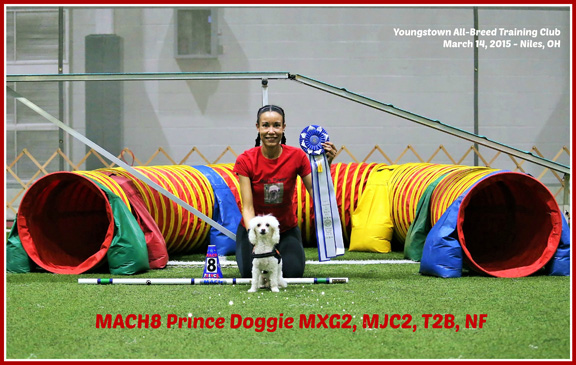 MACH8 Prince Doggie MXG2 MJC2 NF T2B. Credit: Dave Rice for CSPN
Congratulations to these All-American Dogs who added more MACHs to their name:
MACH2 Clyde MXS MJG – Mary Ann Werz of Iowa City, IA
MACH2 Sweet Skylar MXB MJS – Lynn Van Vleet of Rockford, IL
MACH2 Little Miss Ginger Snap MXG MJC OF T2B – Lisa Brooks of Houston, TX
MACH2 Mel's Amazing Mooch MXS MJS XF T2B2 – Melanie Thomas of Findlay, OH
NAC MACH3 Roo! CD MXG MJC – Stacey Campbell of San Francisco, CA
MACH3 Feel The Need MXC MJB2 MXF MFB TQX T2B4 – Janet Boggs of Crawfordsville, IN
MACH3 Stanley P-Nut MXG MJG XF T2B – Stefanie Theis of Pleasant Ridge, MI
MACH3 Malcolm MXG MJC – Isabelle Wolf of Erie, PA
MACH3 Carrington MXC MJC MXF T2B3 – Grace Swearingen of Colonial Heights, VA
MACH3 Donaldson's Daisy MXC MJB2 OF – Laura Donaldson of Elk Grove Village, IL
MACH4 Lanakila Doin It By Example MXC MJB2 MXF MFB TQX T2B6 – Caroline King of Sanger, TX
MACH4 Sally Of Ingleside MXC MJC XF T2B2 – Valerie & Rod Dietz of O Fallon, IL
MACH7 Logan Lake Hope MXG2 MJS3 XF T2B – Kim Barton of Johnstown, OH
MACH7 SAMANTHA MXG2 MJC2 MXF MFC TQX T2B5 – Donald & Leah Eicher of Laurel, DE
MACH8 Prince Doggie MXG2 MJC2 NF T2B – Tacarra Andrade & Mike Marshall of Novi, MI
Congratulations to these new first-time MACHS

MACH Mardens Prize Fighter MXB MJB OF T2B CGC CA owned by Denise Marden of Manalapan, NJ
Five years ago, Denise had just lost her first rescue dog and started searching for a new dog to adopt. "Looking through Pet Finder for a mixed-breed with either Australian Shepherd or Border Collie in the mix, I stumbled across the cutest green eyed pup with just those credentials. I could never have imagined how much of an involvement or where this journey would take us. "At age one year, Rocky had already completed several obedience courses and earned his AKC's Canine Good Citizen® award and therapy dog certification. They started taking rally classes. "Rocky was doing just fine but I could tell he was more interested in the funny equipment that lined the outside field where we were taking lessons. A dear friend of mine asked me if I have ever thought of agility and told me to come along with her for a lesson. We did and never looked back." Rocky proved to be an amazing and fast agility dog. "He loves this sport as much as I do. Where ever our journey takes us next, I'll just be happy doing it with my best friend Rocky!"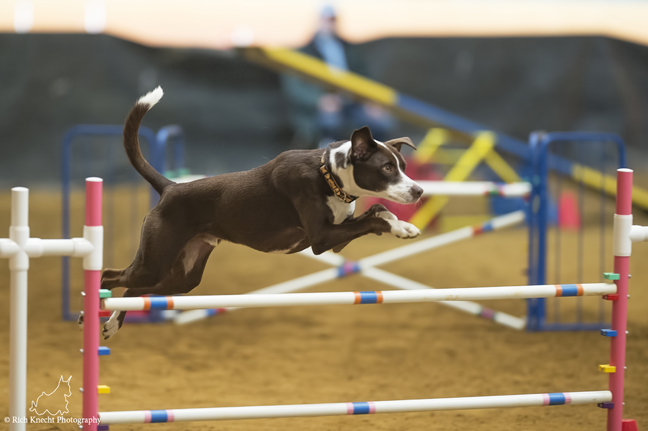 MACH Mardens Prize Fighter MXB MJB OF T2B CGC CA. Credit: Rich Knecht Photography

MACH Pancho Villa MXB MJB MXF T2B2 owned by Kacey McKinney of Princeton, TX
Pancho is a Chihuahua-terrier mix who was just under 1 year old when he came to live with Kacey. "Pancho is my first dog to train in any sport. We went from Novice A to MACH in 18 months," she said. The two achieved the MACH on March 6, 2015, at the Dallas Agility Work Group agility trial. Three weeks later, the pair competed at their first AKC National Agility Championship in Reno, NV. "Pancho is a natural and the best training partner I could ask for," Kacey said.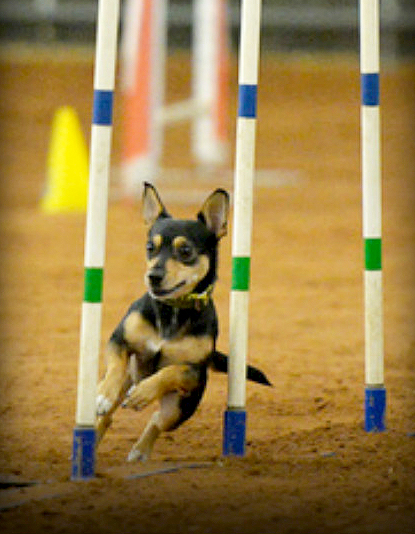 MACH Pancho Villa MXB MJB MXF T2B2. Makco Marketing Photo Events

MACH Carazo's She's A Keeper MXS MJS owned by Nicolette & Stephen Carazo of Riverside, CA
Nicolette spotted a photo of Kassie while looking at photos of adoptable dogs. "I called about her the next morning. She had been there for several weeks, with no interest, and her time was almost up." Nicolette drove to the public shelter to visit the Chihuahua mix. "She was not friendly, racing by me in the visiting yard, looking for a way out. But there was something about her," Nicolette said. She planned to just foster Kassie and find a good home, but her many issues, including being extremely sound sensitive and fearful of most people, prevented that. Nicolette's Australian Cattle Dogs already competed in agility so she started training Kassie in the sport to build her self-confidence and socialize her. "She did well and learned to love the game," she said. Kassie was very near her MACH when Nicolette had to go in for foot surgery. Her husband, Stephen, took over and on March 7, 2015, they won the MACH award at the Keeshond Club of S. California trial. "I cheered from the sidelines, my foot in a cast, as she and my husband, Stephen, took their victory lap. My little pound puppy was a MACH! She had proven that patience and love and training could work miracles!"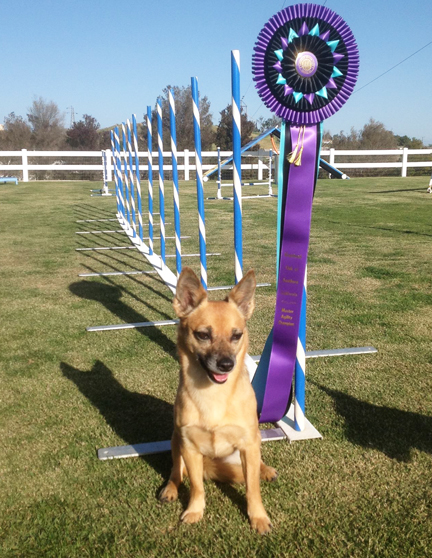 MACH Carazo's She's A Keeper MXS MJS.

MACH Oldwoodsfarm Mack MXB MJB owned by Mary MacKenzie of East Carondelet, IL
Mack was born in a shed on a farm near Mary's home in January 2011. "He was alone, running loose among the goats and horses when I offered to give him a home," Mary said. "We began training, and it was obvious to me that I had a very smart dog with lots of food drive! He was a joy to work with and though we were sidelined for a while when I had a hip replacement in April 2012, he earned his MACH shortly after his 4th birthday." Agility is not Mack's only claim to fame. He is also a professional model and is featured on the Purina Variety Snaps box. "Life with Mack around is always an adventure and there is never a dull moment at our house," Mary said. Mack earned the MACH on April 12, 2015, at the Greater St. Louis Agility Club agility trial.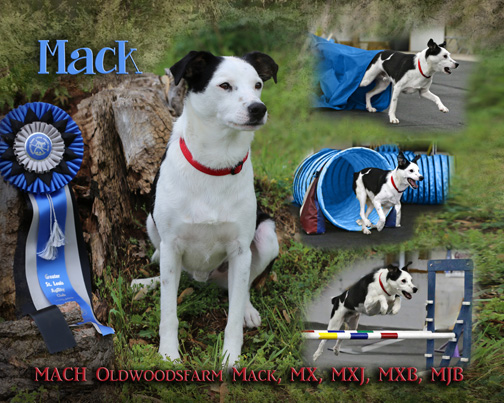 MACH Oldwoodsfarm Mack MXB MJB. Credit: Lori LeBlanc

MACH PACH Kipp MXB MJS MXP4 MXPB MJP4 MJPB PAX XF XFP owned by Judith Stucky of Englewood, CO
Kipp and Judith adopted each other after Kipp was shuffled through multiple shelters and foster homes. Like many rescue dogs, Kipp had fear and abandonment issues, while Judith, like many first-time dog owners, faced a rocky learning curve. Following a trainer's suggestion that agility might develop a more trusting relationship, the pair enthusiastically leapt in, having now earned both the AKC Preferred Agility Championship and the AKC Master Agility Championship. Judith, clueless about Kipp's breeding, affectionately calls her "Guttersnipe" after the Eliza Doolittle character in "My Fair Lady." Judith proclaims, "While we're not the fastest or the flashiest, we're absolutely partners for life, both in and out of the ring!"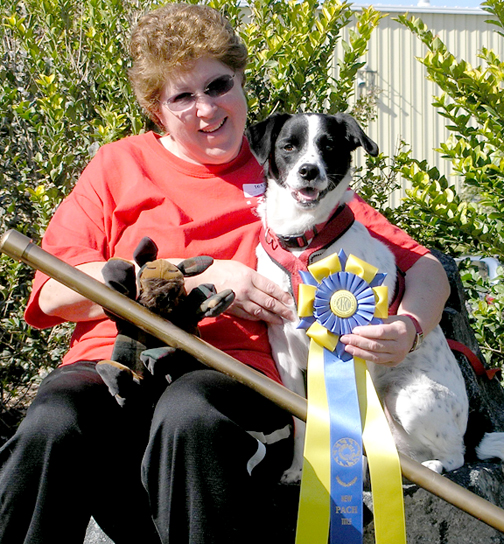 MACH PACH Kipp MXB MJS MXP4 MXPB MJP4 MJPB PAX XF XFP

Congratulations also to these new MACHs:
MACH Joe Cain CDX RE MXB MJB OAP OJP XF CGC – Justin Sims of New Athens, IL
MACH SAGIRA MXB MJB NF – Jeremy & Christina Barnhill of Grove City, OH
MACH PRINCESS SOPHIE JO CD BN RE MXS MJG OF – Debra Tervelt of Loves Park, IL
Preferred Agility Champions (PACH)
Congratulations to these All-American Dogs who have added more PACHs to their name:
MACH4 PACH2 Harley III MXC MJC MXP6 MXPS MJP6 MJPS PAX2 NF – Cheryl Alfred of Las Vegas, NV
PACH2 Oscar II MXP5 MXPS MJP6 MJPS PAX2 OFP CGC – Christy Hiles of Dublin,OH
PACH2 Harvey's Casper AX AXJ MXP8 MXPG MJP8 MJPG PAX2 CGC – Ronda Harvey of Calabasas, CA
PACH2 Phoenix MXP8 MXPG MJP8 MJPG PAX2 MFP MFPB T2BP2 – Russell & Kelly Crotts of San Anselmo, CA
MACH PACH2 Nounours Kodamour MXB MJS MXP5 MXPS MJP6 MJPS PAX2 XF T2B CGC – Leslie Cash of Kalamazoo, MI
New PACHS
PACH Bryan's Special Millie MX AXJ MXP6 MXPS MJP6 MJPS PAX2 NF OFP CGC owned by Cathy Mitchell of Millstadt, IL
Cathy rescued Millie 8 years ago from a humane society when the dog was 8 weeks old. The German Shepherd mix started competing at age 4 years, jumping in the 24-inch height division. Then she suffered a rear leg injury and was sidelined from competition for nearly a year. So Cathy decided it would be best if Millie came back into agility trials in the Preferred class and jumped 20-inches. She has done a great job in the new division and earned her Preferred Agility Championship (PACH) on March 8, 2015, at Gateway Agility Club's trial at Purina Farms in St. Louis, MO.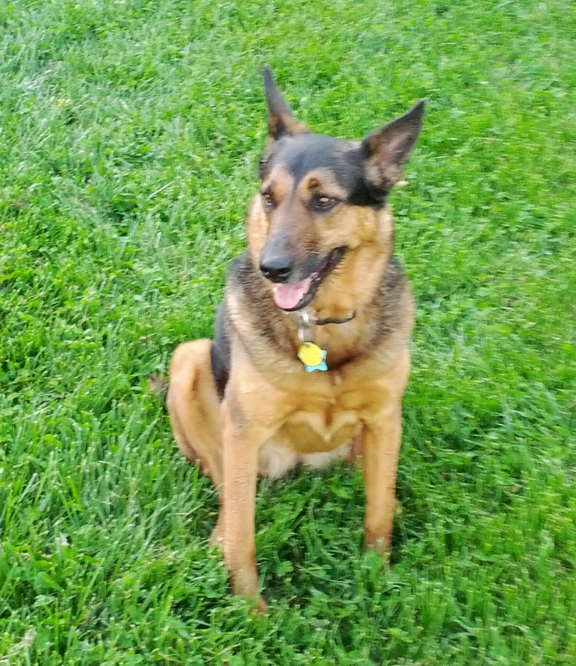 PACH Bryan's Special Millie MX AXJ MXP6 MXPS MJP6 MJPS PAX2 NF OFP CGC
Congratulations also to this new PACH:
PACH Paula OA AXJ MXPB MJP3 MJPB PAX OF XFP owned by Dustin Kerwin & Gwen Jones of Santa Rosa, CA
COURSING ABILITY
The first All-American Dog to hit the century mark in Coursing Ability:
Iyong Tapat Kaibiagan CAX4 owned by Stephanie J. Markgraf of Locust Grove, VA
Kai, a retired service dog, is the first All-American Dog to earn the AKC Coursing Ability Excellent 4 title for successfully passing 100 runs. Lure Coursing is the best outlet for him to satisfy his prey drive and have lots of doggy fun. Kai is so anxious to chase the bunny that he shakes and quivers at the start line waiting for the "Tally Ho!"
Kai finished CAX4 on April 26, 2015, at a test hosted by the Langley Kennel Club in West Point, VA.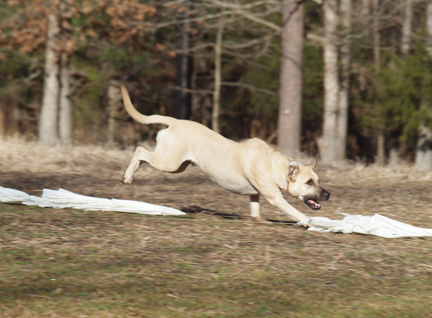 Iyong Tapat Kaibiagan CAX4. Credit: Linda Davis

New first-time Coursing Ability Excellent (CAX) title recipients for 25 passes:
Marissa's Picture Perfect RA CAX owned by Marissa White
Hunter is a 7-year-old mixed-breed dog from the San Francisco Bay Area in California. He is a retired service dog and spends his days relaxing with his cats and chasing bunnies in the field. He dabbles in Barn Hunt, Rally, and Agility and loves tennis balls and long runs on the beach. He is an incredible companion and always up for a challenge. Hunter finished his CAX on Feb. 22, 2015, at the Monterey Bay Coursing Association test.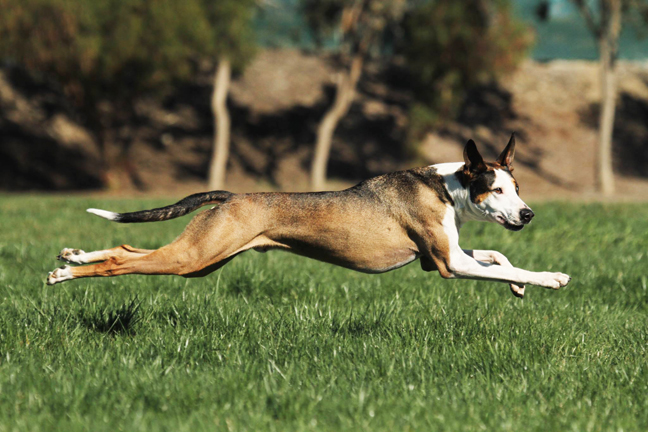 Marissa's Picture Perfect RA CAX. Credit: Olga Maderych/Gadabout Photography

Houdini's Hanky Panky RN OA OAJ NJP OF CAX owned by Pam Brownlee of Kingsport, TN
Hank appeared one unusually warm and stormy February day in 2008 when Pam was walking her three dogs. "Hank followed us all the way home and ended up in my garage since I couldn't bear to see him running the roads in the rain," Pam said. "He was wearing a collar so the next step was to find his rightful owners." After a free lost and found ad in the newspaper, flyers with his picture on light poles and a visit to the vet to check for a microchip, no owner came forward. "Even though I had just added a new dog a few months before, I decided to keep him. We soon began working on some obedience, rally and agility." Hank now has titles in agility, rally, barn hunt plus a certification with TDI as a therapy dog. His true passion is for coursing and he earned his CAX in April 2015 in Perry, GA, and is already half way to his CAX2. "If Hank could speak, he would thank AKC and their Canine Partners program for allowing the mixed breeds a chance to come out and play too!"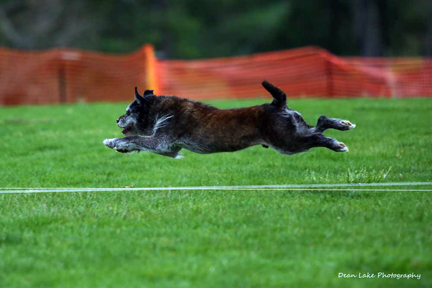 Houdini's Hanky Panky RN OA OAJ NJP OF CAX. Credit: Dean Lake Photography

OBEDIENCE
New Utility Dogs
Jasmine of Lindenbrook UD owned by Nan & Kevin Daley of Woodside, CA
Jasmine was dropped off at the Daley's house by a friend of their daughters' to watch while his landlord inspected his rental house. "He didn't come back as expected and then told us he didn't want her back," Nan said. "We had an old Miniature Pinscher and didn't want another dog until he passed on. We certainly didn't want a Pit Bull! (They ended up being great friends.)" They could not find a rescue group to take Jasmine so they made her part of the family. She was untrained and lacking in social skills. "She had never been on a walk before and didn't know to go potty on a walk. Jasmine was startled by bikes and even a fire hydrant. Now, two years later, our walks are her favorite thing to do!" Nan started taking her to classes in hopes that earning an AKC Canine Good Citizen title would make her more adoptable. "That is how it all began," she said. Both Jasmine and Nan loved the training, and Jasmine excelled, earning the UD at the age of 3 years on May 2, 2015, in just six tries. "It shows what a great dog a rescue dog can be! And to think I wanted to find her another home? I wouldn't trade her love and kisses for anything!"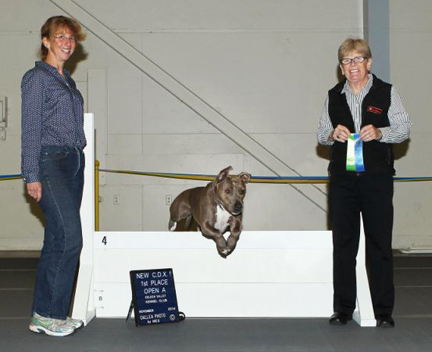 Jasmine of Lindenbrook UD

Congratulations also to these new UD recipients:
Oliver Twisting in the Wind UD CGC – Fred Grazioso of Fairview, NJ
Benny the Bull UD BN VER RE CGC – Barbara Sutton of New Port Richey, FL
AKC RALLY®
AKC Rally Advanced Excellent title (RAE)
Most Titled AKC Rally Dog
Jim Roberts & Tater continue their winning ways, earning their ninth Rally Advanced Excellent title. Tater maintains his status as the most titled All-American Dog in AKC Rally! Bossman Sweetater Freighter RAE9 earned his ninth Rally Advanced Excellent (RAE) title on May 10, 2015, at the Dog Training Club of Tampa trial in Tampa, FL. Eight-year-old Tater is owned by Jim & Barbara Roberts of Lakeland, FL, and is handled by Jim.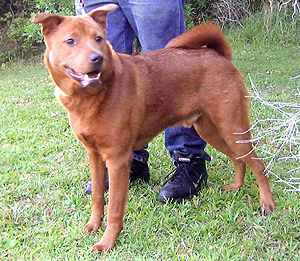 Bossman Sweetater Freighter RAE9
Multiple RAEs
Congratulations to these All-American Dogs who have added more RAEs to their name:
Croft's Action Jackson RAE2 – Lisa Croft of Collierville, TN
Treharne's Logan CD BN RAE2 NAP OJP OFP – Jan Treharne of Brush Prairie, WA
Our Sweet Waally Waally Wabbitt CD BN PCD RAE2 – James & Barbara Roberts of Lakeland, FL
Ziva D. Of Wissota CD BN RAE3 – Rexann Lemke of Chippewa, WI
Southern Charm's Maxamillan Kolbe CDX BN PCD GN PCDX RAE3 NAJ OJP NFP THD CGC – Marion Lockwood of Huntsville, AL
STELLA CD RAE7 AXP AJP NFP RATN – Karen & Richard Powell of Frankfort, KY
Bossman Sweetater Freighter RAE9 – James & Robert Roberts of Lakeland, FL
Congratulations to these first-time RAE recipients:

Jack CDX BN GN RAE owned by Sue Dockery of Gray, TN
I adopted Jack from our local animal shelter in 2010. He was a very wild dog; he was excited to be out in the world. I had to get with a trainer and it was like was his thing. He learned quickly and we both loved the work. We went on to compete. He has his RAE and CDX and we are working on our Utility title. He was just a dog that needed a job. Jack got his RAE title on March 21, 2015, at the Dog Obedience Club of Greenville (SC) trial.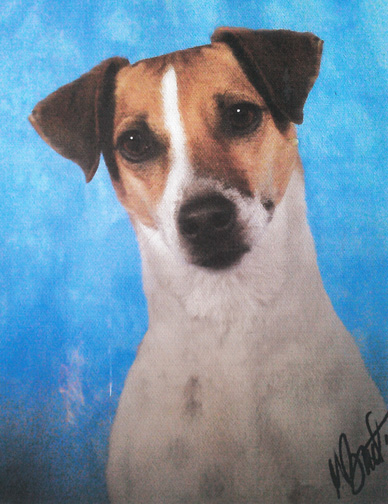 Jack CDX BN GN RAE

Rowdy Cuz E Iz CD BN RAE owned by Mary Patterson of St. Michael, MN
Mary brought Rowdy home when he was an 8-week-old puppy. The 6-year-old Shih-tzu – Poodle mix is "extremely smart and a wonderful performance dog," Mary said. "I've never really cared for obedience until I started him. He loves it and makes it really fun for me." Rowdy also competes in AKC Agility. He earned his RAE title on April 4, 2015, at the CMKC trial in Hugo, MN. "Rowdy is just a sweetheart. He loves to cuddle and give kisses," Mary said. "His favorite thing to do, besides eat, is going for a walk. All in all, he's a great little guy. I think I'll keep him."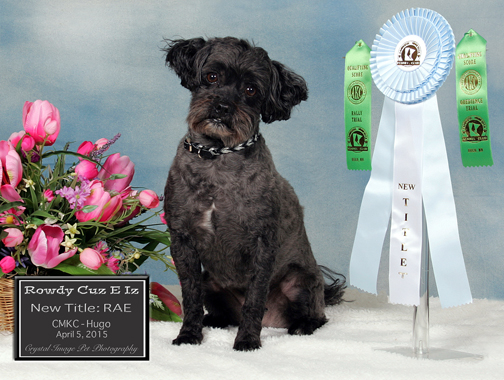 Rowdy Cuz E Iz CD BN RAE. Credit: Crystal Image Pet Photography

Willow CD BN PCD RAE owned by Donald and Naomi Rakestraw of Wichita, KS
Willow was a stray dog living in a culvert in a neighborhood before a resident finally gained her trust and took her to the animal shelter. The Rakestraws saw a picture of Willow and went to meet her and adopted her. What they did not realize is that Willow had numerous issues, including being very fearful, resource guarding and having no household manners or socialization. Even though they almost gave up several times, they continued working with her and a dedicated trainer at SitStay Dog Training. Today, Willow is no longer afraid – she is even a therapy dog and is a top achieving performer in Rally and Obedience. She earned the RAE on April 5, 2015, at the Sunflower Cluster dog shows.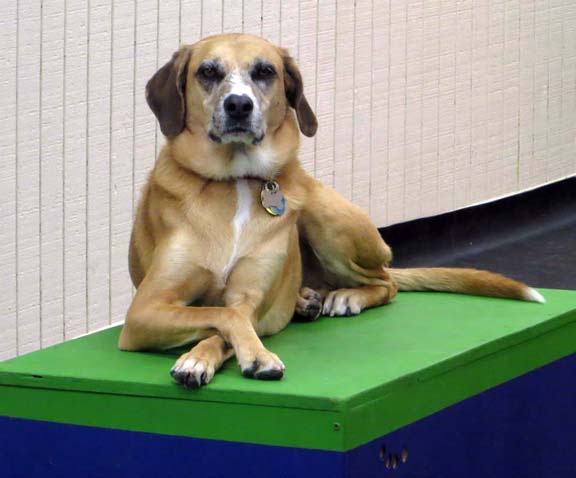 Willow CD BN PCD RAE

Jethro Leroy Kromer RAE owned by Brenda Kromer of Punxsutawney, PA
Jethro is a 5-year-old Border Collie/ Cocker Spaniel mix. He and his brother Bo came to live with Brenda as puppies and Jethro began obedience training when he was 5 months old. "We enjoyed it so much that we have continued ever since," Brenda said. Besides competing in Rally, Jethro serves as a therapy dog with Therapy Dog International and visits the local hospital and nursing home. In his free time Jethro enjoys playing with his brother, swimming, playing catch with his favorite ball and napping. "He also enjoys going for car rides especially when they are to his favorite ice cream shop," Brenda said. He entered his first Rally show in fall 2012 and received his RAE title on April 25, 2015, from the Butler Dog Training Association trial. "Our current plans are to continue with rally, joining a team, and starting to compete in obedience trials.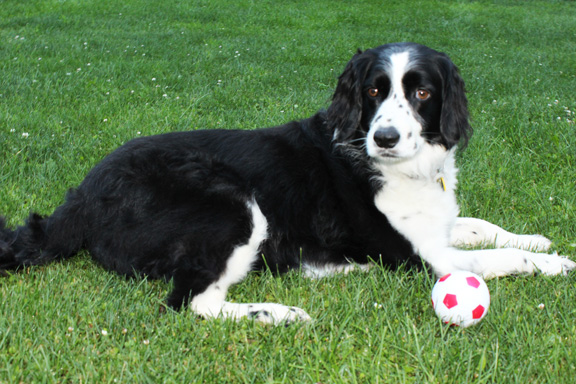 Jethro Leroy Kromer RAE

River Birch Bohland CD RAE owned by Brittany Rupp of Gully, MN
River came to Brittany's home as a 12-week-old fluffball, thanks to a "Free Puppies" sign in the yard of a farm in rural Minnesota. "She's the first puppy I've ever had, and it didn't take long for me to realize that if I didn't get some experienced help with her training, that cute little fluffball was going to turn into a big yellow tornado," Brittany said. They found a trainer who offered retriever training and obedience classes since Brittany's husband wanted River to be a hunting companion. "She took so well to those classes that we eventually allowed ourselves to be talked into entering competitions, and she proved to shine in Rally," she said. "River loves to work and train (it keeps her out of trouble). When we're not training for the rally/obedience ring, we're out fetching bumpers and ducks with the local retriever club. On top of her show ring success, she's turned out to be an excellent hunter and gun dog. We just have a blast together!" River earned her RAE title on May 2, 2015, at the Duluth Kennel Club trial in Duluth, MN. That day, she also earned the High-Combined in Rally Excellent B and Rally Advanced B and qualified for the 2016 Rally National Championship. "This fluffy dog is so much fun," Brittany said.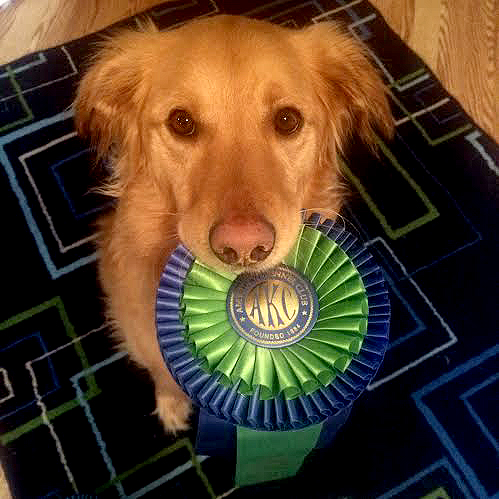 River Birch Bohland CD RAE
Congratulations to these other first-time RAE recipients:
The Life Of Riley CD RAE CA – Sandra Steed of Goldsboro, NC
Connor Clark CD BN RAE – Pam & Steve Clark of Kannapolis, NC
Betty Pearl Rizzo RAE NA NAJ – Nicole Shjerve of Grand Forks, ND
Hobbiton's C-Bucks Rule! CD RAE – Teresa Turnbull of Anchorage, AK
TRACKING
Congratulations to the second and third All-American Dogs to earn the top AKC Tracking Title of Tracking Dog Excellent (TDX):
Griffin Fielding TDX owned by Maureen Fielding of N. Vancouver, British Columbia, Canada
Seven-year-old Griffin came into being through an accidental mating between a black German Shepherd female and a German Short-haired Pointer male. "He is a fine hunting dog with a strong work ethic, making him an excellent tracking dog," Maureen said. Griffin started wilderness tracking as a puppy, followed by urban and field tracking; he earned his first TD title with the Mixed Breed Dog Club of America (MBDCA) in 2012 followed by the MBDCA TDX in 2013. "When the opportunity arose to track with the AKC, we had to jump on it, as Griffin aspires to attain the Champion Tracker (CT) status." On April 5, 2015, Griffin passed his TDX in Boise, ID, with the Idaho Capital City Kennel Club. "Griffin has successfully tracked two lost dogs and has attained local media coverage for his tracking and search and rescue abilities. He is sociable, very athletic, agile, muscularly fit, and strong so he also enjoys hiking, swimming and a fast game of Frisbee," Maureen said.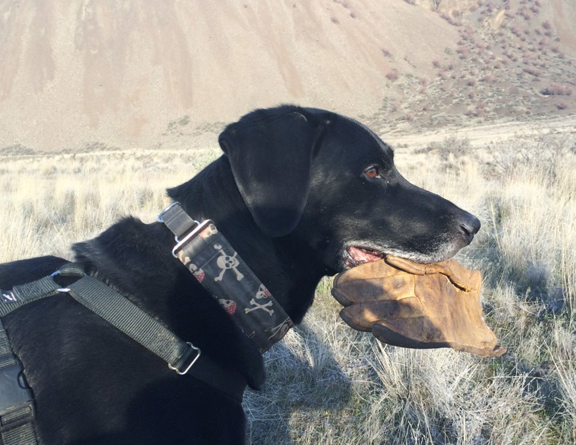 Griffin Fielding TDX

Halvorsen's Cleo TDX CGC owned by Maia Halvorsen of Bellingham, WA
Maia adopted Cleo from a shelter when the pup was 7 months old and Maia was already her fourth home. "Cleo was friendly and athletic, but when I got her home I discovered I adopted Houdini, she got out of every fence/kennel I had. Cleo and my Aussie, Star, became friends almost instantly. My relationship with Cleo took a little longer." Mai tried obedience lessons and other activities, like herding and skijoring, to bond with Cleo, but nothing was working. "She became more and more independent and less respectful of me. Things got worse than when I got her. Someone recently described that time as Cleo looking like 'a fish on a lure"' and me looking nervous." Maia found a good trainer to help her and one day at class she overheard someone talking about the sport of tracking. Cleo always had her nose to the ground and had a strong desire to follow scent so Maia decided to try it. "Within a week I was at a local hay field with Cleo and a tracking book open on the hood of my truck. That went well, so I then went to a tracking seminar. Cleo and I were hooked." Today, Cleo is 6 years old and has earned her AKC TD and TDX and also is a member of the Summit to Sound Search and Rescue group. Maia and Cleo passed the National Search Dog Alliance, Wilderness Trailing, Level II certification, in March. "We are also looking forward to a VST, and maybe an AKC obedience trial. We hope to have many fun years of tracking adventures in the future."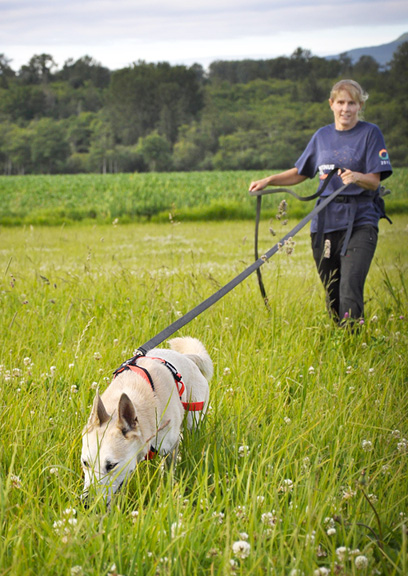 Halvorsen's Cleo TDX CGC. Credit: Kristi Coulter