By Diana James, YABTC
The Youngstown All Breed Training Club (YABTC), located in North Jackson, Ohio, recently became aware of two local police departments raising funds for their K-9 units. The Weathersfield Police Department had their K-9 unit in place, but needed donations to equip their new SUV with the necessary items to keep their dog safe in the vehicle. Their goal was to raise $7,000 for the cage, heating and cooling systems and doors that automatically unlock to release the dog when necessary. Their K-9 is Dani, who is trained in the dual purpose of patrol and narcotics detection. He can track as well as apprehend those that flee from arrest, and also search buildings and other areas. Using him in these situations greatly improves the likelihood that his handler and the other officers stay safe.
The Salem Police Department is just starting their canine unit, and their needs were significantly higher. They had an officer, a vehicle and a dog that had just been imported from Holland, but they still needed training for the K-9 and handler plus all the necessary canine equipment for their vehicle.
The Youngstown All Breed Training Club was pleased to be able to present check to both departments to help them achieve their goals. We donated $500 to the Weathersfield Police Department, represented by Chief Michael Naples and Officer David Blosser and his dog, Dani. We were also pleased to present a check for $500 to the Salem Police Department. They were represented by their Officer Michael Garber.
We thank both of these departments for their efforts in keeping our communities safe.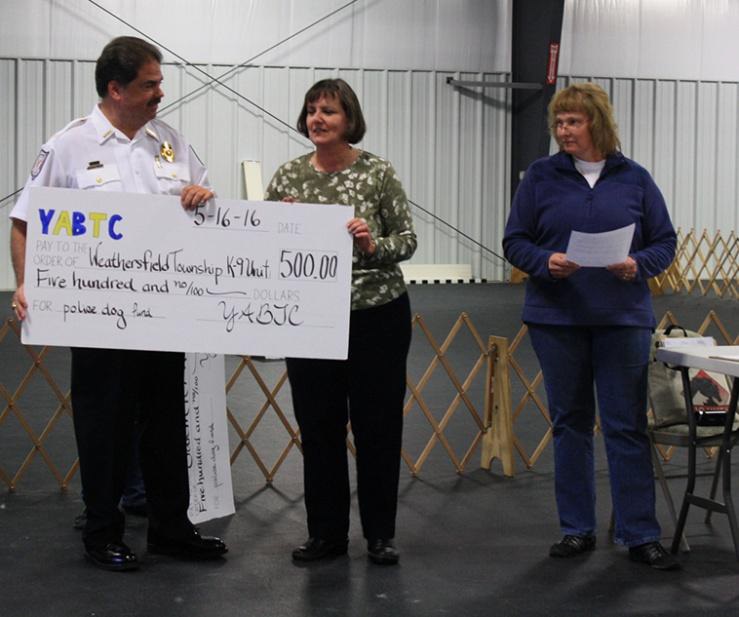 Chief Michael Naples of the Weathersfield Police Department accepts a check from YABTC members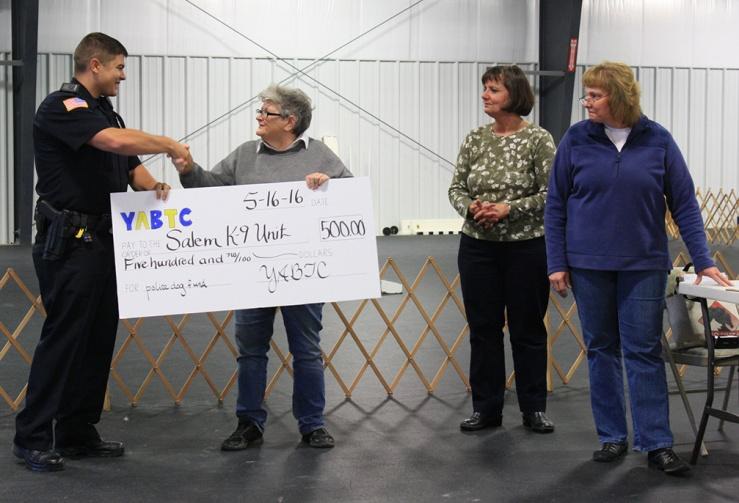 Officer Michael Garber of the Salem Police Department accepts a check from YABTC members