By Mara Bosvun, Features Editor, AKC.org
A fine bit of stuff he is, handsome Benny. He's known to the world as GCh. Carrickaneena Tyrconnell, the Irish Wolfhound who won Best of Breed at the prestigious Westminster Kennel Club Dog Show. He wowed millions of viewers on national television in the group competition.
Now, he has a new title to add to his name: Canine Good Citizen.
He earned his CGC in the early morning hours while waiting for the start time for one of his most important jobs. Benny, all 170 pounds of him, is a Regimental Mascot for the Fighting 69th. He marches alongside the regiment at the head of NYC's annual St. Patrick's Day Parade up Fifth Avenue.
Three other parade-prancing hounds from his kennel in Hackettstown, New Jersey, also took the test in the 69th Regiment Armory before the parade. They are:
Ch. Carrickaneena Antaine Dubh (Tony),
Ch. Carrickaneena Greenore (Trixie), and
Ch. Carrickaneena Me Fein (Honey Badger)
As champion show dogs, lure-coursing competitors, and regimental mascots, the hounds are busy, says owner and handler Eileen Flanagan.
Her Carrickaneena Irish Wolfhounds are in especially heavy demand during St. Patrick's Day festivities, marching in several parades in the weeks leading up to the New York event. Their lives are so packed, that taking the AKC's test of canine etiquette was pushed to the back burner for some time, she says. When we learned this, AKC sent in an evaluator for a special St. Patty's testing session.
Given their backgrounds and training, it was no surprise that they all sailed through it, the wind at their backs.
"Our hounds have led the parade for over 25 years. After the parade they attend the unit day ceremony, and interact with the regiment and the public that visit the armory," says Flanagan. This year, along with the wearing of the green, they proudly displayed their CGC rosettes as they marched up the avenue.
Parade rest, time for test of good manners.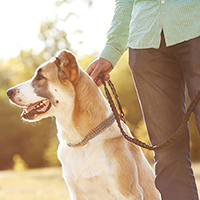 10 Essential Skills: Canine Good Citizen Test Items
Whether you are planning on getting your dog CGC certified or just looking to learn more about the test this e-book is a great place to start.