Fourteen American heroes are spending this Veterans' Day with their new partners in life: their assistance and service dogs.
Eight service dog and veteran partner teams graduated Oct. 17 after completing the Warrior Canine Connection program and passing the Assistance Dogs International (ADI) Public Access Test. All of the Golden and Labrador Retrievers were carefully matched with their veterans to provide increased independence and loving companionship, as evidenced by the strong bonds displayed at the ceremony.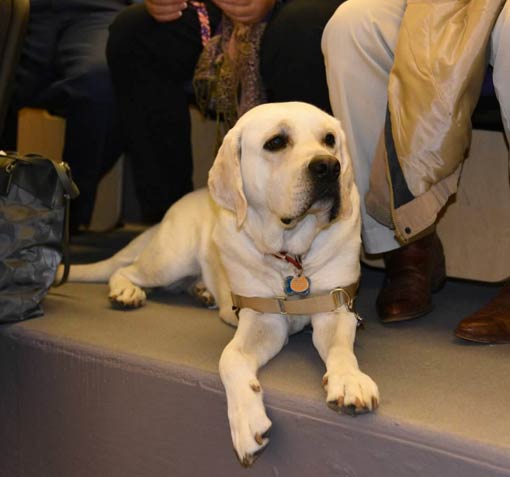 A 2015 Warrior Canine Connection graduate.
The six remaining program graduates are serving as military family support dogs, facility dogs, and therapy dogs to support of service members and their families and the community. One of these, "Annie Fox," was officially commissioned in October as a first lieutenant serving at Walter Reed National Military Medical Center.
One of the WCC program graduates, Stanley, is teamed with retired Air Force Master Sgt. Jesse Graham, who was paralyzed in an accident. At graduation, Jesse's wife Bobbi commented on the changes that Stanley has already brought to Jesse's life.
"It's really exciting, the amount of independence that he has gained," she said. "He can get things, [get] help when he calls out, get things that he drops. It's amazing…it's overwhelming."

Stanley with his puppy raiser at graduation.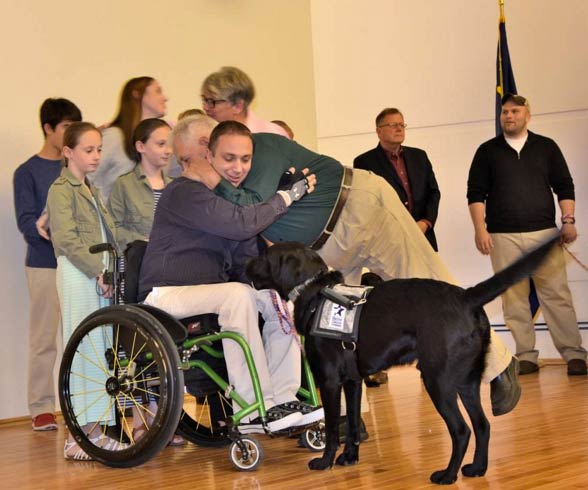 Stanley's puppy raiser presents Stanley to Air Force Master Sgt. Jesse Graham.
See highlights of the ceremony – including the men and women who have made tremendous sacrifices for their country and their fellow citizens – below:
Photos via Warrior Canine Connection.
Read more about Warrior Canine Connection:
Ten Moving Service Dog Moments
Watch The Live Puppy Cam at Warrior Canine Connection