Maja Kazazic lost her leg when she was only 16 years old after a bomb exploded near her in Bosnia, her home country. When the injury to her leg became infected, doctors had to remove a portion of it and replace it with a prosthetic.
Many years later in the United States, Kazazic met Rosie. The 16-month-old dog had a backstory that hit close to home. As a newborn puppy, Rosie's mom stepped on her leg, causing a bad break and an infection. A veterinarian had to amputate the leg, and the puppy was almost euthanized, but an animal-welfare organization agreed to take the puppy in and fund the veterinary treatment. And then, the perfect home was found.
Kazazic had wanted a Great Dane since she was a young child. And when she met Rosie, the similarities between their lives resulted in an instant bond. "[She's] like the other half of me," she told Fox 35. "It was like I was seeing myself in a dog form."
Rosie's veterinarian worked with a company, the Hanger Clinic, to get a prosthetic leg for the puppy. "I decided [on] a design of a rocker bottom with a tread on it so she could roll over very easy and take easy steps," Peter DiPaolo with the Hanger Clinic told ABC-7. The prosthetic design will be changed periodically as Rosie grows.
According to Fox 35, Kazazic plans to train Rosie in agility and as a service dog.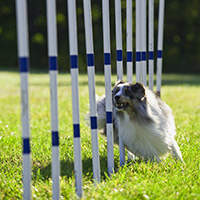 Agility for Beginners E-book
Are you looking for a fun new activity for you and your dog? Agility may just be the perfect option. In the "Agility for Beginners" e-book you will learn everything you need to know to get started.