By Lucille Perry
The Rogue Valley Kennel Club (RVKC) is celebrating five new Urban Canine Good Citizen (CGC) titles! These members of Rogue Valley passed AKC's Urban Canine Good Citizen test this month. I enjoyed testing the teams in downtown Grants Pass, Oregon and the photo below was taken in Umpqua Bank where they did their three-minute down stays. (Learn more about the Urban CGC program here and here).
The teams are (left to right): Fay Spears (Gypsy, Australian Shepherd Dog); Pat Etchells (Diggs, Nova Scotia Duck Tolling Retriever); Dr. Lorain Abel (Jerome, Staffordshire Bull Terrier and Monarch, Whippet); and Sybil Longinotti (Max, Shetland Sheepdog).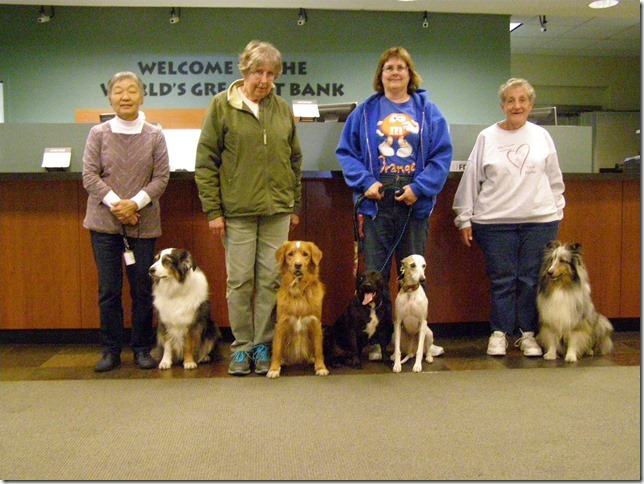 Our town if very dog friendly, so we were thrilled to also get this nice write-up in Sunday's Grants Pass Daily Courier. Congratulations to all of the teams for their hard work!